For the readers who are unaware of this not-so-little race, Dirty Kanza is arguably the world's biggest gravel race. Held annually in Emporia, Kansas, the event attracts close to 2,000 riders to this neat little town in the Flint Hills of Kansas – hills you say? Yes, some areas of Kansas really do have hills. Until recently, I thought Missouri was sort of flat too… and when I say the event attracts, I should say the event sold out – in just over two hours… and you should see the waiting list…
Part One of my tale began on Saturday, January 9, 2016 when registration for the 2016 Dirty Kanza opened. As everyone in the Continental USA sat around waiting for the online registration to open (around 10am EST), yours truly was hanging around in Adelaide, South Australia, crushing gravel on the other side of the world. Due to the massive difference in time zones, I was awake at around 1:30am on Sunday, January 10, 2016, waiting to submit my registration.
Don't you hate these first world problems!!!
Long story short, I was successful in entering the 2016 event, along with two of my Gravel Cyclist teammates – Mr and Mrs K-Dogg.
Then the training Began
We rode a lot, we ate a lot and we learned a lot. I reckon we're still learning. Riding 100 miles on dirt and gravel roads is one thing but 200 miles is something else. The once Campagnolo only road cyclist within me would be grimacing if he saw me nowadays. Seriously, circa-2016 JOM is riding around on a big tyre bike with not-Campy parts, frame bags and feet shod with mountain bike shoes. Huh?
The Drive Stage One
Tuesday, May 31, 2016 – After my regular gig finished for the day, I piled into a loaner minivan packed to the gills with bikes, clothes, food, spare parts, bed linens and other bollocks. I don't recall how long it took me to load the van, but I blew a good chunk of the Memorial Day holiday accomplishing that task. Ordinarily I would have driven my ultra-gas saving / ultra-tightwad Toyota Prius to such an event, but teammate K-Dogg kindly offered the services of the Dogg's minivan. Mr and Mrs K-Dogg were flying to the event, so it made sense that I help tote some of their gear to Kansas. I'm a nice bloke, eh.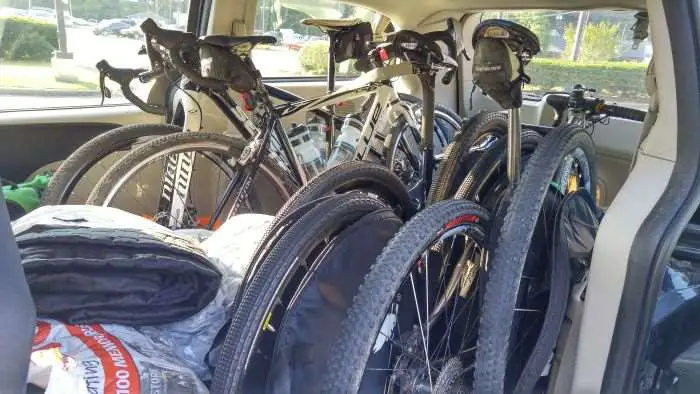 I rolled out of Gainesville, Florida at around 5pm with myself for company – and a to-do list to call everyone on my phone address book who I hadn't called in ages…
Stage one of the journey wasn't thrilling, but I took an alternative route to make it interesting. Rather than taking the usual Atlanta -> Nashville -> St. Louis route, I headed northwest from Tifton, Georgia off Interstate 75, ultimately ending up in Birmingham, Alabama at around midnight. This is a great alternative route with very little traffic.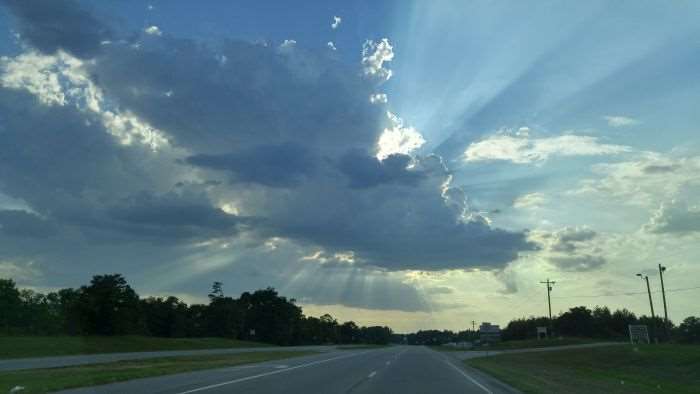 The Drive Stage Two
Hitting the road at around 7:30am, I made good time to the fun stop of the day, Memphis, Tennessee. Yours truly isn't a fan of selfies, but I do enjoy bike selfies. I may have visited the home of Elvis Presley, Graceland, back in 1995, but my bike had not, and this needed to be rectified.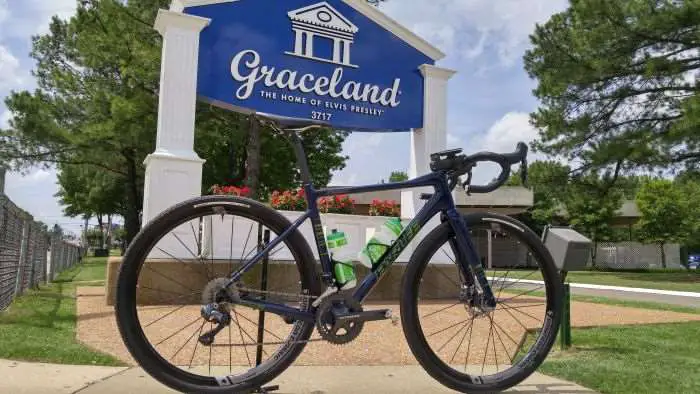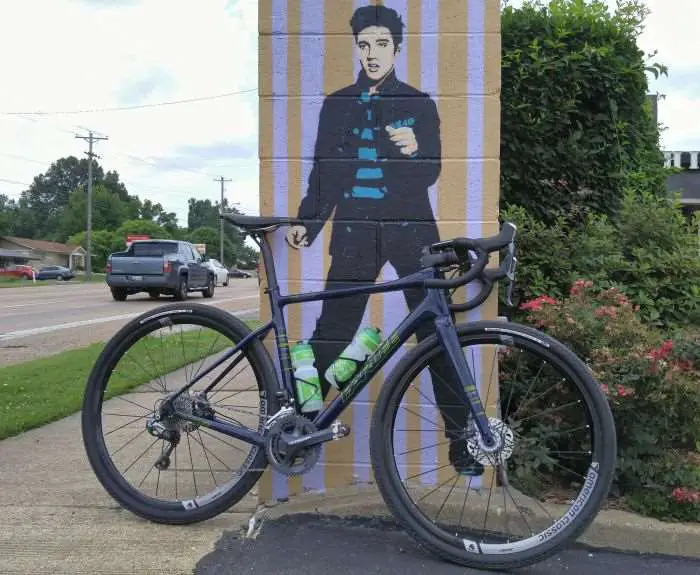 The next part of the drive was quite a bit longer, but very rewarding. I traveled through a lovely section of the Ozarks, and noticed an abundance of gravel roads. Clearly I need to revisit this area… sorry, no photos 🙁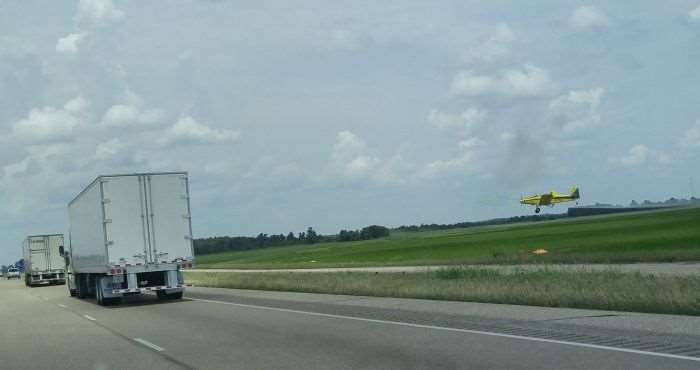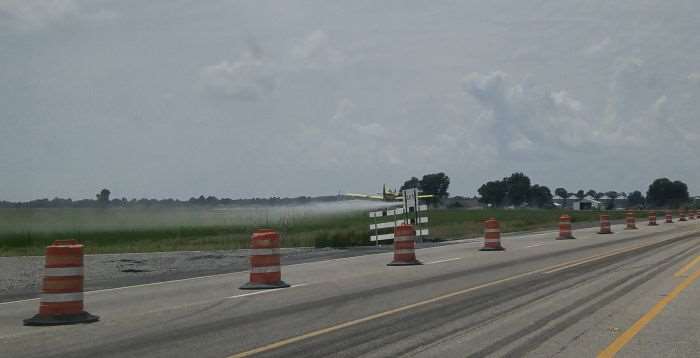 Between all of this driving I gave thought to my next video project – The Journey to Kanza – I won't say too much just yet, but K-Dogg, Mrs K-Dogg and I will be adopting different personas in this production. Expect more of the silliness associated with this website, except in video form. We don't take this stuff too seriously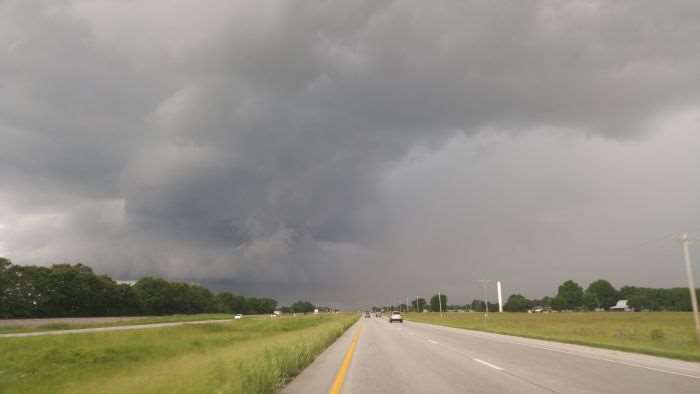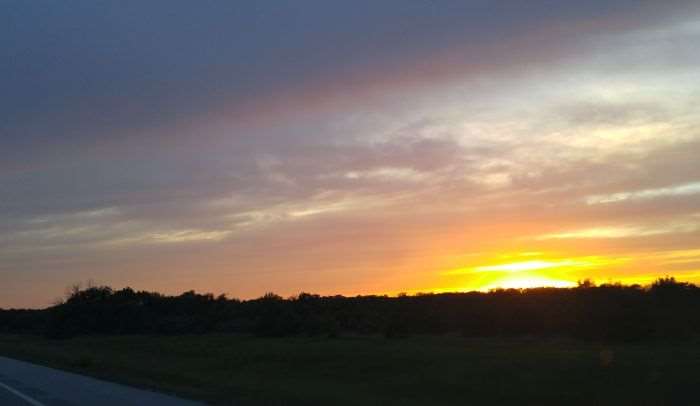 Emporia, Kansas!
After 1,200 or so miles of driving and a bunch of rain around Springfield, Missouri, I finally pulled into Emporia and my hotel for the evening. Now, what is the first thing most people would do after a long drive? Take a shower, have a sleep? Nah… I changed into cycling kit, grabbed some lights and rode to downtown Emporia for a few candid photos of my bike in front of the Granada Theatre. This is where the race kicks off on Saturday morning.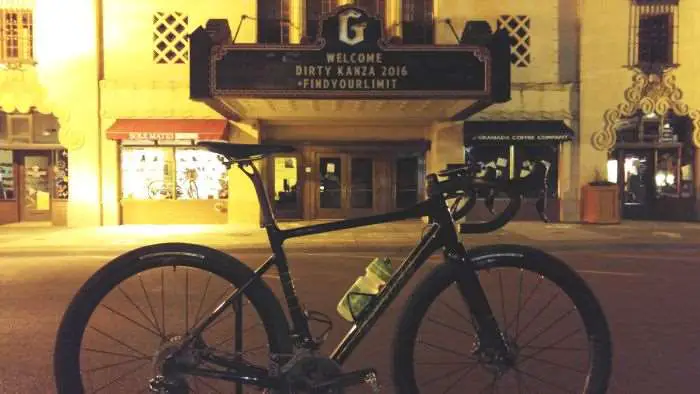 Downtown Emporia is a quiet town at 10pm on a Wednesday evening. So, the locals didn't mind (or see) me poking around with a bike in the middle of the street, framing up the perfect photo. That was until two bicycle-minded locals spotted my tomfoolery and pulled over to see what was happening. Unsure of what to expect, Tiffany and Lorrin Ochs exited their vehicle and welcomed me to Emporia – and provided all sorts of helpful advice about the event! Midwesterners are nice people and go out of their way to help. Thank you so much Tiffany and Lorrin!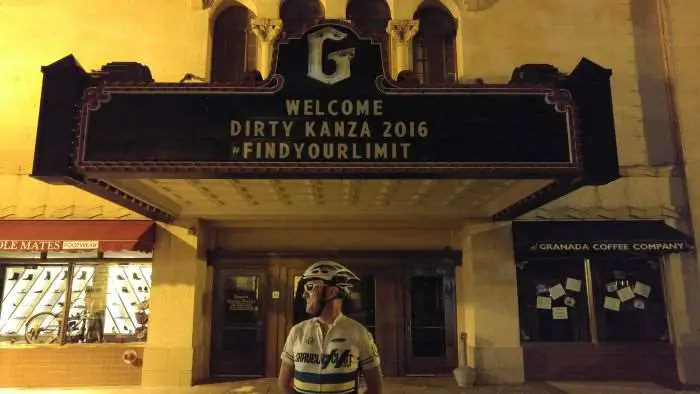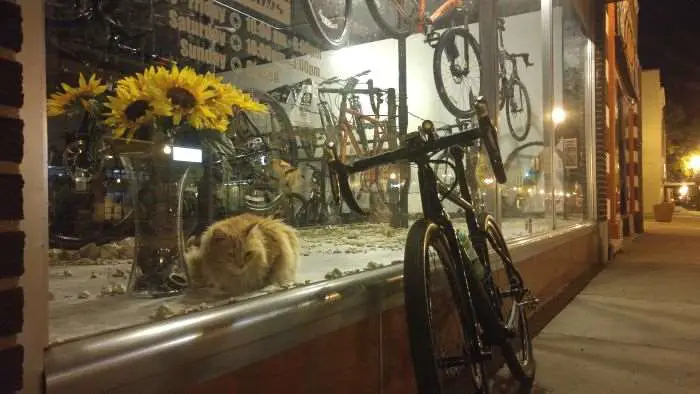 I expect the next couple of days to be very busy. I plan to pre-ride a little of the course over Thursday and Friday, meet and greet with fellow gravel cyclists – there will be interviews conducted by yours truly, so don't be shy! – and of course, the race itself on Saturday. Naturally, there will be an epic race video… 200 miles of Dirty Kanza!
Shameless plug here – if you're in Emporia and need a Gravel Cyclist t-shirt like I wear when I'm in civvies, contact me via the website HERE, or over at Gravel Cyclist Facebook page. Failing that, I will be attending the first rider's meeting on Friday.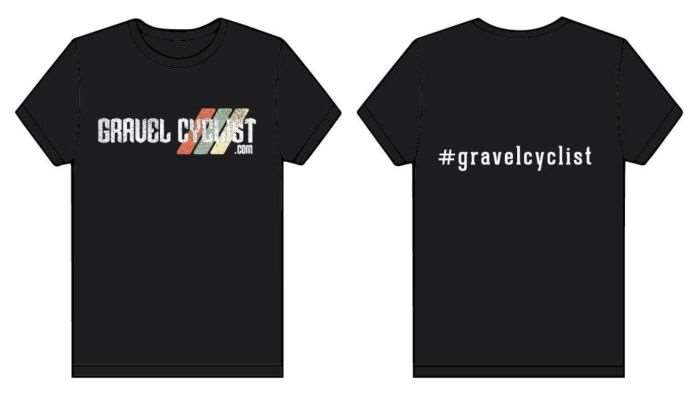 Time for a little sleep… see you Thursday, Emporia!
JOM