National Bike Challenge
Recently, I (JOM), participated in the League of American Bicyclists yearly National Bike Challenge.
GravelCyclist.com was registered in the Company competition, and ended up division winner for Companies with one to ten employees.  Read more about that HERE.
Award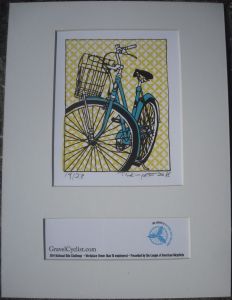 GravelCyclist.com was awarded a fabulous print by bicycle artist, Taliah Lempert.
Thank you to the League of American Bicyclists, and Kimberley Clark, for organizing and sponsoring the Bike Challenge!
2015 Challenge
JOM / GravelCyclist.com will not be participating in the 2015 Challenge.  Whilst leading and organizing the Gainesville Cycling Club's team was fun, riding all of those individual miles was very taxing, and affected JOM's gravel racing.
As George Costanza does, it's time to go out on a high note!
JOM and Gravel Cyclist wishes all Challenge participants the best of luck in 2015!