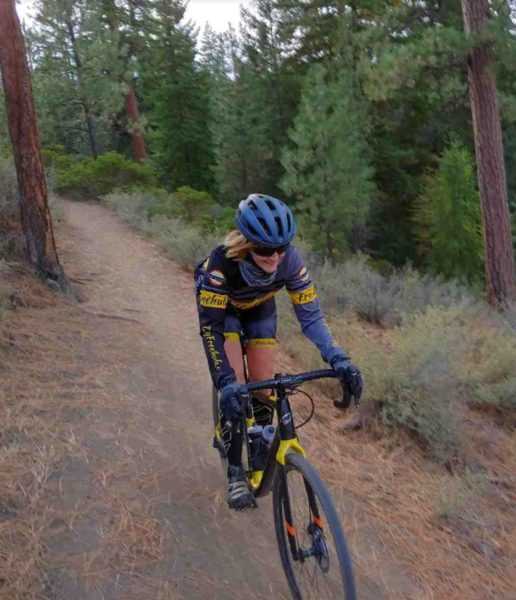 Secrets to Finding Great Gravel Routes 
By Gravel Girl (Linda English), Co-Founder of Dirty Freehub 
Bakeoven Road starts in the tiny town of Maupin, Oregon which is famous for rafting excursions down the Deschutes River. But Bakeoven is also the start of a 51 mile mixed gravel bicycle ride that includes a roaring waterfall, 20 miles of gravel farm roads with booming views of Mt. Hood, a bumpy road that slices through White River canyon and bottoms out at the river, and ten miles of paved road so close to the Deschutes River that you will feel like you are part of one of the guided fishing trips.  It's yet another five-star ride curated by Kevin English, who also goes by Captain "O" (as in optimism) from the Dirty Freehub team.  
Kevin has penned over 64 gravel bike routes near his hometown in Bend, Oregon and a bunch he discovered on a two month trip to Tasmania, a fabulous gravel destination off the coast of Australia.  There are also smatterings of routes in Arizona, Washington, California and Idaho.  
 Kevin reads maps the way most people read the daily news. He uses a number of different maps including Strava Heat Maps to figure out who has ridden the road before and Gaia which helps him figure out who owns the road.  
Kevin is a stickler.  If he isn't GOBSMACKED when he rides a route,  you can forget including it in his five-star collection.  
What has he learned with all this mapping of routes? "Usually the worst routes are ones that people recommend," he says with a smirk. "And some of our best, have come from total exploration and serendipity. Like the time when we drove two hours outside of Launceston, Tasmania to start a planned ride … a ride that was absolutely a NO GO due to the continuous rumble of coal trucks. We improvised and diverged. We took a tiny road off into the woods and ended up with a route that we call Scamander;  this took us along the coast and then up through an impressive eucalyptus forest. Stunning views. And a good 15% grade for the final climb to the top of the ridge. We loved it."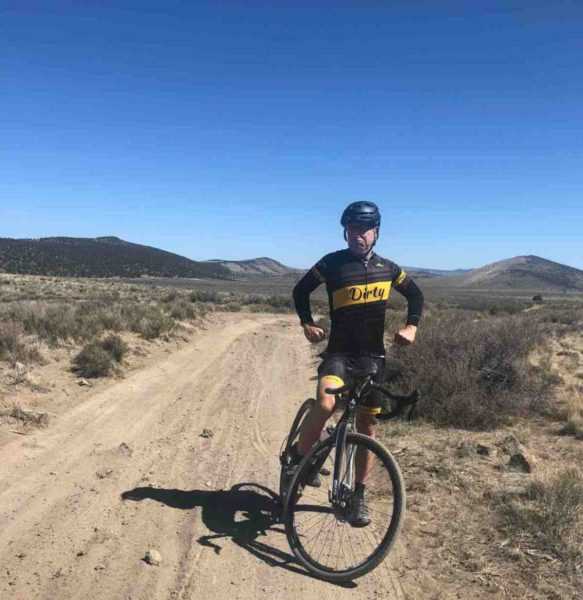 But Kevin isn't a stranger to failed routes.  As his wife Linda, aka Gravel Girl, I've mastered pushing a gravel bike through mud, snow, sand and ice. I've survived super rocky roads with "babyheads" that make you wish you were on a full-suspension bike (or maybe just stayed home altogether!). I've been chased by dogs after we made a bad decision to climb a gate we didn't anticipate. I have veered around a handful of deadly snakes in Arizona and Tasmania.   Honestly, I'm still trying to forget the 20% grade gravel climb up to the top of Mt. Horror in Tasmania… which was the diciest downhill that included a lot of praying and swearing  to not fall off the bike. (No, it's not listed on our site). 
And what is it about gravel that we love? Little traffic, the thrill of adventure and the ability to gab next to each other while zipping along some amazing places. Slow climbs and fast descents. Open desert, tropical forests that evolve into eucalyptus forest. Wild flowers, wildlife, and waterfalls.  Winding roads and sneaky cut-throughs. And glorious views at the top.
We share our routes because we want other people to have that crazy experience. And we like telling the story about the route… coming up with silly names like Brickhouse, Bonanza, Over the Rainbow, Ghost of Ashwood … and including cool pictures and the history of the area. And we like providing the kind of data that we wish we had about a route: Exact route details, good maps, beta on parking, water stops, what time of the year is best to ride the route, what percentage and sections are paved versus gravel, tire width recommendations, etc.  
So what routes do we think are the TOP routes? Oh, now there's a marital spat just waiting to happen … Captain O will send you out to the Horn of the Metolius with his hometown favorite of Water and Lava… and on the Tasmania trip he fell in love with Jakob's Ladder.  
I will send you to Priest Hole which is near the Painted Hills, with my hometown favorite being  Oktoberfest and Bonanza. My favorite Tasmania route is Scamander. But really ask me next week and I will have a new set of favorites, including the new route off Bakeoven Road in Maupin.  
And no telling where we are headed next … Kevin has a bucket list that is just getting longer. Places we absolutely must go to scout. Our plans include scoping out more routes across Oregon, specifically nears Burns and the Steens Mountains, John Day and the Willamette Valley. And then November and December we are headed south to Prescott, Tucson and Phoenix.  
You can send us your ideas on routes that you think will make the cut. But you've been warned, Kevin is a stickler.
Check out the routes and more at Dirty Freehub
---
Don't forget, Gravel Cyclist assembled two articles some time ago about Route Planning 101 and Cartography (Gravel Road Map Resources). Those articles and more can be found on our Newbie's Corner page.