July 2nd, 2016 was a Saturday, and part of the Independence Day long weekend that is celebrated in the US of A. Thinking ahead to my next big event, the unofficial Gravel Worlds in Lincoln, Nebraska on August 2016, it was a good idea to ride some big miles, and scout some new dirt, gravel, limerock and sandy bits roads.
Joining me for Saturday's mayhem was Mr and Mrs K-Dogg, along with Doug and Steve, who are relative newbies to this genre of cycling. The weather during the past week had been hot, hot, hot, with the odd afternoon thunderstorm, a pretty typical occurrence for this time of year in Florida. Thinking the weather would be more of the same, I checked out mentally, loaded my bike into the K-Dogg-mobile minivan and happily carpooled for the short drive to ride start in Ellisville, Florida.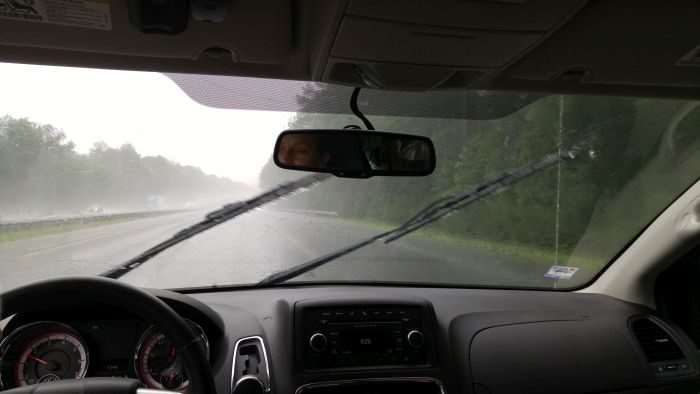 Making our way northbound along Interstate 75, a nasty looking cloud bank appeared ominously on the horizon. Err… that isn't supposed to be there. The weather app on my smart phone confirmed the same thing, along with a sizeable storm front heading in a northeasterly direction, right across our course for the day. K-Dogg brought up the possibility of driving back to Gainesville and riding locally, but considering how big this system was, sludge would have prevailed there too. Mrs K-Dogg and I agreed we should press on – what's a bit of rain water between friends?
At our start location, Doug and Steve were ready to roll and seemed enthusiastic despite the steadily falling rain. Meanwhile in the Dogg-mobile-minivan, removing the bikes for the day's ride was proving a difficult affair. K-Dogg took the measure of standing the three bikes at opposite ends to each other, with the rear seat belt holding them all safely together in the car. But, the seat belt had locked itself and refused to budge… just imagine making it to a ride and then finding out you cannot get the bikes out of the car. D'oh! Cutting the seat belt with a knife would have been an easy but messy fix. Clear and calm thinking is how these problems are solved, and Mrs K-Dogg same up with the solution; removal of a wheel or two from just the right bike, along with a bit of careful wiggling, freed all of the bikes, and returned my sanity to a normal level. Whew!
Time to ride! In the pouring rain… wheee!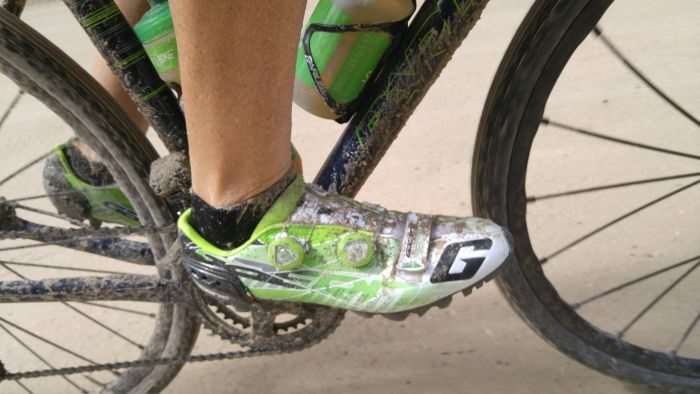 With our delayed start and rain, I was very motivated to get rolling. We had 115 miles to cover, but I was on a tight deadline. I had a social occasion at 6:30pm, so there was a little pressure to get things moving. Typically, I am not a cyclist who does well with zero warmup, but under the right non-race circumstances, I can tolerate riding a solid tempo out of the gate. Nobody else was interested in riding my tempo, and allowed me to drift off the front.
The right turn onto the first of many dirt and gravel roads for the day revealed exactly what I expected; sodden and sludgy roads, slow and heavy conditions. My drivetrain was pissed off, groaning and grinding at the effort as water, dirt, gravel and sand particles found their way into every nook and cranny of the chain, cassette, derailleur pulleys and chainrings. My companions were a little behind, but their drivetrains were faring no better.
This could be a very long day. With my mood fouled by the rain but motivated to ride out of anger into the rain, I thought to myself… "JOM, what the eff are you doing man? Chill the eff out, drop your tempo, cut the route short and enjoy the company of your fellow gravel cyclists".
Turn lemons into lemonade as they say here in the USA.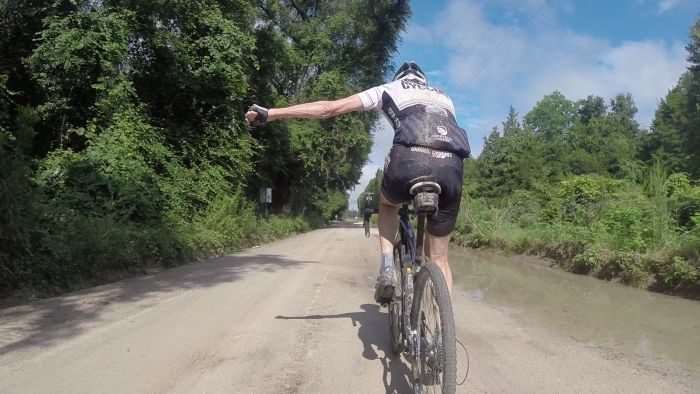 And that is what I did. I stopped to wait for my companions at the corner of a paved and dirt road. My drivetrain appreciated the break too. A liberal coating of Dumonde Tech's Original Formula lube helped alleviate its pain, but it would only be a temporary fix. No amount of lube can deal with continual sludge…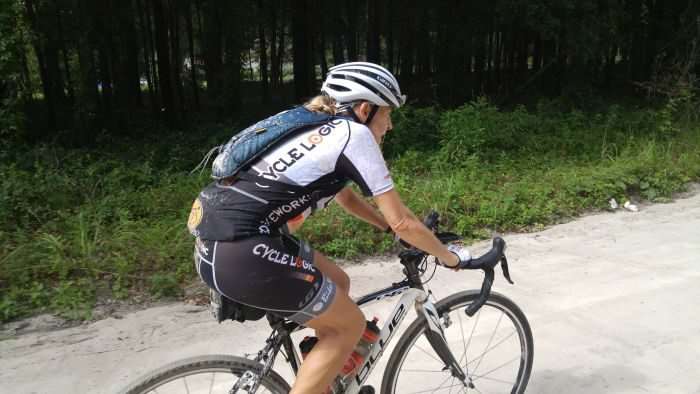 My companions soon joined me, and set about lubing chains and in the case of Mrs K-Dogg, adjusting her cantilever brakes to allow for a little more rim / brake pad clearance. Rim scraping can drive one nuts.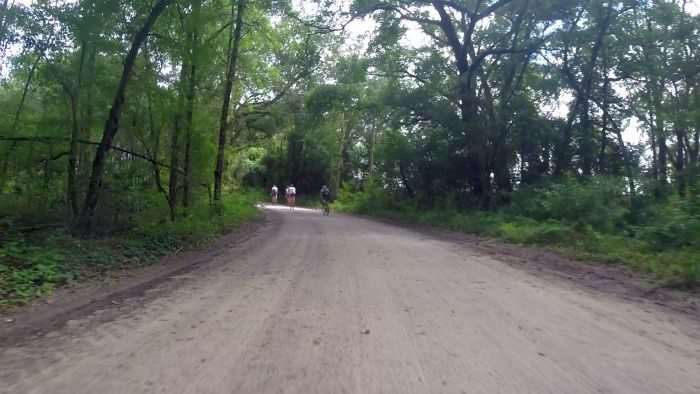 This is an area of the world I know pretty well, and one of my favorite areas to ride. With just a little tribal knowledge and my Garmin 800 navigation device, I figured the first store stop in Wellborn, Florida would be a good place to detour a little, and pickup the tail end of our 115 mile route. This idea was well received by all; nobody was up for riding 115 miles, and our limited supply of chain lube would never have silenced all of those drivetrains!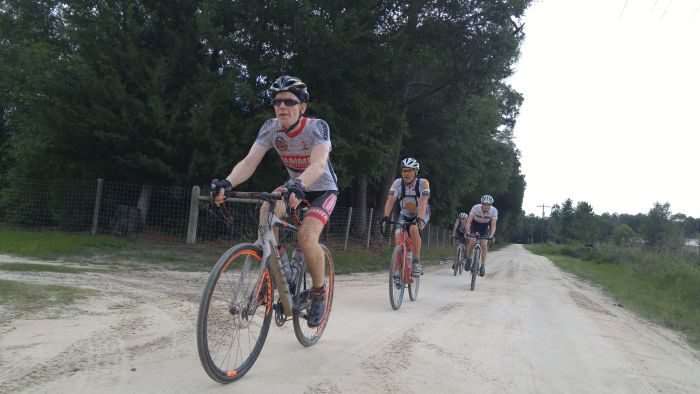 The rainfall finally stopped but many of the roads on the way to Wellborn were sodden and heavy going. Despite this, everyone, myself included, was in a cheery mood. These roads are already pretty devoid of vehicular traffic, but after a rain dousing, nobody in a car is too keen to venture onto these roads.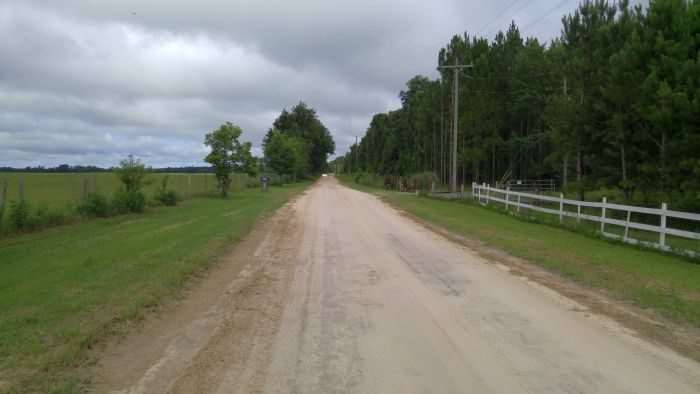 Our wet and soggy quintet rolled into the petrol station off US90 in Wellborn, bikes and bodies covered in crap. The sight of dirty cyclists ambling into a store typically draws a little interest from local shoppers or staff, and this case was no exception. The lady behind the counter scratched her head as I explained to her that I intentionally seek out crappy dirty and gravel roads, and the crew and I don't mind getting a little sludged now and again. It ain't for everyone!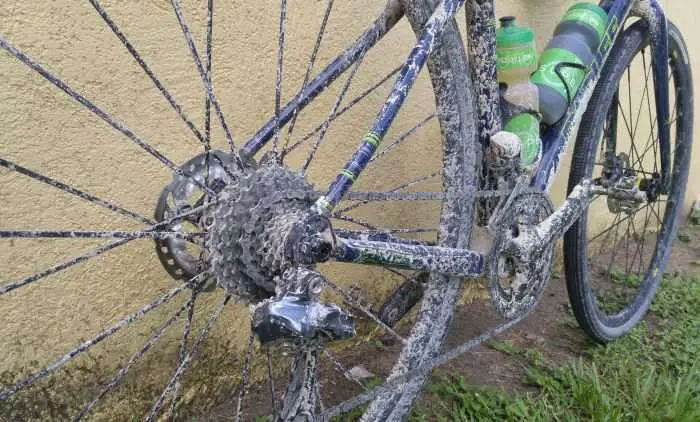 The petrol station was equipped with a hose and faucet (tap) around the side of the building, and served a temporary cleanup area for five gravel bikes. They would only get dirty again once onto the first of the homeward bound roads, but a cleanish bike is a fast bike, right?
Apply chain lube. Eat food. Drink sugary drink. Eat more food. Apply more chain lube.
Taking the most direct way to reach the tail end of the route, a straight shot along the smooth pavement of US90 would get us there in quick time. US90 is one of those high speed, single lane country roads that fill me with worry. With the increasing prevalence of distracted driving, these sorts of roads historically have a bad history with cyclists… readers know exactly what I'm talking about 🙁
I sat on the front in the bike lane and rode a hard tempo to get our group off the pavement pronto, and onto the safety of the dirt and gravel. Just 26 miles back to the start in Ellisville! The heat index had been steadily climbing, but we were spared much of its wrath, due to the abundance of tree lined roads along the route. The Gainesville and Tallahassee areas of Florida are among the best places to ride in the state, if you haven't ventured to this area.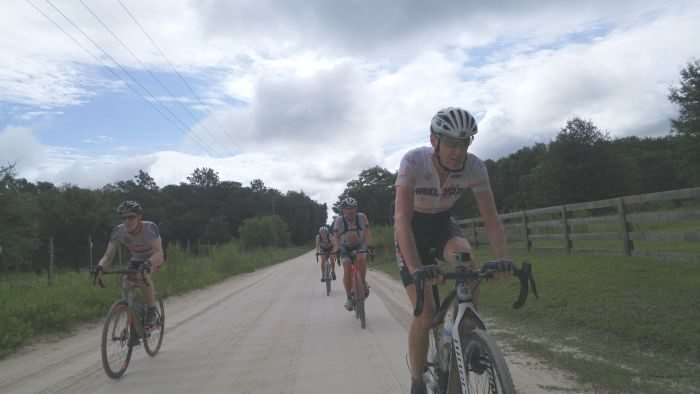 In addition to our riding tomfoolery, K-Dogg and I spent some of the ride experimenting with our GoPro cameras. He'd been riding around in the bottom tier resolution setting – now sorted out, while I was playing around with 1080P high definition (what I typically film rides and races in) and 60 frames per second. The footage appears to be clearer and crisper, but maybe it's in my head? Placebo…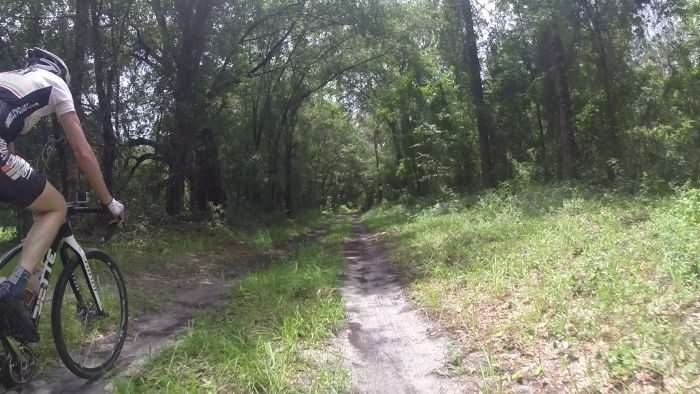 The rest of the ride was marvelous – the roads were drying out – but we were ready to be done. My next mega gravel training ride will leave earlier in the morning, and I will check the weather radar for rain ahead of time… or take a lot of chain lube 🙂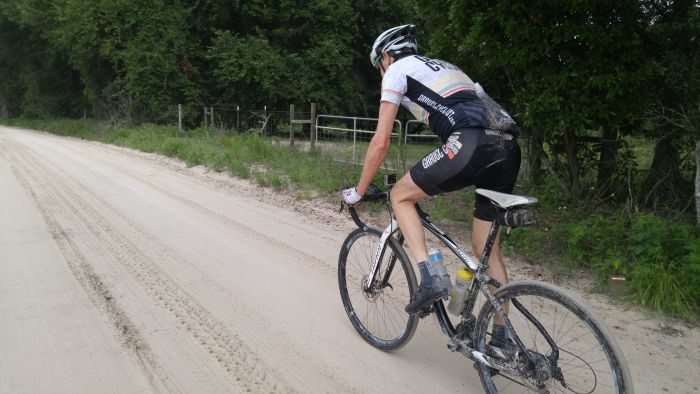 JOM's Strava Data for the Ride – HERE.
Thanks for reading.
JOM