I learned a lot from cartoons growing up. Things like blues, opera, country twang, vaudeville, and that you can survive an anvil landing on your head after jumping into a canyon.  I didn't learn how to build a bike on TV, but pretty sure I learned how to eject myself from one mid-air thanks to too many Evil Knievel replays on Wide World of Sports. I also picked up too many bad habits from Clint Eastwood movies, Elvis concert videos, and the like — samples of macho nonsense singed into the inside edges of my skull that sometimes light up and emerge in a loop of things like "I don't go looking for gravel, it finds me soon enough."
Well, that's kinda what happened in Germany over the last couple of weeks.
I'm here in Munich for work, and brought along my "pack bike" — a 2017 Raleigh Grand Prix with base level Campy Veloce and 700c x 28mm Kenda touring tires.  It's the same steel frame as the Ritchey Break-Away, but cost a whole bunch less (I think I paid $1,200 for the whole thing).  The frame breaks into two pieces at the seat post and at the bottom of the down tube and it fits into a case that is a (generally accepted) piece of checked baggage with no extra fees.  So, overall it's a pretty good setup given my new job has me traveling to Germany and elsewhere every couple of months.
In the event you want to see it in action, you can watch videos here of packing and unpacking. Ritchey has a cyclocross version of the bike which JOM of Gravel Cyclist demonstrates his now outdated packing procedure.
Okay, so maybe it's not as fast as shown in the videos, but it takes about 30 minutes. Example from the last trip: I arrived at a hotel in Paris at 11:45 am and by 12:30 pm, I had the bike and myself ready and was riding around the Eiffel Tower — and actually bumped into the one-and-only person I know in Paris (hey Dave!) who was on his bike.  So maybe it's not only packable but comes with cycling karma too(?)
Anyway, I am in Germany for a couple weeks with the pack bag bike (aka, "Bag Man") sitting here in the hotel room. Not riding every day, I'm taking the subway to the office.  But last weekend was something pretty awesome, and yesterday was the follow-up.  Last weekend, I ventured south from Munich to Innsbruck where I found a hotel upon arrival (after the football match which was played on several large screens outside along the river with plenty of beer and beach chairs) and then rode back the next day.  In the process, I found a whole bunch of gravel and dirt roads and paths that I didn't expect (and I also ended up in the back of an Austrian Polizei car — also not expected, and only partly documented).  So, I learned something — the little green dashed lines on google maps are pretty darn accurate here.  There's gravel all over the place.  I think many of them are actual roads, but they're often no wider than a bike path, and sometimes they completely turn to grass and you just figure your way through.
So, earlier this week, I decided I was going to go south again but make it a gravel ride with a small dose of the Alps in there.  It was an ambitious plan that was to include a ride from my hotel in Munich south to the first bit of the Alps and then hopping from east to west over two little "ranges" of the lower Alps (returning in time to meet my friend, Nigel, at the Biergarten for the England-Sweden game). I plotted some of it out based on Strava segments and google maps and was looking for the highest points with "roads" between the cities of Hausham, Tegernsee, and Lenggries — in that order. Things don't always work out as planned.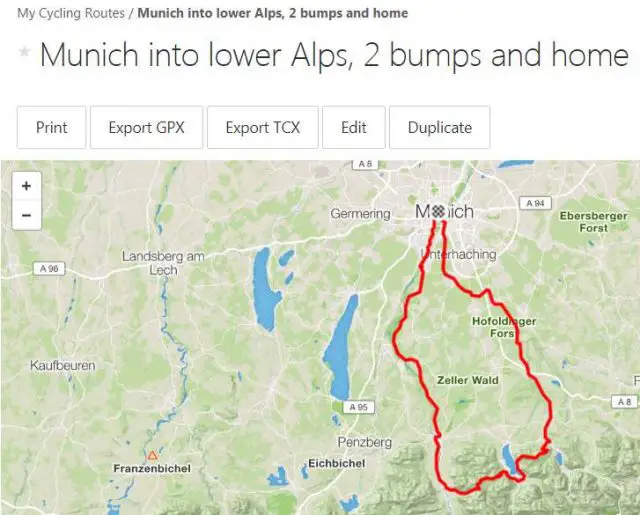 Saturday started early — something woke me up at 4:30 am, so I did a FaceTime call with Sarah who was hanging out in Minneapolis with Paul and Janelle having some wine in the setting sun.  I was shirtless like the Russian guy in the documentary Icarus (must watch!) and when the call was done, I just figured I would kit up and go.  So around 5:30 am I was in the elevator going down with a plan to get a quick cappuccino and maybe a banana.  I was found in the early light of dawn with my cup under the machine and stopped right there — breakfast not starting until 6:30 am.  No cappuccino for you!  I just set down the cup and left.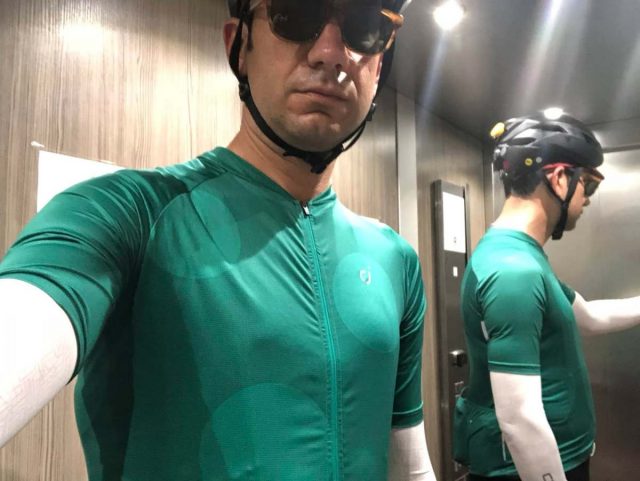 I got about a mile when I realized I really needed to eat something and bring an extra water with me, so I did a quick turnaround and stopped into a gas station to grab a pastry, a juice, and a water.  There were cases of beer stacked up outside the front door — Grantler Hell, which I thought had a badass name and appropriate character on the label.  In the States, we have washer fluid stacked up.  Beer stacks are better.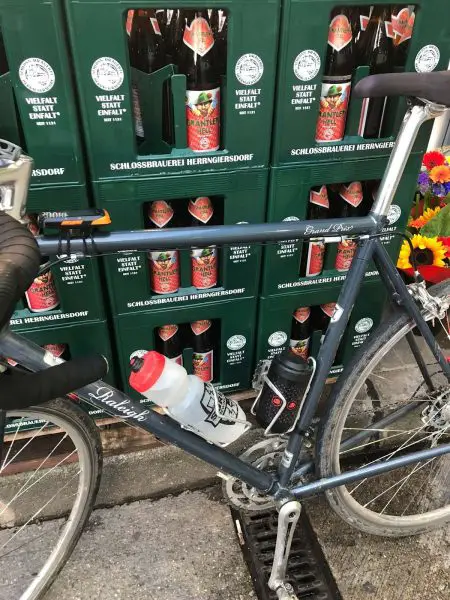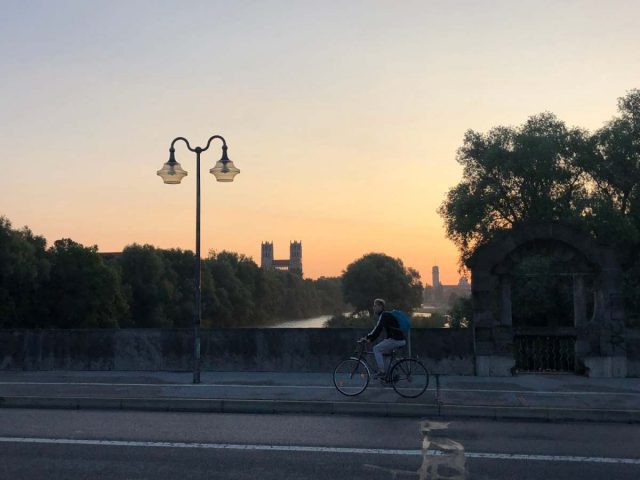 A bit of the geo — the Isar River flows south from the Alps to Munich and eventually to the Danube and it has a series of paths and trails that follow along its banks.  Just a couple miles south of the city, the path turns to gravel and follows the small rises and dips through the woods, quietly hiding in the valley in natural defiance to what is certainly, a chain of small towns along the roads above.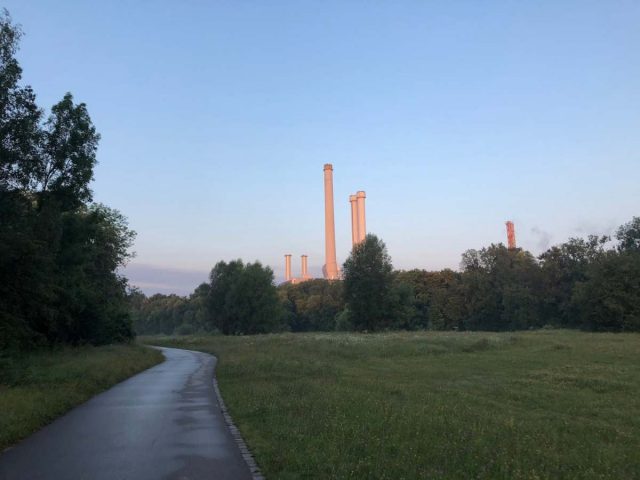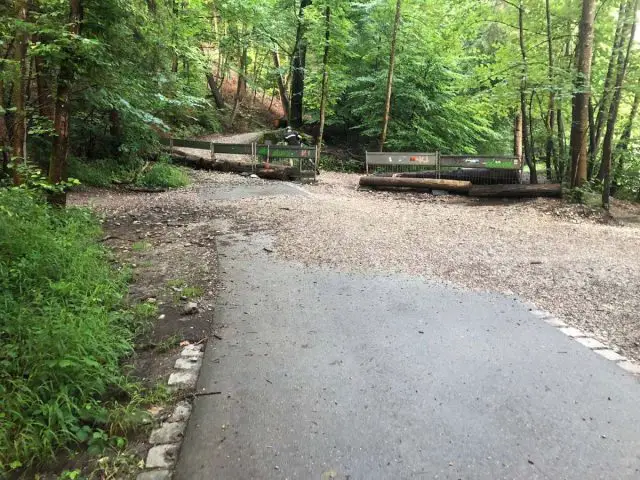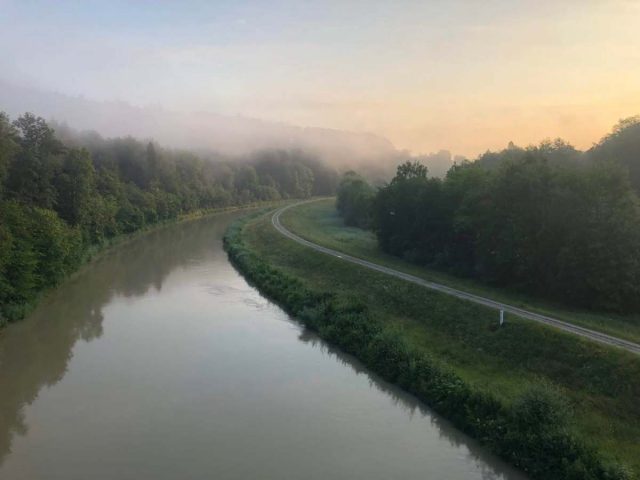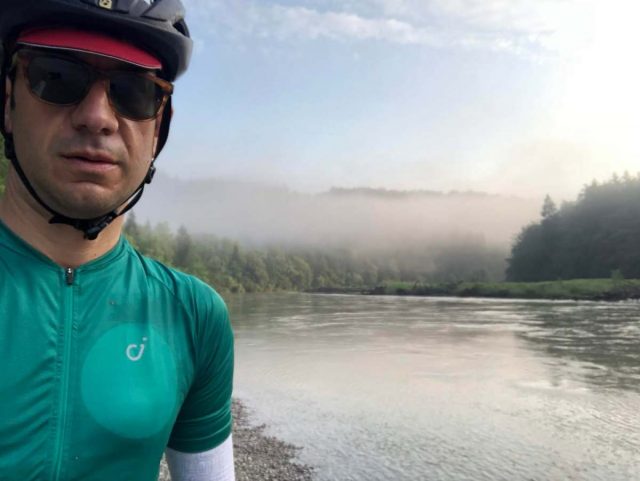 The water has good flow, so I know there's some grade there, but it's mild in the flats and not noticeable amongst the rollers of the pathways.  Even though the route has frequent markers, I still seem to be opening up the map on my phone every handful of miles to ensure I stay in the woods and on the gravel.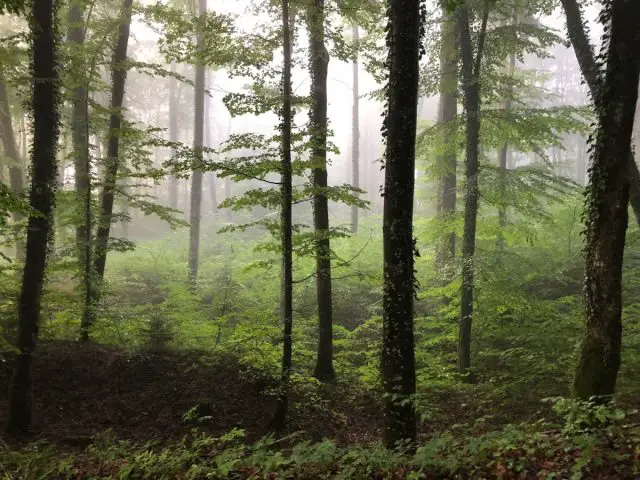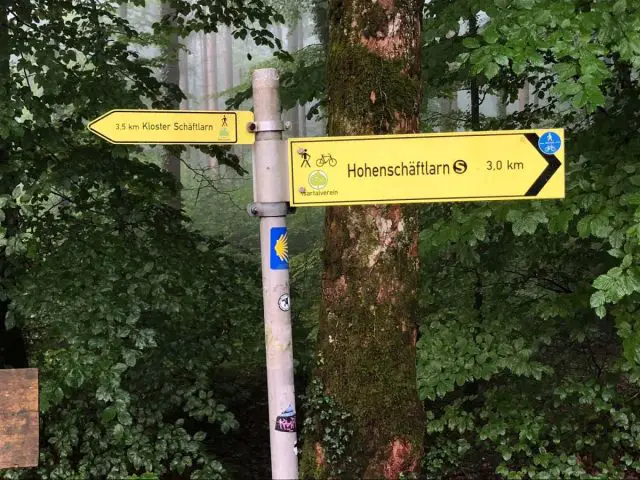 There are a lot of forks and twists in the road. I had one wrong turn which followed the road into a rusty industrial set of buildings which turned out to be a dead end and a perfect setup for the "Girl with the Dragon Tattoo" or "Pulp Fiction" movies.  Yes, like real fear.  It's 6:15 am in the morning and some kind of criminal fuckery could be going on here, so I need to spin a 180 and get into the right gear! Of course, the path went between two other buildings just like these, and the morning continued on its peaceful way along the river with no cinematic torture.
No photos of that part — I thought about it, but already said I was freaking out a bit so I didn't stop to photo it.  Let's say it was mostly because I still hadn't gotten any coffee and was getting hungry too?  Time to get some coffee, so I decided to route my way out of the valley's woods, up and into a town where a cafe had opened.  I de-saddled myself and started to head in when I realized I had left my money in the hotel.  So back in the saddle I went, riding the pavement through a few small towns looking for an ATM. Not much open and I ended up waiting for the same train twice in one town.  Finally made into Wolfratshausen where I got some do-re-mi and a nice reminder from the ATM which had bold letters on it saying "QUITTUNG" — and I was like "Not an Option!" until I looked it up later and learned it means "receipt".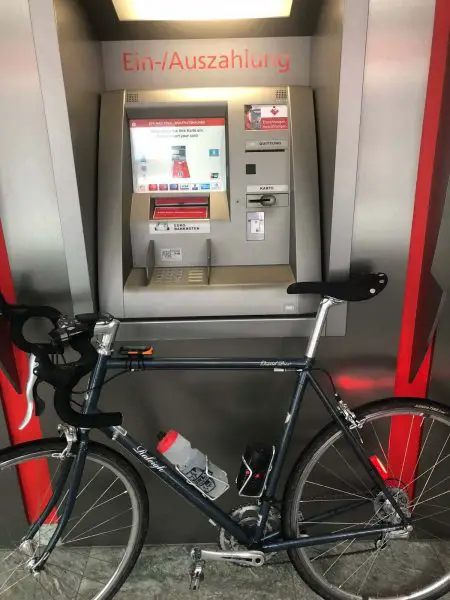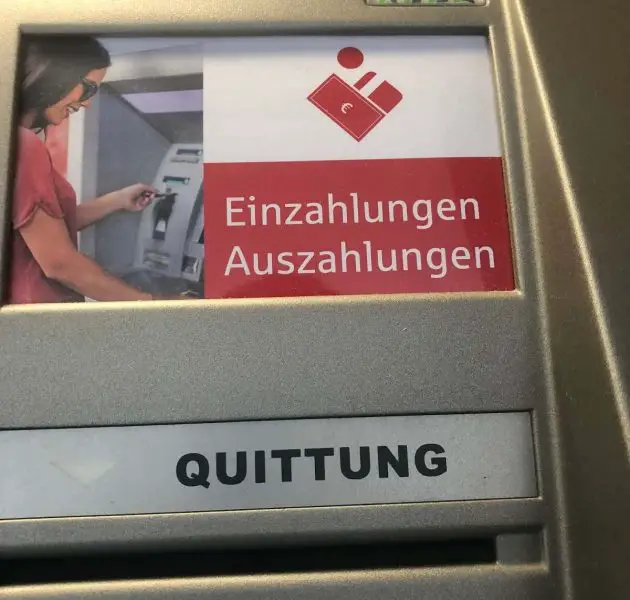 With cash money and still just 7:30 am, there was not much sign of anything open, so I just kept going. Headed back to the gravel pathways thinking I would be in Bad Tolz by 9:00 am and that place I stopped in last week would be open — it was not.  I mean the staff was drinking coffee at the edge of the river but not open and not willing to share.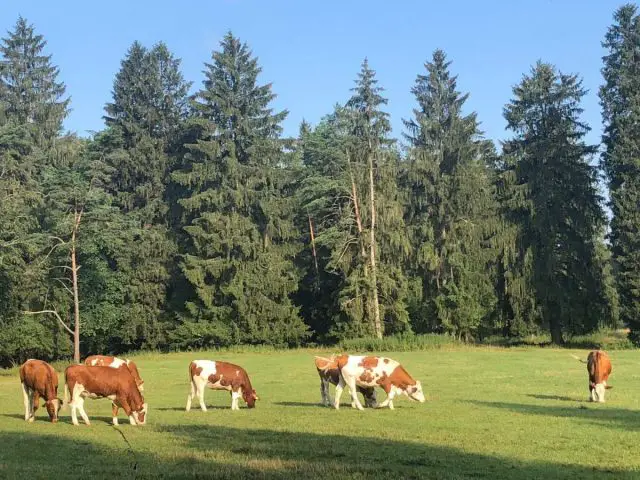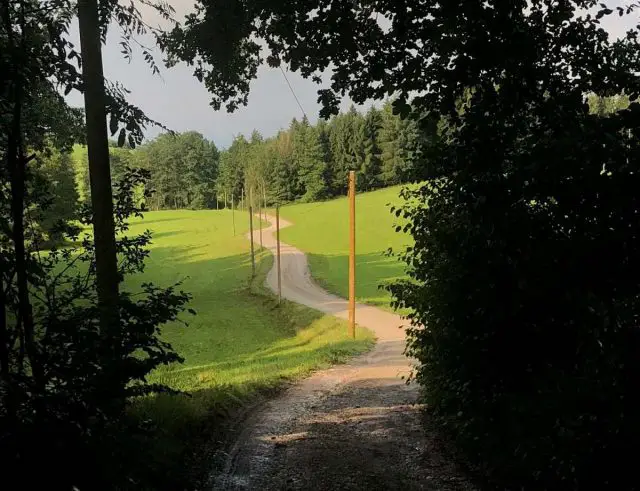 The woods were lighting up a bit and although it wasn't raining, the trees were letting go of the drops they'd caught last night creating a mild drizzle and a little steam.  I was pushing hard and felt solid pressing up and down the ridges when the surface was smooth — and I got over the reality that the rougher sections were going to be just as slow on the down as the up.  I needed to have some caution given that I was on a road bike and this was territory that I had been told last week, "I would not go zere on zat bike."
The town of Bad Tolz is quite a nicely placed town on either side of the Isar.  It's just north of the Alpine foothills that I was aiming for, just at the end of the valley where Lenggries is nestled between two ridges.  Right?  Wrong.  That's where these places are, but I was supposed to be way over to the east and now I was doing the route in reverse. I had charged full speed down the wrong part of the path.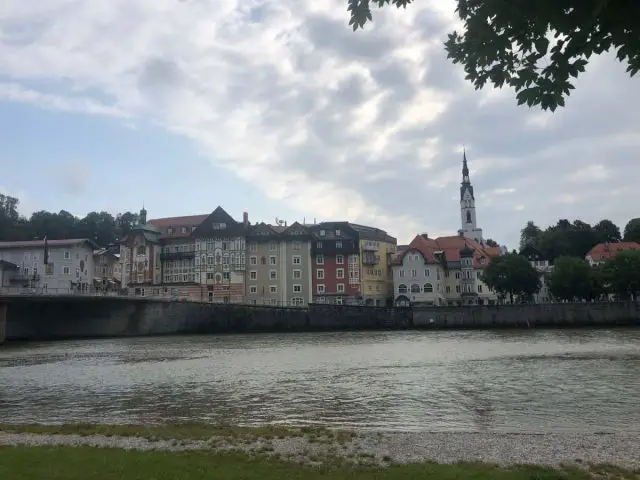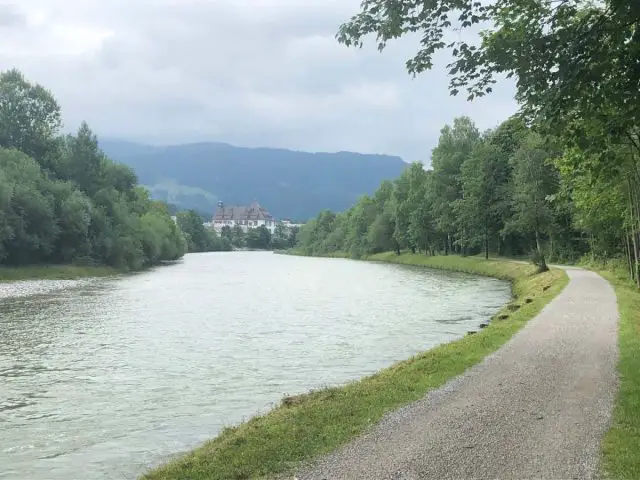 So I got to Lenggries just a little shaky and sprayed with drying muck.  About four hours in and only two water bottles and a Pro Bar.  Brilliant way to enter the Alps.  I stopped and had a cappuccino and a pastry and topped off on water.  I checked the map and knew the road up started nearby.  There were people moving about in town — groups in red vests and yellow helmets with paddles marching through town to some place in the river where there must be a raft waiting for them.  They were signing and laughing off some of the excitement and nerves.  I was silent but I know if I had any of my cycling mates with me we'd be rolling through some stupidities and laughing our way into our fate at the bottom of the mountains as well.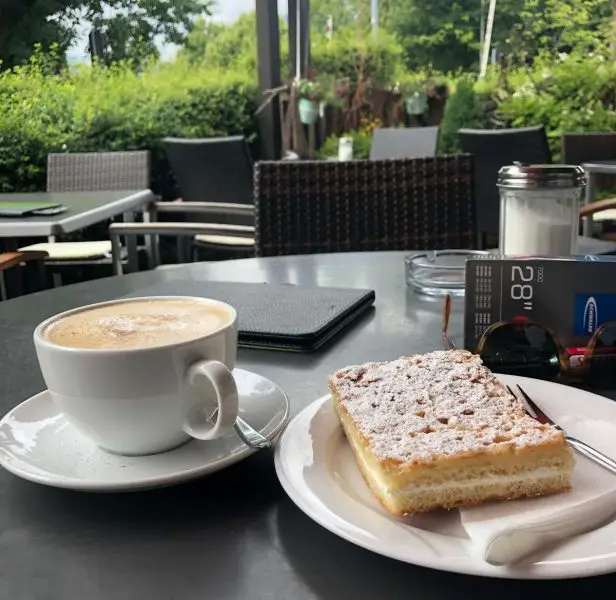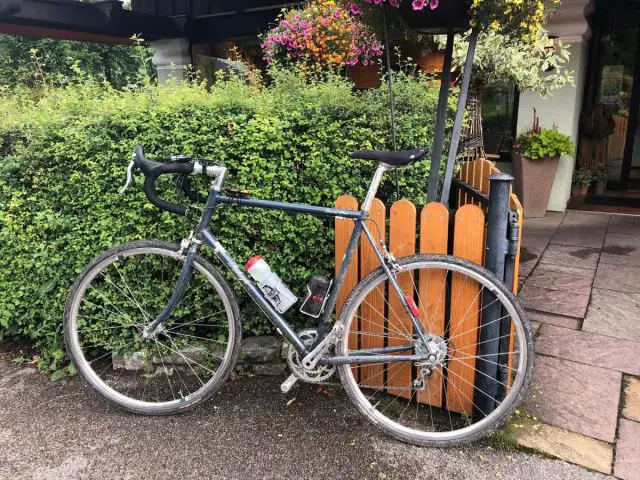 Rolling through Lenggries, there's a kids mountain bike race set to start soon.  I rolled through the starting line not knowing where to go, and then I hoped they wouldn't be passing me on the climb — especially the ones on unicycles.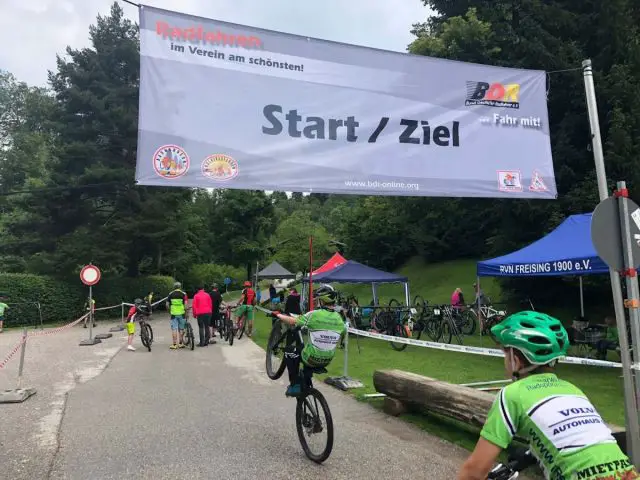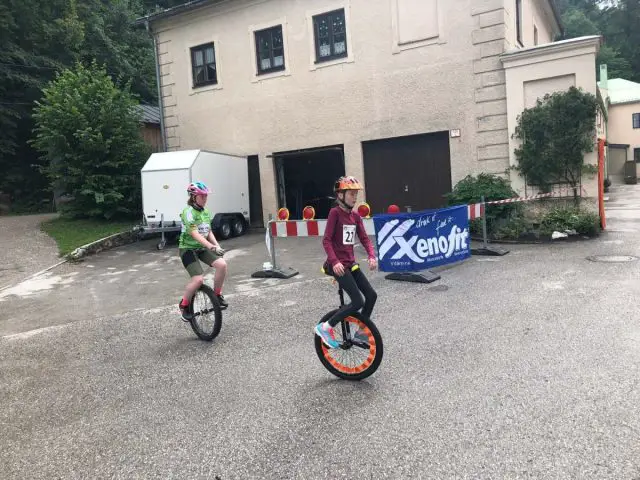 The road opens nicely into a meadow just outside of town, and then heads up from there.  You can hear the stream flowing in the trees before you see it. Then it's next to you as the road bends upward.  You can see the flow and the pitch and the legs start to sting a bit. I settled into a pace that was manageable and passed one rider and saw two other people over the course of about an hour.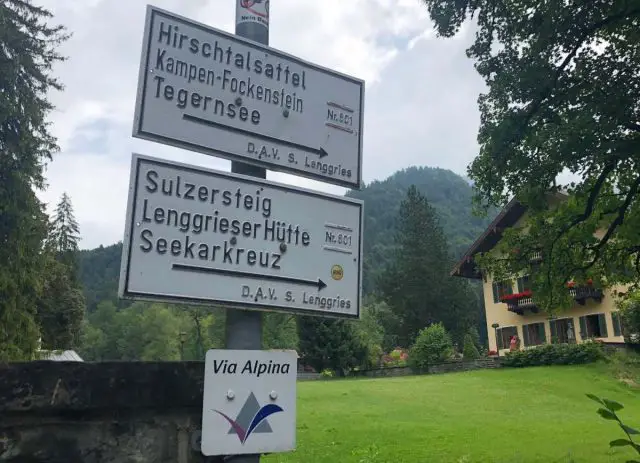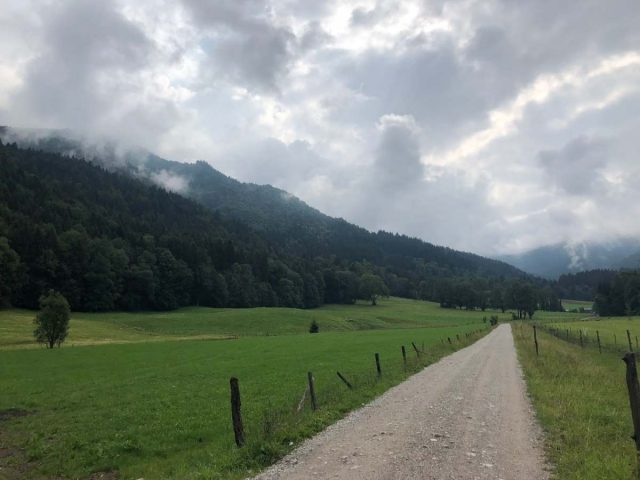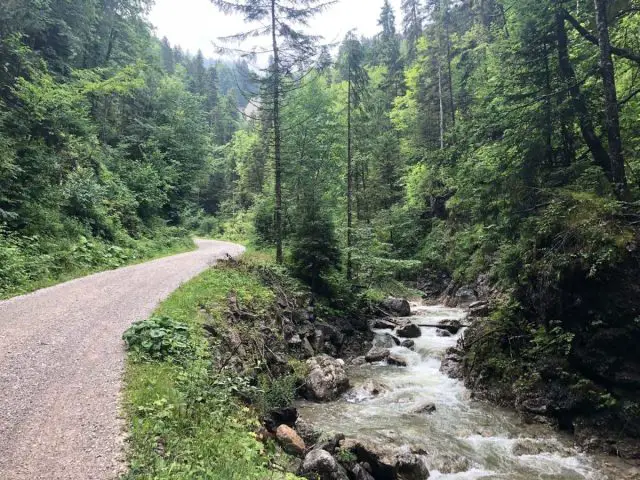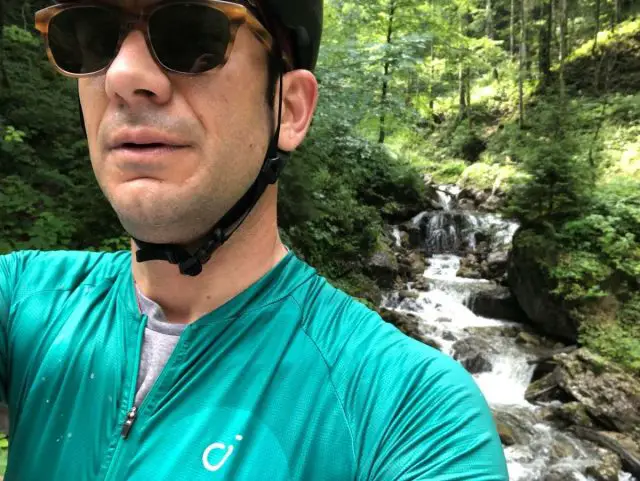 The road just kept going and glimpses of sun through the trees up ahead belied the truth that there was still much more climbing to go.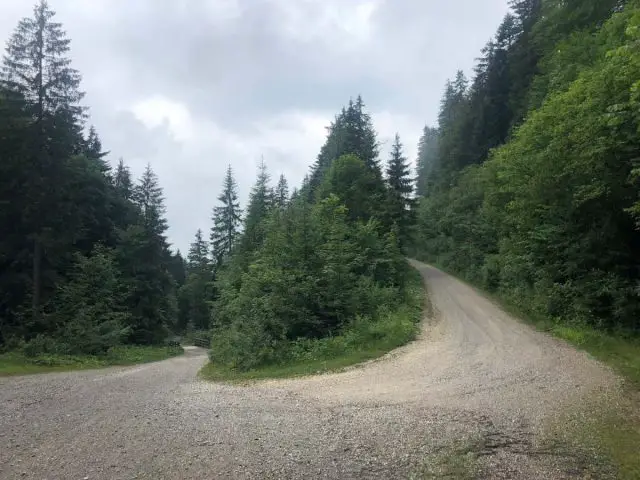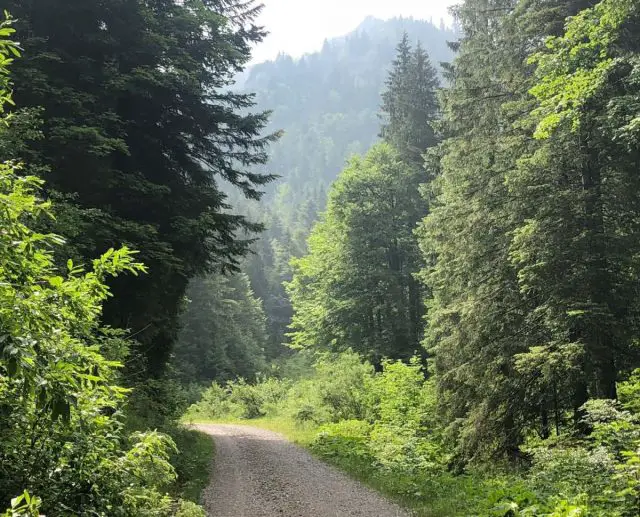 Eventually, I arrived at a sign and a rustic gate that indicated Bad Weisse, my destination town, was through the gate and into a field. No tracks or worn signs.  I just looked at it for a bit and then two riders came flying down from the other road — one that went up steeply to the left.  I asked them if Bad Weisse was through the gate and they said yes, but that it would be impassable on my bike and that I needed to take the road they came from.  I thanked them and took a photo.  Then the 60+ year old mountain biker I had passed rolled up and told me the same thing — and that I would probably be walking part of it.  (I didn't mention that I had been walking part of the climb already completed — and it wasn't just a lack of a gear, it's hard to stay upright at 3mph!)
Getting ahead of things a bit here, but it would have been easiest if they had pointed to the one road and said "beer" and then pointed in the other direction and said "no beer."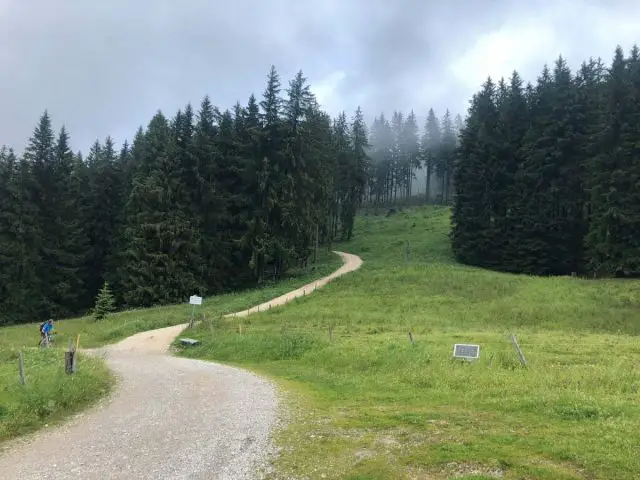 And off I went up the road to the unknown.  It was pitchy and I walked some sections.  And then it ended.  I mean just stopped and barb-wired off.  A little path around the right side for hikers and bikers.  I passed through and what was road was now a footpath and it was steep and rocky.  I hiked it for a while and then mounted and then dismounted a few times.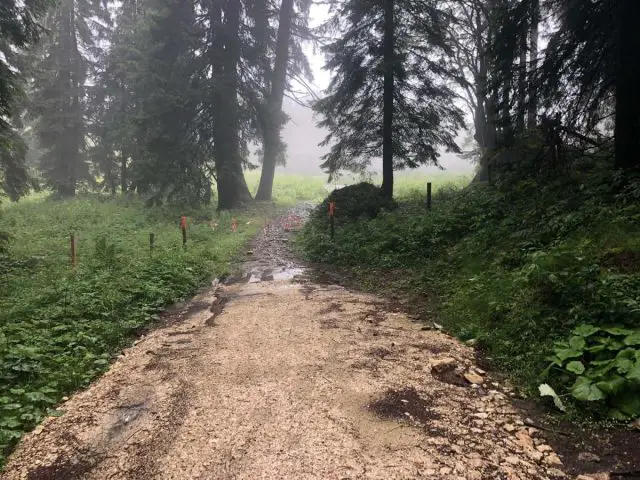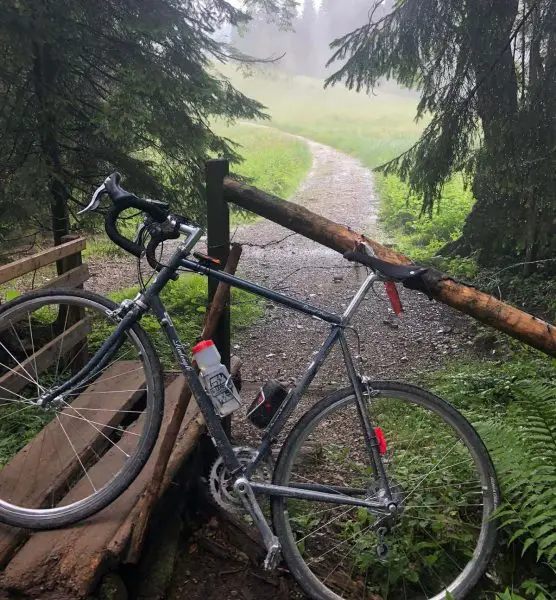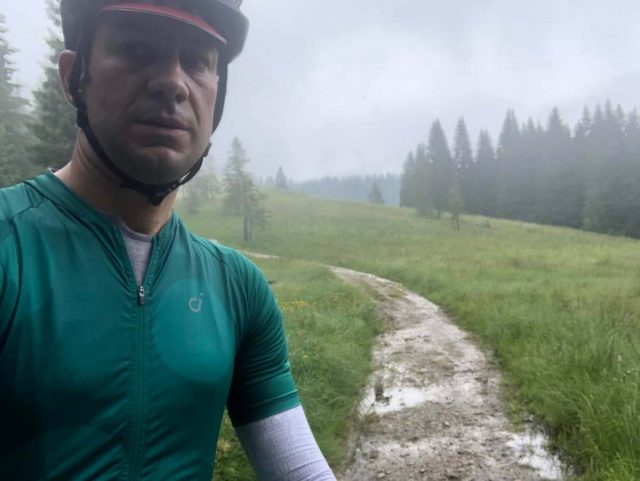 The cowbells rang in echoes and I saw them up along the top of the hill.  There's a farm on the ridge and somebody moving around there.  I crossed through the gate but the path went to grass for a bit and then appeared again.  I was on a hike with a bike until the last of the farm's buildings where the road came back and I rode on.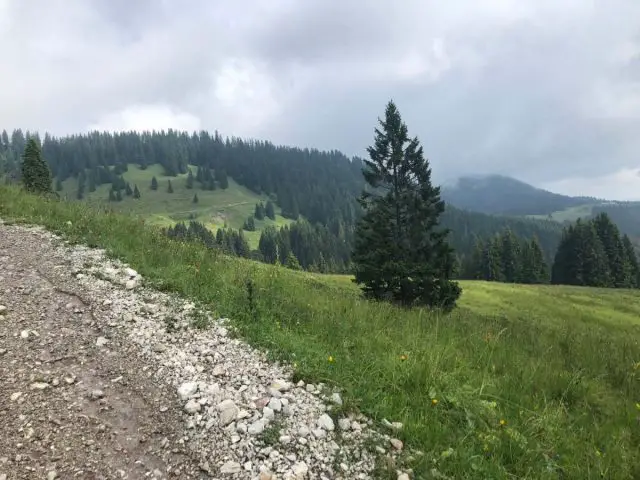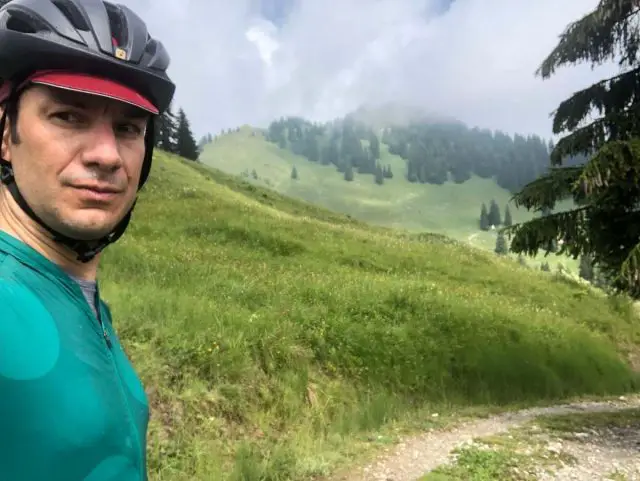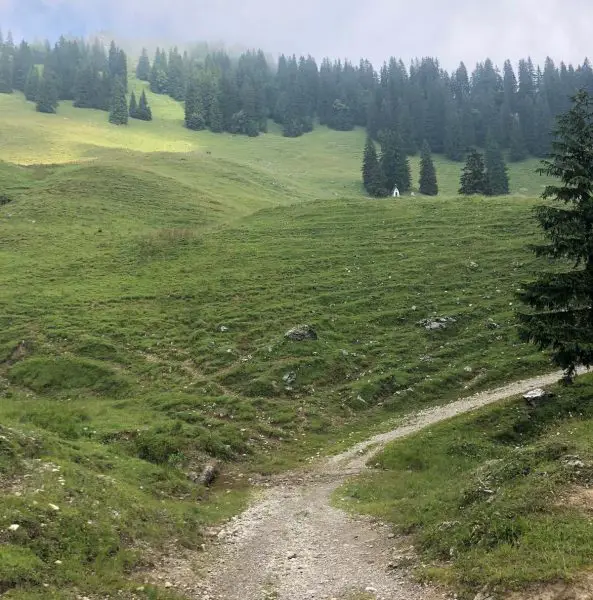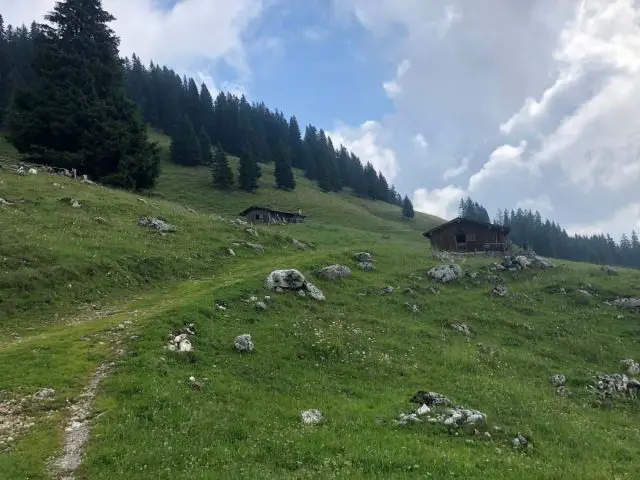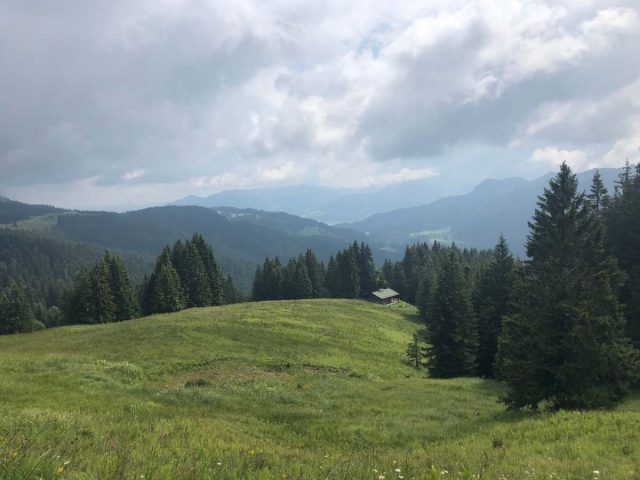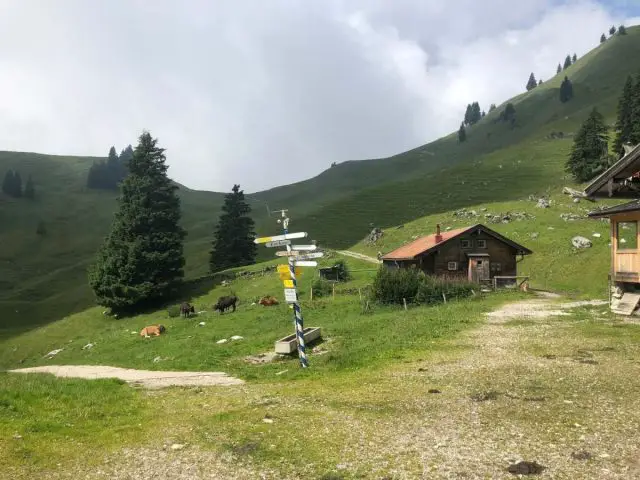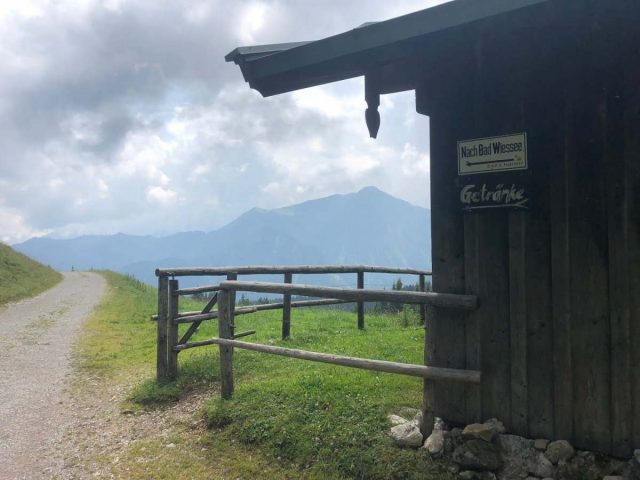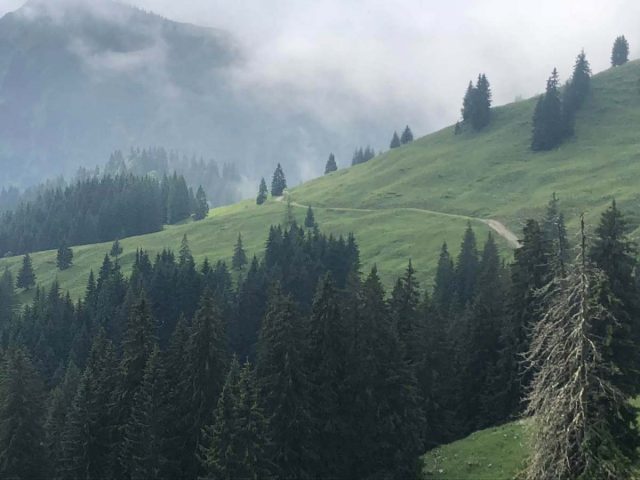 Around the corner and a bit ahead there's a building — a little chalet house thing with a beer garten.  Unbelievable.  Mandatory beer stop.  And pie?  Sure.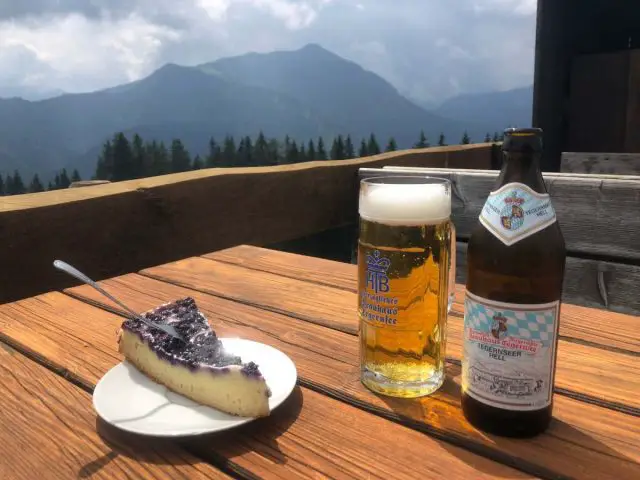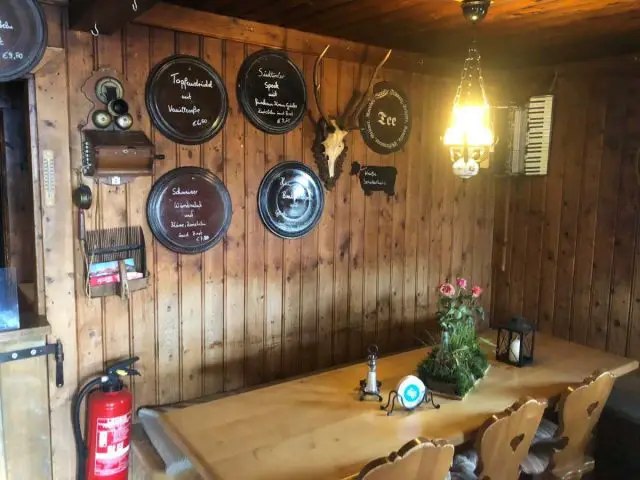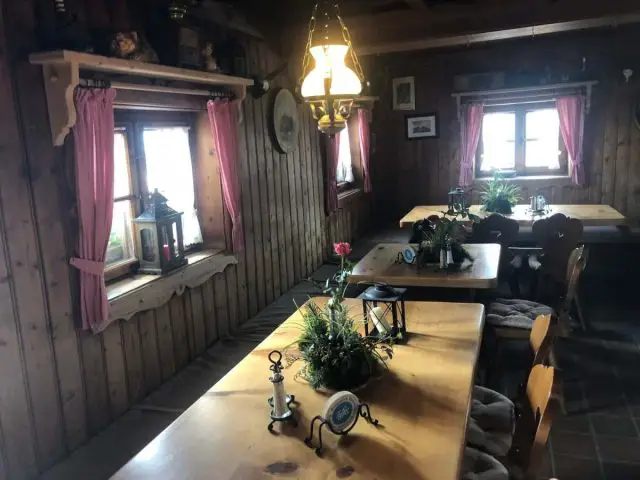 Descending into Bad Weisse on smooth roads, there were dozens of people coming uphill.  Walking with sticks or on bikes — especially on e-bikes, which are super-common in the Alps.  People of all ages are mountain biking with the ability to go higher and see more with the extra boost.  I saw it the week before and felt something between Luddite and Superman for riding on just coffee, pastries and coca-cola (and beer).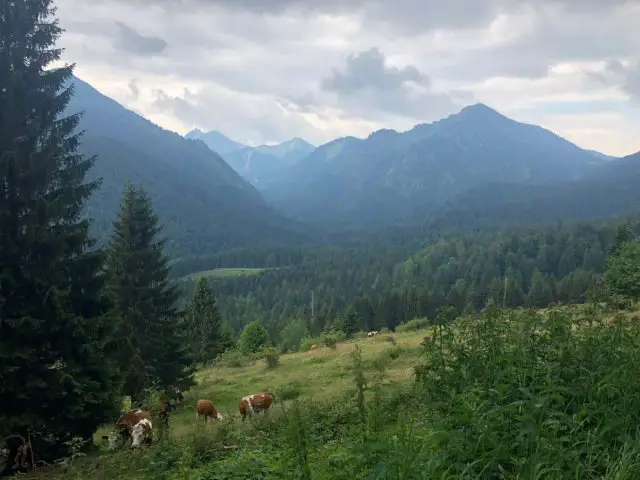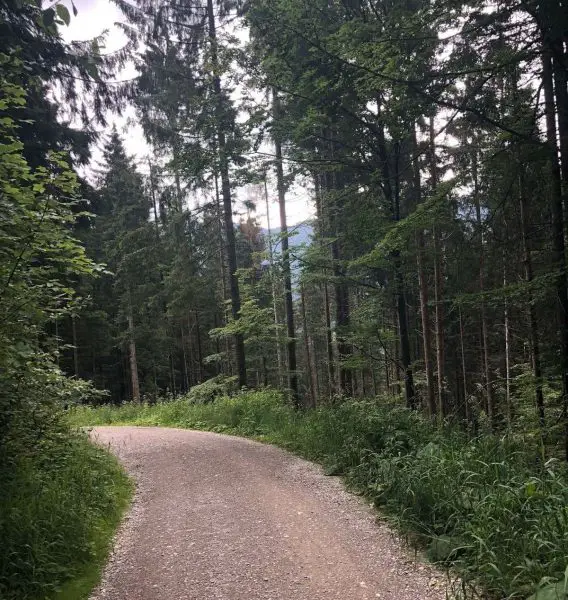 As I descended I could start to see the lake come into view.  By this time I had resigned myself to changing my plans — there would be only one mountain pass for me today.  I needed to get back to Munich.  Even though I thought I could walk up another climb, it had gotten late and there was beer to drink and football to watch.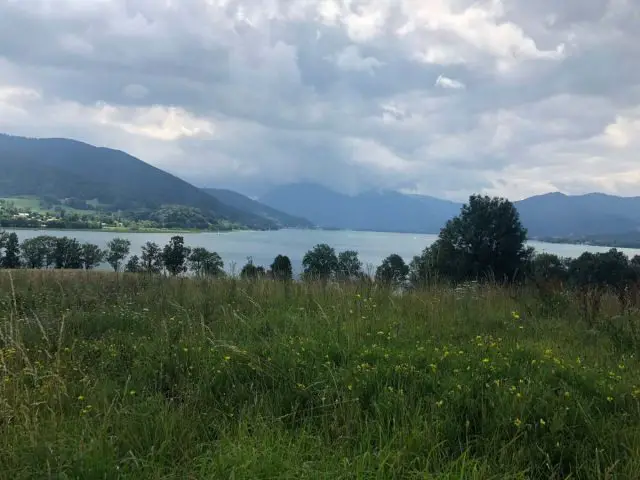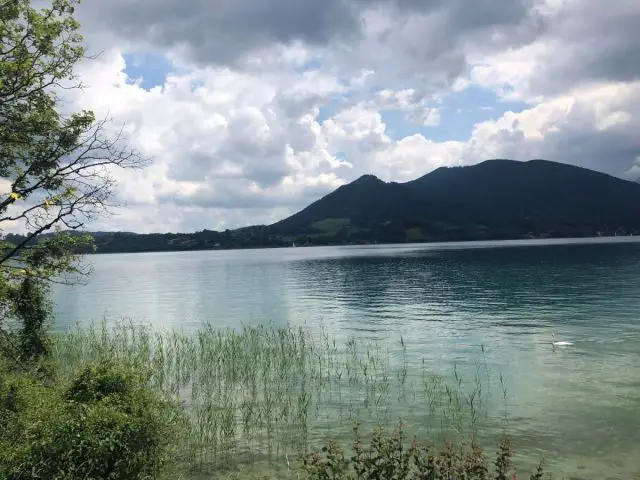 I routed myself back to Bad Tolz where I knew the gravel would restart. I flatted in town, hitting a curbstone a bit sharply.  Funny after all the rocky descents to have a flat here, but I got to work and back on the road.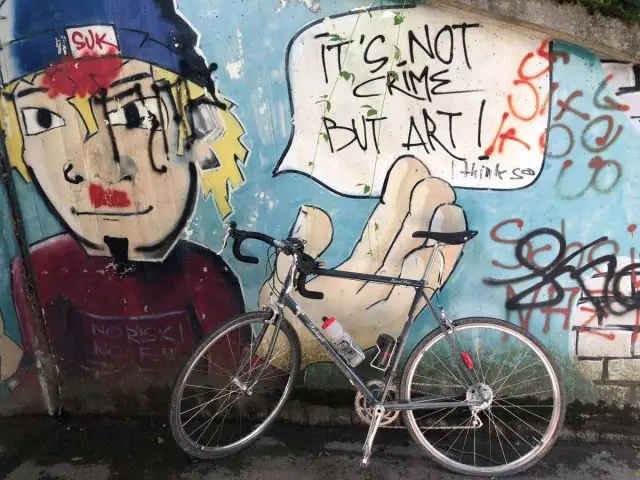 I rode into town and stopped at the place I stopped at last week and in the morning.  Wow — quite a nice sandwich!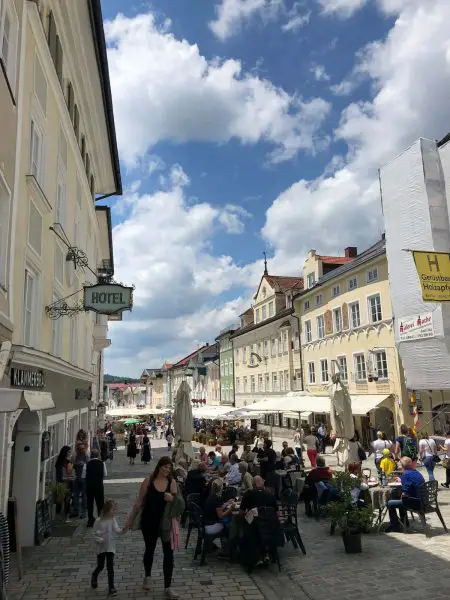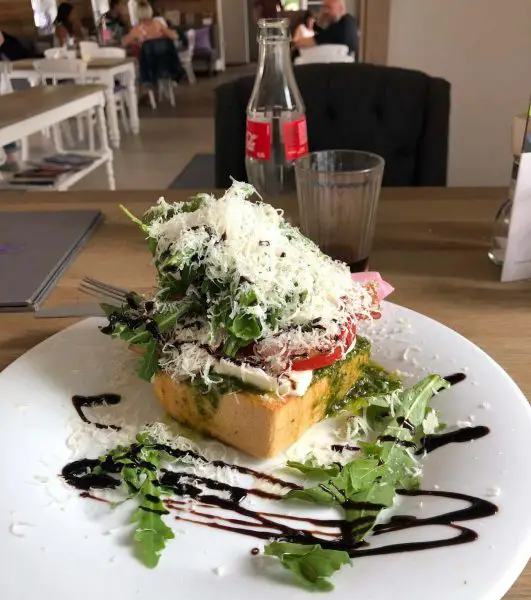 The rest of the way back, I have mostly ridden before in one direction or both.  I just laid into it with what everything that was left until I was into Munich and the Saturday river parties were all around.  The paths were busy, the music was playing, and the grills were smoking.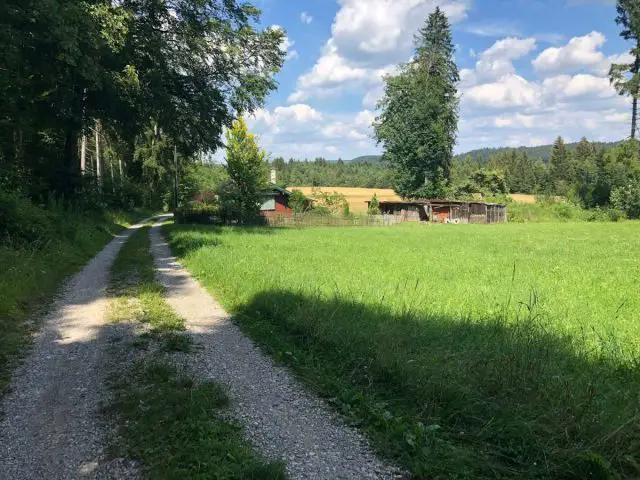 I arrived at the English Garden restaurant which has a big beer garden on the side of a pond where paddle boats and swans are moving around in the sun.  Under the trees, there's a huge TV set up and dozens of tables all full of people drinking 1-litre steins of beer.
I found Nigel. I grabbed some fries, a couple of sausages, a giant pretzel, and two big steins of beer. My phone was dead, but he got a pic — and then after many good laughs and another round of beers, England won.  Afterward, I went and sat in the currents of the Isar to cool off and look at the sky.  (Phone dead, no pics except this final one from Nigel).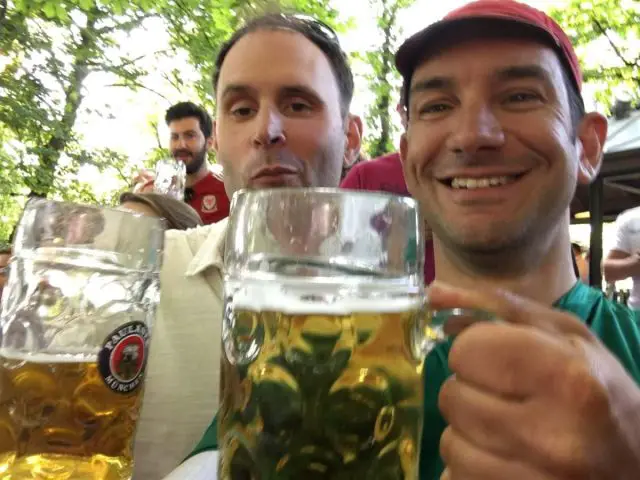 That's a lot of words to say that the gravel in Germany is easy to get to from Munich (and elsewhere) and worth whatever logistics are needed to make a day (or two) of riding.
Next up is the Day Across Minnesota.  Meantime, you all keep grinding and create adventures large and small.  See you on the road (or at a tap room).
Nicholas Garbis
---
Representing his entity, "Gravel News Network (GNN)"