If you consult the Google Machine, you will learn that "Midnight Massacre" may refer to:
The Utah prisoner of war massacre in 1945.
The trade of Tom Seaver to the Cincinnati Reds during the 1977 New York Mets season.
The Midnight Sons, a fictional Marvel Comics supernatural superhero team, being rudely killed off.
An obscure 2016 film about post-WWIII that not enough people have watched to even generate an IMDb rating.
Or, it refers to a gravel ride in North Texas, which sounds like a much more fun time than all of the above.
Here's what the folks at Spinistry have to say about their event:
"The original night time gravel grinder! This year we start and end from Valley View. We'll be taking over the town square for the night in conjunction with the folks who made the finish of Texas Chainring Massacre so memorable. Plan to hang out with Whiskey Hollow Distillery, Rider's BBQ, Firelight Vineyards & Winery, and Lil' Brick Oven Pizza."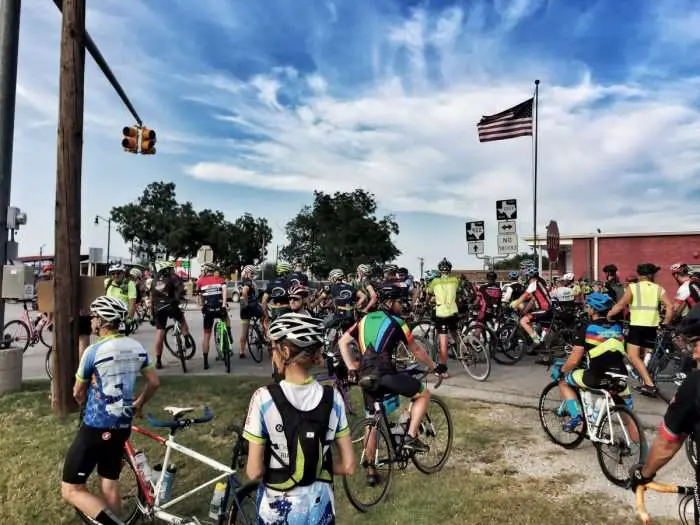 I had never done a night ride on gravel before. I'd only even ridden my road bike a couple times in the dark. On roads I knew. I have an uber-budget rear blinky, one relatively low-power front light, and an Urban 800, which puts out a respectable amount of light for the length of time I estimated I'd need to ride 100k. So I strapped all 3 of those onto my day-glo orange Crux and called it good. And by "called it good", I mean my brain had about 20 different conversations with itself all in the theme of how-not-to-die during the drive to Valley View.
We started at 7pm, when it was still plenty light outside. The lead-out on pavement only lasted a few miles and was… congested, but this was a ride, not a race, as Spinistry ringleader Kevin Lee yelled at least 5 times from atop a table during the pre-race meeting. Unless, like me, you are in a race to get to the food at the end.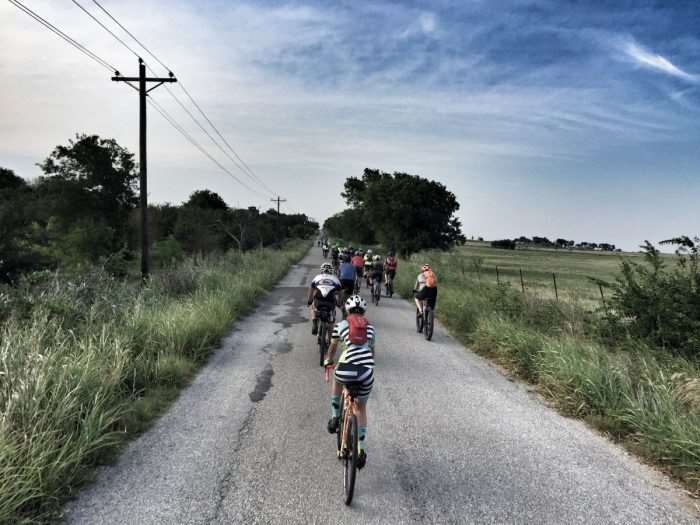 We hit gravel and things started to spread out thanks to some "hills" in the initial miles (come to Western Pennsylvania or Oklahoma and I'll show you some hills, North Texans). I didn't even have to turn my headlight on until after the first water stop, where I topped off my Camelbak (translation: dumped half of it onto myself by accident. Resisted the impulse to throw it in the bushes.)
The sun disappeared from the sky not too long thereafter, and the Urban 800 went on, which I found to provide sufficient light for me to not have a panic attack. I even got so comfortable in the dark that I had a very graceful slow-mo tip-over while attempting to eat, talk, mess with my Garmin, and make a left-hand turn at the same time, which is not something I can do in broad daylight either. Someone yelled, "IS YOUR BIKE OK?" Thank you for your concern for my bicycle. It was totally ok. My fruit snacks were infused with gravel though. I may have eaten them anyway. You can never have enough silica in your diet.
Lesson #1: In the event of a lost battle with gravity, always check on your bicycle's health first.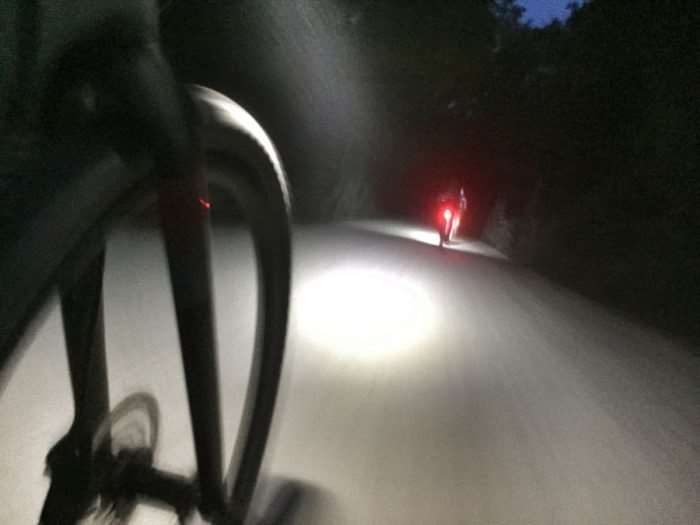 I picked up a group of dudes to pseudo-paceline with for a while in those middle miles, which was cool because there was some wind. And then because a bunch of men trying to sprint past you every 30 seconds gets old and I like my happy-mental-place-meditation time, I followed a guy from Dallas I'd met earlier on a (successful) breakaway. Once said guy got over the fact that I refuse to join Strava, we had some nice bonding time over our respective bicycle choices and past/current/future bicycle-riding plans. As one does.
There was a gas station stop at mile 48ish. I hate stopping and still had enough fuel on me. I pulled in because I was concerned about one or both or all of my light batteries dying, and figured I should stay with people. Then because I am an impatient person with the attention span of a gnat, I left about a minute later on my own with the logic that I needed to out-bike my remaining light battery time. I made it 3 more miles and my bright light died. My cheap commuting light was still putting out an approximately 1-square-foot dim spotlight. I stopped and contemplated my life choices.
Lesson #2: Bring your external battery, which would literally solve ALL OF THESE PROBLEMS.
The most logical thing for a person to do in this situation is probably to wait 10 minutes for the people who left the gas station behind her, who have lots of light. The thing I did was haul ass to try to catch a theoretical person who might be in front of me with light. Because, stubborn and impatient.
It worked out and the theoretical person I caught was a friend in some distress after chugging a very large Coke at the gas station (filed under "things that seemed like a good idea at the time"). He did have the audacity to ask if I "took a short cut", but I kind of needed to ride in the giant powerful lights attached to both his helmet and bike because he planned much better for this than I did, so I forgave him. I even believe I refrained from singing, rapping, or making any other ride sound-effects the whole way back.
Mostly what I remember of the end was that there was a hellacious headwind for the last 5 miles into Valley View. And then I finished, checked in to let the Spinistry folks know that I had made it back alive, spent some quality time sitting on the ground, and went in search of food. 11pm personal pan pizza is the best. I got so occupied with this pizza that I neglected to go get whiskey before midnight. Fortunately, I was able to negotiate a mutually beneficial swap of pizza slice for whiskey tasting with my Dallas buddy from earlier in the evening. He apparently bought me a banana at the gas station, not anticipating that I would get ants in my pants after 60 seconds and ride off into the night lone-wolf style. Glad I could share my pizza and make up for leaving you with a homeless banana, dude.
Lesson #3: Don't peace out early from rest stops just in case someone is buying you a banana unbeknownst to you.
It was a fun time. If you live in the middle of the country, I highly recommend checking out this ride next year. The gravel was mostly hardpack/loose-over-hard without anything super technical, great for riding gravel in the dark for the first time. The course was marked… and yes, those Spinistry arrows do light up pretty well in the dark.