Ride On, Gentlemen
The weather on Saturday, October 10, 2015 was perfect for a bike ride from Wooster, OH to Fredericksburg. For most casual bike riders, that 14-mile trek would be a strenuous workout and a worthy accomplishment. For 90 avid and elite-level cyclists from around the area and as far away as Columbus, Ashtabula and Pennsylvania, the weather was a pleasant surprise, but the 14-mile ride was just a warm-up to reach the starting point for a grueling 116-mile race that was plagued by rain, sleet and snow a year ago.
Fifteen six-man teams, competed in the second annual Ride On Gentleman's Race (ROGR), beginning and ending at Ride On Wooster Bicycles, in downtown Wooster, with a makeshift team comprised of riders from club teams in Cleveland, Lakewood, Akron and Mentor taking home first place.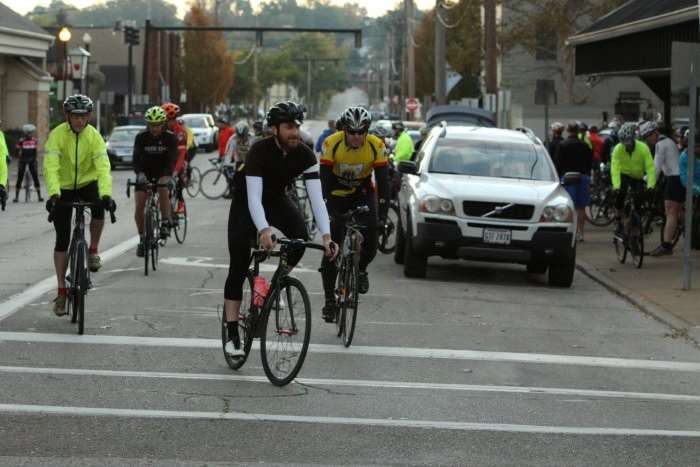 Modeled after the Gran Fondo (Italian for Big Ride) cycling events popularized in Europe and gaining a foothold in the United States, the ROGR was the brainchild of former Ride On employee and veteran Ride On Wooster Cycling Team member, James Carey, who captained one of the six teams that went into the race with a serious chance of winning.
"These gentleman's races are definitely popular on the West Coast, but there's nothing else like this in the state of Ohio," said Carey.
As a competition, gentleman's races are unique because of the team dynamic, with final times not becoming official until the sixth rider of each team crosses the finish line – rendering each team only as strong as its weakest rider.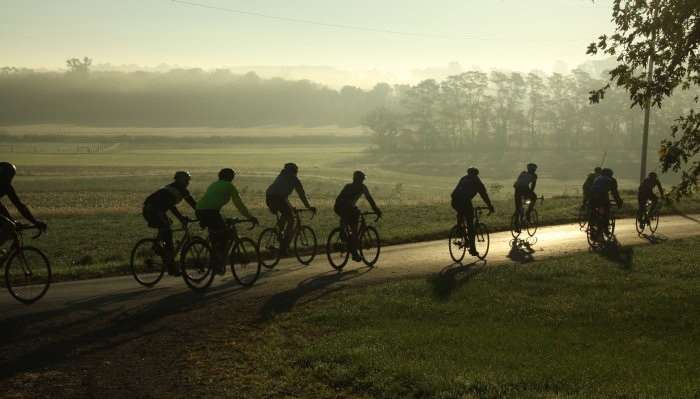 "We've never done a team event like this," explained Bradley Cramer, who helped lead the team calling itself Can You Smell what the Rock is Cooking? to victory six hours and 14 minutes after departing the square in downtown Fredericksburg. "We're used to racing as a team, but one guy wins. In an event like that, one guy might ride real hard and get out in front of everybody in order to try and tire out some of the other riders so one of their teammates can win. You can't really do that in this situation because you've got to keep the six guys together."
The ROGR represents a milestone race for many cyclists who strive to complete a true century ride of 100 miles or more. But it's far from your typical century ride.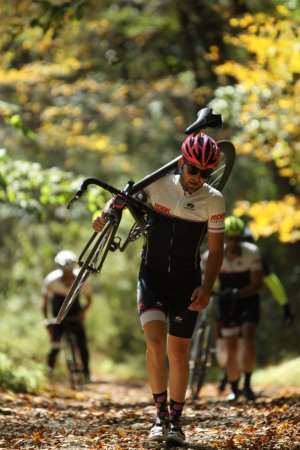 It is an unsanctioned event stretching from Wooster to Coshocton on a completely un-marshaled course. It winds over roads less traveled throughout Wayne, Holmes and Coshocton counties. It features 10,000 feet of excruciating uphill climbs and tricky downhill descents, and includes a series of treacherous dirt and gravel roadways that barely show up on maps and at times make it difficult to keep the bicycle upright. Riders carry portable Garmin devices to keep themselves on course and teams are expected to adhere to all rules in a gentlemanly fashion.
But for those who can shift their focus away from the road to gaze at the surrounding scenery, it's also gorgeous.
"I want people to walk away saying, 'Wayne, Holmes and Coshocton counties are beautiful and I saw things I've never seen before,'" said founding member of the Ride On Wooster Cycling Team and owner of Wooster Bikewerks, Todd Howman, who scouted and routed the unforgiving course along with Carey. "But I also want people to say, 'that hurt like hell and I can't wait to do it again next year.'"
If that was the goal, they nailed it.
"Holmes County is hands down one of the most beautiful areas to ride in Ohio, if not the entire country," said Cramer who came down from Cleveland to help his team get their names engraved on the ROGR trophy, displayed prominently at the Ride On store. "The gravel was difficult, it was hard to keep the bike straight sometimes. The terrain is rough. It was just constant up-and-down, up-and-down and it took its toll on you."
The backbreaking course and team format combined to shift the strategy for those competing to win, with drafting and pacing playing critical roles in any team's success.
"Working together is key," said Carey. "There definitely has to be a plan of attack."
"You take turns and let the stronger guys pull a little longer and block the wind from the guys behind them so they don't have to put down as much of an effort," said Jeremy Paul, the captain of this year's winning team. "When you hit the climbs you just go at your own pace so nobody blows up. You regroup at the top and move on to the next one.
"We also had good luck, we didn't have any mechanicals."
Oh, those darn mechanicals.
With each team's fate resting on all six team members crossing the finish line, the chance for costly mechanical issues like flat tires, broken spokes and broken gears certainly goes up. It's why most teams ride with a SAG (Support and Gear) vehicle sagging behind them.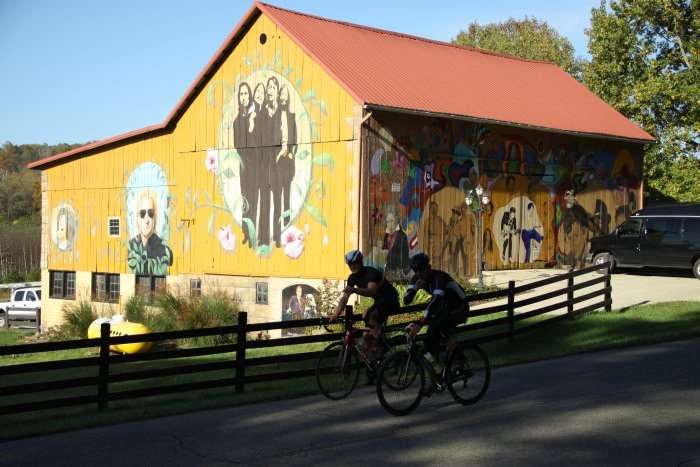 "This event is setup to be difficult, where it not only stresses your body physically, but you might want to change the type of tires you normally ride on, or consider riding a different kind of bike, because of the gravel and terrain," explained Bill Buckwalter, who opened the Ride On shop in 2009 with an eye toward encouraging people to ride their bikes by providing local cycling events.
While this event proudly showcases the beauty and inherent challenges of the local countryside, the Team 36 Tooth contingent – including Howman (Wooster), John McPhillips (Wooster), John Lorson (Orrville), Jason Suppan (Orrville) and Cody Beshire (Medina) – put elite-level local cycling on full-display Saturday. They pushed the first place team to its limits throughout the day, but ultimately crossed the finish line in second-place after an unexpected and costly delay at the midway check-in point, north of Coshocton.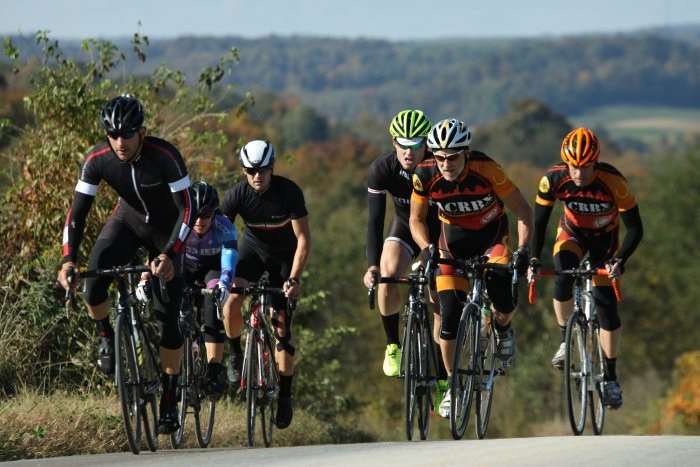 Meanwhile, Carey's team proved that not even the strongest team can compete against mechanicals and bad luck in a race as challenging as the ROGR. Despite assembling a team that included Union Cycliste Internationale (UCI) cycle cross certified rider, John Proppe, and fellow Ride On Wooster Cycling Team member, David Rummel (Ashland) – who helped pace the winning team in the inaugural event a year ago – mechanicals and a foot injury eventually did in The ROGR Replacements. After dealing with several flats and a rock embedded in a tire, they finished an hour after the winners and with only five riders still pedaling.
"Going from five teams a year ago to 15 teams this year, there was a lot more competition out there," said Rummel afterward. "After the injury we still rode real hard, but it was just kind of survival mode then."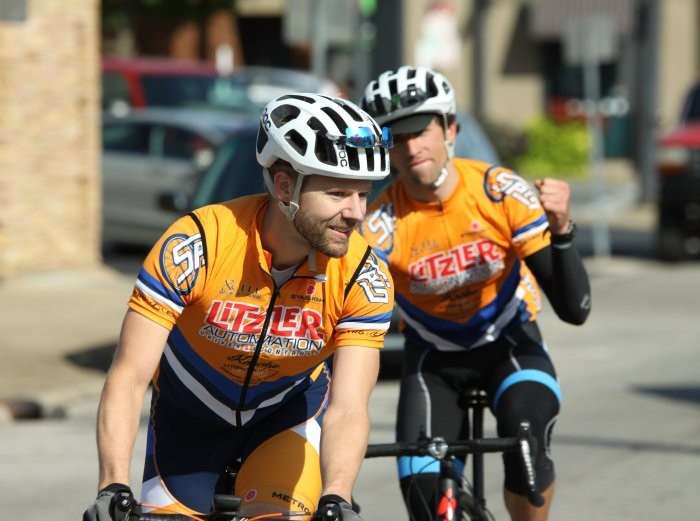 But it's really kind of survival mode for everybody out there, which is another thing that makes the ROGR unique, as cooperation often supersedes competition. "It's a race," explained Carey. "But the word gentleman comes before the word race."
"This is a team event, which I think can't be over-emphasized," said Buckwalter, who completed a cross-country cycling trip with a friend while in college in 1980, after flying to San Francisco and pedaling back east. "116 miles with gravel and climbs makes it extremely difficult, but riding with five other teammates makes it easier. Riding this alone would be a much longer ride, so that's part of the fun of it.
"Helping out your teammates however you can is critical," he added, after captaining his RO JV team to a fourth-place finish. "There will be teams that have one rider that they probably have to put a hand on their back to help them up the hills. Teams will be asking, is there a way to help out another team?
"It's called a gentleman's race. This is a competition, but it's also an event where we display our character as gentlemen."
But, to be fair, not every rider was truly a gentleman on Saturday.
Sally Price and Daniela Mehech became the first two women to complete the entire course, and Price did it in spectacular fashion by helping push Team 36 Tooth to its second-place finish.
"That's exciting and rewarding," said Price afterward. "I haven't ridden this far ever. I knew it was going to be a challenge, the hills are hard, but I like that kind of challenge.
"I'd like to get some more women out to do it," added the Hudson, OH resident, who used to compete in triathlons up until a decade ago. "It would be nice to see more women come out and be empowered and I'd like to encourage that.
"But, I'm 44-years-old and the real message behind that is, it's never too late to start."
Riders in this year's ROGR ranged in age between their early-20s and mid-60s.
The cycling community is a tight-knit group and the ROGR is a celebration of everything good about the sport, with a chance to show off the local community.
"Last year it felt like the five teams that rode became one team unto itself," said Carey, owner of Wootown Bagels, which provided breakfast for all the riders who descended on the Ride On shop prior to the 7:30 a.m. initial rollout to Fredericksburg. "The victory is secondary, so when it does slip through your fingers a little bit, you just continue and keep having a good time."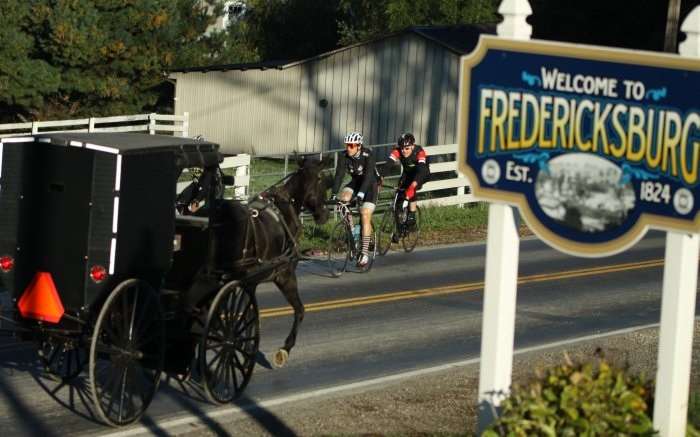 "It's like the old saying goes," said Howman. "One person is a bike ride, two people is a bike race, but this event is just about bike riding. It's pure. It's simple. It's about riding your bike.
"For people that are looking for something off the beaten path and are not afraid of a little adventure, that's what this ride is all about."
Fourteen miles on a bicycle from Wooster to Fredericksburg may seem like a lot more than a little adventure to most casual cyclists or those interested in becoming more involved in the sport. 116 miles may seem like an unimaginable feat beyond their wildest dreams.
But as Price said, "It's never too late to start."
Ride on, gentlemen… and ladies.