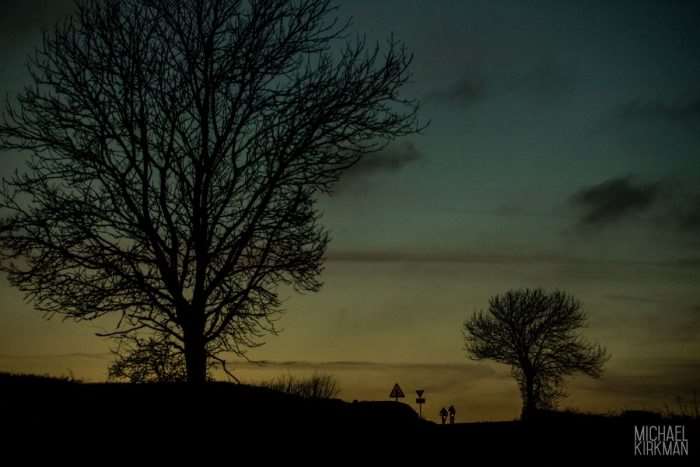 The Yorkshire True Grit Dark Skies event took place on the evening of Saturday 24th February, and was part of the North York Moors National Parks Dark Skies Festival.
Fifty riders had entered the 50 mile gravel challenge event that started from Newburgh Priory, Coxwold. At registration thorough kit checks were made to ensure all riders could remain warm in the cold weather conditions that were forecast for the night ride.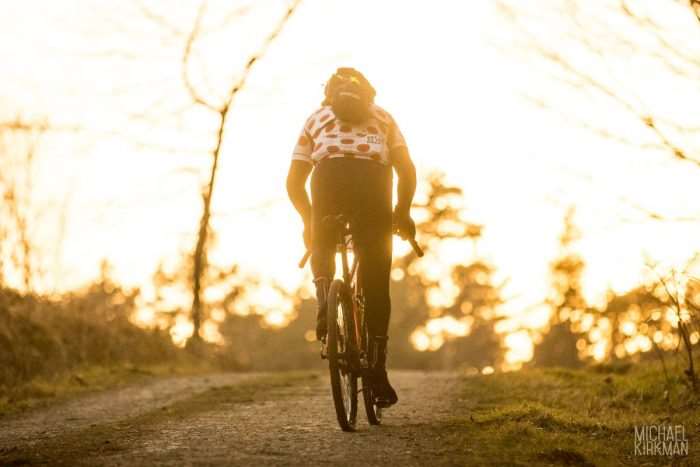 The riders departed as the sun began to set and began their journey through the forests of North Yorkshire and out on the open moorland of the North York Moors. A feed station at Sutton Bank Visitor's Centre provided the riders with soup and sausage rolls; coffee and tea, before they continued their journey to the more exposed parts of the route. Two tough climbs in the last 10 miles ensured riders were reminded this was a True Grit event that they were riding!
On return to Event HQ, riders received pie and peas, plus a bottle of "Light Brigade" Beer from Robinsons Brewery.
Whilst the event was not a race, the fastest riders completed the route in 3hours 50minutes. The final riders crossed the line at 11:20pm – some 6hours and 50minutes after they had started.
Fortunately the weather was kind, and whilst it was cold and windy, it remained dry with neither rain nor snow making an appearance.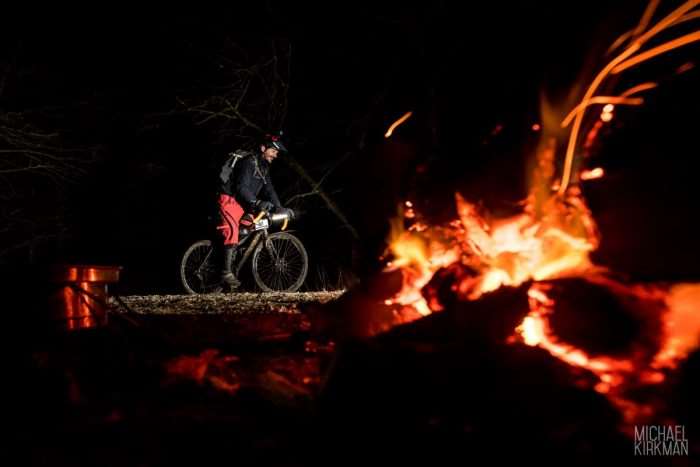 Yorkshire True Grit Event Director, Andrew Wright, said: "The atmosphere on the route and at event HQ after the event was fantastic, with lots of riders hanging out, cheering on others as they returned. It was brilliant to see the lights of the riders on escarpment edge whilst in the valley below. Our marshals and sweepers were amazing – we couldn't have run the event without them."
The Yorkshire True Grit team is now turning it's attention to the summer "weekender" event that takes place from Friday 22nd June to Sunday 24th June, offering three different distances and multi-event options. Entry for the summer event is open via www.yorkshiretruegrit.co.uk
Yorkshire True Grit Dark Skies was sponsored by Fenwicks Bike Cleaner, Robinson's Brewery, Bikewright.com and Yellowhammer Ltd. It was supported by the North York Moors National Parks Authority.
About Yorkshire True Grit
Yorkshire True Grit was established in 2016 by Andrew Wright of Bikewright, Easingwold's local bike shop.
He started the event to highlight the excellent gravel biking and cross country mountain biking in North Yorkshire. A passionate gravel cyclist himself, he is always keen to push the perceived limits of a gravel bike and Yorkshire True Grit has been described as "One of the UK's Toughest Adventure Rides" (Cycling Plus).
Andrew has lived in the area all of his life and has great relationships with local landowners which means that Yorkshire True Grit is able to use many tracks and trails that are normally closed to the public.
About the North York Moors National Park
The North York Moors is a beautiful landscape of stunning moorland, ancient woodland and historic sites. Created on 28 November 1952 it became Britain's sixth national park. Covering an area of 554 square miles (1,436 square kilometres) the National Park has 26 miles of coastline, two national nature reserves, 840 Scheduled Monuments and over 3,000 listed buildings, attracting an estimated 7.9 million visitors a year.
The National Park has two visitor centres, The Moors National Park Centre, Danby and Sutton Bank National Park Centre, providing opportunities for cycling, walking, eating, picnicking, shopping, crafts and wildlife-watching. The centre in Danby also houses the Inspired by… gallery, which features regularly changing exhibitions by artists who draw their inspiration from the North York Moors.
The North York Moors National Park Authority works with a wide variety of people to care for this beautiful corner of Yorkshire, providing apprenticeships and volunteering opportunities with nearly 14% of staff being apprentices from local families.
To view other press releases and for further information about the North York Moors National Park, visit www.northyorkmoors.org.uk