Recently, JOM of the Gravel Cyclist crew had the opportunity to interview Lelan, Event Coordinator with Life Time, and one of the original members of the Dirty Kanza Promotions team. Here's what LeLan had to say about this year's course.
---
JOM: With the change of ownership how much creative control do you have over the routes? Was the shift in direction to the North of town something that was always on the cards to mix things up?
LeLan: Our Dirty Kanza team has 100% control over the routing. Life Time has been amazing, but when they were courting us they stated they wanted our team to continue doing what we have done to make the Garmin Dirty Kanza so special. They have stuck by that and have given us the room needed to continue operating Dirty Kanza as we always have. Going north is something we've been working on and are beyond thrilled to show off to everyone.
JOM: What are some of the challenges riders can expect to face with the new 200-mile route? For example, the hydration and nutrition strategy will change drastically for many riders considering there are two checkpoints where crews are allowed, versus the usual three. There is a neutral water stop between those checkpoints, but I remind myself the two checkpoint layout isn't new, it was seen in 2015 – the mud year. What advice can you offer to an anxious DK 200 rider?
LeLan: Two checkpoints instead of the usual three is a big one. The middle leg is 85 miles. But, have no fear, there will be a neutral water stop in the middle of that leg. This is not new, as you pointed out. In 2015, we only had two checkpoint towns. That year we had our highest finisher rate to date, despite the mud. It does mean the strategy changes a bit, but DK is an adventure. And a big part of any adventure is strategizing and making preparations beforehand to be successful in that adventure.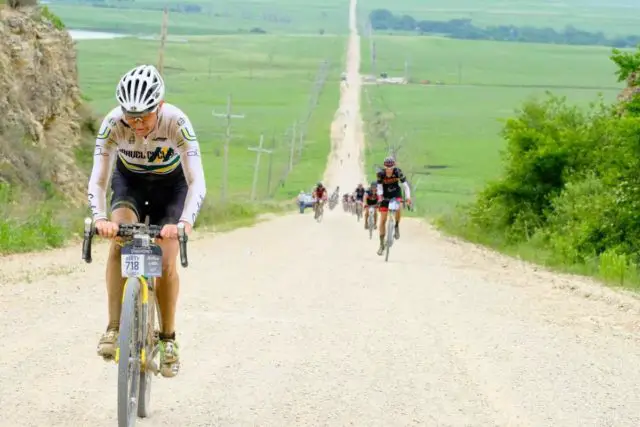 JOM: Reports came back from the official Dirty Kanza training camp that the increased number of hills bring their own challenges, including the risk of a lot more punctures. I heard through the grapevine that at least one-third of attendees flatted, and many of those were using tubeless setups. I understand the biggest factor was sidewall cuts from the flint of the flint hills, which in my mind has always been a risk. Are riders at more risk on the new route? Any advice to offer?
LeLan: There is a lot of climbing. Sure, you can find more climbing in other parts of the world, but we have packed in the most elevation gain of any DK course to date. Couple that with very, very rough rock and riders are going to be in for a challenging day. Oh, don't forget about the wind. But, tire choice, as always, is key. Make sure to choose durability over all else. A strong sidewall casing is a must. Ideal tire size continues to evolve as well. 5+ years ago it was common to see anywhere from 32 – 38's. Now, there is no way you'd get me out there on anything smaller than a 38. For me, that's the starting point. I really think 42-45 is the sweet spot. You've got to realize that comfort and traction far outweigh the perception of minimal rolling resistance.
JOM: Little Egypt road -What is the hype about? This road has been mentioned at least once in the pre-race announcements. I've heard it is quite hilly / undulating?
LeLan: You know, Little Egypt road is a gnarly one. It really has it all, three to four big undulations and minimum maintenance conditions. Always use caution, but especially so on this stretch. This road can be extra rough at times which makes the climbs a little tougher because you have to scrub your speed and it can be tough to maintain momentum. I'm gonna level with you all though, there are a lot of tough climbs and tricky descents. Respect the gravel. Ride within yourself and give the rider in front of you some room so you have time to react to things. We feel this is the roughest course yet.
JOM: In 2018, we saw a nasty little storm system roll in before the race started, to dump a good amount of rain, particularly on the B-road around mile 12. You wisely routed the course around that obstacle. Do you have a similar contingency plan in place and a slightly later start time, should history repeat itself? (let's hope not!)
LeLan: Our contingency plans start with a little preventative planning. The first questionable stretch of road (dirt, that is) doesn't come until mile 38 or so. It can easily be re-routed if need be. We love dirt roads, but everyone's safety comes first and we want to make sure all riders have a memorable experience. So, that may mean you could still get a taste of mud and bike carrying, but it won't be in the opening miles. It's an adventure race after all!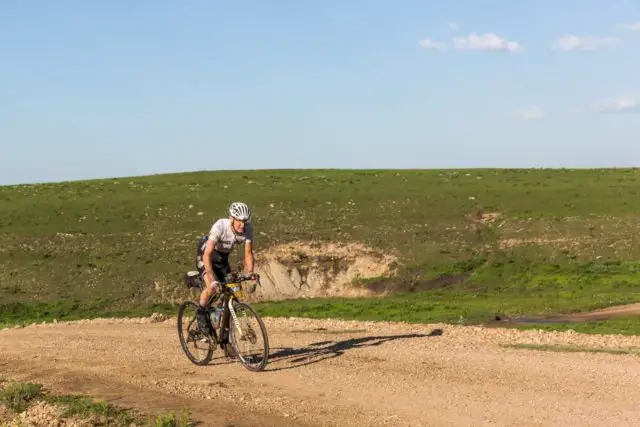 JOM: Finally, and this question relates more to the increased interest of DK200 by elite riders. At some point in the future, do you see a staggered start happening for an elite-only field?
LeLan: Isn't it wild!? First off, we have National Champs, World Champs, and Olympians from all major disciplines of cycling (Road, Mountain Bike, Cyclocross, Track). They are lining up on the same start line with all DK participants. But, on top of that, we have people like former WNBA star (and Kansas native) Jackie Stiles, ex-football players, MotoX riders, and on and on. It is truly amazing to see so many talented people coming together to ride bikes on Kansas gravel roads.
But that is the very essence of gravel. Moms, Dads, veterans, small business owners, serious riders, not-so-serious riders, Olympians, all-stars, all of 'em. We are all just trying to answer the same question: "can I get to the finish line?" In that process, we are trying to find out a little bit about ourselves and just what exactly we are made of. That was a long-winded way of saying, "no." We have no plans of a separate, elite-only field because we view the so-called elites the same as everyone else. There is no cash purse to be won at Dirty Kanza, which to me would be one of the reasons to have a separate field. All riders should be looking for the same finisher bragging rights. Can't wait to hang a finisher lanyard around everyone's neck that comes across that line!
---
Many thanks to Tim of Lyman Agency for facilitating this interview.