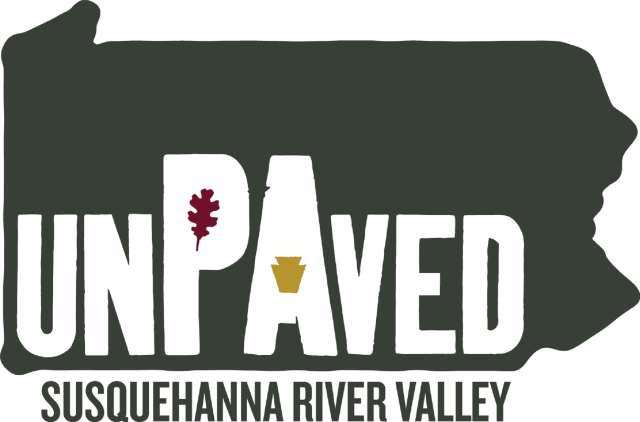 unPAved of the Susquehanna River Valley, a premier raw road adventure through the forests & farms of Central Pennsylvania, returns on Sunday, October 13th, 2019. Registration opens at 7am on Sunday, March 17th at https://www.bikereg.com/unpavedpa. The inaugural event was a tremendous success, with 600 riders falling in love with the route (some loved the climbing, even more loved all the descending), and the town of Lewisburg. This year's event will have entries for up to 800 riders on the 3 unPAved courses, plus the FUNpaved ride:
Full: 120 miles, 9,500' of climbing
The 2019 event features 3 Solo categories (Men, Women & Singlespeed), a DUO field (because riding with friends is fun!) & Whoopie-Pie prizes for the fastest of those folks.
Plenty: 90 miles, 6,200' of climbing—timed, with results posted
Half: 54 miles, 3,500' of climbing—timed, with results posted
FUNpaved: A 30-mile ride that gives a taste of the great gravel riding in the region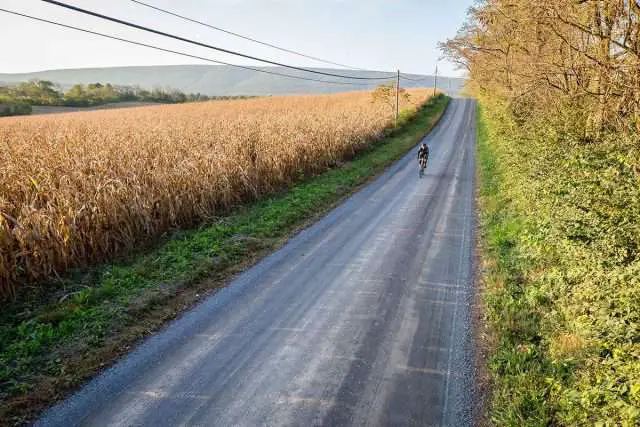 About the Routes
Each of the unPAved courses showcase some of the best gravel riding Pennsylvania has to offer. All routes leave from the Miller Center for Recreation & Fitness and head west from Lewisburg on the Buffalo Valley Rail Trail and into the Bald Eagle State Forest, which is filled with long climbs, lovely descents, mostly-smooth-but-sometimes-chunky gravel & dirt roads, aid stations, pretty trees, running streams, tunnels, and hardly a bar of cell-service. While the Plenty and Half courses are big rides, the Full unPAved is a rugged challenge of stamina and skills. "The Difference" section packs four mountain passes, one gnarly downhill trail, and three seemingly endless descents into a 30-mile loop from the GU Energy Labs Oasis and back again.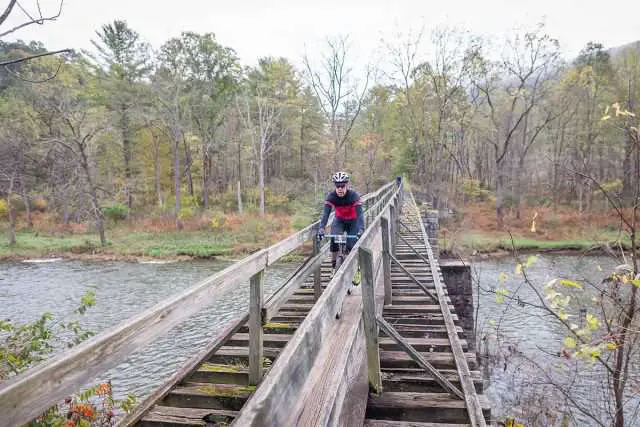 About the Weekend
The weekend of October 12-14 is an official National Holiday, and unPAved is going to take full advantage of it.
Friday: "Get un(G)ravelled" Downtown Pub Crawl, with stops in a number of the pubs & fun college bars in Lewisburg.
Saturday: Lewisburg Fall Festival which offers beer, food vendors, music, a bike rodeo, the "Wooly Worm Winter Prognostication," and fun family activities with the Lewisburg Children's Museum. Plus, there will be plenty of bike vendors and social rides starting & finishing at Hufnagle Park. That night, riders will walk the red carpet to the rider meeting in the historic Campus Theatre.
Sunday: unPAved, with the Full route starting right at dawn (roughly 7am) and the other fields riding off on the Buffalo Valley Rail Trail at 8, 9, and 10am. While riders are on course, the Miller Center and Children's Museum will host activities for children. As riders finish, they will hop off their bikes and hop into the DONEpaved Party at the finish line, with beers from Rusty Rail Brewing, food & whoopie pies from the Cornerstone Cafe, and podium prizes and plenty of swag for all the riders.
We're hoping everyone has so much fun at the DONEpaved party they'll wake up late on Monday and we can all go out for a spin together before heading back home!
Video
Video by Annemarie Hennes, Adventure Scout Media
From the unPAved Champs & Sponsors
Alison Tetrick (Specialized) is already thinking about defending her Whoopie-Pie championship. "The beauty of gravel riding is that you can explore roads that you didn't know existed, see views that you can't forget, and meet a community that is just like you. unPAved of the Susquehanna River Valley introduced me to a beautiful part of the country that is seared in my mind. I had a blast riding my bike through the forest and found such satisfaction in not only the scenery but also in my accomplishment to challenge myself on a course that offered so much option and beauty. And heck, it's a great party at the end!"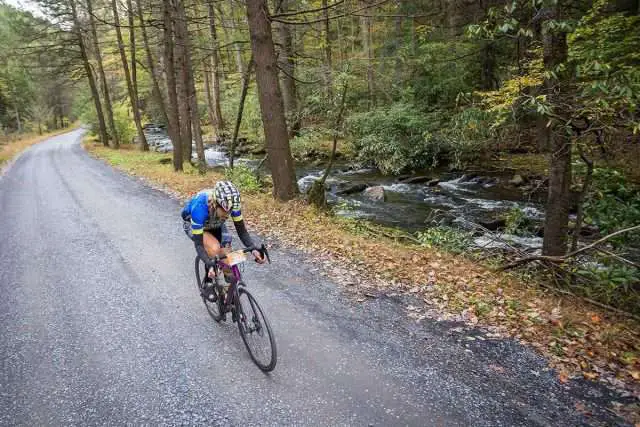 2018 Men's Champ Matt Curbeau (Velocio Northeast) is planning on bringing the whole family in 2019. "With an event like this that is so family friendly I have a good chance at convincing my wife that a 54-mile off-road gravel ride would be an awesome way for her to break into the bike racing/gravel riding scene. At the end of the day we both get to race our bikes, our child is loved by family all day and we do it all in the awesome community of like-minded cyclists." Our fabulous partners are equally excited to be part of the second edition of unPAved. "The Susquehanna River Valley Visitors Bureau is proud to be the Title Sponsor for unPAved," says Andrew Miller, the bureau's Executive Director. "The 2018 event was amazing! We were thrilled to meet athletes from all over the United States and Canada who are at the top of their game and living their best lives. To host them as our guests and to have them enjoy unPAved and experience our welcoming, hometown hospitality and stunning fall scenery help put the Susquehanna River Valley on the map and in the minds of cycling enthusiasts as a national destination. We can't wait for unPAved 2019!"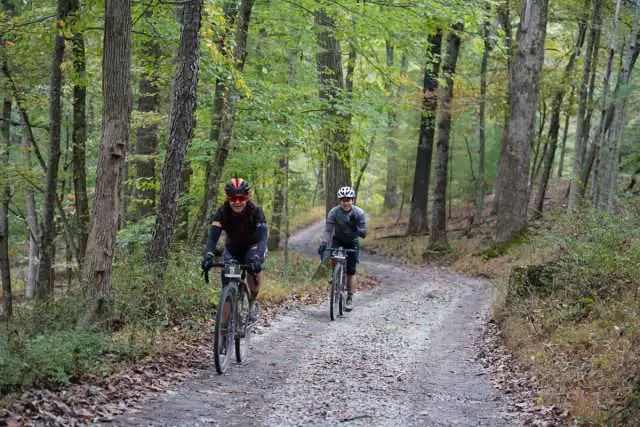 Salsa Cycles is "thrilled to bring Chase the Chaise to unPAved this year and to share our gravel family room," and Stan's NoTubes "is excited to partner with what's rapidly becoming the premier gravel event on the East Coast!" GU Energy Labs will be back for the "GU Energy Oasis" at Poe Paddy State Park. Yuri Hauswald, Community Development Manager, says, "Here at GU, we're not afraid to ditch the pavement! Gravel riding speaks to every level of cyclist and inspires people to push themselves and explore. We're thrilled to partner with unPAved to provide riders with fuel and hydration to keep them feeling good while racing through the beautiful Susquehanna River Valley."
Also returning for 2019 are Philly Bike Expo, SpeedSleev Products, Ritchey Logic, Voler Apparel, Purple Lizard Maps. New sponsors for 2019 are Nittany Mountain Works & Chamois Butt'r. Curt Shelman, Chief Operating Officer of Chamois Butt'r, says, "We are really looking forward to getting on the ground and becoming part of the event. Great community, people, raw roads, forested hilly adventure on farm country roads in rural Pennsylvania, sounds like a perfect place to ride a bike and make new friends!' Follow along for all the fun on our website, or on facebook.com/unpavedPA, twitter.com/unpavedPA, instagram.com/unpavedpennsylvania or via #EasyOnTheEyesHardOnTheLegs.