Sunday, September 28, 2014.  K-Dogg and Mrs K-Dogg are jetsetting their way to Italy, to contest the legendary race / ride / event, known as L'Eroica.  It's been on K-Dogg's bucket list for a while.
What is L'Eroica?
From the official website – "L'eroica is a foundation whose purpose is to safeguard the heritage of the white roads of Tuscany.  These romantically actual ideals gave rise to the idea of the cycling event born in 1997.  At the start, at the time, there were 92 "hunters of feelings and emotions", but now eroica is an example of environmental sustainability, sustainable lifestyle, of clean cycling which indicates the future by looking to the past: witness the numbers of a success due to the passion of its organizers and creators."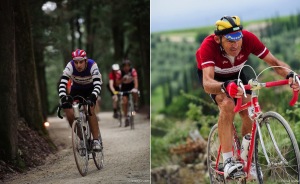 Pardon the dodgy Italian to English translation.  In a nutshell, this is an event and foundation, committed to keeping the white roads in the Tuscany region of Italy, from ever being paved.  More of that needs to happen in the USA; don't pave the dirt, limerock and gravel roads!
L'Eroica is also a ride of epic proportion.  There are two long routes (205km or 135km) and two short routes (75km or 38km).  The Doggs are doing the full monty 205km route, naturally.  When you fly across the pond, you don't half arse around.
There are eligibility requirements that make this one of the most unique gravel events on the planet.
L'Eroica Regulations
Event limited to 5,500 participants.
2,500 randomly selected by ballot from those who apply.
2,500 divided between over 60's, women, and 500 guests of the organization.
There are also regulations relating to Italian cyclists, foreign cyclists and age groups.  Women automatically get an entry regardless of age.
Complete regulations are listed HERE.
Bicycle Regulations
Road racing bicycles, pre-1987 – no cyclo-cross bikes allowed!  Ditto for TT bikes.
Steel frames only, unless you own an Alan or Vitus with screwed or glued joints.
Downtube shifters only, or only pre-1980 bar end shifters.
Toe clip pedals, unless you can find a pair of Cinelli M71's.
Non-aero brake cables.
Wheels must have a minimum of 32 spokes, and low profile rims, less than 20mm.  i.e. How wheels should be for Merckx style time trialing.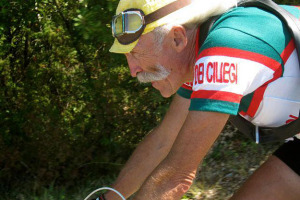 That means, no modern high zoot carbon, titanium or aluminium (aluminum for the Americanos) frames.  No STI, ergo or electronic shifting.  It would be cool if the organizers recognized the Exxon Graftek, Speedwell Titanium or Teledyne Titan frames, because JOM would ride one of those!
The Dogg Bikes
Unfortunately, I don't have photos of the Dogg's bikes, but I've seen them enough times to describe them.
K-Dogg is aboard a Spanish built Macario, 70's vintage.  Mostly Campagnolo drivetrain, 53/42 chainrings, and a 14 – 28 five speed freewheel.  With several 20% grades along the course, the going will be tough, and some walking expected.  Ryan of Pleasant Cyclery in Gainesville, Florida was instrumental in helping K-Dogg with his bike.
Mrs K-Dogg is riding a gorgeous 1980's Pinarello Montello, again with mostly Campagnolo components.  This Pinarello is when the bikes were actually made in Italy, and not finish painted after being manufactured elsewhere.  Similar gearing to K-Dogg.  Ironically, Mrs K-Dogg has approximately one hour of riding time on this bike before she departed for Italy.  J.D. of Bike Works in Gainesville, Florida, sold Mrs K-Dogg one of his personal frames, and performed the time consuming work of piecing everything together.
Reporting
K-Dogg will be riding, filming, taking snaps, and the roving reporter for Gravel Cyclist at L'Eroica.  Mrs K-Dogg will be providing the navigation duties prior to the event during pre-rides.  We cannot wait to hear about the ride, and will be posting regular updates as the Doggs chime in!
K-Dogg's entry is in this LIST.  Mr's K-Dogg is registered, but we're keeping her identity hush hush.  Of interest, Erik Zabel, former professional with Telekom and renowned sprinter, is signed up for the event.  Epic!
Watch this space.