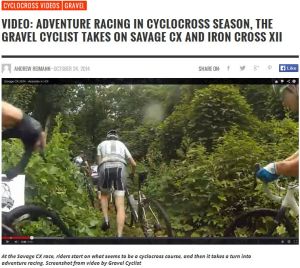 Featured!
Today, the lads over at Cyclocross Magazine, Andrew and Andrew, were nice enough to feature some of my Gravel race videos.
The Cyclocross Magazine article can be seen HERE.
I met one of the Andrews at Interbike earlier this year, and followed up that meeting with a bit of cheeky email harassment.  Clearly I got their attention 🙂
Video Archives
Gravel Cyclist video archive, my current YouTube presence.  Before Gravel Cyclist, there was JOM TV… my original YouTube presence for uploading race videos and other stuff.
Gravel Cycling Awareness
Gravel Cyclist was formed to raise awareness about the gravel racing scene.  We, or I in this case, believe any genre of cycling and racing involving Cross bikes, Gravel bikes and Monster Cross bikes, is awesome!
More and more I am seeing cyclocross specialists, compete and do well at gravel races, and endurance CX type events.  When you think about how short the cyclocross season is, it makes sense for these riders to do something during their "off" season.
Excuses
Will you see me (JOM) at a "regular" cyclocross race?  Hanging out, yes, racing, no.  Why?
Wrong time of year to be peaking form.  I never hit peak form any time of year really.  Training program, WTF is that?  Power meter?
I stink at remounting.  I've knackered myself more than once.
Dr Pain, a good mate of mine here in Gainesville, Florida, broke his ankle in practice during an attempted dismount.  He promptly quit regular CX forever after that.  That means, I'm not doing it either.  But, we both love Ultra CX and gravel races, especially when the weather is horrible.  And, we reside in Florida.  What is wrong with us?
Race needs to be at least four hours long.  That's because I ridden so many bloody base miles over the past 20 years, endurance is all I'm suited for.
I like bottle cages on my bike.
There are heaps more excuses, but keeping today's article succinct.
Thank You
As always, thank you to everyone who reads Gravel Cyclist, and posts comments and questions.  Keep them coming!
November is a busy month here at Gravel Cyclist.  There are three race weekends happening, culminating in the last round of the American UltraCX series in Norman, Indiana.  I CANNOT WAIT!  Maybe it will snow?
Watch this space, there will be race reports and videos coming soon!