I, like a lot of Americans, had little reason to think about "the Czech Republic" when I was growing up. Certainly, I learned to spell "Czechoslovakia," but I didn't really spend a lot of time consciously thinking about the country until I met my wife – who happens to be from here. You might (and I stress "might) have had the chance to think about the country in the context of Jaromir Jagr (praise be upon him), or The "Good King Wesnislass" Christmas carol, which is actually named for Czech King Wenceslas, or Vaclav 1 of Bohemia (aka Saint Vaclav, patron saint of Bohemia)… for whom Wenceslas square in Prague is named. Side note: Adam Hansen – the guy who's ridden 16 consecutive grand tours (Giro, Tour and the Vuelta) in his professional road career and makes his own cycling shoes (https://www.adamhansen.com/) also lives in the country. But beyond spelling, sports, and caroling… the country has stayed kind of hidden in the "post-communist mists" of American consciousness.
However, this works to its advantage. Certainly, there are no Alps or Dolomites mountains, no altitude, or 100 years of accumulated history from pastel colored jerseys won in the late spring and summer. But that means it's quiet. The terrain is rolling, with usually no more than 1,000 feet of elevation gain in any individual climb – unless you go to either the Haná River valley – flat, or the mountains on the German, Polish, or Slovak borders. This makes it accessible for riders of all abilities. You can pretty much always just show up and ride.
Czech gravel really shines. In contrast to the USA, which frequently features huge expanses of flat distance connected by the dirt roads that go for miles (e.g. Dirty Kanza), the Czechs do things differently. Because the country is old – in that there have been recorded events here since the mid-600's, you are never more than 10 kilometres at most between a village. So rather than picking a route and being stuck into it for two hours, Czech gravel riding is more like building a route as you go. Fitting together exactly what you need like building blocks, always with a way to find pavement (and probably quickly home) within a relatively short distance.
The second reason that Czech gravel riding is great is the idea of "forest management." Small-scale logging is common here and the Czech Forest Company (Lesy České republiky – https://www.lesycr.cz/Stranky/default.aspx – in Czech) manages large amounts of forest, and rents even more from landowners. This land is then logged, usually in small amounts (seemingly at ~2 acres at a time). To access these forests, the government has very helpfully built a network of forest roads. These are of various ages and qualities from glassy smooth pavement to nice gravel, to rocky and a bit washed out, but they are maintained and frequently protected from cars behind a gate.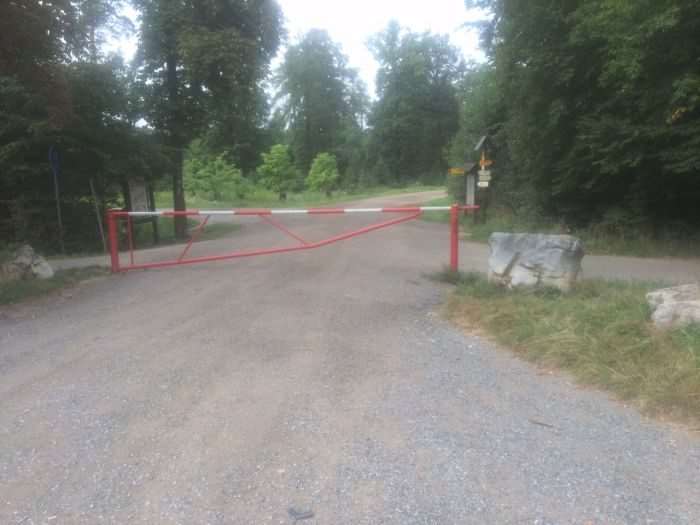 This means that pretty much anywhere you are in the country (Prague excepted), you have a network of closed gravel sectors of assorted difficulty that you can choose from any time you step out of the house. Locally, these sectors are often climbs, but they vary in steepness.
Finally, either because of, or related to the massive popularity of cycling – and getting outside in general, it's easy to find and follow any number of marked bike paths and trails, many of which are on gravel or "underpaved" protected roads. This makes early-stage route planning much, much easier.
In this case, I decided (after emailing JOM at Gravel Cyclist about writing this story) that I should do a proper gravel ride and put it on Strava and take some photos. Because I fully ascribe to the "run what you brung" gravel philosophy, I've been exploring these roads on a Cannondale Caad10, with 700x x 27mm tires. Yes… this is a road bike. I'm also using a 53/39 and a 12/25 cassette.  Sometimes, I'd love disc brakes and a set of 32's… but that's for later.
In my example ride, I leave my house in
Brno
(the second city of the country, or "biggest village in the world" – depending on who you ask) and roll north along the Svitava River valley. I have included four gravel climbs, and one gravel descent… followed by a limping ride home.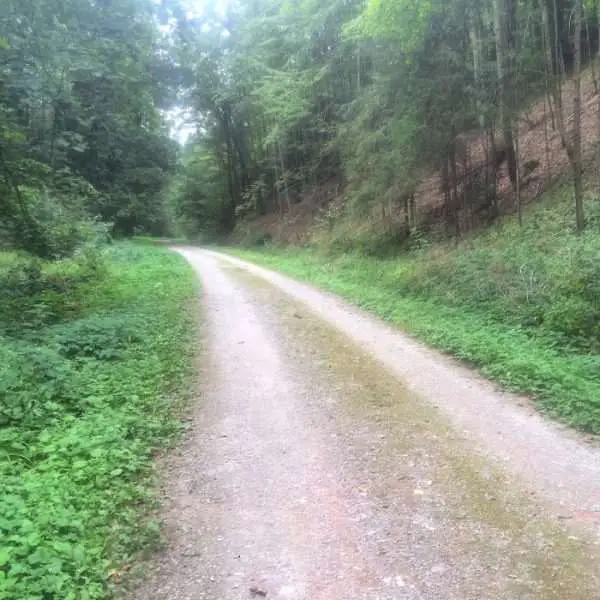 The first climb is on quality gravel… not steep, and well maintained. At the top, I ride 200 metres and back into another gravel road for the descent. After a bit of white knuckle at the bottom in the village of
Bilovice nad Svitavou
, I cross the river for another gravel climb. These climbs generally take about 8 – 10 minutes, which is enough to give it some gas, but not enough to really blow yourself up. I descend back into Bilovice on pavement (but I could have done gravel as well), and head north along an actual cobblestone section of the main road, through the town of Adamov, and onto a bike path. This quickly gets me to "Novy Hrad," the third climb of the day. It's a bit washed out and sandy, which makes traction a challenge, but I manage. At the top, I could stop at the 14th and 15th century castle ruins of Novy Hrad (New Castle)
https://www.novyhrad.eu/
– if I had wanted to. But I kind of like the long false flat at the top of this climb, and it has nice views, so I keep going.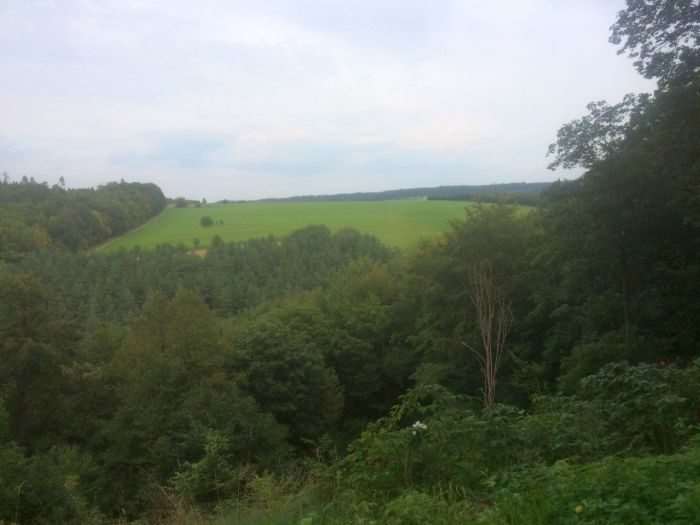 I descend on some pretty steep paved switchbacks (no more than one kilometre) to the final gravel climb. The first three kilometres are worst of the bunch, as it comprises what is largely really, really bad pavement – pitted, not broken, and covered with pea gravel – which is no fun on 27mm wide road tires. But I give it gas and the ride slowly turns to smoother gravel, all the time on a marked bike path. Eventually, a left turn onto pristine packed white gravel brings me to the village of
Rudice
.
Because I am somewhat cracked… OK, a lot cracked – I am recovering from bike-crash-based broken ribs so my fitness for 80 mile hilly gravel rides is limited – I turn downward, and ride home through the Moravsky Kras (Moravian Karst) regional protected area (
https://www.moravskykras.net/en/moravian-karst.html
). It features many limestone caves and is quiet and beautiful in the afternoon- which is nice because at this point, I'm not really keen on thinking. Back at Adamov, I follow the Svitava river south again, before returning over a short but steep climb back home.
I really enjoy riding gravel here. It's plentiful, easy to access, and gets you to some really cool places. Now…all I need is a proper gravel bike and then it's game on!
Gordon
---
If you have a ride, race report or interesting story you'd like to share with the Gravel Cyclist audience. please contact us HERE.