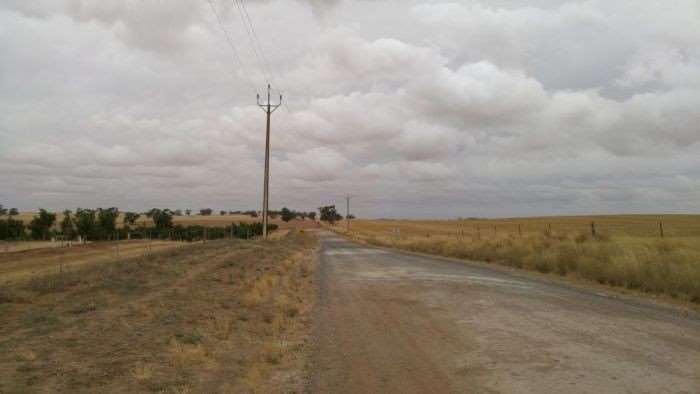 January 14, 2016 – on this day, I (JOM) had originally planned to do a road bike ride, in and around my hometown of Adelaide, South Australia. I had plans to join one of the visiting pro cycling teams on a training ride, who are currently in Adelaide for the 2016 Tour Down Under. If you didn't catch the announcement on the Gravel Cyclist Facebook page a few days ago, I'm doing a little journalistic work for my friends at BikeRumor.com – namely covering pro bikes and the details relating to them.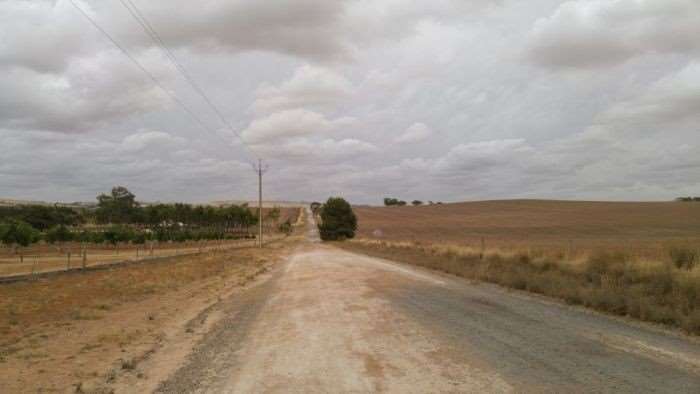 However, I really wasn't feeling the road bike mojo on this day. The weather was cool and overcast, and my legs were heavy. These were perfect conditions to leave the road bike at home, and make a day trip to somewhere in South Australia to crush gravel!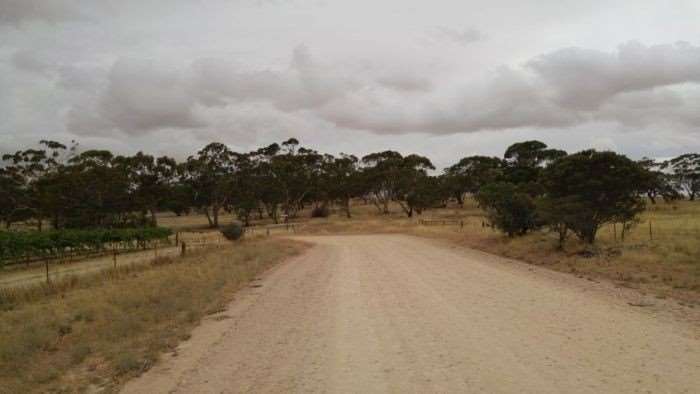 With a haphazard route designed using my proven route planning tips, I hopped into the car, and drove about 111 kilometres / 69 miles north of Adelaide to the Clare Valley wine region. Destination, the town of Auburn, South Australia.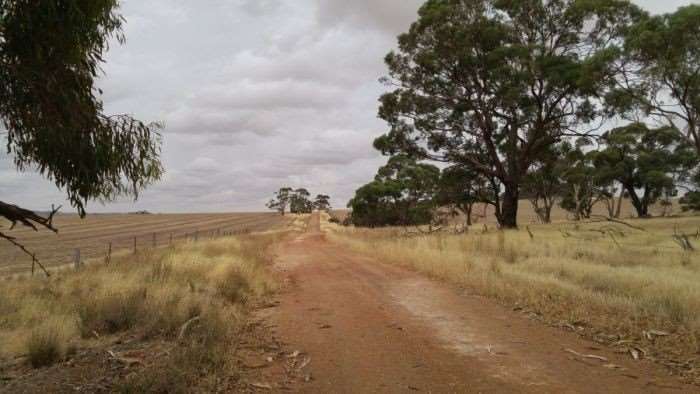 From Auburn, the route would head to Mintaro (pronounced "min-TAIR-oh" by the locals), northeast to Farrell Flat, west to Clare, and back home to Auburn. A total of about 99 kilometres, or 62 miles. On the subject of pronunciations – this tip is for my Americano audience – the Australian flightless bird, the Emu – is pronounced "eem-you". An "e-moo" would be an electronic cow. Take notes! Moving along…

As you can see from the photos thus far, conditions were indeed cloudy. They were also cool enough for me to bust out the arm warmers! The South Australian summer has been mighty strange this year…
Continuing the theme of every other gravel ride I've partaken during this trip, only two or three cars were spotted on these roads. If you enjoy peace and serenity, gravel road cycling is among the lowest stress activities known to mankind!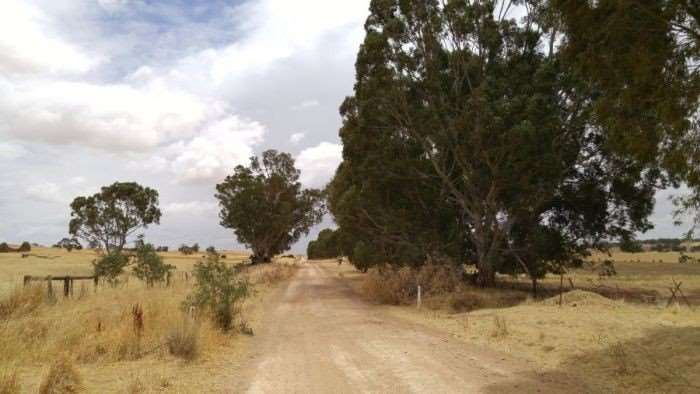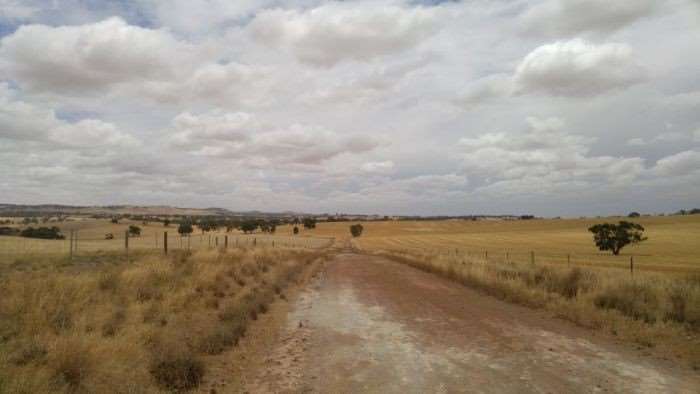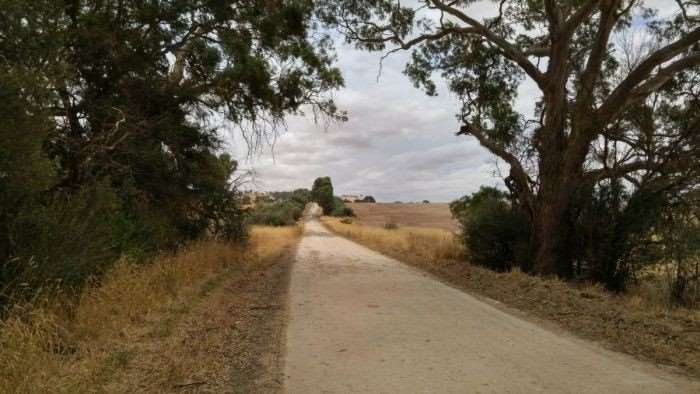 Approximately 23ish kilometres into the ride, I chugged through the small South Australian country town of Mintaro. I didn't stay too long, but long enough to photograph some beautiful old churches (I really appreciate older building design) and the local watering hole (pub), the Magpie and Stump Hotel. Much as I was tempted to stop in for a mid-ride beer, it wasn't quite hot enough for that… and it was a bit too early in the ride for libations.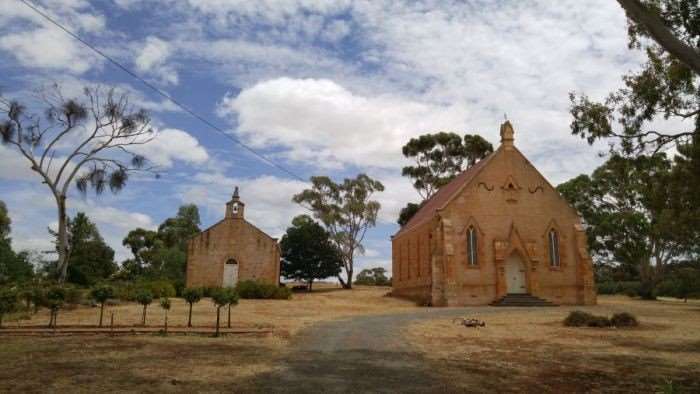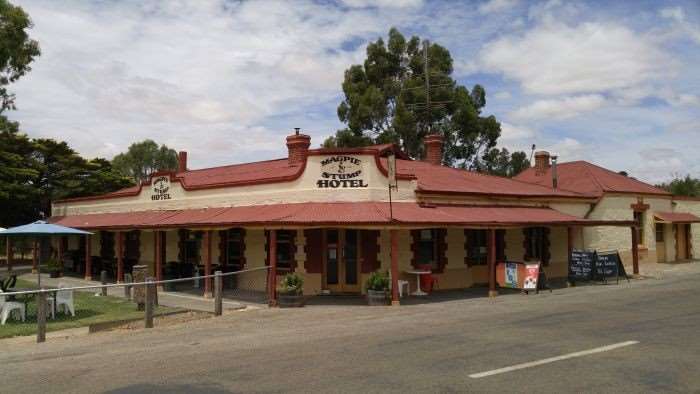 Of concern to me at this point in the ride was the roaring tailwind pushing me northwards. If you're a regular visitor to this website, you know I never plan rides based on wind direction. But, having pretty knackered legs on this day, I knew the price would be paid towards the tail end of the ride. More first world problems to contemplate.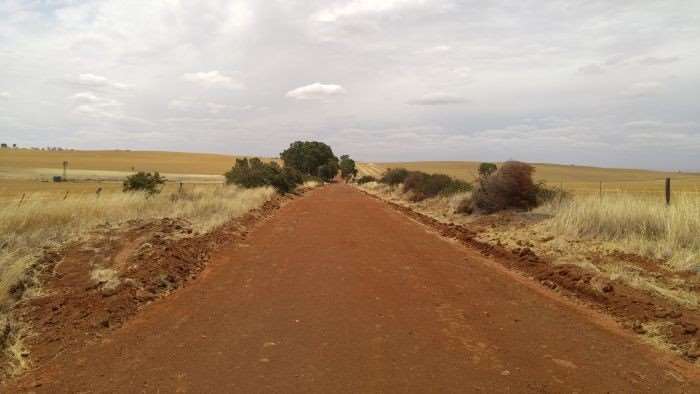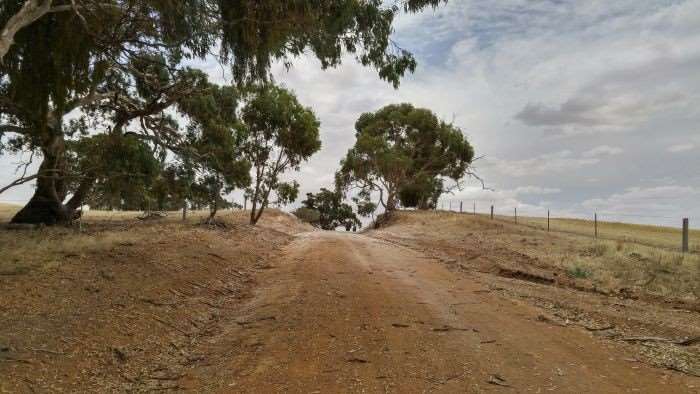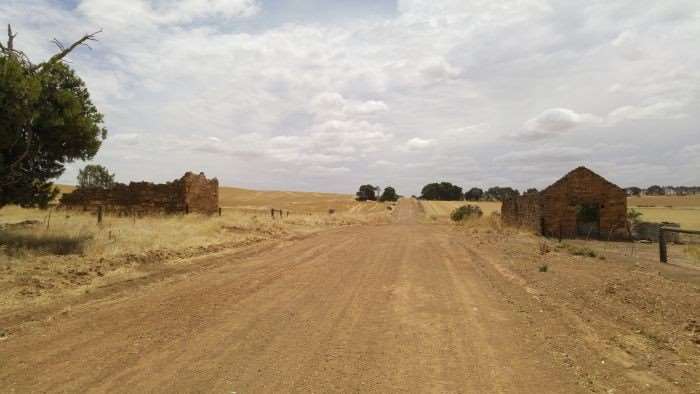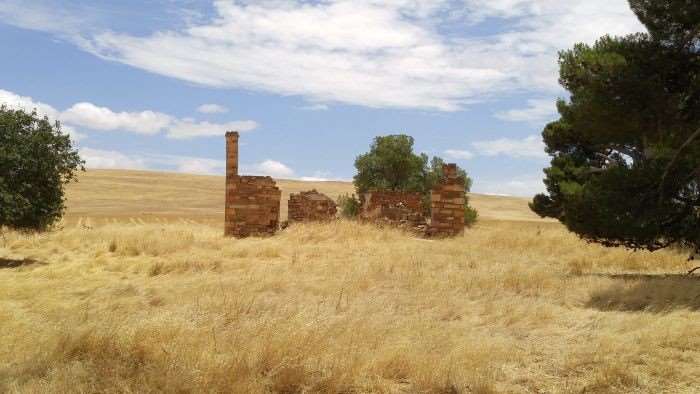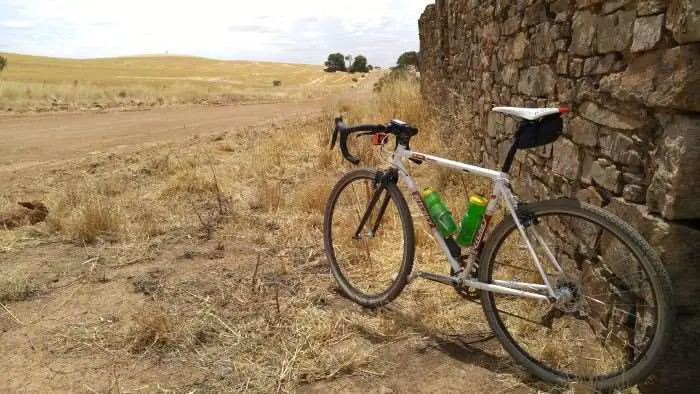 The bustling metropolis – not – of Farrell Flat came into view about 39 kilometres / 24.5 miles into the ride. Not a planned store stop, but rather a sweet photographic opportunity for another of my favourite topics, railways. Sadly, the railway is long gone, but the original railway station still remains. It looks to be inhabited by someone, and much of the original track around the station is still in place. I really need to figure out how to build a functioning but portable rail bike for a future trip… budding engineers reading this, ping JOM with ideas.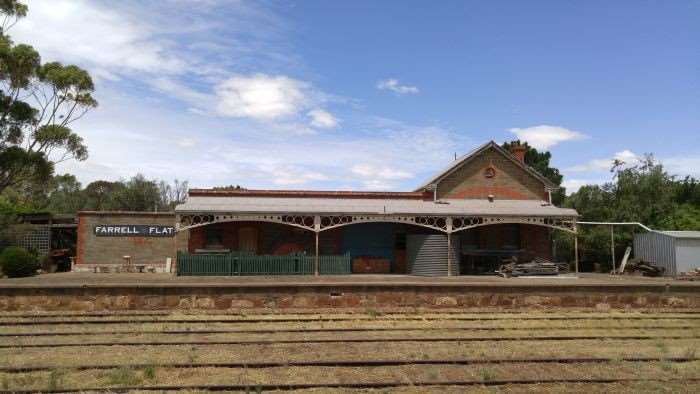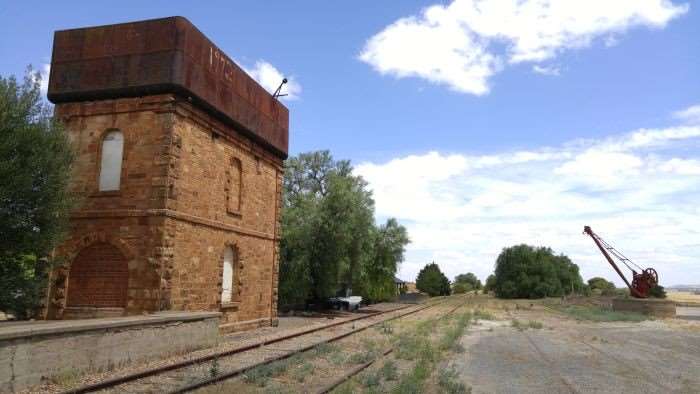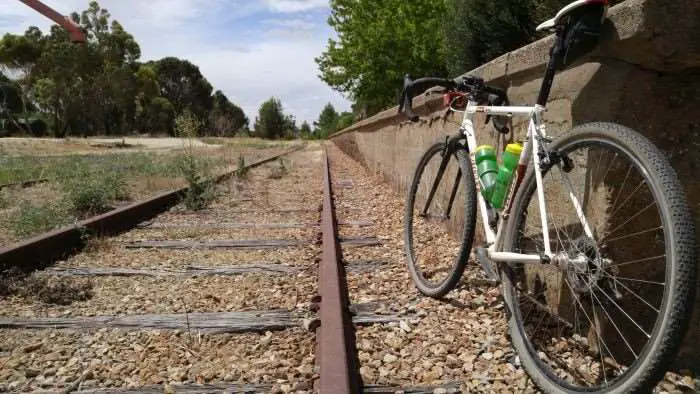 Departing Farrell Flat, the roaring tailwind continued to push me northward with virtually no effort. However, soon I would feel the wind in the reverse direction, as I made my way southeast along a local area gravel road known as Four Trees Road. I also spotted this sign which is pretty common in Australia, but it serves as a reminder that gravel can destroy cars!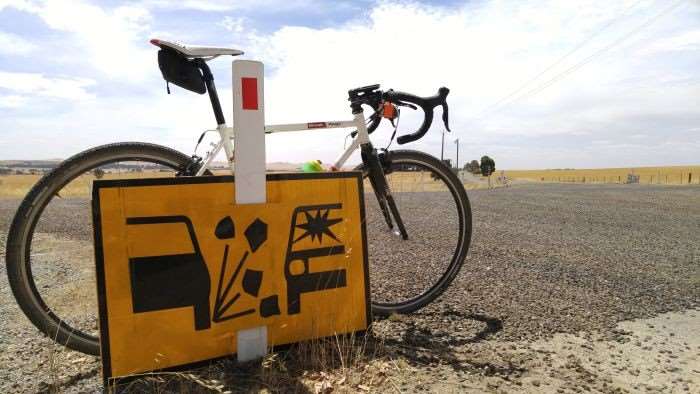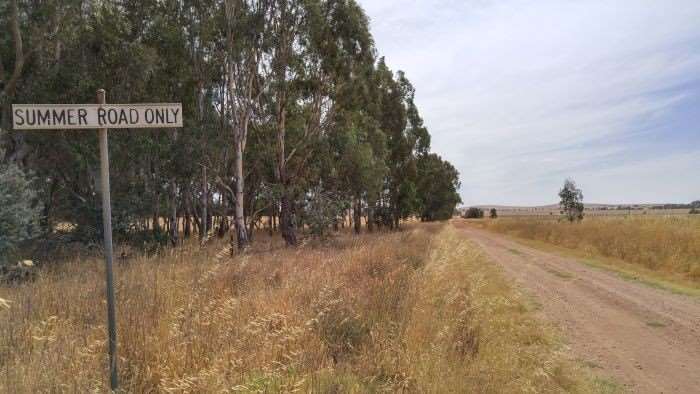 Approximately 73 kilometres / 45.5 miles into the ride, I finally rolled into the lovely South Australian town of Clare, namesake for the Clare Valley. It was at this time I took a much needed break, and hydrated at a local petrol station / convenience store. Unfortunately, I didn't have time to explore Clare as it was late in the day, but I've visited the town in years past. If you're visiting South Australia, it is a must see town, particularly if you enjoy wineries – and gravel cycling 🙂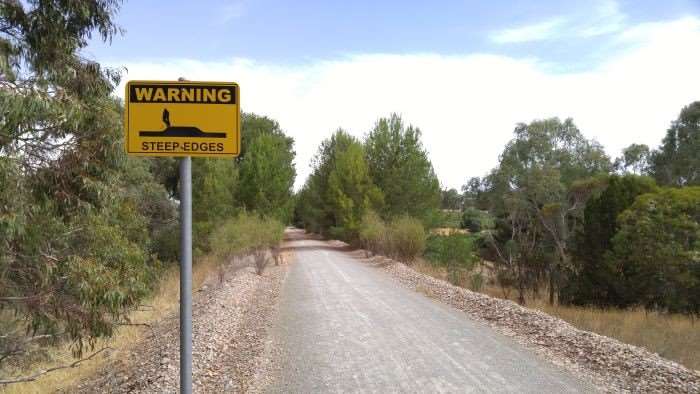 For the return journey, pretty much a southbound shot from Clare to Auburn, I rode the Riesling Trail. Much as I lament the disappearance of this once scenic railway line, its conversion to an ALL gravel, hard packed rail trail is stellar. The surface is so nice to ride, a road bike with 23mm tyres will totally cut it.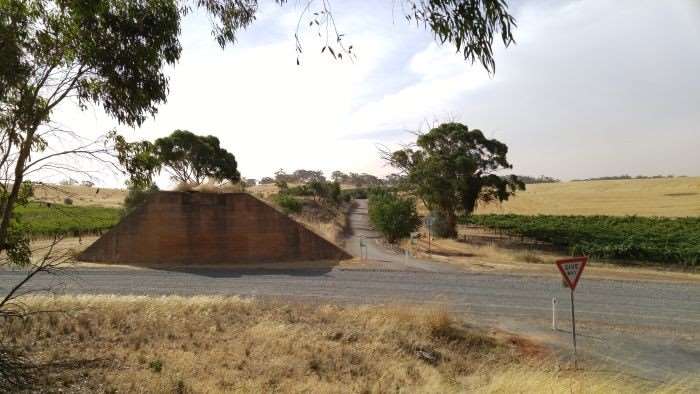 Because of how railways are constructed, the trail features shallow grades and gentle curves. The maximum grade along the route is about 2% – however, all 25 kilometres / 15.6 miles of the return journey was into a full-on block headwind. Thankfully my legs were feeling better at this point in the ride, and admittedly I'd been riding pretty easy all day.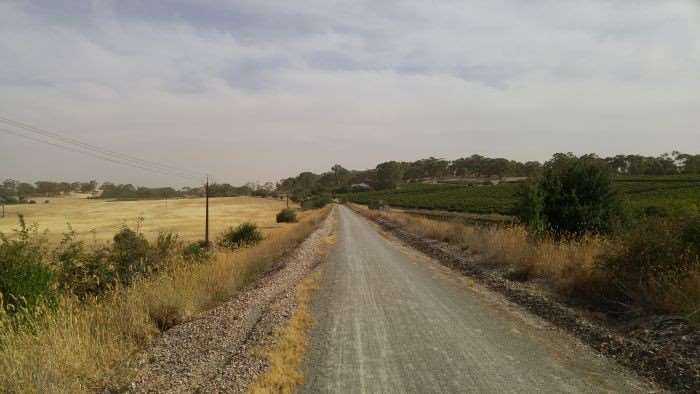 The views along this lovely rail to trail were fantastic at times. The trail meanders through the former railway stations stops of Sevenhill (the original railway platform is still in place), Penwortham, Watervale and Leasingham.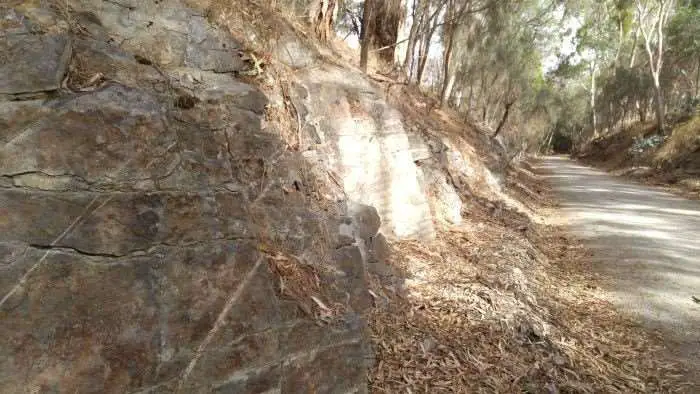 Summary
This summary will likely sound like every other summary I've written during this trip. Killer gravel roads, zero traffic and great scenery. Those reading this text need to visit the Clare Valley in South Australia at some point in the future – preferably with me as your gravel cycling guide!
I captured high-definition video of this ride, so expect a nicely edited video in a future posting.
Strava Ride Data
For those so inclined, you can check out my ride HERE.
Thanks for reading.