This press release rolled into Gravel Cyclist HQ in the wee hours of the morning, and details the latest professional rider to call it quits and turn to the dark side of cycling / the fun side of cycling; gravel.
"After a successful career racing the European pro circuit on teams including Trek-Livestrong, Team Sky, and Katusha-Alpecin, American pro Ian Boswell has decided to transition from the road calendar to a new challenge — racing for Wahoo Fitness on a circuit of his own design that will include gravel and endurance mountain bike events. Boswell will be chronicling his move from road to gravel racing in Wahoo's new ​Frontiers campaign​ that will include podcasts and video episodes."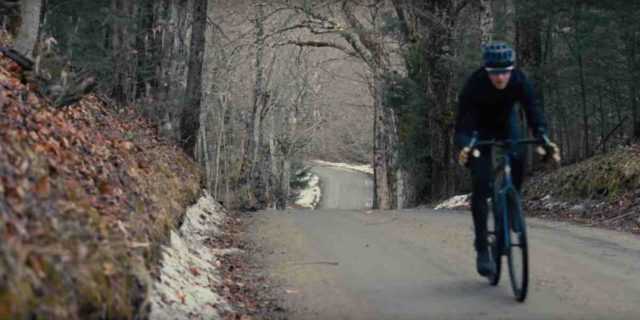 "Wahoo, the leading maker of GPS cycling computers and connected indoor cycling simulators, hired Boswell as a full-time employee and gave him duties including training to race gravel events where he will look to spend time with other Wahooligans who are passionate about gravel. He will also be producing podcasts and videos at events throughout the season. Wahoo has previously sponsored Boswell as a member of Team Sky and Katusha-Alpecin, and approached him with the idea of racing gravel full time as part of a broader effort to support athletes seeking to take on new challenges. Boswell will be racing for Wahoo alongside other top talents including defending Dirty Kanza winners Amity Rockwell and Colin Strickland, as well as Heather Jackson, and Peter Stetina, the defending Belgian Waffle Ride champion."
"Heather Jackson will race some of the most challenging gravel events in the country in addition to racing a full slate of multisport events, including Kona 2020. Jackson is the American Ironman record holder and a five-time Ironman champion whose accomplishments will be featured in the third episode of Frontiers."
"Peter Stetina announced plans in late 2019 to focus on gravel, leaving behind a professional road career that included racing for BMC and Trek-Segafredo. He's now moving to gravel to find new challenges and connect with a new part of the sport. Stetina will be featured in the second episode of Frontiers."
"All sponsored athletes will rely on the class-leading ELEMNT ROAM GPS computer to help them navigate unfamiliar routes. They will train at home with the Wahoo KICKR smart trainer, and track heart rate data with the TICKR heart rate monitor." – Note, we'll have our review of the Element Roam GPS appearing soon.
"I feel like the step I have made to walk away from pro cycling is the first step towards the rest of my life," said Ian Boswell. "I have had a good relationship with Wahoo since I joined Team Sky in 2013 and continued with Wahoo while at Katusha Alpecin. They even came on board to support my annual ride, the Peacham Fall Fondo at my new home in Vermont. When Wahoo came to me with this idea for a gravel project in 2020, it immediately seemed like the perfect next step. I think gravel cycling and these events are still being discovered and what's possible is still unknown, to me it is a sense of community and a new way to test and push myself."
"Riding gravel is just so much fun," said Mike Saturnia, CEO of Wahoo. "Mass participation events like marathons, triathlons, and now gravel races where the everyday rider can line up next to the pros. Everyone who rides a gravel event covers the same course, endures the same conditions, and takes on the same challenges to have an unforgettable experience. We're proud to support this new frontier in cycling, and excited to continue working with long-time Wahooligan Ian Boswell. Ian has enjoyed a great World Tour career racing across Europe that included finishing the Tour de France."
"Throughout the 2020 season, Wahoo will host an espresso bar at some of the most exciting gravel races. The espresso bar will give Wahooligans a place to meet while caffeinating and enjoying pre-ride snacks before rolling out, hang out for live recordings of the Breakfast with Boz podcast, and to meet Wahoo's sponsored riders."
The Frontier Campaign Video
https://youtube.com/watch?v=Q5F3ytHbDvE%E2%80%8B
Questions? Concerns? Chime in below!
In the spirit of the Gravel Cyclist website, feel free to chime in the comments section below with any random thoughts you may have. Play nice, please 🙂