Four straight-days of racing over gravel, Jeep roads, singletrack, doubletrack, and miles of climbing over Appalachian vistas in rural Pennsylvania.
Co-written by Tom Meersman & Peter Meersman

Images: Peter Meersman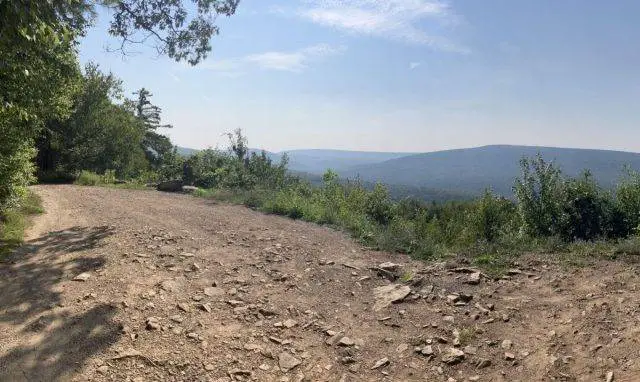 When I sat down this past spring looking for something a little different than the typical race-day experience, I stumbled across the Trans-Sylvania Gravel Epic online. The website was immediately intriguing, with this unique gravel stage race promising to provide a cycling experience unlike any other I could find.  After taking the time to work out the logistics, plan time-off work, and get the final approval from my very supportive wife, I reserved my spot in the race.  As an avid cyclist with a penchant for biting-of-more-than-I-can-chew, having this end -of-summer race on my calendar proved to be exactly the type of motivation I needed to stay focused. However, as a father balancing my home life, career, and cycling I encountered more than my share of roadblocks in the months preceding the race. Predictably, the months of training preceding this race were a mixed-bag, and I quickly realized I'd need some help. What to do? I called up my younger brother and fellow cyclist and peer-pressured him into signing up for the race as well. Misery loves company, right? Luckily, it didn't take much convincing for my brother to agree to join me for this truly epic adventure.
Day One
After a full evening of travel to get both ourselves and our bikes from Chicago to the Seven Mountains Scout Camp in Spring Mills, PA, (more details on travel below), we nervously prepped our bikes and headed to the race start line. Due to the limited number of flights into State College, PA the night before we missed the preview presentation but figured we couldn't have missed much when it came to stage one … only to find we really could've used that preview.
All entrants into the Gravel Epic have the option for onsite housing, whether it be in a tent, RV, or cabin, taking the challenge of travel to the morning start line out of the equation. Opting to stay in a cabin at the Seven Mountains Scout camp proved clutch, as we were literally a 60 second soft-pedal away from the staging area.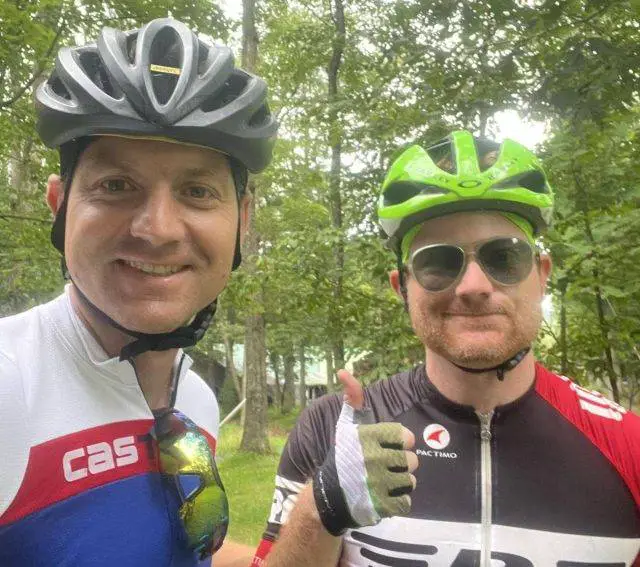 After eyeing-up the latest-and-greatest gravel bikes and different set-ups of fellow entrants, we nervously listened to last minute instructions before the starting gun.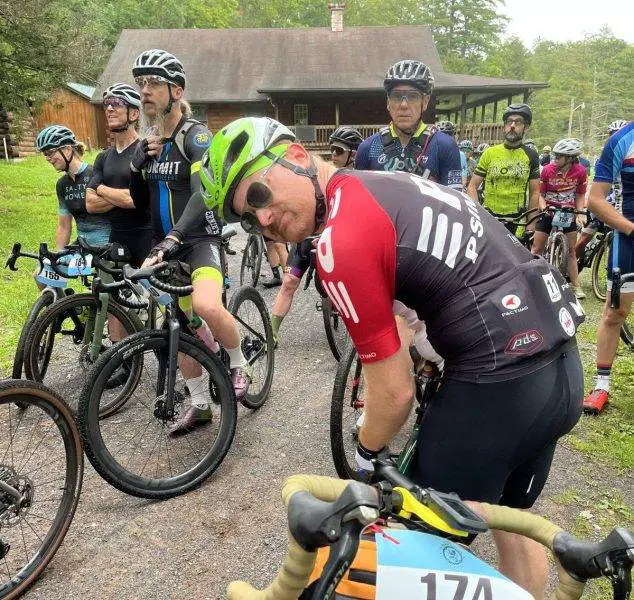 Another unique component of the Gravel Epic is that each stage starts with a neutral rollout, led out of camp by the race director as he ushered the peloton a few miles to the start of the race. This was a small but well-placed detail that added to the grand tour like feel of this event.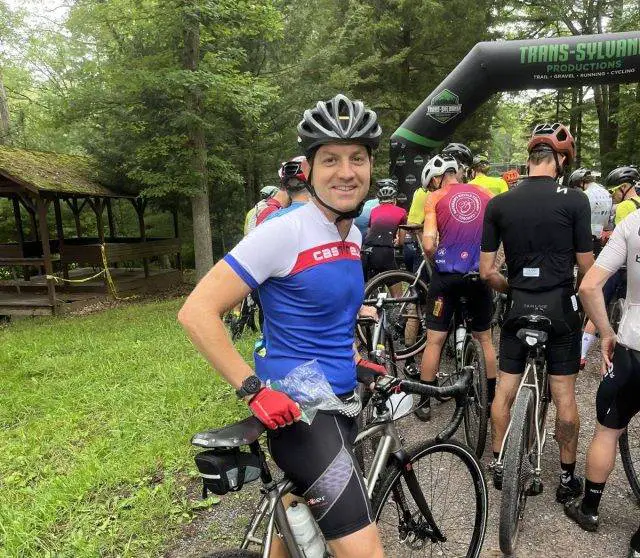 As a "flatlander" coming from the Midwest I figured the cyclocross friendly 46-36 gearing setup on my front crankset would be sufficient for the climbs in Pennsylvania. Big mistake.  It wasn't before the neutral rollout was finished that I already had a sinking feeling in my stomach. As we climbed our bikes out of camp I looked down at my rear cassette and realized  that I had made a grave miscalculation. Despite the Midwest friendly climbing setup, my 10-26 gearing in the rear cassette was already maxed-out as we pedaled out of camp. After nervously scanning the gearing of my fellow riders in the group, I knew pretty quick that I had chosen poorly. Just then, the neutral rollout truck leading us to Bald Eagle State Forrest rolled off to the side of the road and the race was on, leaving me to slowly crank up the first climb. My younger brother, recognizing my rookie mistake (and riding more appropriate gearing) spun away with a wry smile on his face. Sibling rivalry aside- this was gonna hurt!
The Trans-Sylvania Gravel Epic has two options for racers, a Long Course and Short Course option. However, on Stage 1 both groups ride the same distance. This proved to be an excellent way to become acquainted with the groups of riders you'd be racing, camping, eating, and hanging out with over the week. Another well planned detail that helped to add to the Esprit de Corps of the entire experience.
After surviving the taxing early climbs, we were greeted mid-ride with a short water stop with friendly locals dispensing both hydration and encouragement. After refueling both physically and mentally, both my brother and I were confident the day couldn't get much harder. Then I was introduced to a term I had never heard "Jeep road". This uphill climb featured some of the gnarliest gravel inclines coupled with a treacherous rock-strewn path up the mountain- amongst the most difficult that we have both ever encountered. Attempts to dart back-and-forth to find the best line up the climb had racers take diagonal lines across the trail like ping-pong balls the entire ascent. Upon discovering that there was no good line up the trail, most of us lost so much momentum we ended up dismounted and running up the steepest sections just as fast as riding!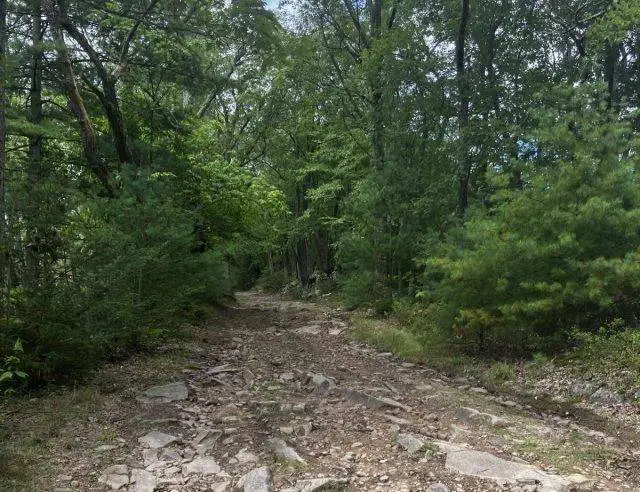 After grinding through all 47.5 miles and 4,270 feet of climbing through Bald Eagle State Forest North on Stage 1, both my brother and I felt lucky to have made it across the finish line.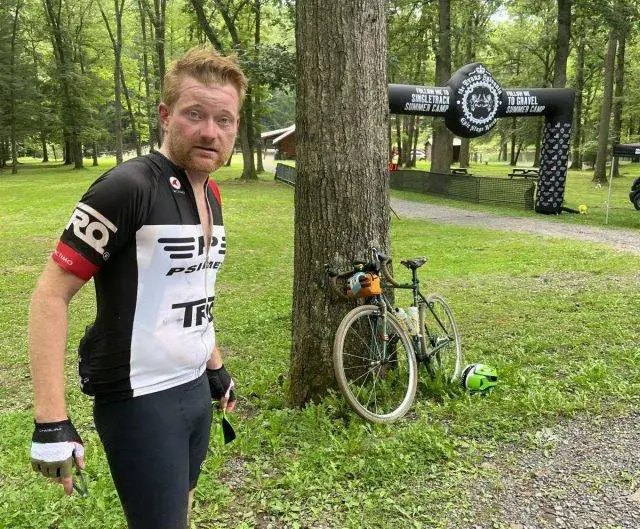 At the finish of each stage is an table filled with PB&J (peanut butter & jelly ((jam)) sandwiches for those unaware), watermelon, giant coolers of recovery drink, and ice-cold Coca-Cola. Since everyone was staying onsite or near the finish line and we all had extra time to hangout, the group of finishers slowly growing as we swapped tales of climbing, descending, and navigating some of the more harrowing components of the days race. We were already beginning to realize why this race has been dubbed Gravel Summer Camp.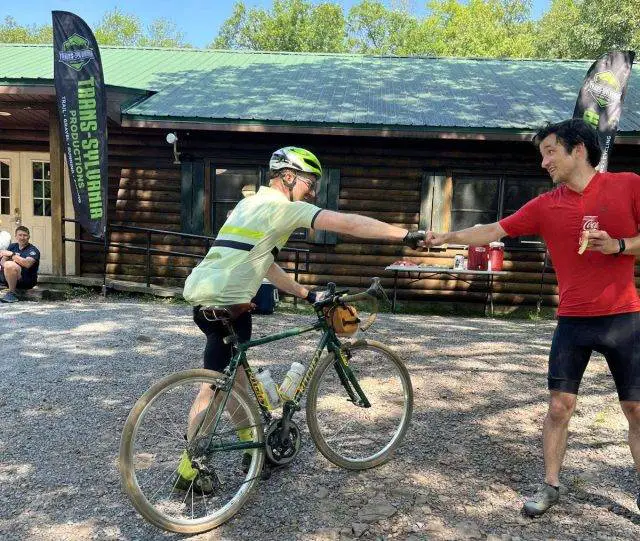 After we finished hanging out with our fellow racers, my brother and I showered up and started planning for Stage Two. Race registration also features a generous onsite breakfast and dinner at the lodge (also race HQ), award ceremony, and stage preview for the following day. This proved an invaluable way to prep for the next day of racing and further opportunity to get to know the other gravel racers, again adding to the Gravel Summer Camp experience. Ending our day at our cabin, my brother and I called it an early night. We still had three more days of racing to survive and were in way over our heads.
Day Two
Sore legs and aching backs greeted us as we awoke for stage two. Mercifully, I had found a local bike shop that had a larger rear cassette for purchase, providing more appropriate gearing for Stage 2 (thanks again to the guys at the Bike Roost in Boalsburg, PA and the onsite race mechanic for transforming my bike into a climbing machine). At 42.0 miles and 3,266 feet of climbing for the short course on Stage 2 (64.3 miles and 4,820 ft climbing for the long course), even though my legs were woefully underprepared I was thankful to have at least an appropriate mechanical setup for the days to come.
Stage 2 took place a 40-minute drive from race headquarters to Midstate Airport and through Black Moshannon State Park, the only stage to depart from camp. While the added drive to the race start was comparatively inconvenient from the other stages, we quickly came to realize that the exceptional combination of gradual climbs, doubletrack, forested roads, and mountain vistas offered on the course during Stage Two were more than worth it. Having suffered through the previous day with the same group of riders, the early pace was slightly more relaxed as riders slotted-in with groups they rode with the day before. While the skies were overcast and threatened rain at the start line, after a few scattered raindrops in the early miles, clouds passed and the sun came out for the remainder of the day.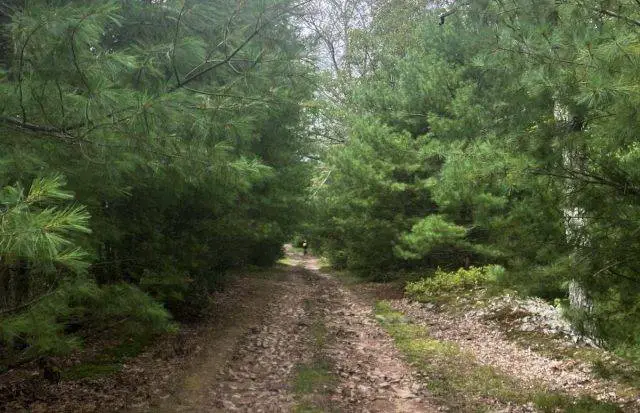 Another pleasant sight along the way were the well-stocked aid stations, one for short coursers and two for long-course riders during each stage. Having several volunteers along the way at key turns and at aid stations provided a truly seamless racing experience.
Rolling hills accompanied beautiful forests that sometimes gave ghost bike echoes from the sound of my rear cassette cassette. It was easy to get lost in the panoramas that greeted the end of climbs. After spinning through the climbs and enjoying the panaromas at the peaks, once could be forgiven for letting their guard down. However, Stage 2 contained another white-knuckling long Jeep-road descent that had both my brother and I praying to the Bike Gods to spare us from crashing and flatting. While Jeep Road descents are a bit easier on the legs, they are just as perilous! Luckily, our prayers were answered and we both avoided technical calamity. We exited the forests greeted with an open-field decent into the finish, zooming adjacent to the Midstate Airport tarmac with the Appalachian foothills in the background.
Day Three
During conversations with more experienced racers, we were promised that with each day we would become more accustomed to racing and paradoxically our bodies would become more comfortable on the bike. My brother was equally skeptical, luckily about 30 min into the ride on Stage 3, we were both believers. We were surprised to find that with each day we actually felt a little bit more ready to ride hard. This "acclimatization" phenomenon was a much needed boost for Stage 3. Every grand tour has a "Queen Stage" and Stage 3 did not disappoint.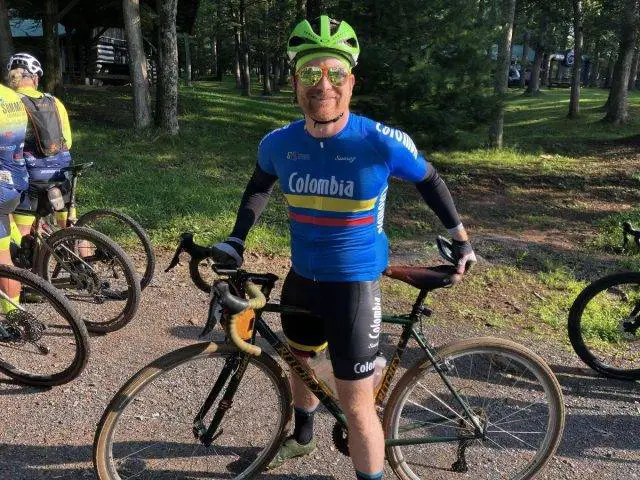 At 43.7 and 4,485 feet of climbing for the short course on Stage 3 (62.4 miles and 6,905 ft climbing for the long course) Stage 3 loomed large. Nerves were thick at the start, not at all eased by the hairpin descents that met the group early as we navigated the hairpin turns out of town. After traversing the pinpoint downhills with loose gravel, the rolling hills in Amish country offered picturesque vistas as I put the pedal down in a comfortable peloton and enjoyed every minute. After hitting the water station, the grade began to change. I was back in a steady climb on our way again through forest trails adjacent to rivers and up remote climbs as were traversed the southern side of Bald Eagle State Forest.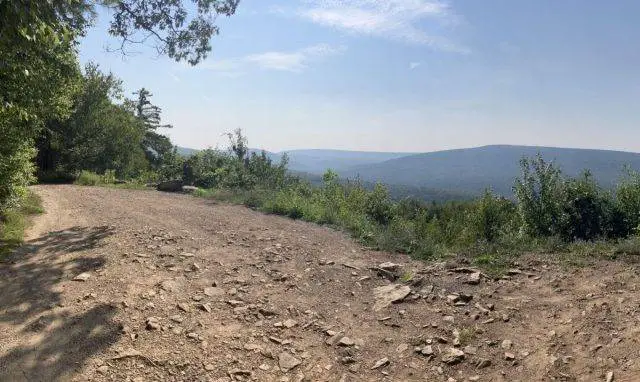 I was greeted with another first time cycling experience as I was joined down a harrowing tree-lined gravel descent by a startled deer bounding 15 feet in front of me at 25 mph! Thankfully the deer pulled off the trail after about 30 seconds and we both had time to catch our breath.
Turning back into Bald Eagle State Forrest for a final lung busting ascent adjacent to the Sand mountain plateau, I saw a vole (small rodent) scamper across the road, followed by a five-foot snake in hot pursuit- all with pine-filled, sawtoothed mountains in the background. I flew down the decent into camp for the finish with an exhausted yet satisfied smile on my face. Ever thankful to have had the opportunity to travel to such a beautiful area of the country that I previously never even knew existed.
Day Four
The stage profile was a comparatively forgiving at 35.3 miles and 3,158 feet of climbing for the short course on Stage 4 (57.0 miles and 5,296 ft climbing for the long course). Traversing from camp into Rothrock State Forest lake, the final stage contained some of the most varied terrain of the race. After rolling climbs through the gravel trails in the forest, and suffering through another extensive rocky Jeep road section, racers were greeted with the best mountain vista of the race. Seeing some 40+ miles into neighboring states was a rightfully earned reward.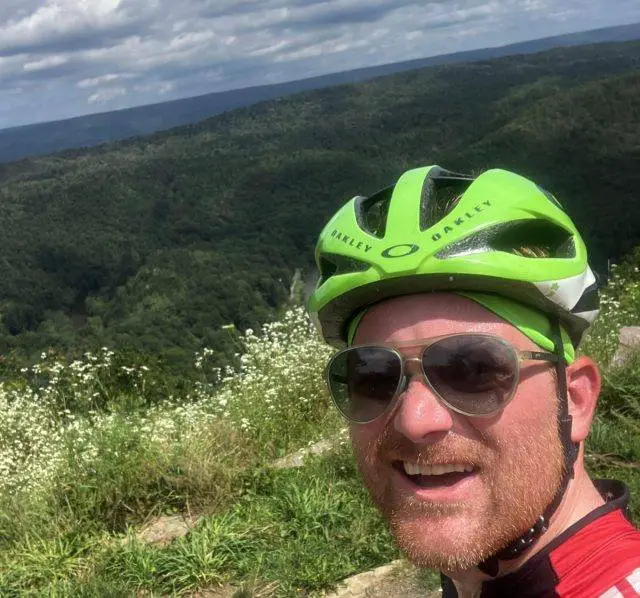 A short while later, the course joined some flowy singletrack, with some pump sections that I have to admit were as fun as they were challenging at this point of exhaustion. This section of the race was much-hyped by locals, and with views of Colyer Lake in the background more than delivered on the hype. Features are abundant in a good gravel epic, and this snappy portion of singletrack around a lake proved an ample distraction to how many miles were left. As we approached the finish, both of us couldn't help but realize how much we were going to miss the event.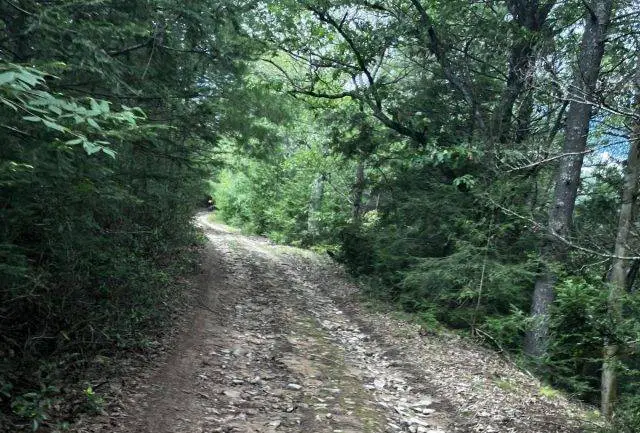 With technical sections in the rearview, a road ascent the few miles back into camp provided a smooth finish to an incredible four-day experience.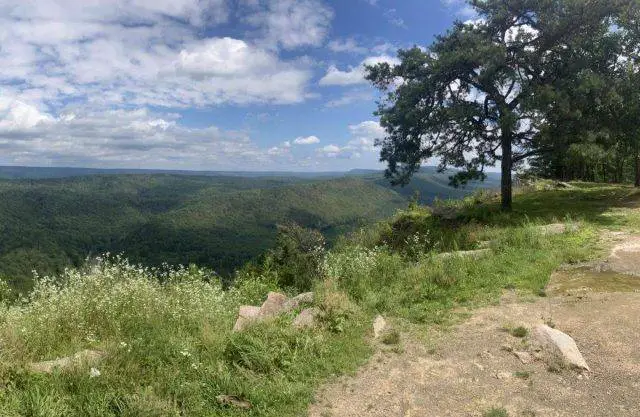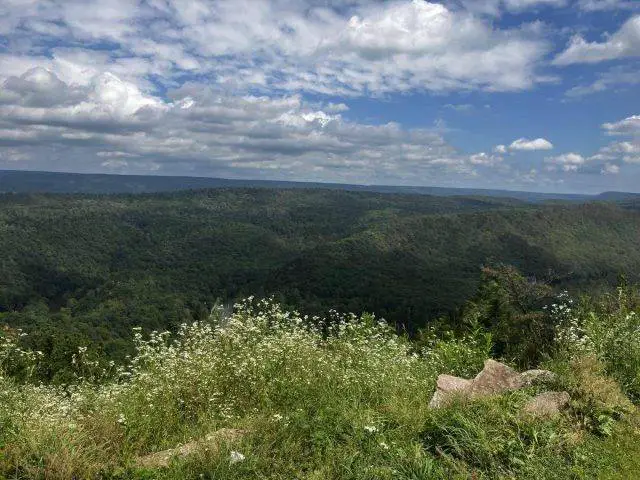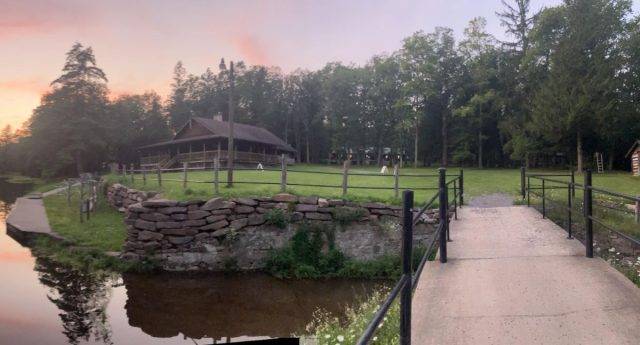 Travel
As previously mentioned, racers have the options to tent camp, RV, or stay in a cabin onsite. This allows for both a road trip or air travel options. Coming from the Midwest, my brother and I opted to fly into town.
My brother's rig for this race was the 2018 Ritchey Breakaway CX. Since we opted to fly, the Breakaway was more than accommodating to pack away after he spent the month before practicing the process and working out the nuances that came with fitting his disassembled bike into it's case. When you also take into account the smaller airport baggage fee, this was a much easier way to travel in comparison to my standard frame and much older 90's travel case.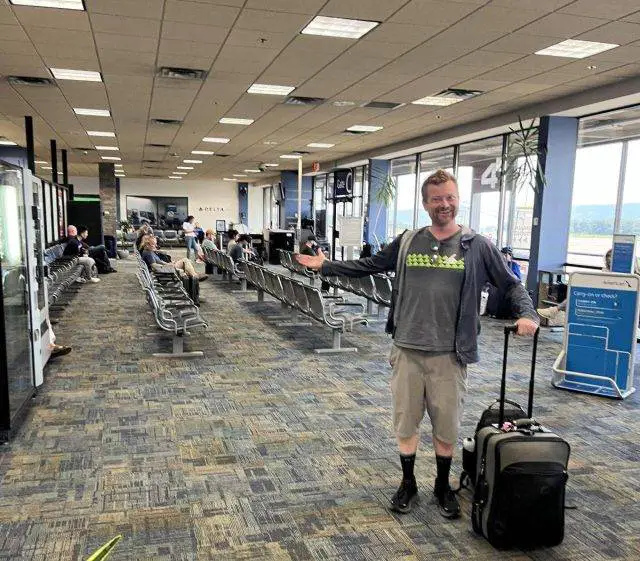 We both agreed that getting to State College, PA, was much more of a breeze than expected. The only flight that would go to the local airport arrived a little later in the day, but we were somehow upgraded in car rental to a Jeep Gladiator which made travel to the venue easy.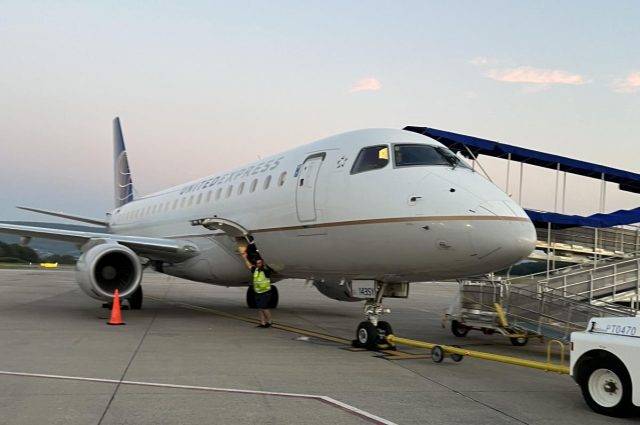 Given the remoteness of camp in the Pennsylvania wilderness, we were pleasantly surprised at the ease of flying into town. With the town of State College and Penn State University only a 30 minute drive from camp, flying into State College Airport was a breeze.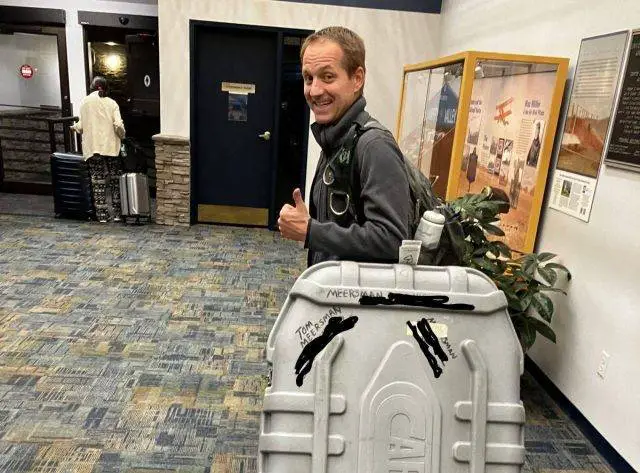 A small but pleasant airport with only a few gates and car rental readily onsite, this made travel to camp and from State College a breeze. We have both been to cycling events across the country, and few (if any) have matched the combination of ease of travel and rural locale of this event!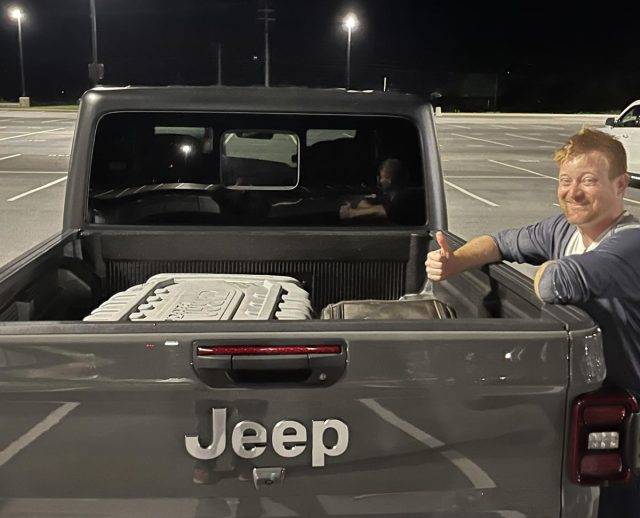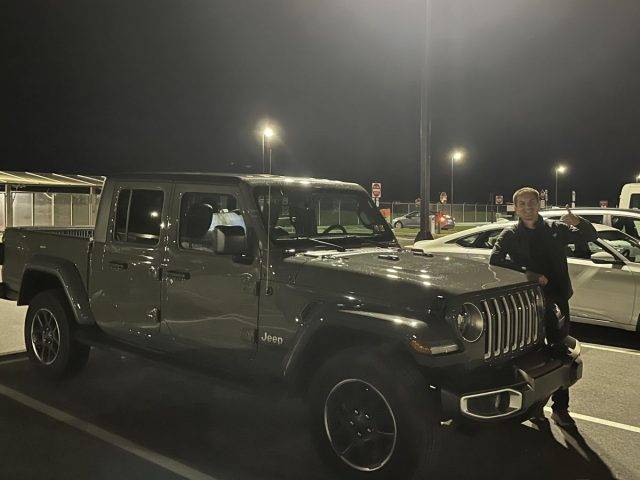 Overall Impressions
After finishing Stage 2, I had the opportunity to have an extended chat with the race management. After a few years of putting on this race and the sister event (Trans-Sylvania Mountain Bike Epic), it was clear to me that he has worked out the kinks of such a large undertaking. Small details matter in event like these, and after having benefitted from each and every race-day refinement, I have to say the Gravel Epic absolutely has all the makings of a marquee event that should only gain in popularity as word spreads. Fully stocked aid stations, solid meals, plenty of lodging options, first class award ceremony, detailed prerace briefings… even the coolest and most bike-centric awards I've ever seen. This race truly checks all the boxes.
My brother had a similar overall impression, telling me that the Monday morning after the event he felt overwhelmingly content that he would spend the first day of the week exhausted and fighting the urge to nod off at work. Sitting in his cubicle reflecting on the event, he couldn't help but wish he was back at the camp getting ready for another ride in the mountains. He admitted that he's probably annoyed his teammates by repeatedly telling them they need to put this race on their calendar. Overall, he felt there is a TON of potential for this event, also giving credit to the race organization who could not have done a better job pulling off this event.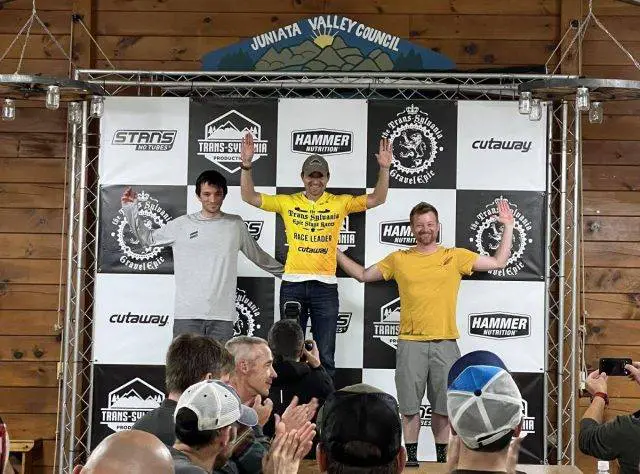 In this post-pandemic world, two things that many cyclists came to appreciate were what we gain from the shared experience of racing and the being surrounded by culture of the cycling community. The Tran-Sylvania Gravel Epic helps us reconnect with both. Where else can you sample the feel of a grand tour, including a neutral rollout, podium presentation (complete with the donning of the yellow jersey for race leaders), while also being enveloped by the sense that you are back at summer camp and experiencing the freedom of riding bikes with both old and new friends?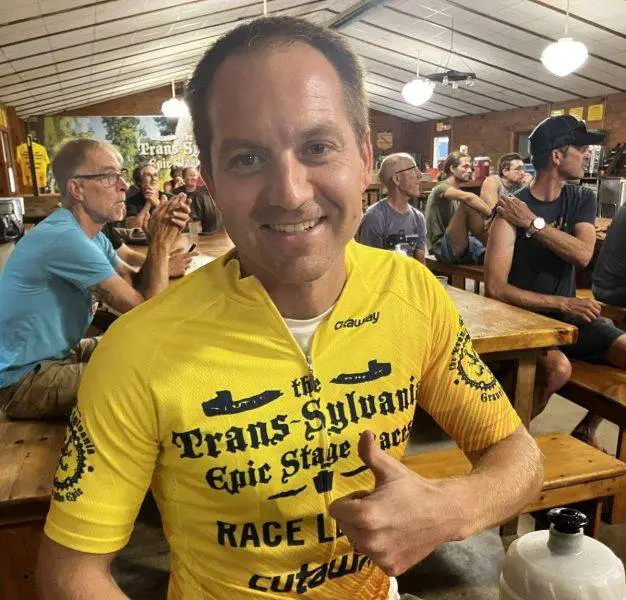 If you are looking for a bucket list experience, definitely add this event to your short list. While it may take a little extra planning to set aside the time and resources to sign up, the Trans-Sylvania Gravel Epic is well worth it. Despite the fact that the event was just a few short weeks ago, my brother and are both already planning out our trip for next year. We are hoping to make it an annual pilgrimage to this distinctive gravel haven that is, for lack of any other description, EPIC.