You've heard of Throwback Thursday. We prefer to call it Throw Up Thursday. Remind yourself of the suffering you endured at a prior race, telling yourself at the time you'll never do it again. Yet by the time next year's edition of the race rolls around, you've signed up for it, and dragged along a few friends.
Perfect timing to cue K-Dogg's race report from the 2012 Southern Cross race, which is happening (after a weather induced reschedule) this Saturday, 3/14/2015.  Over to K-Dogg…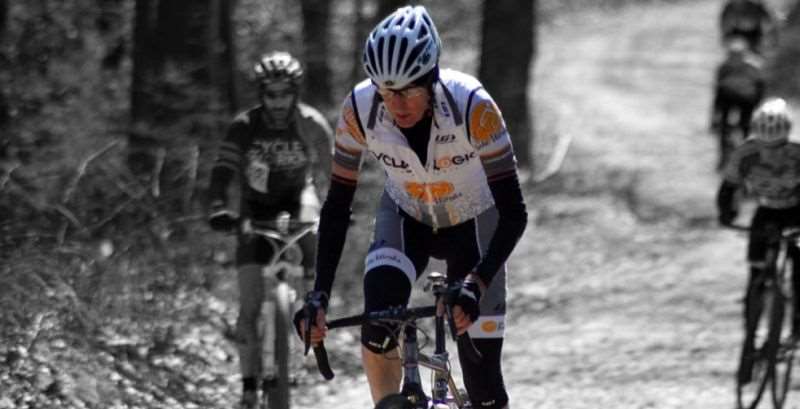 Paging Dobalina, Mr. Bob Dobalina. Paging Dobalina, Mr. Bob Dobalina.
Google this name. You will eventually discover it's from a strangely addicting repetitive song by The Monkeys from 1967 called "Zilch." Like an irritating jingle that won't leave you alone, it was firmly lodged in my brain for the whole weekend by a certain Aussie bastard (JOM) at the start of the 2012 Southern Cross Race last weekend.
Three middle aged (plus) road racers decided to drive 450 miles to torture ourselves and three expensive bikes, up and down 7000′ of climbing and 50 miles over rough dirt paved with granite outcroppings. But before this fun began, the race promoters insisted we navigate an insidious cylocross course of felled trees, knee high clingy kelp-like grass fields, slippery stream crossings and 10′ high vertical ditch walls.
Paging Dobalina, Mr. Bob Dobalina.
The weather report called for 38 degrees with a high of 46. Wind at Springer Mountain ridge clocked at 35 mph with gusts. Possible ice on the roads. Just before the race my bottom bracket was making cracking noises every stroke. The race mechanic rode a little circle, shrugged and said "don't worry about it. Aluminum and Titanium always do that."
Paging Dobalina, Mr. Bob Dobalina.
Back to the car. Nervous chatter with Irish Ed and JOM. Making jokes about how differently they pronounce the "F" word.
"I'm freezing! What are you wearing? Will I sweat like a pig on the climbs then freeze on the way down?" Throw clothes in the car. Grab them back out. Take turns nervously peeing behind car. Cram down Sport Beans for no good reason.
Paging Dobalina, Mr. Bob Dobalina.
Ten minutes to start we head towards the start only to see 300 people already lined up eight wide and football field deep. Crap!
Remember it's a mass start. Men up to 40, Men over 40, women, juniors and "others." The whole gaggle is supposed to sprint 50 yards, then leave the pavement en mass into a grassy hole shot that plunges down out of site like a double black diamond ski hill.
Everybody intends to be at the very front to avoid the inevitable log jam as the course funnels down to 4′ wide at the felled tree.
For some reason JOM and Ed decided to be good boys and slink to the very back of the herd. Having not been schooled in proper U.K. / Aussie finishing schools, I stopped two rows back and weaseled my way into 15th position. Unlike selfish roadies, I found CX'ers extremely polite and accommodating. They actually smiled and made room for me. When the gun went off, Ed and JOM continued being good boys, politely waiting a full minute to even clip-in. I was half way through the course. Good on them!
Being so far forward I was able to comfortably hold position thru the narrows, up the kelp hills, over the felled tree, cross the slippery stream, up the vertical wall and 100 yard hill that few could ride up.
We hit blessed pavement as 20 or so cyclists ahead of us, formed echelons heading out of the vineyard and toward the first 12 mile dirt climb up Springer Mountain. JOM and Ed were still seething in line at the felled tree with 295 people flailing around in front of them.
Paging Dobalina, Mr. Bob Dobalina.
Half an hour and a few dozen minor ascents and descents, our little group of six guys hit the base of Springer Mountain chasing 15 or so top guns. Springer Mountain has an average grade of something like 10 – 15% with several long sections of 25-27%. The road is so rough and steep only 4 wheelers can keep moving. That, and cyclists with a minimum of 34 X 28 gearing. It takes most people over an hour to reach the top. Our little group eventually lost three off the back and I was 100′ (and 30 seconds at that speed) behind the rest turning squares at about 7 mph.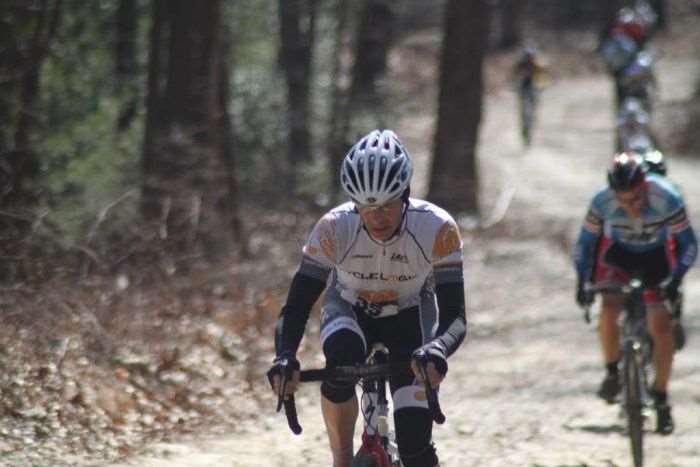 Somewhere in the 27% purgatory section, 137 pound teammate Irish Ed quietly floated up and past me like a polite wee shadow. "Ah K-Dogg, stay with me now" he breathed. Finding little draft at walking speed, Ed slowly vanished into the boggy mist like the Tuatha De Dannon never to be seen again. Left alone in my granny gear, the Monkey's mantra seeped back matching my cadence…
Paging Dobalina, Mr. Bob Dobalina.
At this point, the rear tire started bottoming out on the rim from time to time. A few bounces confirmed this. I was down to about 20 pounds. Stopping on a 27% grade is out of the question. You'd only trackstand then stupidly pull a Wiley Coyote over the cliff face. Twenty minutes later I hopped off and found it was holding. Should be OK. Forgot about it and started the eight mile, 10 – 15% switchback descent. Several people came past at irresponsibly fast speeds. Eventually the descent ended, dropping onto a three mile stretch of civilized pavement. Now my body knew what do – go into a tuck and run down the last four to pass me. No skill required. Approaching 35 mph, the 20 pounds in the rear tire hissed as loud as a commercial sandblaster and rolled about as fast. Crap! Can't stop now! Bridge up! Bridge up!
Made the bridge, just as the ascent of Springer Mountain began again. Eight miles straight up. At least I was in my element and soon dropped everybody except a really nice 18 year old named Boris. Yes, Boris from Birmingham. We stayed together the whole climb. Nobody passed us except two tall guys on single speeds. They don't count. It had to be an illusion.
Paging Dobalina, Mr. Bob Dobalina.
Just over the top my rear tire finally gave up the ghost. Tire change took 3-4 minutes in a cold 35mph wind, fumbling with cold hands, over stuffed pockets and my only air cartridge audibly depressurizing.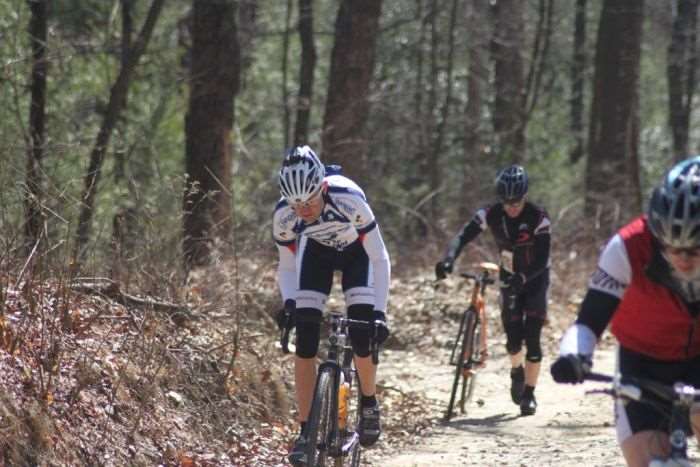 The last big eight mile descent was much rougher, sketchier and scarier. Several rude people I'd dropped flew past drifting through the bumpy corners at speeds I wouldn't do on pavement. They don't count either.
Eventually the pavement returned with five rolling miles to the finish. Up the road I acquire a good target – another Masters cyclist with better downhill skills. In two miles I was doing most of the work, pulling us up to a group of four when he attacked me! Sneaky old bastard! He came back, but the die was cast.
We were in 13th and 14th position in the 40+ category so it seemed silly – but he slowed, I slowed.
Minutes later we entered the vineyard, leaned into a screaming downhill, only to slam on the brakes as we were abruptly directed back onto the final two mile 'cross course of death by a loud bell ringing blonde. She was pointing at a vertical wall. Imagine an 8' tall red clay cinder block wall leaning just slightly away from you, followed by 100 yards of 45 degree "finish you off" hill. "Go old guys!" she screamed.
Side by side, scrambling up the climbing wall I noticed my companion set his jaw and ground his teeth in anger. "How could she tell?" was all I could think of to say. Side by side the top of the hill turned into another hill but paved. His 'cross skills were better. We had both switched to the small chainring at the base, but his rear derailleur was on the 11 cog when he jumped on his bike, causing him to fall over. One second back I chuckled, jumped on my bike and almost fell over too. "Go old guys!"
Paging Dobalina, Mr. Bob Dobalina.
Over the pickle and through the woods we battled back and forth. He dropping me on the technical stuff, me grinding back and passing on the grassy hills. He'd pass me with superior dismounts and remounts while I had the superior skills of bruising trees and ramming marker posts.
Eventually he crossed the finish line a second or two ahead of me to take 13th in the "Old Guy" category. Well done. We kept the race honest to the end.
Irish Ed was standing with a gaggle of grinning racers who finished well ahead and said he loved every bit of it. Except having to stop twice and squirt more green spooge to keep his tire going flat. Tubeless seems to be the way to go – that and losing 14 pounds.
Half an hour later, "angry tank" JOM unloaded his bike from a pickup truck. His Dodgy Brothers soldering job to extend one of his electronic gear shift cables failed miserably… all because nobody had a 1200mm shift cable in stock… this is what happens when you're on the bleeding edge of technology. *
Consequently, JOM was stuck in the biggest gear possible, after descending Springer Mountain, half-way into the race. He was understandably in a black mood, but vowed to redeem himself the next day at the Doc Hollywood road race (which he did), and at the following year's Southern Cross race (which he didn't because he had a broken clavicle). Irish Ed and I also vowed to return, but I assure you Mr. Dobalina will not.
K-Dogg
* Originally, JOM relayed his bike's mechanical failure as a "broken chain" to his good friend, Dr. Pain.  Irish Ed and K-Dogg were sworn to secrecy, to protect the fact that JOM had royally screwed up a simple soldering job… and to test them a little. They kept their lips sealed for one year, before a guilt racked JOM finally let the cat out of the bag. JOM's been hearing about it ever since…