Piggy's Revenge – Venice, Florida was held on January 10, 2016.
Hoggs, Boggs and Doggs or the Ride of Redemption
Two years ago I almost bailed four miles from the finish of this 60 mile swamp race. I have NEVER quit a race in my four years of gravel racing. But when your arms can't steer and your saddle is a bleeding cheese grater, pride falls in the mud. Luckily, as I began to U-turn to cut the course, my esteemed teammate Dr. Pain intervened and patiently talked me to the finish. I later thanked him (somewhat) sincerely for his kindness.
Throw money at the problem.
At the time I had zero swamp knowledge and my bike had skinny file treaded tires pumped up to over 50 pounds. Subsequently, I fell hard three times, sank in the muck and suffered for hours. Dr. Pain and  JOM have crash videos they still find amusing.
This year my steed was traded in for a lean, clean, Piggy machine… namely a 22 pound carbon fiber, mountain bike with drop bars and Fox shocks. The tires are tubeless 1.8″ knobbies inflated to sub 35 psi. It was born to slither and is so comfortable it was christened "The Eldorado." It has a Cadillac sticker on the headtube backing up its pedigree.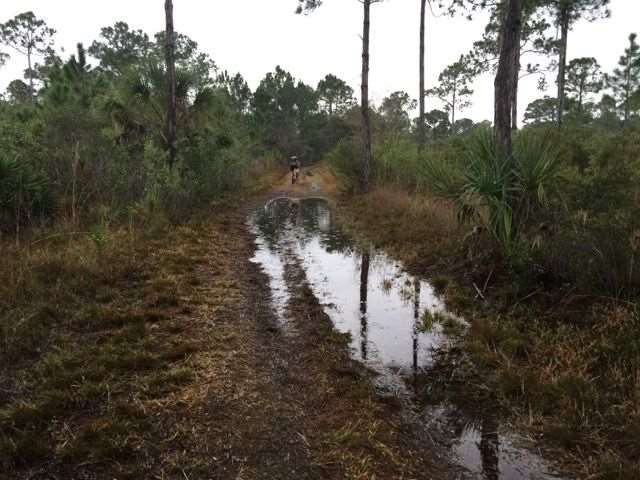 This year's event was still a suffer fest-mostly because of the the seriously soggy conditions. Gravel Cyclist teammate Pfaff Daddy described it as 1/3 water, 1/3 water over muck and 1/3 bumpy plowed field. I have not had so much mud thrown in my face since my divorce. Imagine a shin deep muddy cyclo-cross race where you run your bike an hour, then ride it as hard as you can (at 2 mph) for four additional hours.
And then there were five.
So the race started similarly to the last two. Gravel Cyclist's Pfaff Junior (who won open men's last year) led 25 racers single file through a slippery pine needle track at a hard pace. Behind him were Miami Mario (M.M.), and three more Gravel Cyclists team members; Dr. Pain, K-Dogg and Pfaff Daddy. The ground was squishy but fast. After one mile the whole gaggle suddenly slid to a halt and bottle-necked at a 90 degree, axle deep mud pit that all but stopped the race.
Getting back up to speed, a quick glance rearward showed the pack was down to the four Gravel Cyclist teammates and M.M. – Deja Vu all over again! Suddenly Pfaff Daddy (last year's 50+ winner) broke a spoke, stopped, then waved us on. "I'm out! See you at the car!" he yelled. It turned out to be just a loud, devious stick but we didn't see him for another hour.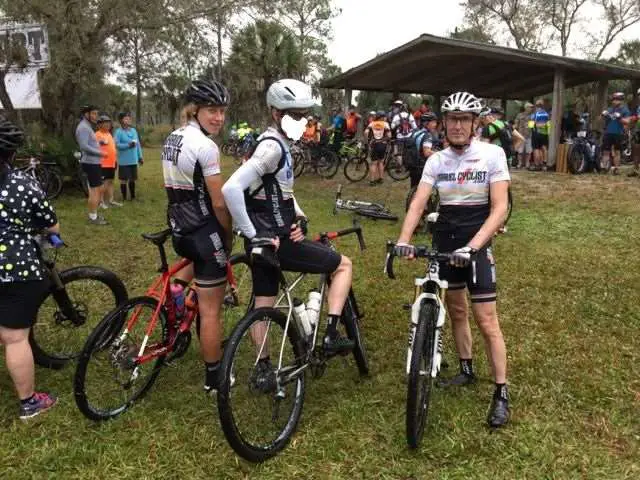 And then there were four.
The next few miles turned ugly with an energy sapping promenade of thick, wet spinach soup that submerged our chainrings and slapped our shoes. Dr. Pain yo-yoed off the back for a while then suddenly yelled "that's it, I'm not riding this EFFING (expletive deleted) any more!"
And then there were three.
A scant 100 meters later, Pfaff Junior, M.M. and K-Dogg hit a beautiful lime-rocked dyke with a tailwind that sailed us along quite nicely for several miles. Snacks were consumed. Pleasantries were exchanged. We were alone. "OK", we thought, "keep it steady and this race is ours to lose"… which turned out as always, to be horribly inaccurate. Jinx and double jinx!
And then there were hogs.
A bit later, peacefully rounding a 90 degree corner in a bucolic oak tunnel, we suddenly flushed a 150lb black boar that panicked and swerved at us twice – while crashing in and out of the undergrowth. A few minutes later we flushed out a pod of porkers. Two swept our rear wheels while one buzzed Pfaff Junior's front wheel then loudly squealed like a demented swamp banshee. You laugh, but this little piggy showed sharp 3″ tusks. It would be nice to review Pfaff Junior's heart monitor data at this point.
And then there were eight miles of Purgatory Road.
(Brought to you by logging trucks and biblical rain).
For hours it seemed we churned granny gears, flailing left, right and center with pounding hearts – seeking purchase or even purpose. It didn't exist. Suddenly, our pace maker Pfaff Junior put both feet down in the mud and slumped his shoulders. "We have to go back… we missed the turn half a mile back."
Turning around in the muck we spied five chasers (including Pfaff Daddy) on the horizon oozing onto the correct track of slime. "Expletives deleted!" we all cursed inwardly, pulled our feet out of the mud and tried to grind even harder back the way we came. In five minutes we rounded the corner then painstakingly chased back on to the five human paddle wheelers flailing around and throwing black water rooster tails on each other. At this point Pfaff Junior abandoned his own father (Pfaff Daddy) and churned past all of us never to be seen again until the finish. He's actually a nice lad but racing is racing.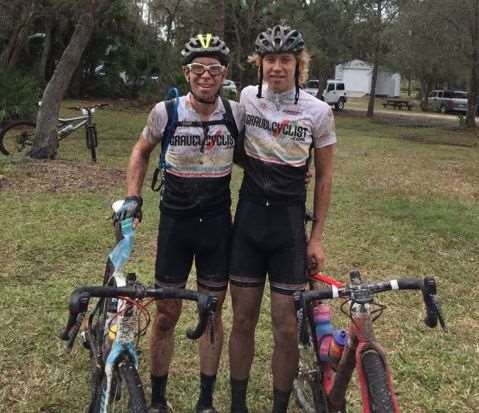 By some lucky divining, the Dogg managed to find ridable ooze mid-stream or along a palmetto root rut at the edge. The rest seemed to be reduced to mud marching but I'm not sure… look back in that crap and go over the bars… but the Dogg used all his paws and opened a gap.
Somehow I emerged a hundred meters ahead of the pack, dipped in chocolate, onto what looked like smooth hard packed lime rock. Nope! Velcro road!
Velcro road with a headwind. No rest for the weary. Noticing Kevin from Sanibel Island chasing, I slowed and we traded pulls down this sticky fake road. To be honest I pulled a bit less, but he is 51 and I am over 60…. that is my story and I'm sticking to it. He also had TT bars and knew the course… he thought.
And then there were two (chasing a 19-year-old cat 2).
Except for several miles of kidney killing plowed fields and a few deviously deep puddles, we thought the worst was over. The sun came out briefly and dried the mud to my hairy legs* forming a thick protective adobe coating as we crossed the field of grass section.
And then there were ATV trails.
I now remember something about two parallel ATV trails; "but take the left one to some poorly paved roads".  Apparently we took the other trail. We'd have welcomed some poorly paved roads rather than several miles of horrible, vine choked ATV trails which doubled back on themselves every 10 feet. Did I mention the slippery roots and sugar sand?
We learned that unless you zoom in your Garmin severely it implies you are not actually lost when you actually are lost. I estimate we lost 30 minutes in this ATV Purgatory.
And then there were three (chasing Pfaff Junior – but not really).
Finally finding and scuttling across the cement dam, we were caught on the surreal outskirts of a tidy suburban shopping center by 50+ eventual winner, Jesse. Apparently he didn't opt for the scenic route like Kevin and I.
We three mud covered swamp creatures must have startled local villagers as we oozed our way back into our natural habitat, the soggy primordial forest. The forest that was… again… 1/3 water, 1/3 water over muck and 1/3 purgatory.
And then the Dogg cracked… badly. No food, no water, no enthusiasm.
Only three to four miles to the finish. I rode slow. It took me an hour. You do the effin' math! The water sucked, the muck sucked and I sucked. I watched Kevin and Jesse slither away from me at the speed of a swamp glacier. I had nothing. All I wanted to do was dismount and walk but knew I'd never climb back on. Kevin and Jesse were now totally out of sight and I felt a little panic rising. I didn't trust my Garmin anymore.
"You are on your own" said the flyer. "We will not come bail you out." Pedal, pedal, slog, slog… somebody call the Waambulance!
Eventually a friendly sign popped up and I knew I had make it. A few more turns, a few more friendly signs, and I crossed the finish line to a raucous beer cheer… a cheer that everybody who pushed themselves today so righteously deserved.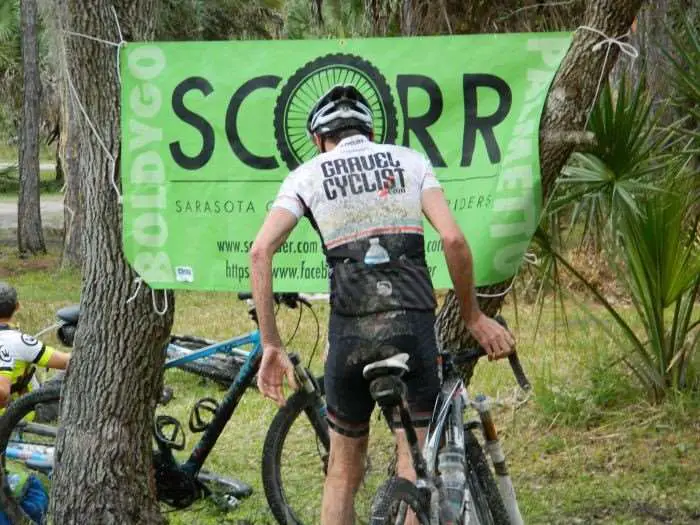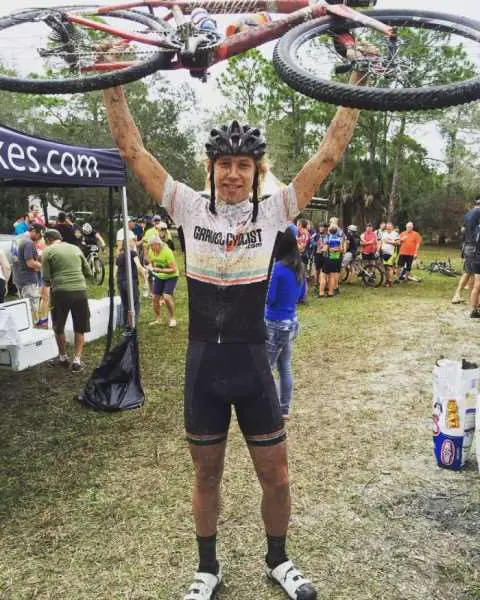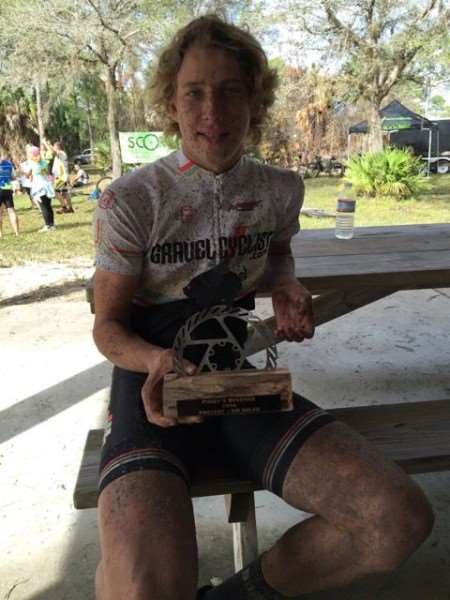 Three cheers for the selfless promoters and volunteers and three cheers for all the adults who didn't feel the least silly for ruining their expensive bikes playing in the mud all day.
K-Dogg
* Usually the Dogg shaves his legs, but has been slacking. Mrs K-Dogg won't be pleased.