Tim Proctor's Sub 9 Gravel Grovel Race Report
The Gravel Grovel
is held every year the weekend after Thanksgiving in my "backyard", the Hoosier National Forest, I've participated in all 6 editions.  This year, it was also the final round of the American Ultra Cross series of 8 gravel road races which spans almost the entire year from February (Southern Cross) to November.  It was a big race for me this year, having won the event in 2013, I wanted to defend my title and there was a deeper field of local riders including Ryan Knapp as well as visitors from further afield such as Garth Prosser and Mike Simonson who race most of the Ultracross series and are all tough competitors.
I've split this report into 3 sections – a brief recap of the race as it happened to me – some data analysis comparing 2013 and 2014 – and finally some details about the bike setup I used.
Race Summary
I wrote lots of words about the race but figured it needed to be more succinct, so here's the race in 5 Tweet like phases:
Follow Knapp – Ryan was a marked man at the start, no one wanted to work hard and everyone wanted Ryan's wheel, so the road race "dance" began.
Where's Knapp? – Ryan cut his tire only 15 miles into the race, when we emerged from the Combs road segment, he was already heading home.
Then there were 6 – After the new segment of the course, there were more losses, leaving only 6 in the lead group (Atwell, Simonson, Hauber, Golas, Keck, Proctor)
The bold attack – after I effectively neutralized the Nebo single track by taking the lead & setting a steady tempo, Jonathan Atwell attacked on the Mt Baldy climb gaining about a minute – I thought this was the winning move as we struggled to pull him back.
The final attack – to our surprise we did regroup, catching Atwell in the final trail segment.  I made an all-out effort in the 5 minute long final climb to the Fire Tower.  At the top, with 10 miles to the finish, I was on my own.  I kept the pressure on and solo'd to the finish for my second win.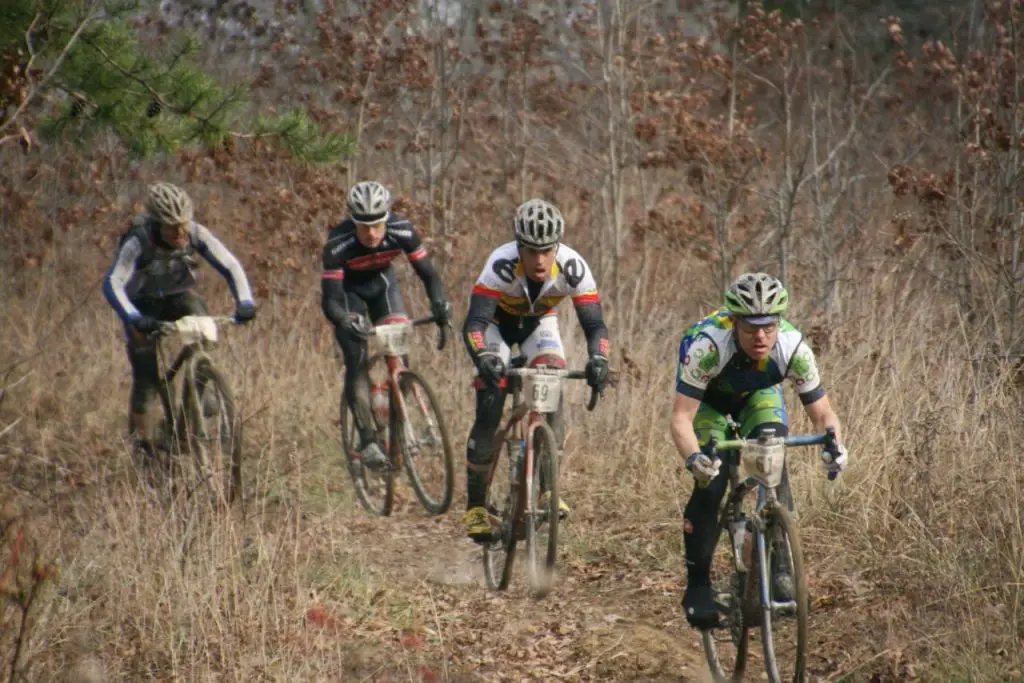 Data Analysis
The table shows the race broken down into 15 segments (not actual Strava segments) and a comparison of my times in the 2013 and 2014 editions of the race.  The final column is the difference in time (in seconds) – red means I was slower this year than last, green means faster than 2013.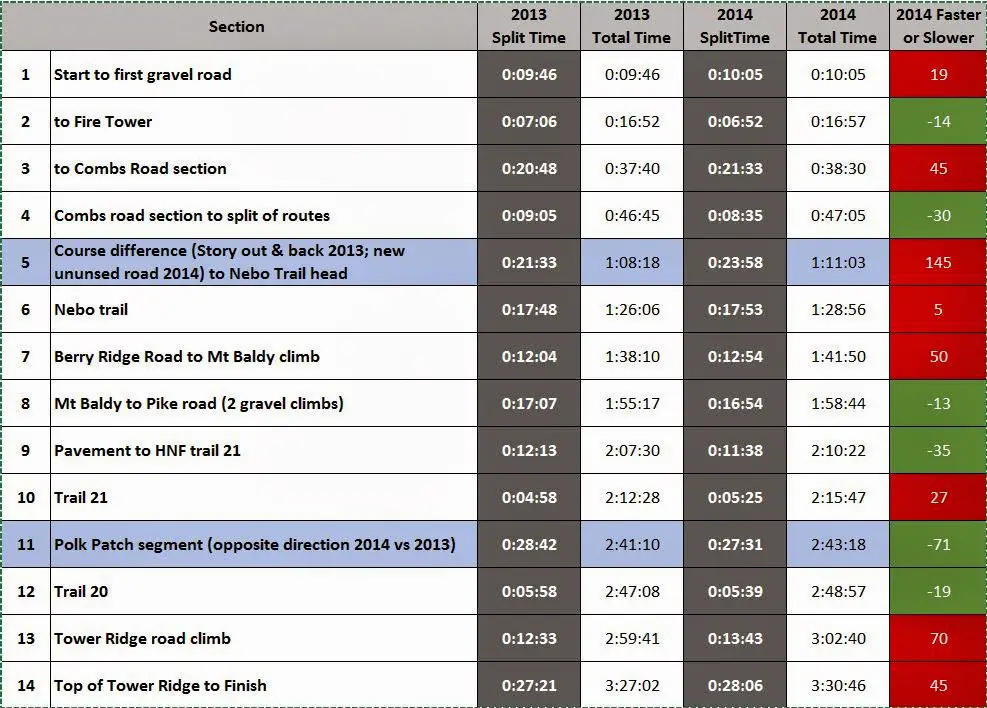 Despite what felt to me like anxiety in the bunch about finding & holding Ryan Knapp's wheel and the surge / coast effect, we were actually faster through segment 2 to the top of the fire tower after the "neutralized" start.
Segment 3 was definitely slower with soft ground making for harder work and a larger bunch definitely meant there were times when we all sat up (last year, Andy Messer was just drilling it all the way to Combs).
Through Combs we were significantly faster, I think I lost time time in 2013 with a couple of force dismounts as riders ahead of me stopped.  This year I was closer to the front & had no issues.
Section 5 is where the two courses are different – so comparison isn't valid.
Over Nebo trail (segment 6) I'm amazed at how consistent the time is, within 5 secs.  This was a hard tempo pace, not all-out, it's not a place to win the race (with nearly 40 miles still to go) but it was important to ensure that the lead group of 6 stayed away from any chasers.
The faster gravel & pavement section 7 from the top of Nebo to the start of the Mt Baldy climb is very exposed and we had a head wind this year.  Mike Simonson was pushing the effort the year, but we were still slower than 2013, my guess is that the wind was the main factor.
The next section (8) covers two sustained gravel climbs.  The first (Mt Baldy) is where Jonathan Atwell attacked the group & went clear.  We tried to counter on the short pavement section between the climbs but he stayed away.  The attack & chase made us faster than the race in 2013 when we largely stayed together (no serious attacks).
The same is true for the next section – on the pavement, Mike Simonson, Nathan Keck and I worked pretty well in rotation trying to close the gap on Atwell.  This increased the speed over 2013.
Trail 21 (segment 10) was much harder going than last year – soft ground made the climbs much harder work, last year there was still some frozen sections.  We dropped a lot of time here, half a minute in only a 5 minute segment.
Segment 11 was also different between the 2013 and 2014 races – the same roads, but direction was reversed.  I personlly think that the Polk Patch road ascent in this years route is harder than the climb towards Hickory ridge that we took last year – however the time was faster in 2014 so maybe it's just perception on my part.
Segment 12 – Trail 20 – the final section of trail had us visibly catching Atwell.  Simonson kept the pressure on and we closed the gap before emerging on to Fire Tower road.  This trail is mostly wooded, not exposed like Trail 21 so the ground condition was better and having a rabbit to chase down I'm sure influenced our time which was faster than 2013.
Climb to the Fire Tower – this is where I attacked in both years, the actual climb only takes about 5 minutes, this segment includes some rolling terrain before the real climb.  The road was softer than in 2013 making it slower going, but I was also more fatigued.  We'd all worked hard in the group trying to catch Atwell and I could feel the efforts in my legs when I decided to attack.  Last year, I felt confident I would ride away from the group, this year I really didn't know – I was all-in and if anyone stuck with me to the top, I knew I would not be able to counter.  The ground condition & fatigue all show in the 70 secs (nearly 9%) slower time this year.
From the top of the Fire Tower climb to the finish is about 10 miles (Segment 14).  This is split between 5 miles of rolling loose gravel roads that sap your strength and morale and then 5 miles of fast hard pack mostly downhill to the finish.  I think that the road was in about the same condition as last year, but I was still slower by 45 secs through this segment – with a clear lead, I wanted to stay out of sight of chasers, so tried to sustain as much power as possible but I was definitely not as strong over this section as I was last year.
Bike Set-Up
Trek Boone.
Shimano Di2 10 speed.
Shimano Ultegra tubeless wheels.
Bontrager CX0 34mm tires (tubeless with Stans) @ 45 psi.
34 / 46 chain rings.
11-28 Cassette.
I only realized after the race that I had short changed myself on gearing.  Last year I rode a 38/46 (non-compact) chainring but used a SRAM WiFli rear mech with a 12-32 cassette.  My lowest gear in 2013 was 38/32 = 1.19; whereas this year I rode 34/28 = 1.21.  It's not even 2% different and to be honest, climbing Combs and Nebo were both OK with this gearing, I don't think I'd try to change it for anything lower.
Note: Tim's bike will be featured soon on the Gravel Cyclist blog!
To the Winners go the Spoils
Thank you to Tim Proctor, for his permission to re-print his ride report.  His original article can be found HERE.