I just love Gravel people.
Lining up this year in a steady drizzle at the base of Springer mountain Georgia was more like a family reunion than a race. Everybody was smiling, shaking hands, and telling self denigrating race tales as if we were long lost cousins at a colossal gathering. Perhaps my Irish family tree took root here too a ways back. Three years ago I ended a bad thirty year marrage with toxic road cycling. 
These are my people now.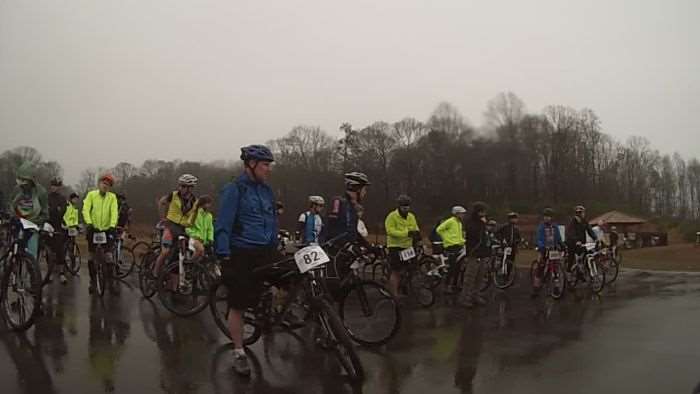 This 2015 Southern Cross extreme CX race was my third. I'd missed last year's but was dammed I miss it again come hell or high water… or ice storm… or mudfest after 3 days of steady rain. At least it was relatively warm compared to previous years when water bottles froze and trail food clicked when you dropped it. Nice too was having 4 paved miles to warming up behind the pace car instead of jumping streams, trees and running your bike up Mt. Stickerbush.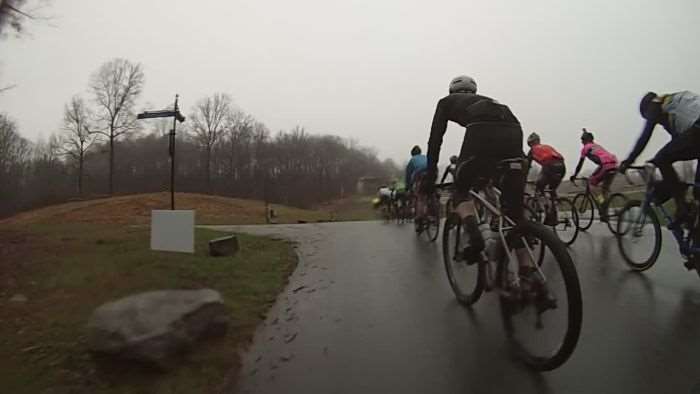 When the pavement ended and the slime began the whole surging gaggle went into warp drive as expected. The serious and the hopeful moved to the front to avoid the delusional and the damned. The slippery road was wide open but the best lines were narrow and few. The mud robbed your speed like riding on Velcro then suddenly turned to bearing grease. The serious zigzagged then accelerated again. Large gaps opened. The mud tilted upward. The hopeful became less so. Then about 20 detached and vanished around a corner.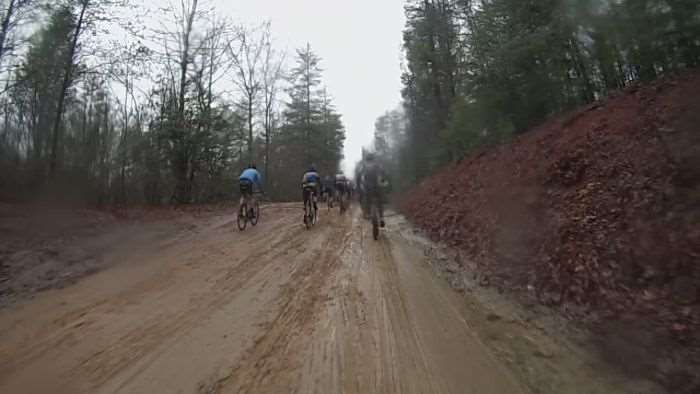 My legs felt better than they have all season but my lungs were maxed out so I settled into a sustainable solo pace for the next hour ticking between the 36 x 34 and the 36 x 30. No heartrate monitor for me. After 30 years of racing I don't need no magic stone to know when I'm about to hurl or pass out. Occasionally a slowly fading rider encouraged me to push the upper single digits of speed then settle back down to sustainability.
Climbing is Nirvana for me. No stress, no danger and pin drop quiet. The only sounds are birds and labored breathing – yours and your cousins. Actually there was another sound… my drive chain grinding itself into oblivion with Georgia red clay… which also took a high toll on brake pads. Unlike many I had no technical issues all day.
After half an hour of steadily climbing the Staircase, 6-7 riders came back with a rock in their mouth. Nice try! The Staircase is a 12 mile dirt switchback climb with elevations between 12 and 21 percent. It ends at the top of Springer Mountain. It is a steady 1 hour granny gear climb for most. Many end up walking. Those who ride have teeth nearing 40 top end. Your front wheel wants to pop a wheelie over backwards as you tiptoe though the rocky obstacle course.
I also had to keep an eye on last year's 55+ master's national cyclocross champion, Gregg Hardwick. For the third year in a row he and I traded places back and forth. I would gain a couple minutes on the climbs. He would gain them back descending. These zones were identical each year. We agreed (when we could spare the air) it was like Deja Vu all over again. And again.
I was worried because he was climbing better this year. I was worse on descents, especially in these miserable conditions. Fog, puddles, slime. Repeat for 4 hours.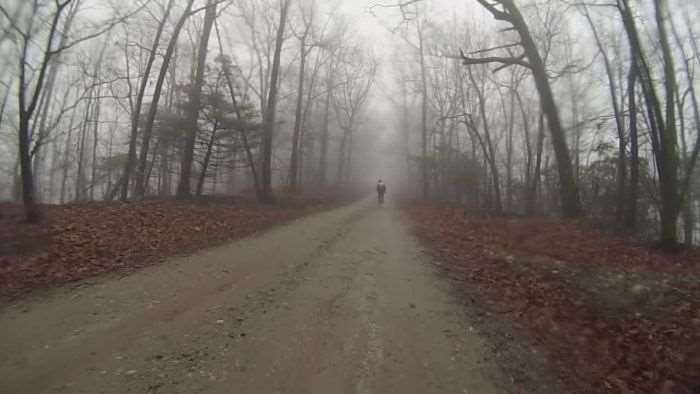 Halfway down the final treacherous descent off Springer Mountain he flew by me in the fog. I wave him on and yelled "go Gregg!" I meant it. He was amazing. I had asked how he did it. "You learn the techniques", he said with a shrug. "Is there a course that teaches this?" I said. He shrugged again then vanished into the fog. Maybe he is
Tuatha De' Danann
 like my Irish mate, Ed.
With Greg gone I played cat and mouse with a few youngsters (40+) until the last few slimy miles. They were steep, punchy little hills covered in a slippery, slimy, goopy, morass of death created by 300 pairs of bike tires desperately trying to pick a survivable line. Brakes locked, and tires fishtailed out of control. Several people were noticed descending "Fred Flintstone" style dragging their feet out of fear or brake failure.
Eventually the final pavement section began. Then the CX "bonus" section. Several people admitted, like me, to walking down a few of the slippery CX hills to avoid the indignity of surviving 4 hours of hell only to biff 1/2 mile from the finish. Wise lads.
Cued up at the bike wash it was all jokes and muddy smiles. Particularly my Cycle Logic teammate,
Dr. Pain
(unfortunately, we cannot share his mud covered face with you). He is the poster child for this year's race having more facial mud than a spa treatment – but with more grin.
My other teammate Jayson O'Mahoney (Founder of Gravel Cyclist) came in an hour later having technical issues of mammoth proportions from a slipping seat post to brake lockup. He is working on the video so stay tuned to
GravelCyclist.com
, and the Gravel Cycist
Facebook Page
(shameless plug…
Click the Like button!
).
This race will stay with us for a long time… in our hair, in our ears and many other unmentionable spots.
K-Dogg