Perspective from Dr. Pain's Cave
First, let me point out that the race was rescheduled because of anomalous weather in Georgia on the original date. The first date had freezing rain, downed trees, snow and temperatures in the teens and 20's.
The rescheduled race day was better… really. Dr. Pain has resided in FL since 1988, so he watched the weather channel with a keen eye. Rain was scheduled for the 5 days previous to the rescheduled start. Lots of rain, with rain forecast for the start of the race. Who cares? Dr. Pain cares. He'd seen the red Georgia clay when it was dry, and he's seen it wet.  When wet it is something like oily peanut butter. The metallic brake pads, and 1.95" Specialized Renegade tires were called for.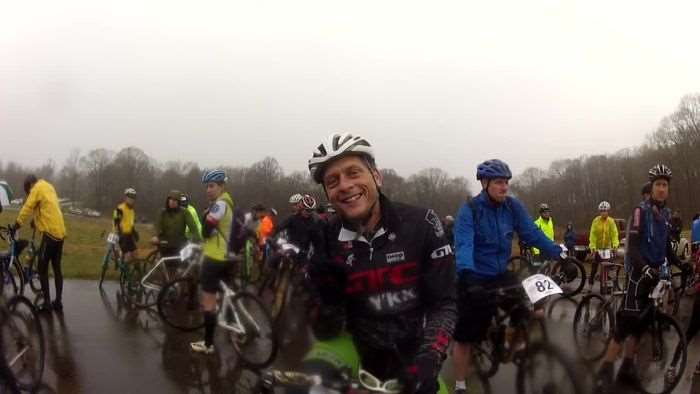 Dr. Pain would like to remind you, the gentle reader, that he resides in Florida. Dahlonega, Georgia is not Florida. There are hills and mountains that are significantly longer and steeper than the I-75 overpass Dr. Pain "climbs" on a regular basis. Who cares? Dr. Pain cares. He installed the spanky 40-tooth conversion cog on his cassette, so that he could go 4 miles per hour with a cadence of 70. Brilliant. I mean really, if you are going to go 4 miles per hour, why do so at 20 rpm? Lots of people were doing that. Most impressively, were the gents on single speeds who were going 4.5 mph at 20 rpm and dropping Dr. Pain on the Winding Staircase climb. Chapeau.
Race Start
The race started in a cold misty rain at about 50 degrees. Who cares? Dr. Pain cares. Always in search of technology to overcome his athletic shortcomings, he donned the remarkable Castelli Gabba jersey and Nanoflex knickers. These turned out to be one of the few shining technological victories of the event.
A "neutral" rollout of 3 or so miles began the race. True, no one passed the car leading us. However, Dr. Pain learned that "neutral" must be idiosyncratically defined by the driver of said vehicle. Stupidly thinking that a neutral rollout would provide a nice warm up, Dr. Pain did no other warm up, instead sitting in his warm car. Warm was at least in the equation.  Some remarkably fast speeds and high heart rates were observed in the first 3 miles. We were definitely all warmed up as the road turned to peanut butter and we were released to slip, slide, flounder, and otherwise race.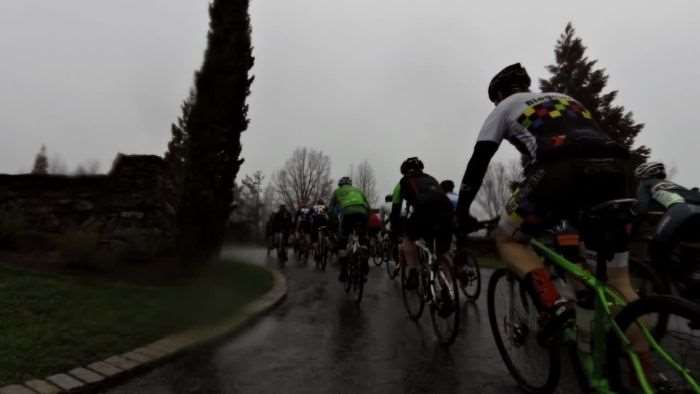 The front group immediately disappeared into the dense fog at the first real climb. Dr. Pain never saw them again. Did you realize he lives in FL? That's his excuse and he is sticking to it to the bitter end. So, as is often the case in these events, what ensued after this first climb was a Personal Gran Fondo. There was occasional "racing", but mostly it was surviving the climbs, and even more importantly the descents.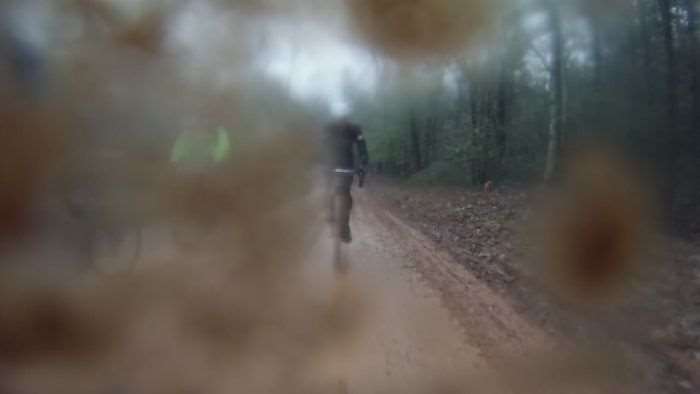 The climbs are hard, but doable, especially with a 34-40 low gear. No climbing off to walk, and 2" tires meant that traction was achievable when standing, even in peanut butter. The descents were without a doubt some of the most challenging the Good Doctor has ever experienced. He rides with mechanical discs, a big 180mm front rotor, and 160mm rear. The metallic pads made it to the finish without failing, though they shed significant mass before the finish. Others were not so lucky.  There were many brake pad failures during the day.  Some folks were seen walking down the last descent because of pad failure.
Bigger is Sometimes Better
Big tires for a "cross" race were also a decided advantage. Dr. Pain was able to descend much faster than many of the cross tired crowd, though there were several who still left him in the "dust" on those skinny tires. Chapeau to them.  That was some skill or something.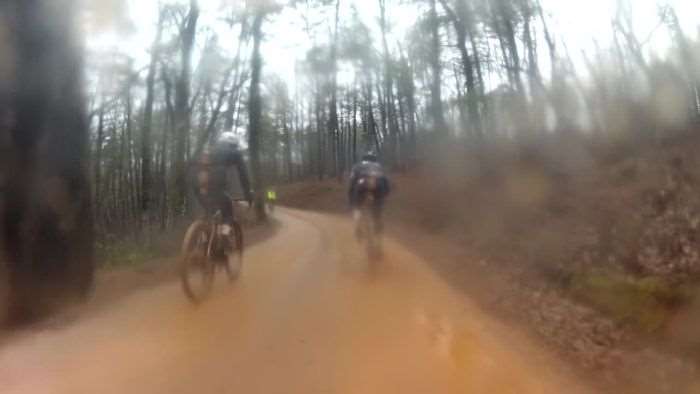 One young chap on an MTB passed Dr. Pain on a descent going at a very impressive pace, until he hit the deep peanut butter in the center of the road, fell, and then slid for 100 feet. Fortunately, he slid left, while Dr. Pain went right and no further calamity ensued. The MTB rider was seen at the finish and he looked fine other that some road rash that was nicely hidden by a mud compress.
The Last Descent and Homeward Bound
Somewhere on the last descent, Dr. Pain was caught and passed by 3 chaps on cross bikes who clearly had more skill at descending the rutted, bumpy, yet peanut butter slippery road. We were all held up by a pickup truck hauling a trailer with lawn equipment. For some reason, the driver didn't seem to consider letting us pass, even though we were going faster, and he was at risk of losing his trailer, or its contents. I wonder if having to slow didn't save Dr. Pain from himself, as he would have been tempted to try and stay with the 3 gents who were descending with greater skill. Following that truck did eat up some brake pads. Finally, we got off the descent and the truck zoomed ahead. I passed it a few miles later pulled to the side of the road with the hood up. I didn't have time to stop and see what had happened, but one wonders if he would have had a mechanical if he had let us go on past, while he descended at this own pace.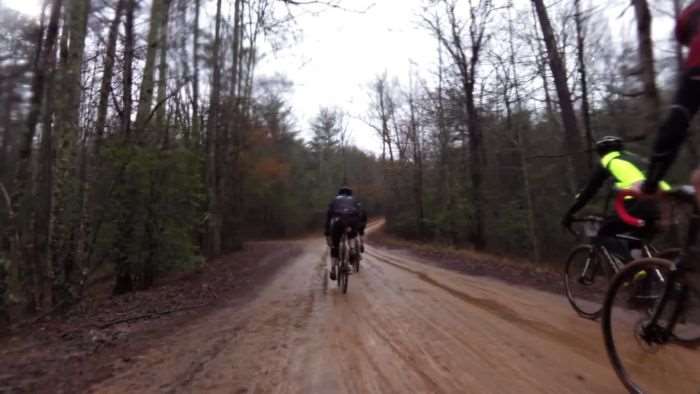 Following the final big descent was a section of muck that we apparently rode in both directions. Dr. Pain managed to peanut-butter-plane through it, not even recognizing that he had seen it before. There was no skill involved in the successful traverse, only physics.
Following that last peanut butter indignity was some pavement. I have very little memory of it, only that we had done that section as the "neutral" roll out. It seemed much longer in reverse. The final fun was back at the vineyard. The beer at the base of the run-up tasted great. Thanks to Terrapin and the fine chap who handed me the glass. It actually felt good to get off the bike and stretch the leg muscles on that climb… for about 10 feet. Then it was just work. I will confess that I walked down two wet, greasy, grassy slopes. My brake pads were questionable, my skills more so, and my desire to ignominiously crash within site of the finish after surviving the other descents turned me into a biped.
Accomplishments:
In order of goals:
I didn't get hurt.
I didn't crash.
I finished.
I didn't finish last.
My equipment choices were dead on, though my front derailleur failed, and today my right shifter isn't right at all.
Today (one day later) it seemed like fun.
Everything else was icing on the cake. Dr. Pain finished a respectable (for him) 6th in the 1970's roadie division… aka 50+.
P.S. Dr. Pain recorded hours of video.  It was shot with great realism.  All of it looks sort of hazy, with a red-orange tinge. JOM has the enviable task of editing said video.