Quoted directly from the man himself, FarmerG.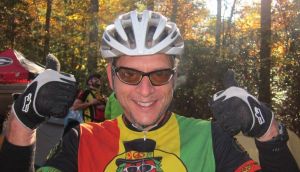 Great day on the bike at the Sac O Suds 50
Nice group of five formed about 15 minutes in with myself and Jayson O'Mahoney on CX/Gravel bikes, and Jeff Clayton, Chris Coren and Cal on mountain bikes.
Kept it together out to the loop in the lollipop where we turned off the roads and into less developed surfaces. Things stayed together on the doubletrack down to the creek.  However, Jeff and Chris got a bit of a gap at the creek crossing, and following pick your way through the woods on a not real trail section.  As we exited onto the fire break, Jayson had his Di2 cable come loose and went from a few meters back to out of the chase.
I kept the leaders in sight, but a steep climb on the powerline trail required me to dismount while they rode up using gears I did not have.  At the halfway point, we turned right on the pavement for a few miles and I was happy with my position, knowing I had a 50 tooth big ring and they had a 39 or so.
Held steady on the pavement and maybe even closed a bit, as Jeff put a gap into Chris.
Turned back onto the dirt for the return and felt comfortable I could get Chris for 2nd, but Jeff is another story.  Caught Chris at the bottom of a downhill and we rode up the next longish climb together, but once over the climb, I hit the 50×11 on the downhill and Chris could not answer.
Kept Jeff in sight on the longer climbs, but at one point I saw him turn around and could tell he put in a big effort just after as the gap opened a bit.
Turned into an hour plus TT back to the finish. Finished somewhere around 35-40 seconds back… super stoked.
Thanks to Asa Marshall and Red Molly and the rest of the local SORBA crew for the great ride, beautiful scenery and tasty spaghetti.