For a while, I'd heard it was not going to happen. The Day Across Minnesota, "The DAMn", which was run for the first time in 2017, was a massive undertaking. There was never anything or anyone that said the DAMn would run every year until eternity. Events like this are built on the passions of individuals who somehow convince others of their vision and then proceed to weave together the details of something amazing, then deliver what becomes a life milestone for dozens or hundreds of people. Sounds like Willie Nelson on tour, but this tour schedule has only one date per year, and like Willie, you never know if there'll be another year until that year comes.
Link to DAMn website and Facebook page.
So, I suppose this "report" is starting with gratitude, so let me stay with that and say thanks to Trenton for his incredible vision and organization of the DAMn, to all the volunteers, to the gravel sherpa support of our crew, Paul, to Mike for letting us mess up his truck, and to my family for accepting me and my gravel addiction.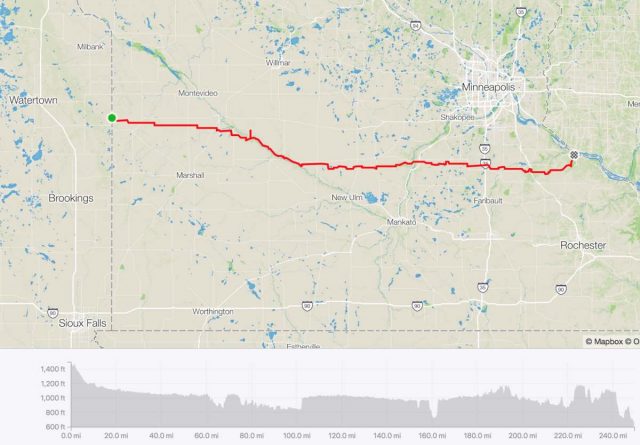 The route link on Strava – https://www.strava.com/activities/1781651609/overview
And now, let's see if there's a story to tell here…
The first year of DAMn was filled with uncertainty. We rode with a degree of caution, not knowing how it would go riding through the night and most of the next day without sleep. We wanted to ensure we would make it across the finish line. Starting at the strike of midnight, a clock's tick into Saturday, we finished at 8pm that night after 20 hours of riding with no sleep, and three very un-hurried stops and other dithering along the way. Link to 2017 report here.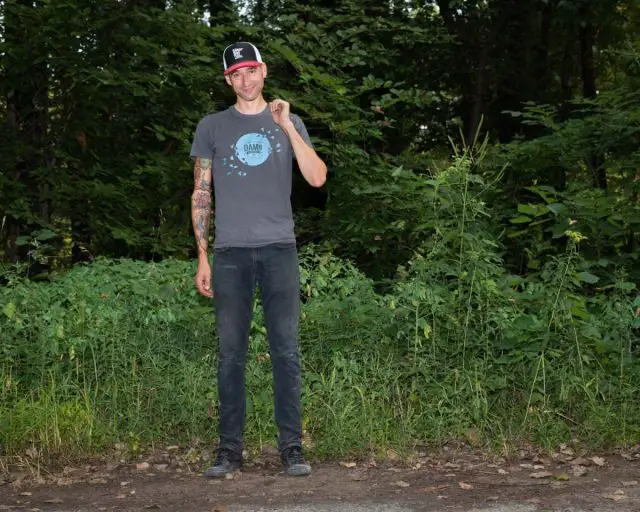 My friend Randy (aka "MoFo") told me on a few occasions that fog occurs when the temperature and dew point are within four degrees. I am guessing that's because the water vapor in the air starts to condense while still in the air, without waiting for it to find your beer. Normally the moisture in the air waits until it finds your cold beer and then condenses – and, of course, if you happen to be having a beer out there on a foggy night somewhere, it's going to be dripping so much you'll think the can has a leak. Then, you'll turn it upside down and say "WTF", have another swig as you nod and agree that you were never meant to be a scientist anyway.
  
So that was the weather forecast as I watched throughout the week leading up to the event. Certainty of fog overnight, with decent temperatures, low wind, then heating up with some clouds and plenty of sun during the day. Not the starlight of 2017, but overall a pretty great setup for the event.
Earlier, on Friday evening, our crew of five riders and one support driver (Paul), had arrived at the starting point after a few hours drive southwest from Minneapolis. We'd crossed the flatlands of southwestern Minnesota and its occasional river valleys, rising up in the last few miles to the state line at the Buffalo Ridge and into South Dakota. The start of the DAMn is in Gary, South Dakota which sits exactly on the state line with a modest main street leading off into corn and soy fields west and east.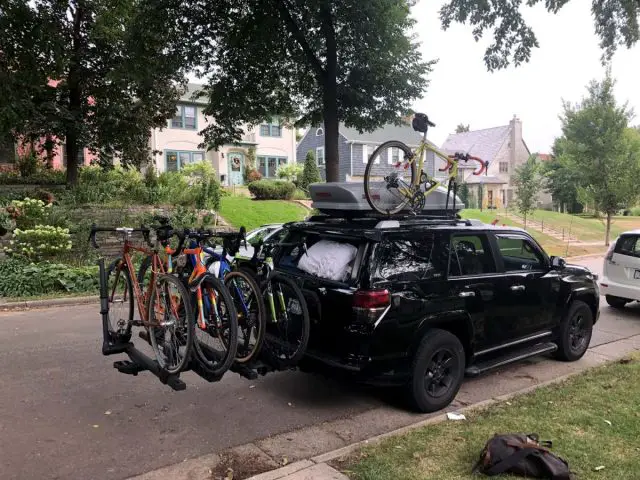 There's a large nine-building complex there which is now the Buffalo Ridge Resort, and check-in site for the DAMn. It was the county seat until 1895 and then became the state's school for the blind through the early 1960's. After being used as a home for elderly, it fell vacant until about ten years ago, when it re-opened as a resort and meeting complex – and now also the home of the DAMn).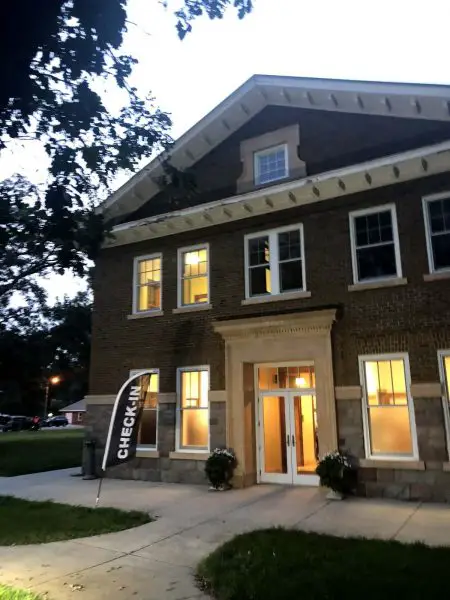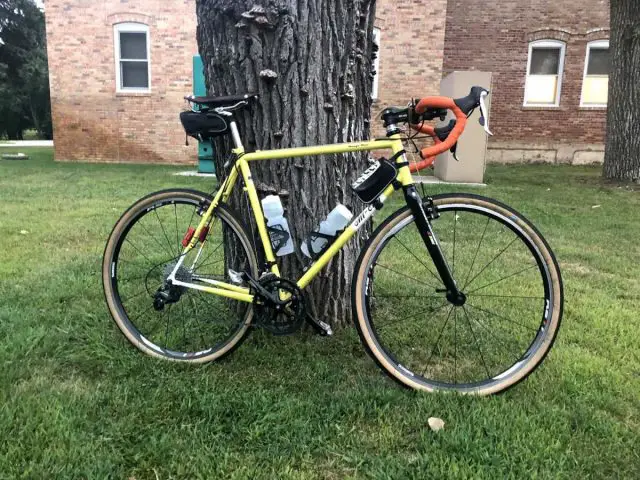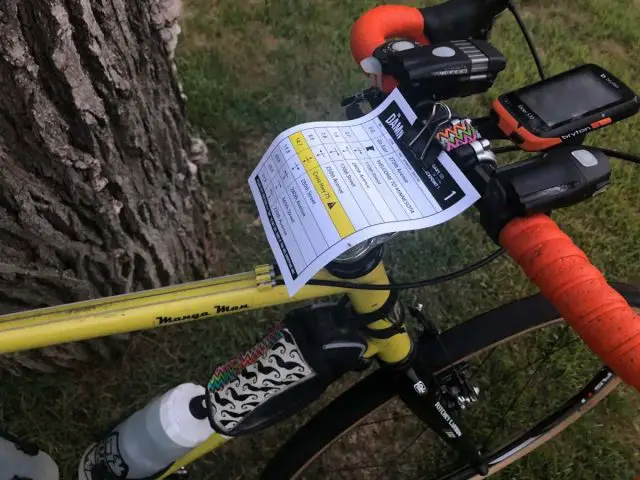 We grabbed some burgers and fries upon arrival, checked in and got into a series of neurotic gear tinkerings. We were comfortably early, or maybe just early enough to let the race jitters build into a mild giddiness that you could hear in the chatter. This being the second year, we had an idea of a schedule/agenda containing few things that needed to be done. We needed to do them in order to set them up as a tradition for future years. First, we needed to eat at the resort (check), then tinker (check), then go to the bar called The Alibi for a beer (next), then attend the pre-race meeting (last).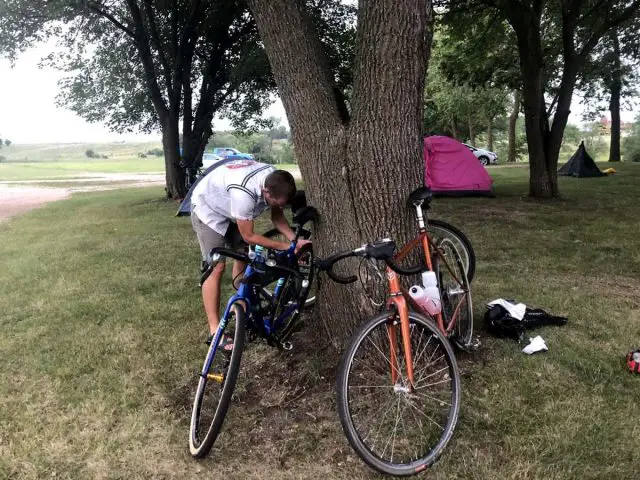 Paul wandering about town shooting photos with the last bits of twilight. When he returned, we headed over to the bar and washed down a couple of Coors Lights – which, by the way, qualifies as pre-race hydration due to its high water content. The bar changed owners since last year, and Mama Elby was not there, but the new folks were excellent and we had a few yucks and doublechecked weather. The walls have new paint and I think there are some new color options for can coozies.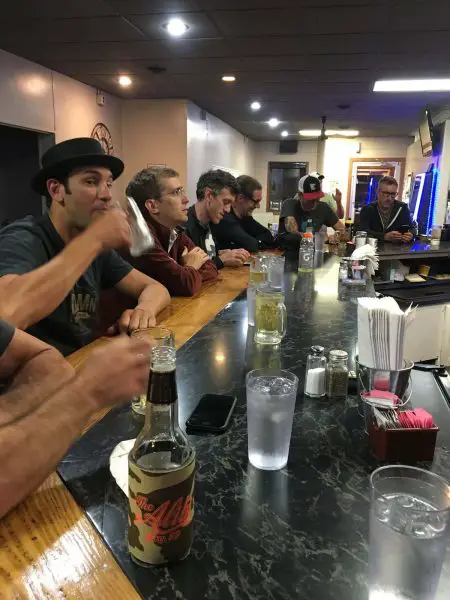 Around 10:30pm, we left the bar to get some final things together, then at 11pm we went back to the check-in room at Buffalo Ridge for the rider meeting. Trenton gave instructions (including the all-important mandate to not pee in view of other presumably non-cycling humans). Ben Weaver read the poem he wrote for last year's first run of the race, which I now consider to be more of a prayer. Read it here – I hope you do, and when you do I want you to picture the room that feels like a church basement; low ceilings and rectangles of light, and a small projector screen with a cutout from Ben's shadow, outlining the bandana around his neck. He spoke to us of the delta of our spirits and the ghosts of Little Crow and Jesse James that will be riding near us, as the chambers of our hearts burn red and that we ride with the pace of the land and that this is just a day across Minnesota. Amen, brother. My right arm started to cross myself at the end, but something deep in my mind stopped me. Next time I will – or I will just stand up and get my hands in the air and shout "Amen, Brother! Amen!" That's the response that the moment calls for.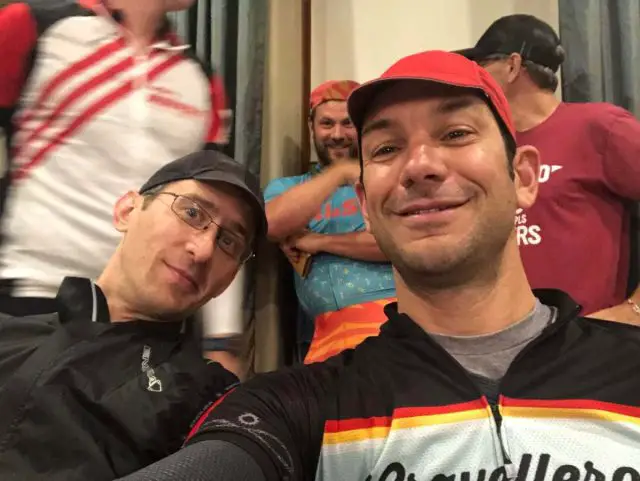 The race started at midnight with some words spoken at the front, followed by a splash of fireworks and a slow roll across the state line.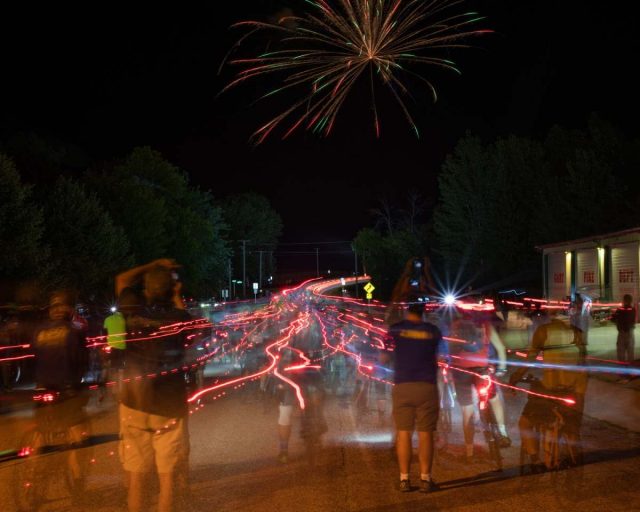 In the dark fog, the road appears to tilt upward but I know we are descending for most of the first 100 miles, so it must be the way the fog blocks the view ahead. When we hit a small rise it all looks the same, but my legs tell me it's changed. I believe I'm not moving at all, but that the earth is running beneath my wheels and sometimes the whole of the flatness is lifted or dropped by a degree or two, and my legs feel pressure or relief as it goes.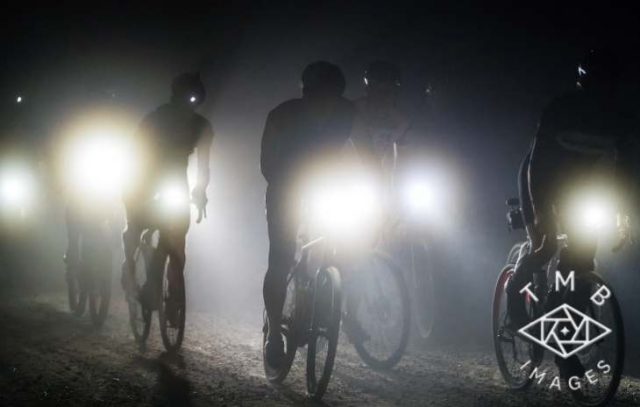 More DAMn photos here: TMB Images
Ben was riding too, and we saw him at several points in the first one or two of the 60-mile(ish) sections. We'd ride together for a bit, and go ahead or fall back, where his tail light would join the red beams that lighted the early fog – a glowing fire on the road ahead, always moving forward, a prairie fire moving through dried fields.
We stopped to help a rider who couldn't get his rear wheel back in after a flat. As we had approached, we heard sounds like a hammer and anvil. We offered some extra lighting and patience, and eventually, with the thru-axle lined up and his derailleur back in position, he was back on the road. We were back on the road too, but that rider went ahead of us and out of sight.
The road was sandy in places, but at first I didn't understand what was happening. It felt like I had a flat tire as the bike drifted a bit left-and-right – then the light would catch shadows of the snaking tracks in the road where the will of the tires to listen to the sand overcame the steering of rider. Swerving and recovering in an endless series, sparking the nerves of the group as they worked to staying upright and out of the wheels of the riders on one side or both. It was around here that Kevin's tires chose to "auger hard left" (as one rider reported to us later). It sent him into the ditch where the dark ground rose up and landed a glancing blow to his face. I think this happened around mile 40, when we were riding in a large group of about 15 – 20 riders, and not always certain where each of us was. We heard there was a crash; we waited, and when Kevin rolled up, we could see he'd been knocked to the mat, but he appeared to be OK and still riding.
We were making solid time, rolling an average speed of around 18+ mph in the first 60 miles – everyone was feeling pretty good. Kevin was shaking off some rattles from the ditch-dive, but all things considered, we were trucking along solid as we ride into checkpoint #1 at around 3:30am – a gravel crossroads in the middle of somewhere. We grabbed some coffee and donuts at the Banjo Brothers tent, and when I joked that I didn't see any whiskey, the hand of Banjo Mike appeared out of the dark with a waxed Dixie cup with a shot of rye. So down it went, into the incineration tank to be burnt up during one of the many miles ahead. We rolled to the truck and refilled, relieved, grabbed some warmer gear, checked Kevin's face and got back on the bikes.
It was about 4:00am as we rolled away from the support village, the darkness quickly reclaiming the road and the fog pulling its blanket over the riders for the night. The lights showed droplets hanging in the air. They landed on us by the millions, where they sat for a moment before finding some gravel dust to cling to. Water bottles coated themselves with wet dust that turned to thin mud that dripped along the sides and covered the nozzles. We drank in the chalkiness with each swig, sometimes spitting it out, but mostly drinking it in.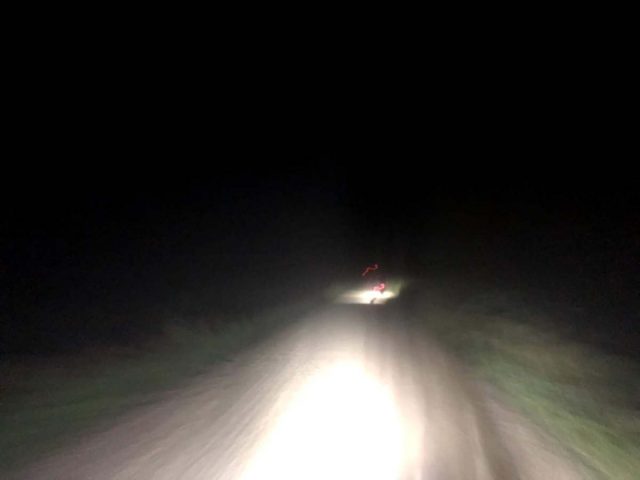 Somewhere in the 10 miles after the checkpoint, we missed a turn. The cue sheets were damp in my binder clip, and I wasn't offering much navigation help to Mike, who was trying to use a small headlamp strapped to his finger as a reading light (while trying to stay upright in often sandy gravel). Our detour was a few northbound miles of slow, sandy gravel with slight pitch upward before we realized we were off course. It was the five of us and Scott from Lincoln, Nebraska, standing in the middle of County Road 12, alongside an irrigation ditch in the dark trying to reset ourselves. Once we did, it was a faster roll down and we were back on track (with some bonus miles).
I've been learning over time (and perhaps some of you "report" readers figured this out already) that something like extra gravity hits me around miles 75 to 85 – energy and focus drift away and, on schedule, I found myself clinging to the back of the group as the sun appeared as a dim orange above the corn tops.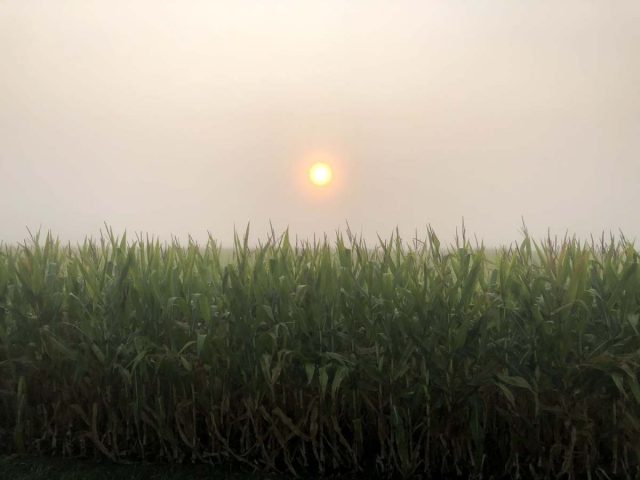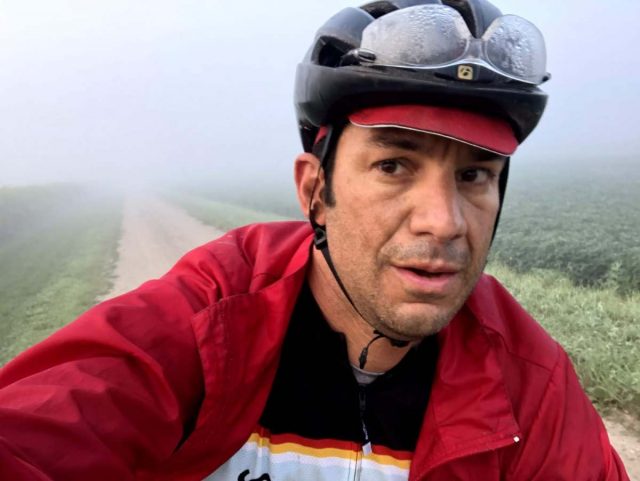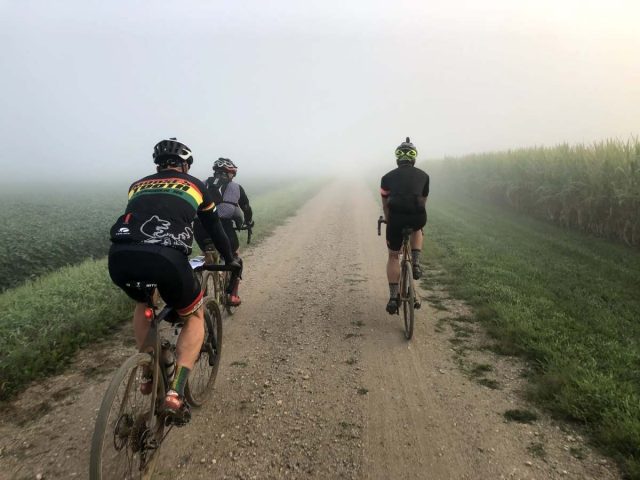 At mile 94 (our mileage, now disconnected from the mileage on the cue sheets for added navigational challenge), we arrived at the BP station in Morton, soaked on the outside from the foggy mist in the early hours of the day, soaked on the inside from the warming temperatures, and fighting off fatigue from the all-nighter. We took turns trying to rinse off bottles and wipe some of the crud from the bikes before we got back on the road – a bit of pavement that was moving exceptionally slow and then back onto gravel.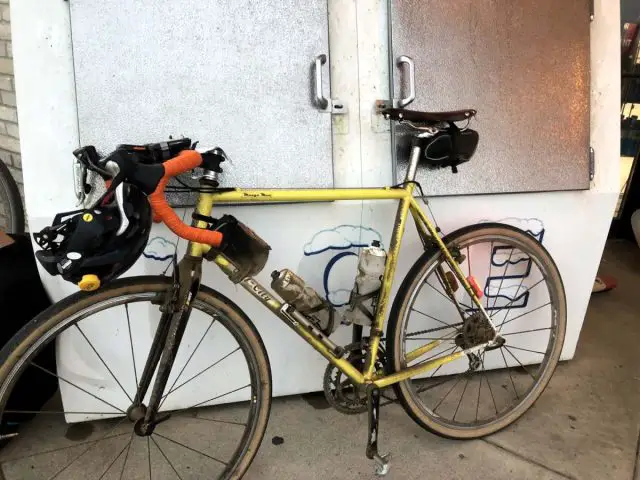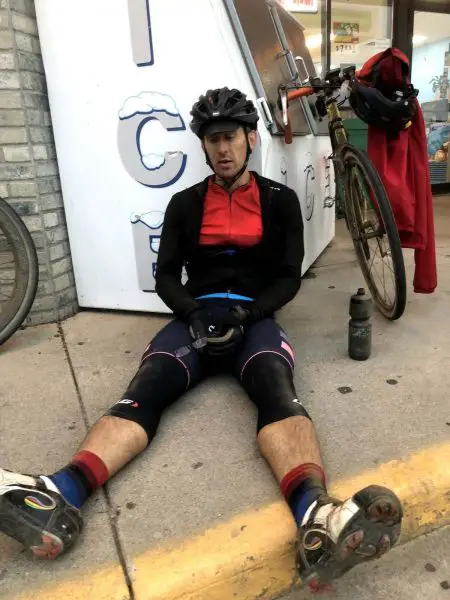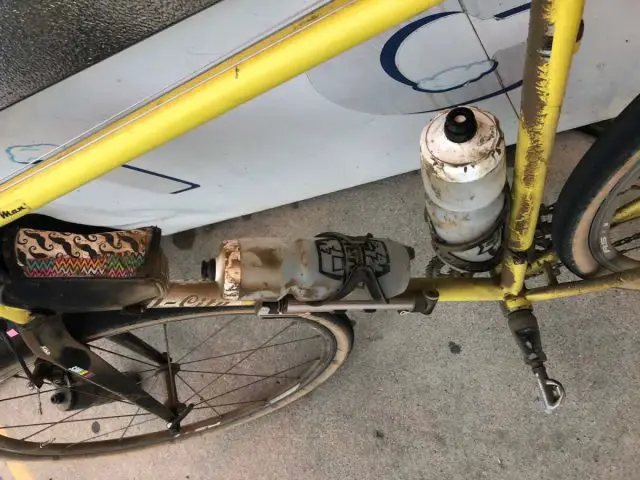 Just before 9:00am we rolled into checkpoint #2 – yet another nameless intersection with a pop-up village of support teams. That stretch was long and slower than the first part – we averaged about 15mph and it took us some 5 hours and 30 minutes-ish to arrive (compared to 3 hours and 30 minutes to the first checkpoint). But halfway there and thankful for having made it through the night and tough early hours of the morning. The sun had burned up the fog and mist and temperatures were warming up when we arrived at the truck.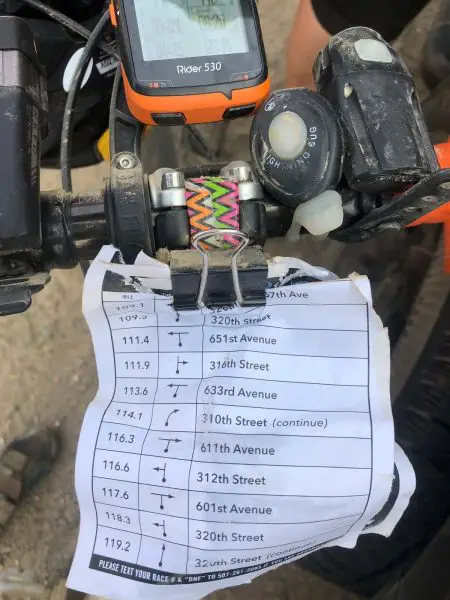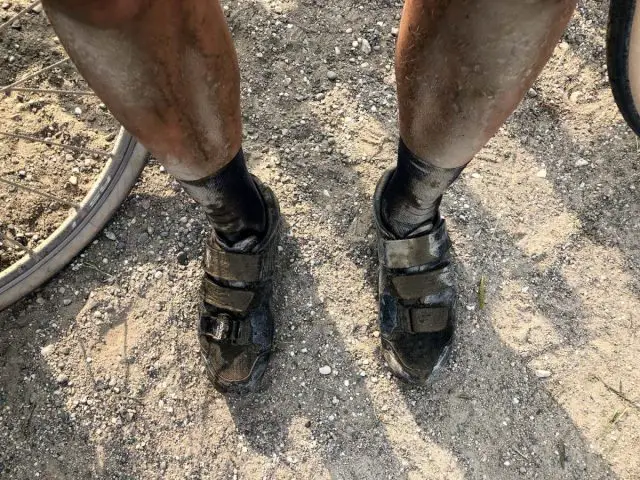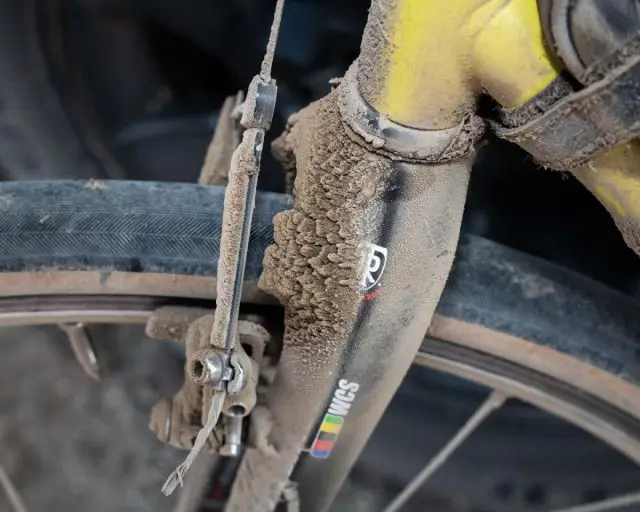 At the checkpoint, Paul was stationed with a tripod positioned for cornline portraits of some of the riders. I posed for a photo upon arrival, and then another, after switching from my soaked and dirt coated "Gravelleros" jersey into the "DAMN" one from last year. I even took the luxury of wiping down my bike a bit – the moisture had built up the dirt into horizontal stalactites on my fork and brakes. I lubed up the chain. I felt fresh and ready – just a daytime century to go! (plus twenty)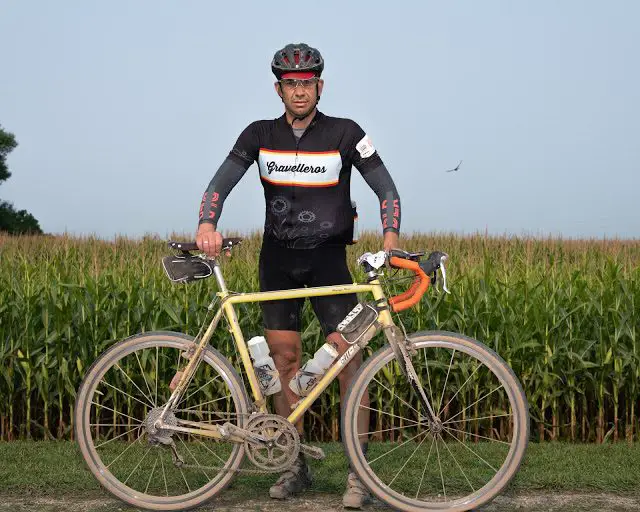 We rolled fast from there until Henderson around (our) mile 160. This is a famous location of several odd sightings and events in the past, and familiar territory for the group as this is due south of Minneapolis by about 50 miles. Back again at Hager's grocery and gasoline house of curiosities, the sun was bright where Brian found a triangle of shade next to pump #5.  We noticed his head drooping a bit toward his bent knees. For sure, most of us were a bit shredded. Someone bought a couple bags of ice; I sat one atop my head as I'd seen done in the same spot the previous year, sitting on a stack of water softener salt tabs. This was an unscheduled, but tradition-dictated stop – well worth it.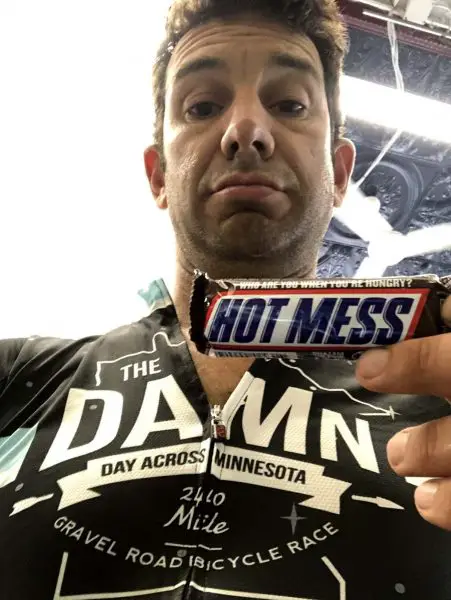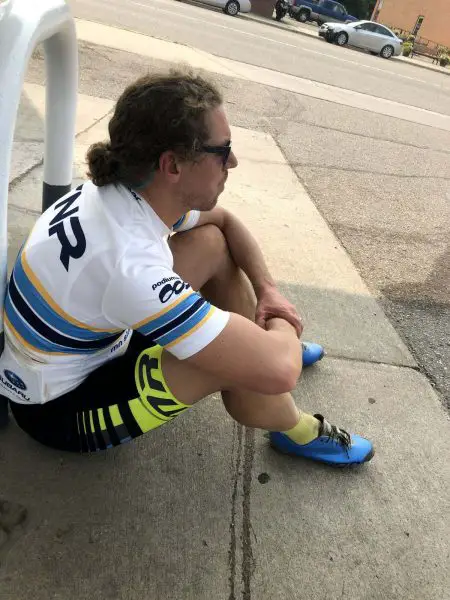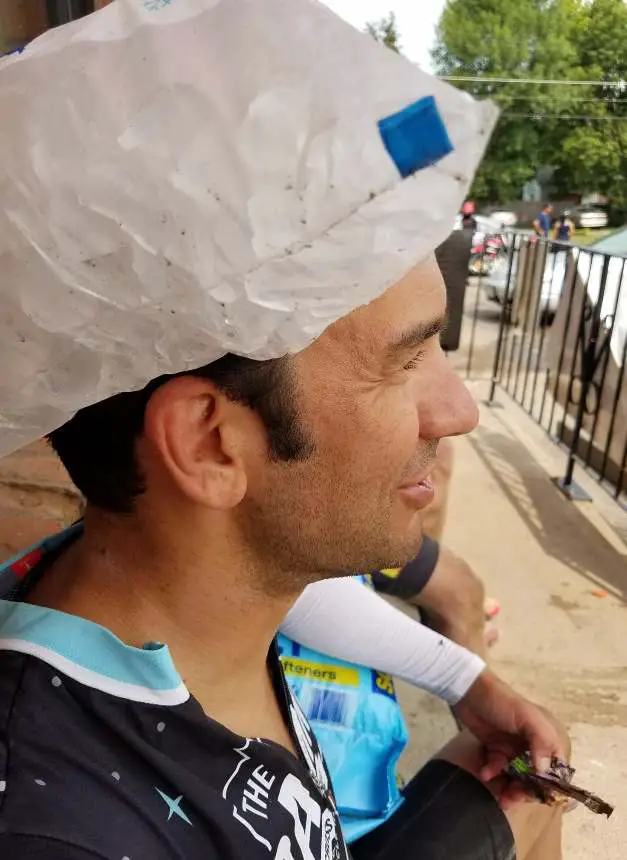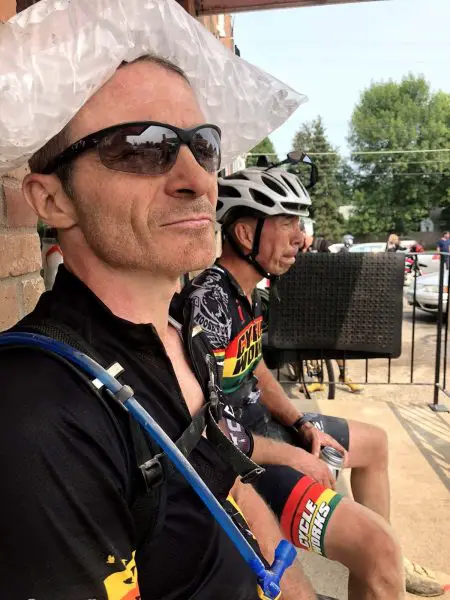 Leaving Henderson, however, was a totally new experience for us all – and likely every other rider at DAMn. At the edge of town, a yellow sign directed us into a section of single-track along the river that wandered through the woods and included multiple dismounts to crawl over fallen trees. I saw a video later of one of the leaders entering this space and letting out a solid "WTF". Agreed! Exiting the single-track we crawled uphill out of the valley and into the rolling terrain that extended beyond the next checkpoint.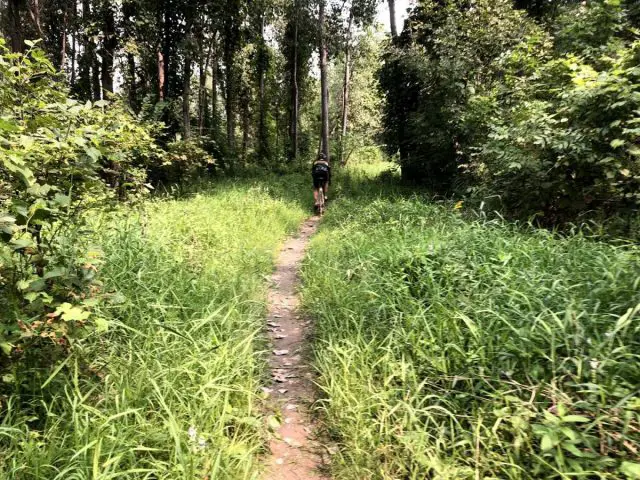 It wasn't much farther past that section, around mile 175, where Mike's knee started to act up. I stayed back with him as the group pushed ahead to the checkpoint. No, it wasn't Mike cramping with the delivery of an alien "knee-baby" (which, funnily enough, occurred not too far away last year). This was something like a tendon and he was unable to put any force down with one leg. We were about seven to ten miles away from the checkpoint, somewhere near Veseli, Minnesota, on a combination of pavement and gravel roads The road was rolling up and down a bit as Mike pushed on. With his left leg doing most of the work, and his torso leaning into each revolution, he made the rotations of a mini oil rig on wheels. I pushed him with my right hand a bit where I could, but I also needed to be cautious as I knew the last section was the most challenging.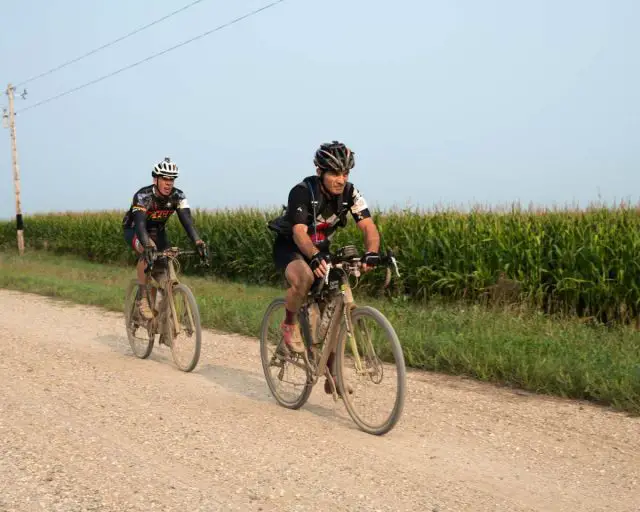 About a mile away from the checkpoint, we decided I should ride ahead to be sure I caught our group before they left the checkpoint. I stood on the pedals and crested the hill, only to see the checkpoint was actually at the bottom of the hill. I flew down the hill to provide my number and collect the next set of cue sheets (oh yeah, you only get the sheets for the next section after arriving at the checkpoint).
Around the corner, I found the truck and the rest of the crew. Kevin was in Paul's deluxe camp chair with integrated umbrella. Others were relaxing and packing up stuff. I had been rolling slowly with Mike so I was rested and ready to go. Mike arrived about a minute after me, and we chuckled at how we were at the last hill and didn't know it. Mike had made it to the checkpoint mostly on one leg for the last several miles. He let the volunteers know that he would not continue. He'll be back again, I'm certain of that.
I reloaded water, swallowed some blueberries and told the fellas I was going to keep some momentum going and roll out. It was likely they would catch me soon enough. I departed checkpoint #3 with 195 miles in the bag and about 56 to go (yes, this 240-mile event was going to be more like 250 in the end). I hit the section pretty hard, trying to be smart on the steeper pitches but tucking and hammering on everything else.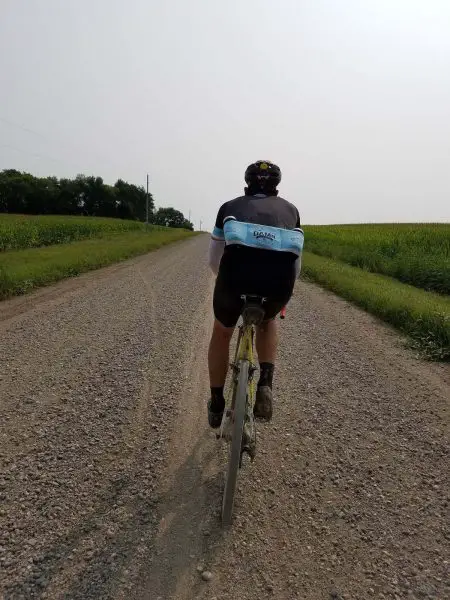 I was making solid time and realized that unless the crew had left within five minutes of my departure, I would probably be solo for the remainder of the day. I started to do the math – what would it take to be under 19 hours? What's my average speed now, and what do I need to average in order to arrive by…. etc, etc. This played out in my mind for the next 3 hours and 45 minutes until the finish. Well, that and trying to figure out how I was going to ration my water – it seems I forgot to fill the two bottles I was carrying in my jersey, and given the heat of the day, it was a bit much to stretch two bottles for that distance.
But the bigger problem that began was my feet – they were burning like fire with pain from pedaling for so long, especially with the added pressure of the hills (and my determination to push the limits in the last section). They were HOT(!) and I was trying to pedal without pushing down, using the fact that my shoes were clipped into the pedals (which are called "clipless" pedals, which makes no sense, until you look at the fact that what we now call "cages" – those metal baskets that used to be around the pedal in decades past – were considered the "clips" and so when those went away most decisively in the 1980's, fueled by the Tour de France victories of Bernard "The Badger" and Greg LeMond, both riding "clipless" pedals, the term "clipless" stuck. They were actually invented way back in 1895, but it's my opinion that we should rename them as "cage free pedals"… just saying.)
Reducing the pressure was barely helping the pain. I kept having flashbacks to winters way back when, where my feet were in plastic bags cinched with rubber bands at my calves, inside some worn winter boots that had broken through some ice an hour earlier, during a boot hockey game in a field near our house. Coming back in the house and warming up meant about ten minutes of excruciatingly sharp pains as my feet, removed from the plastic bags, were resupplied with warmth. This was the same feeling, except it kept going. I was trying to remove and reduce pressure, then I was clenching them as hard as I could and releasing (which worked just a bit), then imagining I was walking on hot coals. There are people who frequently walk on hot coals, so I should be able to to do this too… so relax, right? Not really. I would have to push through it. But the hills.
The hills just kept coming. There must have been a series of fifteen in a row at one point. This is the land where all roads head toward the Mississippi, where the state of Minnesota stops and Wisconsin starts, and the earth becomes a wrinkled terrain formed by a series of ancient creases in the planet, small valleys running in every direction, many with creeks running through them on their way to the mighty Miss' or one of her tributes.
While this 30 mile stretch from around Cannon Falls to Red Wing is only about an eighth of the race, it must contain a third of the climbing. Up and down an endless set of khaki hills with green fields stretching out wide to the left and right. Up and down, straight east with an occasional right-left-right turn combination to get back on the same road. Standing up and pedaling, then racing downhill to try to carry some speed into the next one.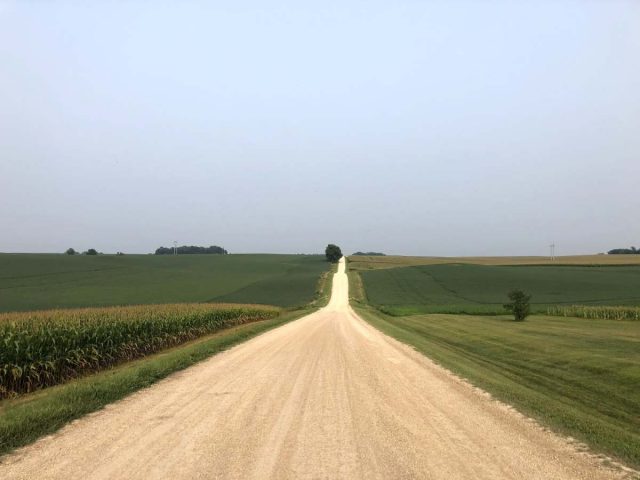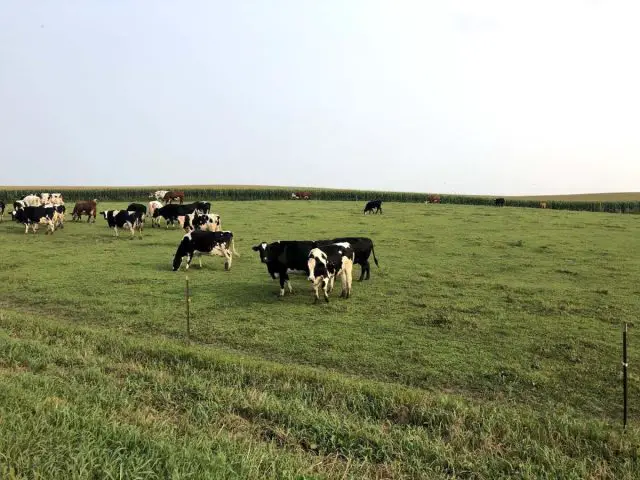 Rolling between lush green fields, horses and cows, blue skies and white clouds, and hardly a car to be seen.  Just an occasional rider up ahead which I would ride up to and attempt a greeting if my lungs allowed it and then carry on my way.
At the crest of one hill, there were a few riders pulled over — and as I approached I could read the "FREE WATER" sign attached to a blue cooler at the end of the driveway.  I grabbed one, tucked it away and kept charging on.  There was not a lot of room to play with — maybe just a handful of minutes, and there was still a solid chance I would run myself down beyond empty. I pressed ahead.
As the gravel ended just outside Red Wing, it finally came clear that I would finish before 7:00p. I felt relieved but also free to continue pushing on every flat and up every hill.  By the time I arrived at the finish, I had set myself back into an infantile state, jumbling words as I was received by Trenton and Paul and Mike at the line.  I got my DAMn coffee mug which was promptly filled with beer which was downed at once, then I rolled to the truck and laid down on the pavement, panting and feeling my heart still pumping.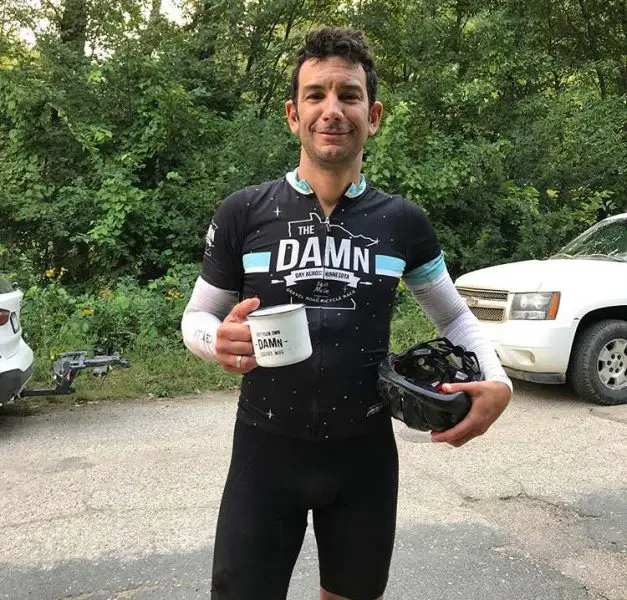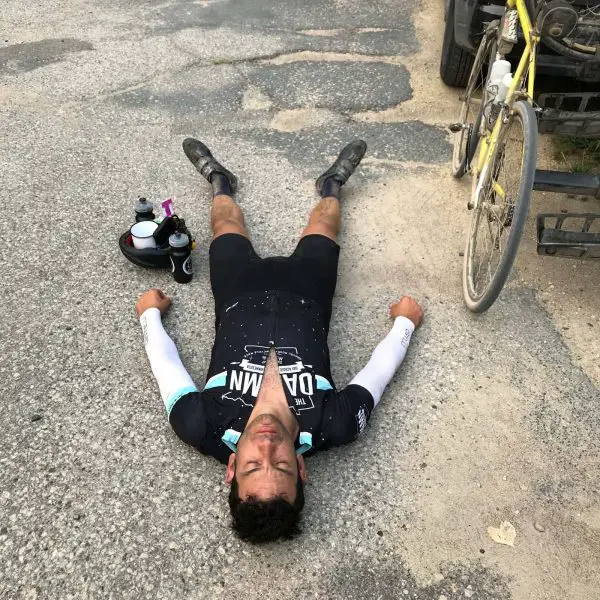 My finish time was 18:48 – 16 hours of that was moving time, the remaining was stopping for breaks, repairs, and an occasional highway crossing. The rest of the crew came in at 19:41, and we had a beer and few yucks, then packed up the bikes and gear. Paul drove us back to Minneapolis. I remember little of that trip, or of Paul dropping me at home.
Sometime later that night, just about 12 minutes before midnight (and the time cutoff) Val crossed the line.  The honor of the "lantern rouge" (aka, DFL) was hers and hers alone. She was awarded a jar of DAMn gravel.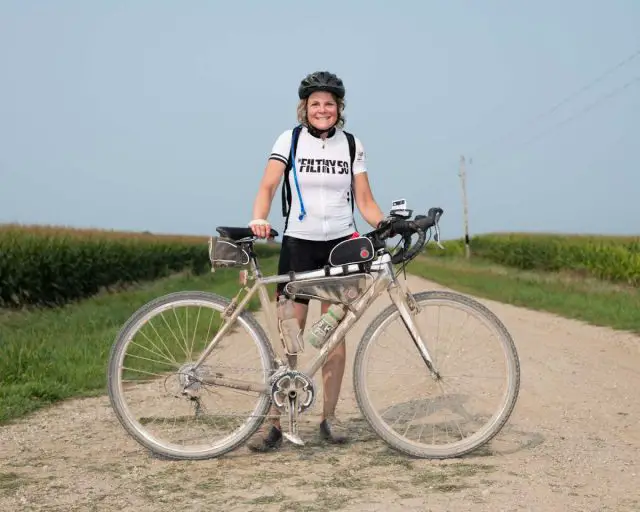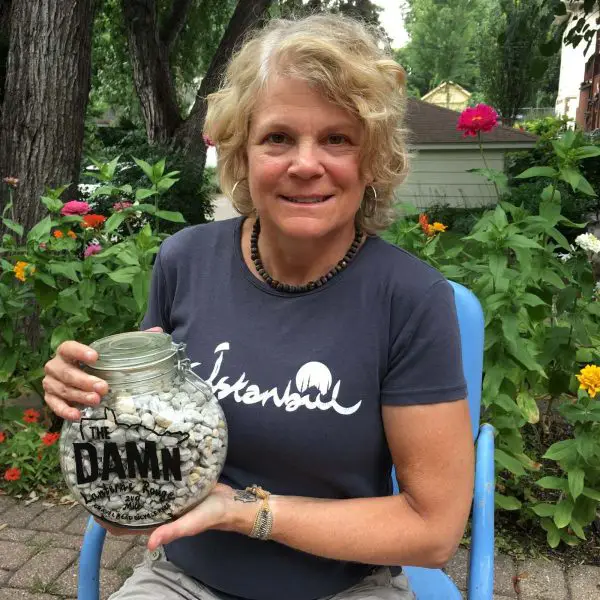 The next day was Sunday and I woke up to find my bike in the garage, crusted with dust that clung to it in the dark foggy night on the backroads of southern Minnesota. As idle as it was sitting there, it was proof that the day before had actually happened. Proof that the dream was real and whatever memories could be retrieved from the long ride were to be held gently like a sparrow in the hand. Nurtured, then set free.