Dirt(y) Pecan 150 Report – or What were we thinking?
Only two of us had ever ridden 150 miles on pavement, but certainly not on heavy dirt roads. And yet we were pushing the agony envelope at the
2016 Dirt(y) Pecan 150 Dirt Road Epic
beginning in Monticello, Florida.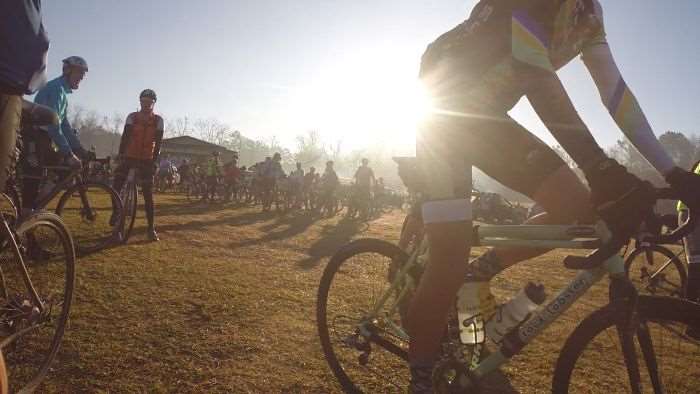 Dr. Pain, I-JOM (the latest nickname given to JOM… don't ask), Pfaff Daddy and K-Dogg decided that doing four hour local races just wasn't painful enough.
NO – we decided that a dawn to dusk wilderness team time trial should be our next bike self flagellation event. All we need is an invitation. Thanks Mr. Promoter (John Webb)!
We were joined by an insanely strong Orlando rider named Tic Bowen. Super strong, Tic is somewhat new to gravel grinding so we encouraged him to stay on front as much as possible and gave him lots of advice. Mostly we advised him to please slow the EFF DOWN on any hills, any sandy surfaces, any muddy surfaces and any paved surfaces. In short, we whined constantly at him. But he did get us home a bit faster than we would have.
As further motivation, I-JOM, K-Dogg and Mrs. K-Dogg managed to secure entry to the Dirty Kanza 200, one of the most notoriously long gravel cycling events in America. It has 200 miles of rolling Kansas flint gravel. It starts before dawn. You are lucky if you finish before sunset. We decided the Dirty Pecan 150 would be an excellent trial run for our equipment and resilience.
Vanishing act – 8:00 A.M.
Once underway it was evident most of the 80 or so riders were doing the shorter 60 mile or 100 mile adventure. Only eight or nine signed onto the 150 mile death march adventure. Soon the whole gaggle was gently escorted down a few miles of traffic free paved roads.
Fifteen minutes later the pack swarmed onto the first red clay road and the pace picked up. Then it picked up some more. Then the hills got longer and steeper. Then the red clay became sticky and criss crossed by washouts. We had to concentrate to avoid crashing. The web site promised that conditions were superb and that skilled riders would "do fine" on 28 or 30 tires but we knew better. Team Gravel Cyclist rocked 40mm wide tires and up. Soon we were using race tactics to stay up front where it was safer.
"Pfaff Daddy, we are the back third" I said.
"Already?" he said.
Sixty seconds later…
"Pfaff Daddy – we ARE the back" I said.
"Really?" he said, finally swiveling around to look back at an empty lane. (Pfaff Daddy rarely looks back, he rarely needs to).
Ten minutes later it was the four of us sitting on about eight guys, none of which were doing the long course.
"Guys?" I yelled, as I puffed chasing up a clay hill. "I'm pretty sure this pace isn't sustainable for another 140 miles."
"Oi!" yelled I-JOM. "Slow the eff down… lets take a pee break!"
"Excellent idea" came the chorus and we swerved to the sides gratefully. At this point we were joined by Jason ("Diesel") Ottinger from Tallahassee. Big guy, not built like a climber but he tenaciously hung on most of the day. Impressive.
I bit into my first Cliff Bar remembering that Mrs. K-Dogg (a scientifical person) advised me to "consume 200 kcal/hour or a big lunch or suffer the consequences." Dr. Pain advised me that so far only 10 miles had passed under our wheels. It was going to be a LONG day.
Mile after mile we rolled up and down rusty red clay hills through countless bucolic mossy oak tunnels – occasionally breaking into green meadows and gorgeous historic farmsteads. Virtually no traffic. So much openness and so few people. So quiet you could hear a cotton boll drop.
I-JOM takes a long pull.
We noticed that I-JOM was uncharacteristically staying on the front for long periods of time at a higher than his normal pace. When one of us went to the front he bristled "Oi! I'm on a roll" then forced his way back onto point.
Dr. Pain and I exchanged looks. "The boy's gonna burn out" said Dr. Pain.
I replied, "I know… there's a hard lesson a-coming."
We both agreed it would be amusing to watch then slotted in behind him grinning a bit. At this point Tic Bowen suddenly appeared. He had arrived 10 minutes late and had time trialed solo for an hour to catch us. The dude is crazy strong. Not only that but he had a cloth Fresh Market grocery bag slung over one arm filled with bread and a jar of peanut butter. We were incredulous.
More entertainment.
An hour or two later Dr. Pain and Pfaff Daddy must have been bored because they suddenly decided to entertain us with a tumbling act by involuntarily dismounting in a slippery, greasy, red clay bottom land. Apparently Pfaff Daddy tried to change lanes through a 12″ high crusty clay ridge and bobble-swept Dr. Pain's front wheel out from under him. Thankfully, nobody was hurt.
Unhappily, all the Go-Pro's were turned off so no addition was made to Gravel Cyclist's growing collection of
video bike bloopers
. Dr. Pain's rear derailleur and white arm covers looked the the losing side of a Cheese Wiz fight but otherwise the bikes were fine.
A touch of depression.
Shaking it off we bravely continued on – anticipating our first rest stop in Boston, Georgia at mile 68.
"Dr. Pain" I queried. "Are we almost to Boston?"
"We are at mile 49 K-Dogg" he said.
"What!!! Are you joking?!" I shouted. "We've been out here all day! How can that be?!"
He replied, "Look at your Garmin… oh wait… we turned yours off in case the other three die." I admit I'm a dim bulb on the marquis of life when it comes to computers and such but it would have helped me cope if left on.
A touch of depression set in… we still had 101 miles to go and were a bit weary. Did I mention the crash?
200 kcal's of crap.
Eventually we rolled up to the Liberty convenience store. Remembering my wife's "200 kcal or a big lunch" admonition, I decided to do both so I gobbled a Clif Bar then went in for the big lunch from all three food groups:
Sugar, grease and caffeine – in other words, Coke and cookies. Standing in line I noticed others cast loving looks at the glistening fried chicken and potato wedges behind the sneeze guard. All that hot fat and salt! I thought of doubling back to get me some unnoticed.
I knew my team would tell Mrs. K-Dogg and I'd be in the Dogg house.
Back in the saddle.
Eighty-two miles to go and we all had stiffened up enough to need a knight hoist to  drop us back on our steeds. Thanks to my two wonderful daughters, who had been lost for hours driving the sag wagon on sandy back roads, (no fault of their own) they took our unneeded kit and supplies at the store stop leaving us a few pounds lighter for sector two.
Sector Two – The lost hours.
I remember virtually nothing about the many, many miles of sector two. It's all a blank – a dull ache and a blur of unending sandy hills and grabby lime rock pudding with short sections of blessed hard pack gravel and even occasional patches of euphoric pavement. Drafting was little help but we all gave what we had. For a while longer I-JOM appeared unstoppable as a metronome ticking away the miles.
And then he slowed a bit.
 Pfaff Daddy and Tic (Named after his favorite childhood book Ricky Ticky Tavi Mongoose) then took over the lion's share breaking wind. More miles rolled by with less and less help from the other three.
At some point in these middle wastelands of effort I remembered my Double Espresso Gu and Ibuprofen… and began to feel better and better. Note to self… Ibuprofen is the fourth food group.
Don't double dip the jar.
By the time we rolled into the last food stop we were all grinning. Forty five miles left. We knew we were going to make it. Just one more push. Make that one more LONG push. But first we all reapplied copious amounts of chamois cream. Euro-pro, author and friend of the Gravel Cyclist crew,
Phil Gaimon
, says its best to apply chamois cream AFTER donning your kit but that making eye contact with anybody while doing so is illegal in many states.
Hovering around the team van next to a dumpster we grinned again and tried to avoid eye contact. Extra advice… sharing chamois cream is OK but don't let anybody double dip your jar.
Rolling out our happy little clan soon entered one of the worst sections so far… it seemed like 12 miles of slippery, dead flat wet sand. Like Sidewinder snake tracks we could read the desperate flailings of those ahead seeking hard soil.
No magic here, just keep up an adequate terra-planing speed to survive. Every stroke was an effort. Drafting an inch off was still virtually useless… and so was I-JOM.
The Aussie goes down under.
JOM finally imploded on a punchy little hill and vanished backwards around a corner. We all waited, secretly happy we weren't the first to crack. We had all been there today at one time or another and would be again.
Nobody wanted to sit on Tic's wheel in second position. No matter how much we begged him back it off one mph he always seemed to roll it back up a few minutes later. No drafting, nor downhills to coast and recover. Just mile after mile of heavy roads, heavy legs and heavy eyes.
The sun was starting to set.
We cheered a bit when we passed one crusty older guy who had left the start at 5:30 a.m. "Goddamn cross bikes!" he growled. "I thought I could hold you guys off!" He finished strong about half an hour behind us. Good job!
The Dogg bonks.
"Less then 10 miles to go lads" announced I-JOM from the back as we turned onto U.S. 90.
"Ten miles?!" I groaned. "Call a taxi!"
At least we were back on pavement even though that meant Tic and Pfaff Daddy 
had to up the pace even more… and then the hills began… scores of hills.
With five miles to go I drifted off the back on one particularly long hill. A black curtain began to lower as an extreme bonk set in.
"200 kcal / hour." Mrs. K-Dogg had told me but the last two hours were too sketchy to unwrap and cram down a chewy Cliff Bar.
Hello Mr. Bonk!
But the guys slowed down as I wolfed down food and soon recovered. Onward we rolled into Montecello, past the majestic plantation homes, and around the beautiful domed city hall. Finally we rolled onto the IFAS grounds where it all began and back to the Mommobile.
The sun was just as low as this morning but on the other side of the sky. Backs were slapped and orange mud dusted from our legs and scalps.
What we learned:
200 kcal/hour. I repeat 200 kcal/hour. You can't eat or drink too much.
Bring Ibuprofens, caffeine and chamois cream and titrate as needed.
Don't focus on the finish. Focus on three to four periods of time and conquer them one at a time.
The first section of a long ride is the worst. Get over it.
Ride within yourself – go easier than you would on shorter rides.
Don't let others blow themselves up and become a liability. Reel in your Aussie early.
Keep it fun if at all possible.
Thanks to the promoter John Webb and all the selfless volunteers. The event was run professionally, especially for a free event. It is so heartening to see how fast our little gravel rides are growing.
See all y'all next year and remember to watch the upcoming video by I-JOM.
K-Dogg