March 26, 2016 marked the inaugural Big Scrub Gravel Buzz (BSGB), held in Ocala, Florida. The ride consisted of two options, the "Whole Hawg" (90 miles), and the "Hawg Leg" (56) miles.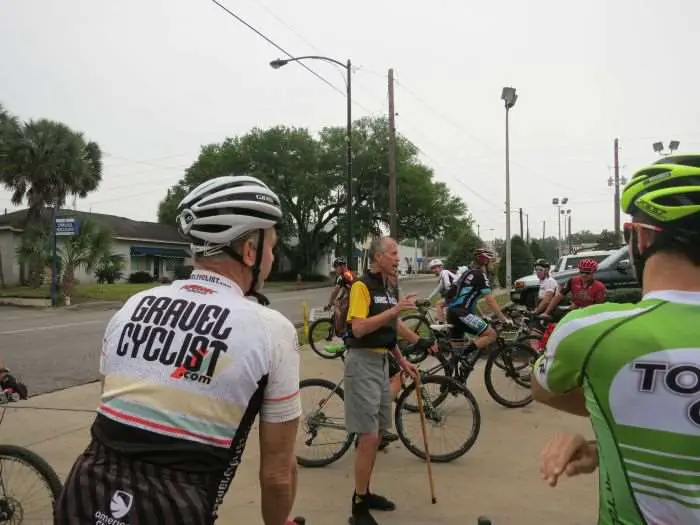 The ride was promoted by Gravel Cyclists' own Headmaster aka Rusty, and benefited the "Making Strides Against Breast Cancer organization in Ocala".
In attendance from G.C. were Dr. Pain, Jimbo, and Pfaff Daddy. K-Dogg had a boo boo on his finger (OK, 20 stitches, and a bunch of sore ribs from a crash). JOM had a boo boo on his psyche and cancelled at the last minute before the Gravel Cyclist Transport Vehicle (GCTV) departed. He cited some sort of sniffles or something.
The BSGB took advantage of the sand and limerock roads of the Ocala National Forest, which the G.C. crew has explored on a number of occasions. Though for this event, the Headmaster had scouted some routes to the south of our usual haunts. We pre-rode the course a few months ago to gather some tribal knowledge.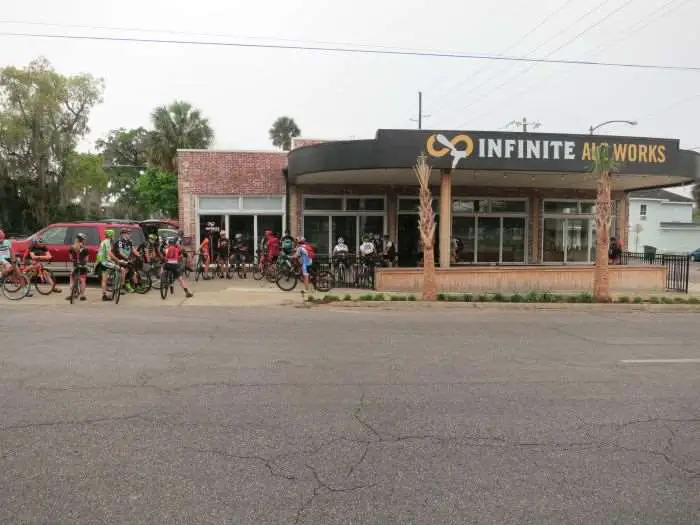 The ride started at Infinite Ale Works in downtown Ocala, who offered their site, and some excellent brew for the post-ride tale telling.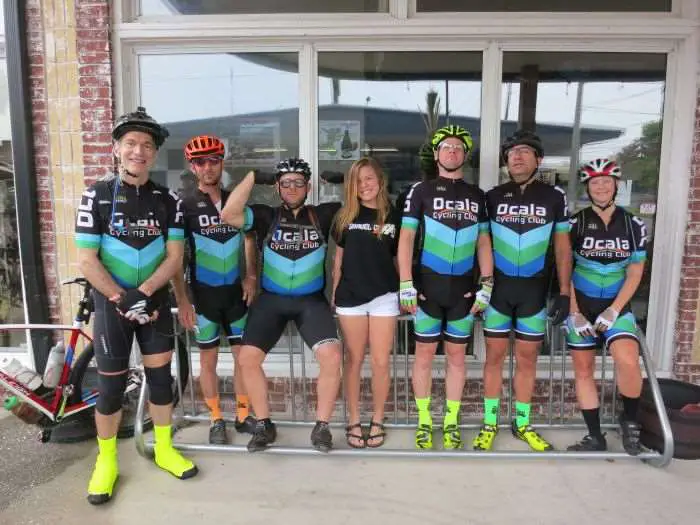 The Headmaster was kind enough to start the ride at 10 AM, to allow for out-of-towners to get to the start at a reasonable time. For days, the weather forecast had been for rain, rain rain. It did indeed rain for a few days before the event, but we rolled out with only sprinkles and cloudy skies, despite a forecast of 80% chance of possible thunderstorms. I did not get an official head count for the event, but there appeared to be 30 or so hardy souls willing to risk the rain.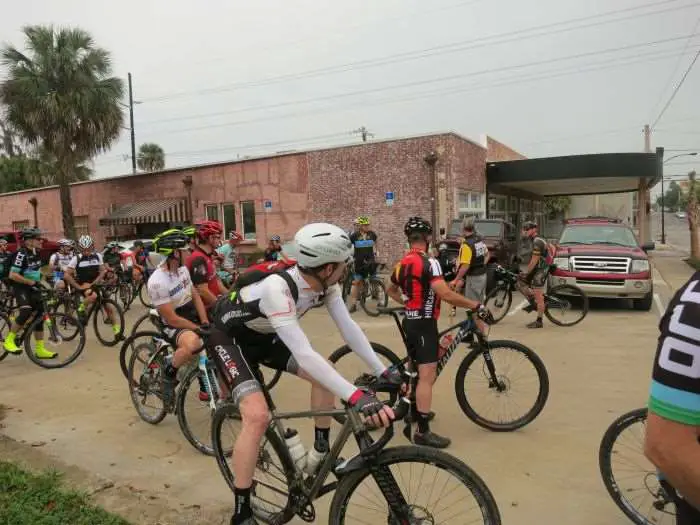 A variety of mountain bikes, cross bikes and monster cross bikes were seen at the start. It also appeared that the majority of riders were doing the shorter option. This included Ryan Woodall, the former 30 – 34 US National Cyclocross Champ, but he turned out to be a naughty boy, as you will see later in the story.
Rollout
We rolled out of town for about 10 miles on wet pavement, in a neutral fashion, suitable for some socializing. The potential for action would not occur until the first limerock road. True to form, the pace picked up as we entered this section, and the front group was quickly reduced to 15 or so folks… at least half of whom were planning to do the 56-mile version. The next selection occurred at around mile 20 when the group encountered a double-track grass "road" that seemed to run along the top of a dike. The selection was the result of the former National Cyclocross Champion, Ryan Woodall, setting a champion-like pace on his favorite grass terrain.  Many casualties were seen disappearing off the back.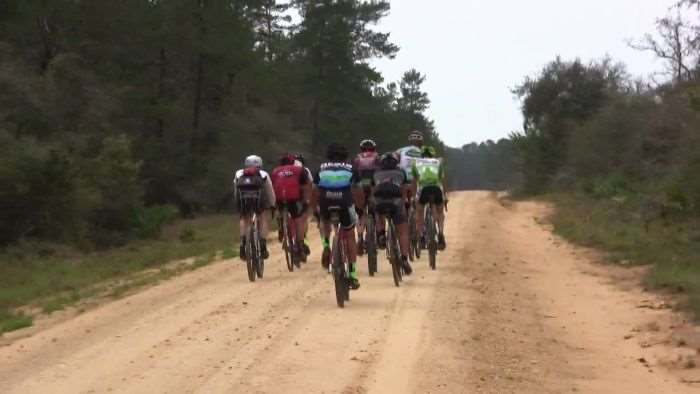 Shortly after this section, and once back on limerock, Pfaff Daddy noticed a softening tire. He was planning on cutting the ride short anyway to go see Pfaff Junior contest a bike race in Tampa. So, we left him by the side of the road, in the good hands of the Headmaster, his wife, and their follow car. We figured we would see him later. We were right.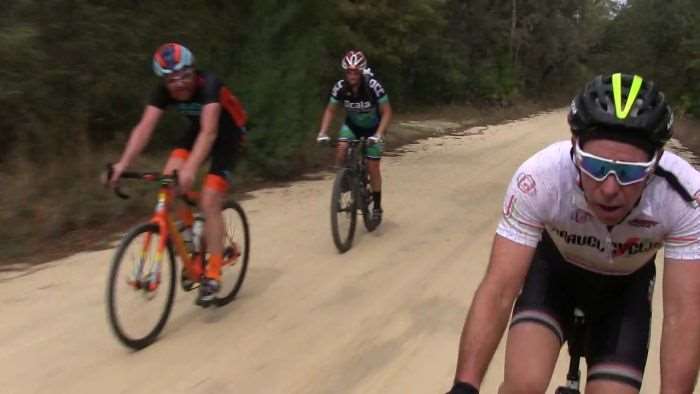 Maybe 20 minutes or so later, Pfaff Daddy appeared ahead of us on a paved section. Later, we learned he had done some limerock motorpacing, and taken a shortcut to get back into the event. Good thing this wasn't a race! He obligingly put in a long, fast pull to get us to the next section of limerock.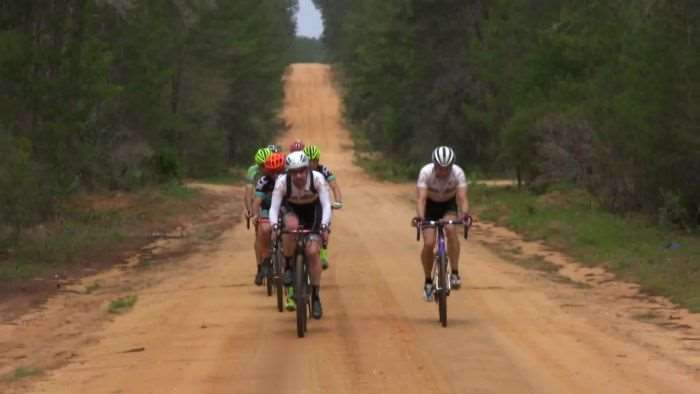 What followed was a steady pace on the limerock roads with a number of rollers, until we hit one of the steeper hills on the course. At this point, the former National Cyclocross champ did his thing, Dr. Pain did his thing (Fat Man Fade) and the group was reduced to eight riders.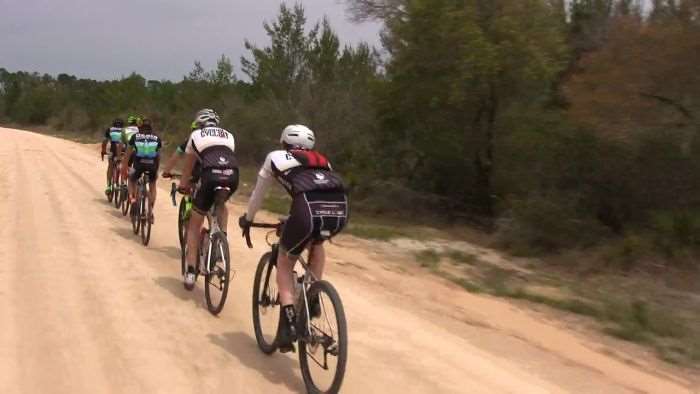 We regrouped on the downhill and rolled into the only gas station at mile 40 or so. We stopped! Good thing this wasn't a race. There had been no rain at all on this ride so far, and it was bloody hot, so several of us chucked base layer garments into the Headmaster's follow vehicle.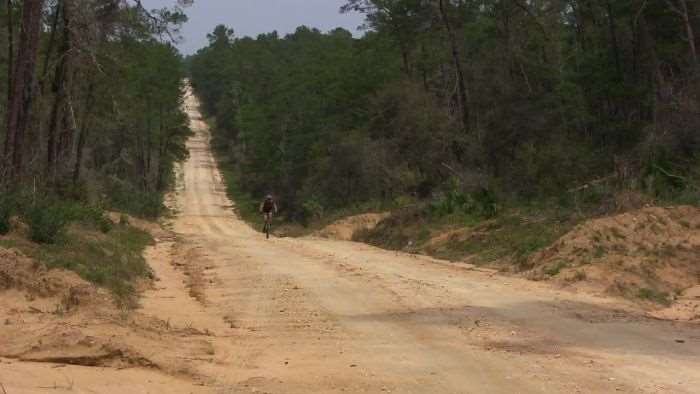 Now I need to diverge briefly to add some context to this event. The writer (Dr. Pain) is a scientist. He gets paid to do science stuff. Here are a few things he re-learned during this experiment. Re-learned despite 40+ years of racing bikes:
Don't try a new feeding strategy for a 90 mile "non-race". No matter what the manufacturer claims, 10 scoops of that stuff in a water bottle will not get you through 90 miles chasing the former National Cyclocross champ.
Do your experiment on somebody else (like JOM, or K-Dogg) not yourself.
Do not wear that fancy, pillbox-like aero helmet unless you are absolutely sure it is going to rain and be less than 70 degrees Farenheit.
If you don't follow these three guidelines, you risk a top 10 of all time, complete, and utter, systems failure at about mile 56.  Sometimes Scientists can do some really dumb things.
The Bombing Range
So, once underway, we approached the "Bombing Range"… really. There is a bombing range in the middle of the Ocala National Forest.
Real planes with real bombs are in the Ocala National Forest…
and we circled the bombing range on sand roads. As we approached the range, there were some impressively tall gates and fences, and intimidating signs which read things like "Unexploded bombs, do not enter." Really? Got it. I would like to say that this spurred me on to greater speed and motivation, but around this time I was getting interesting data from my experiment. Mainly, I was too hot, my head hurt, and my legs had nothing.
Lights out.
I had felt just fine for the first half of the event, then NOTHING. Ryan accelerated, a couple of the Ocala boys caught a draft off the Headmaster's car and a frantic chase ensued to bring them back. To their credit, they saw the error of their ways and sat up. We all got back, but that was my last match.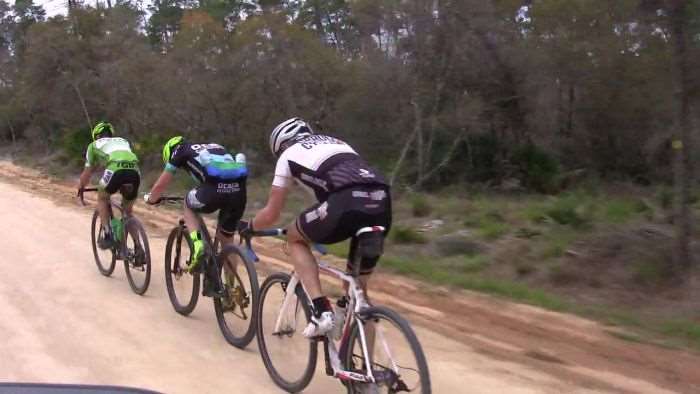 The next acceleration on the second biggest hill saw Ryan, Jimbo, and another Ocala MTB rider slip away. Four of us began a dispirited chase, but the good Dr. Pain, was good no more.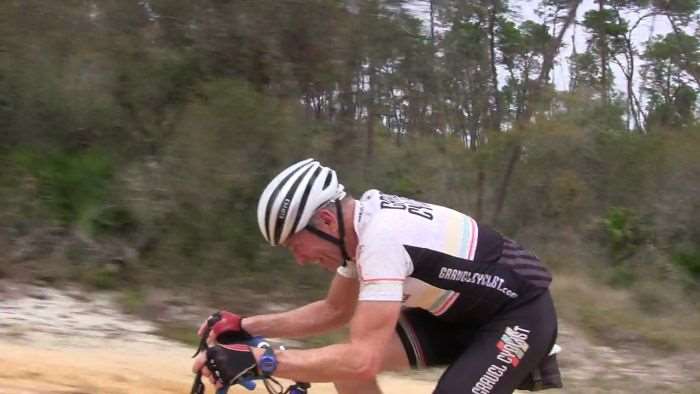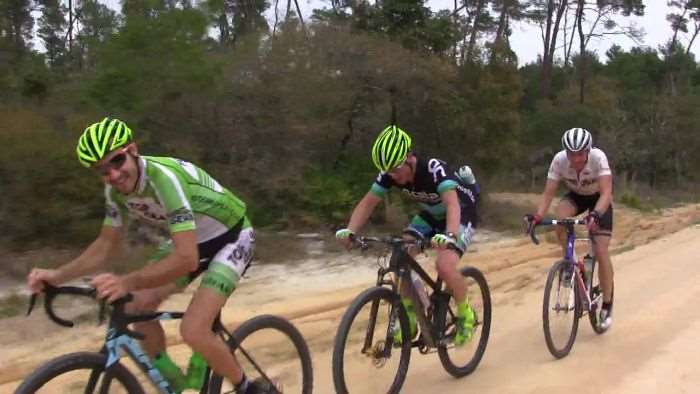 It was at this point that one of the shining examples of gravel grinding showed itself.  Brad (I think that was his name) from Ocala, noticed I was in really bad shape, and actually stayed with me for several miles… making sure I wasn't about to die. The rumors of my death were only mostly true. I have not cracked so badly in a long, long time. Despite having ridden many, many longer and faster rides and races, I was not sure I was going to actually finish.  It was so bad that I actually climbed off the bike… twice. But, I did mention that this was in the middle of the Ocala National Forest, right? How long would it take the bears to find me?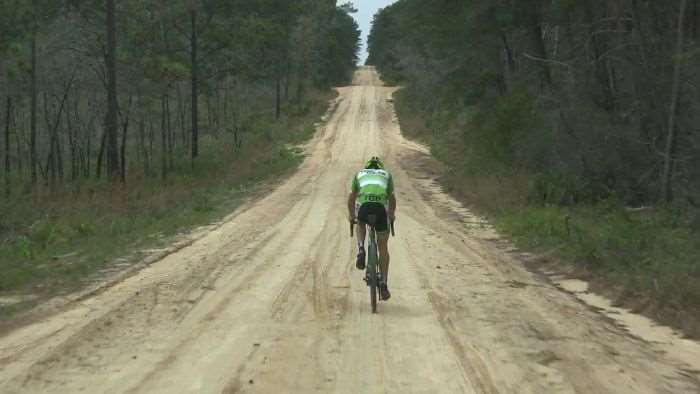 A few miles up the road Ryan accelerated again, and the MTB rider "sat up" with leg cramps. Jimbo hung on bravely, but ultimately faced a 30-mile solo TT.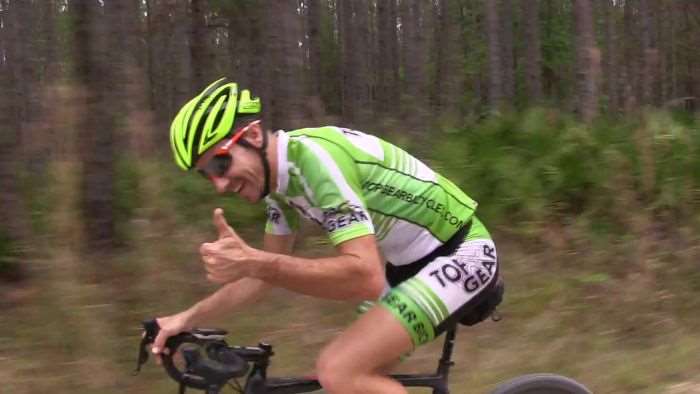 Ryan did whatever the former National Cyclocross Champion does when off the front alone. He was well past the 56-mile version he claimed he was riding… liar. Fast liar.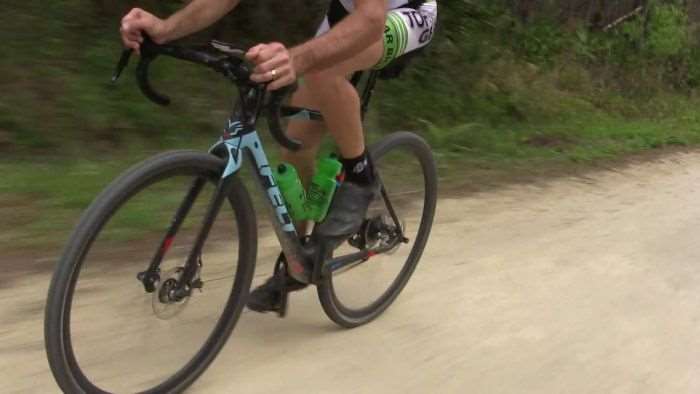 Actually, he was a very gracious winner, happily chatting with all of us at the finish. That's another example of the virtues of the gravel racing scene. The egos are left at home.
So, I had hoped to regale you all with specific names of riders, where they were from, what they were riding, and their most excellent exploits on the ride. However, my experiment left me cognitively impaired, unable to even do simple subtraction to figure out how many miles I still had to ride. Yes, I know my Garmin has a screen that tells me that. But in the bonk fog, it's hard to remember that.
What I remember was a good group of people before, during, and after the ride. Lots of smiling faces re-telling their version of what happened on each of the rides. Smiling faces congratulating everyone who finished, no matter how bonked, or far behind. Thanks to the Headmaster for organizing the event, thanks his wife Pam and his daughter Annie for registration, and the follow vehicle and general organization. I'll be back next year, with a different experimental design.
Photos and video captures by the Headmaster, aka Rusty.
Ride video coming soon!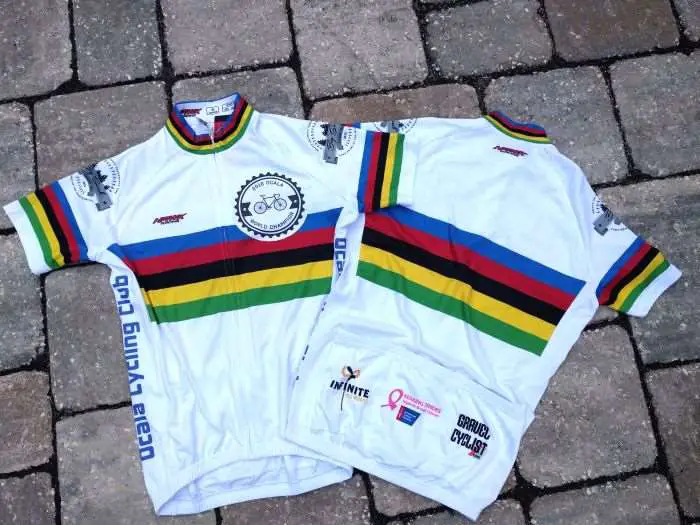 Note from JOM – While not a race, the Big Scrub Gravel Buzz is the unofficial "Ocala World Championship" event. The first male and female took home one of these jerseys – a *limited* number are available for sale. Please contact the Ocala Cycling Club for more details.