Savage Monster CX, Version 2
"I'd much rather suffer pain than terror in a bike race," I complained to anyone around me as I yet again clawed back to my companions.
I can throw my 148 pound skeleton up hill pretty well for a 59 year old… but descend like a plucked chicken with acrophobia.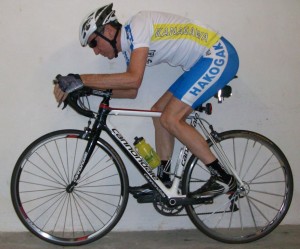 Plummeting down a 20 percent potholed, washboardy, marble-infested blind corner mountainside is not my idea of survivable fun-though others seem to revel in it.  Somehow scores of CX'ers successfully fly past me down these sketchy roads with no problems at all… totally defying the laws of physics and coefficients of friction.
In North Florida we practice on sugar sand and potholed roads, except for the Flappalachian mountains (a geologic uprising between Lake City and Gainesville), we don't have much to practice serious descents.
So why was I back for the second running of Savage Cross CX, an event better suited for 29'ers and motocross bikes?  These roads are more like chunky single track lava flows.  I guess I want to man up and improve my time – particularly on descents – but also to improve in four other specific ways.
1. Improve my Start
Last year, after bumbling over a plowed off camber field we all sprinted desperately towards a slimy clay single track, kudzu infested, uphill funnel of death. There is only room enough for 15 guys to successfully emerge still on the pedals. The rest got corked up badly and had to dismount and run 50 yards uphill.
Naturally the first 15 were never seen again.
Also last year I asked the promoters, could a reasonably talented CX'er ride the course in ro,ad pedals and shoes?  After a pause (and I swear some giggling in the background) they assured me it was indeed possible.  What I later learned was that despite lining up at the front, road pedals bounce around so much it is impossible to click in.  Ten long fumbling seconds later I was at the very back.
This year I had really nice CX shoes and pedals and clipped in rapidly across the turf.  Unfortunately, 50 fitter people knew the score and clogged the hole shot climb even more so.  This time the first 25 through were never to be seen again. Actually, 5-6 of us redlined chasing and managed to latch back on…. just as the first monster climb began. (one hour at 20% grade).  Bye, bye again!
2. Concentrate better to never walk the Bike
Last year I walked twice … once when I overlapped my own teammates wheel (at 3 mph) and just fell over. Next, I unclipped trying to vault up a concrete lip to complete the Tabletop Mountain section.  This year I unclipped popping a wheelie at 3 mph and once in a limbic response (sympathy crash?) to another racer falling over-also in slow motion.  One of my teammates said he was pushing his bike up a hill and actually passed a guy riding at track-standing speed. It was a wonder his crank arms didn't shear off.  One section I found walking was just as fast as riding and loosened up my legs nicely.  When I jumped back on I actually felt slightly rested.  Sorta.
3. Don't Crash
This year I was impressed by a green kitted woman who descended without fear.  She wasn't very friendly, never made eye contact, and answered in monosyllables but sat on my wheel every time I pushed the pace.  All business.  I swear she muttered something each time I climbed away from her.  I assume she won.
Last year it was a close thing but I never actually crashed.  This year I did spectacularly.  After yo yo-ing with 5-6 companions… me waving them through on the scary descents… me passing them on the up hills, I decided to hold my 30 second gap by pushing my comfort level going down hill.  Soon, of course, I found myself airborne at 30 mph trying to core-torque the bike back on to the road.  I managed to buck it into a sea of milkweed hoping it didn't hide a tree or boulder, then fell over hard back in the road.  A few knee leaks but unharmed.  Seconds later, while spinning the chain back on and de-weeding the pulleys, Green Kit woman silently flew past eyes straight ahead.  I was just something in her way.  Ten seconds later the guys shot past me… "you ok?" they said.  "Yes, thanks… I'm good." I said gratefully.
Jumping on the bike, I chase them all down five minutes later.  Fueled by anger, I passed them all on the up hills.  The yo-yoing commenced again depending on the terrain.  Half an hour later Green Kit lead me over a bad pothole.  Ka Whang! went the rear wheel which then locked up.  Off the bike, loosen the rear skewer, loosen the brake pads locked into the rim.  Jump on the bike to chase only to find I had no gears.  Looked like a broken cable.  Locked it into the 34/11 then struggled over a few hills to a rest stop.  An awesome dad found the pothole had just popped the rear derailleur housing off the chain stay.  His awesome son filled my one remaining bottle and handed up a PB and J.  Back in business!
4. Don't go off Course
Last year my Garmin was mean and ignored a 270 degree corner in the wilderness.  This sent me, Kevin Hessler and several other guys, 1/2 hour off course and killed any chance of a good ranking. Wilderness rules dictated a flour arrow on the ground. My theory is deer licked it all up.  I swear I heard snickering in the thicket nearby.
This year another prankster moved a sign directing us up a little gravel residential road.  Dozens of people found themselves at a dead end a mile up.  You could see bike tire tracks. Some of them were U-turns.  I also saw, again, a very angry Kevin Hessler coming back down. My old lost pal from last year.  "Oh no, not you again!" I yelled involuntarily.
The three Garmins in our group were useless. "Does anybody have a cue sheet?" said Kevin. "Mine is a sweaty blob" said a young woman.  "Mine is a little better." I said. "But I'm blind without glasses".  I though Kevin was going to explode.  We decide to ride back down to the bad sign. "Yea! It's Jayson (JOM). We're all saved!" I shouted.  My teammate Jayson (JOM) is a computer security expert.  His Garmin behaves and he got us all back on course… with about 10 minutes lost for good.
For the next few miles we zigged and zagged mostly downhill or level gravel roads with bonus pavement to build up lactic acid before the next inevitable sharp climb.  Jayson and two young women coasted away from Kevin and I on the steep down hills while we passed them on the up. Eventually the road leveled out and turned to sugar sand.  "Yea! just like Florida!" I rejoiced.  I know what to do with beach sand.
The last 7 miles was shimmering hot black asphalt.  Suffering in yet another way.  One more fall down the funnel of death, across the plowed field and it was over.  Friendly faces and an enthusiastic Cam on the mike.  I was 10 minutes down and one off the "little box" but everything was good.
Finishing an epic event like this is just what my soul needs to put life in perspective.  My time was a little under 4 hours but it felt like a lifetime. Inevitably, at the edge of sleep my soul will chew on some little tidbit memory of those 4 hours and be content that I gave it my best.  Just as long as I don't get effin' lost with Kevin again.  No offense Kevin.
K-Dogg