Leading into the Pony Express Gravel Dash, I didn't have much training before the ride. Diagnosed with Shingles in May of 2017 which followed with seven to eight weeks of pain. Then, I had to drop out of the Farmer's Daughter event, one I had particularly been looking forward to. Adding to the challenge of trying to ride was the lack of time on my new bike, the Raleigh Tamland 1.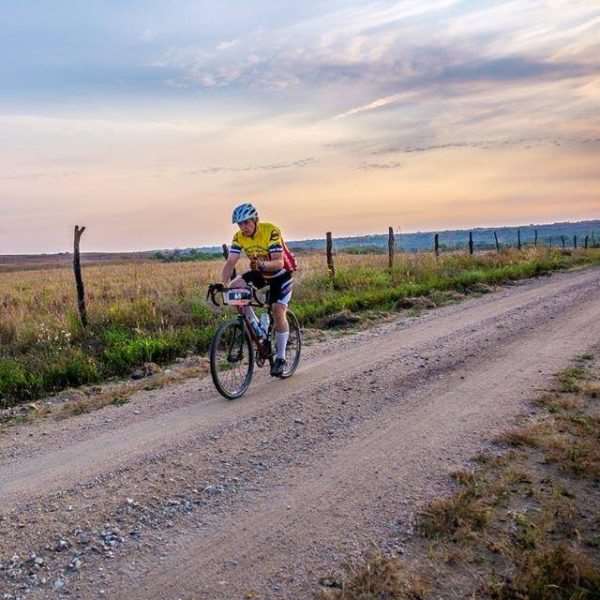 Prior to the event, I fitted the Raleigh with a new of Kenda Flintridge Pro 40mm tires, tubeless. Weighing about 200lbs, I figured that 40psi rear and 35psi front would be good numbers. I managed just one training ride of 28 miles the Monday before the ride. It was a blast bombing down a fire tower road at 28-30 mph as the tires held up beneath me.
I flew out of Baltimore airport (BWI) on the Thursday before the ride and landed in Kansas City a little while later. I must pass along my compliments to Paul and Brenda from the Marysville, Kansas, Chamber of Commerce – they were friendly and helpful with answers to all of my questions.
There was no local bike shop in Marysville and the closest shop, Pathfinder, was in Manhattan, Kansas, at least half an hour away. During reassembly of the Raleigh, I expected issues but fortunately, it went together well… love it when a plan comes together.
Friday morning I decided it wise to attain some "tribal knowledge" – learned about that from the Gravel Cyclist crew. I decided to ride the first 14 miles which included the KOM (King of the Mountain) at just over 11.5 miles into the course. As I turned onto River Road, the road surface appeared to have been recently graded. In fact, I did catch the driver of the said grader later in the day and passed along my thanks. This area of Kansas hadn't seen rain in over a month – can you say dry? It was so dry in fact, that as I casually grabbed my water bottle for a little hydration about six miles into m ride, the bottle top was caked with a quarter inch of dust!
Just two miles later and onto the first "B" road, I really fell in love with gravel riding / racing. Where have you been all of my life? Although I did chuckle about the KOM point – sure it was tough at 14% but its peak was reached at about 200 – 300 feet. The Midwest is hilly in places, but not exactly mountainous.
On Friday night I dined on the spaghetti fare supplied by the organizers, followed by the 7pm riders meeting. Then began an extravaganza of giveaways including prizes for the longest commute to attend the race, and a Specialized gravel bike worth somewhere in the neighborhood of $1500. In the end, I won two tokens to clean my bike post race at the local car wash. Remember, you can still be a little OCD at times and embrace the dirt and grit that is gravel cycling – those tokens were appreciated!
Off to bed not long after – a 4:30am wakeup was looking to be in order…
Race Day
I awoke at 5:25am, a bit later than planned but coherent enough to dress and pack the car in a reasonable manner. This followed by some quick breakfast and a rapid stop at Walmart for a last minute cooler purchase and ice. All of the in-stock coolers were sans lids, but improvisation and a couple of hotel towels provided a seal of sorts. The cooler would come in handy post-race, for cleanup and cool-down. 60 degrees F at the start would likely mean a bit warmer later in the day.
The group rolled out neutral for approximately one mile with a police escort. Once the race turned onto River Road, it was everybody for themselves! Chronically undertrained, I had to ride a conservative race to just finish. About this time, I regretted a lack of eyewear, something I usually shun. As the collective of riders took off with me mid-pack, one heck of a dust bowl/cloud of dust rode into the air and into the faces and lungs of those behind. You could say the leaders left me in their dust.
The first part of the ride went well. I was riding around other riders off and on and experienced no problems tackling the KOM climb. Part of my conservative approach including imbibing regularly in water and Accelerade, a concoction I find helpful to prevent cramp. My motto is "if it was easy it wouldn't be a memory". You have to hope all of your memories don't happen during the same ride!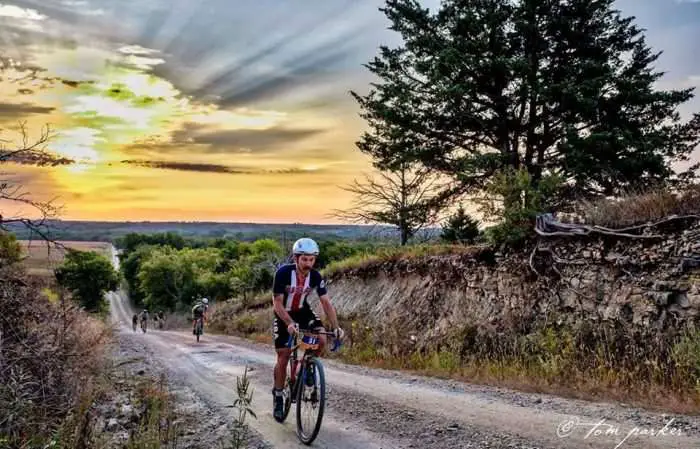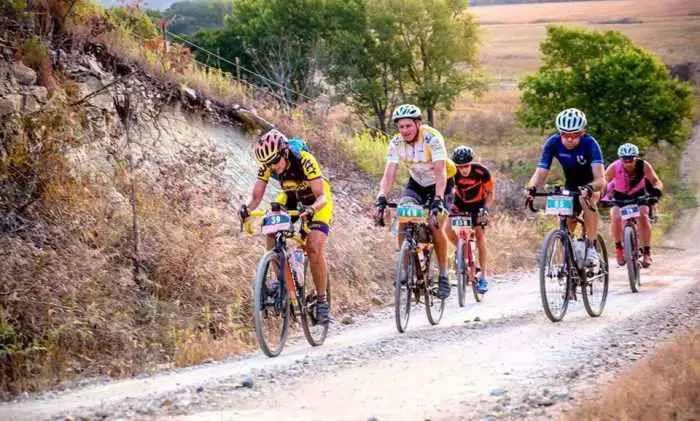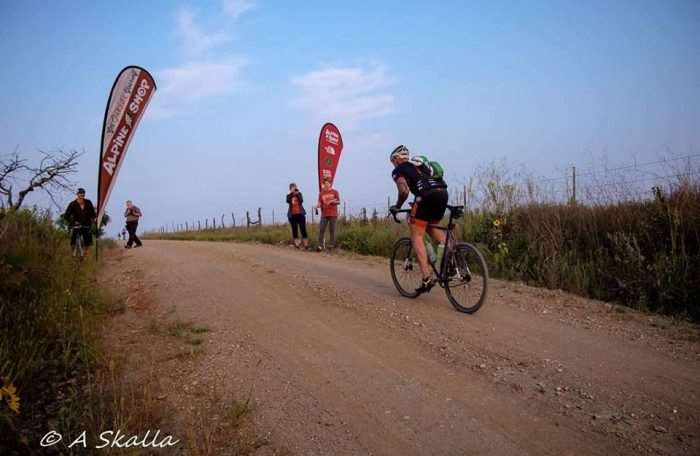 Some memories include spotting about six riders standing by the roadside, dealt a temporary setback in the form of a flat tire. I believe most of those riders were on hybrid tires of some kind, whereas my Kenda Flintridge tires were trouble free and performing well. At the beginning of the ride, I was careful about the lines I rode. As the ride wore on and I gained confidence in the tires, I pretty much rode where ever I wanted and quit worrying about which lines to ride. That was until a moment of complacency on a tricky section of road almost got the better of me and my tires. Mind on task!
I should mention the Pony Express Gravel Dash was my first gravel race. To say I was excited to be there would be an understatement, but I did learn that you must pay more attention to gravel roads versus pavement riding. The same applies to eating on the bike. Despite the fact I was well stocked with food in my on-bike bento box, I found myself eating only at the rest stops.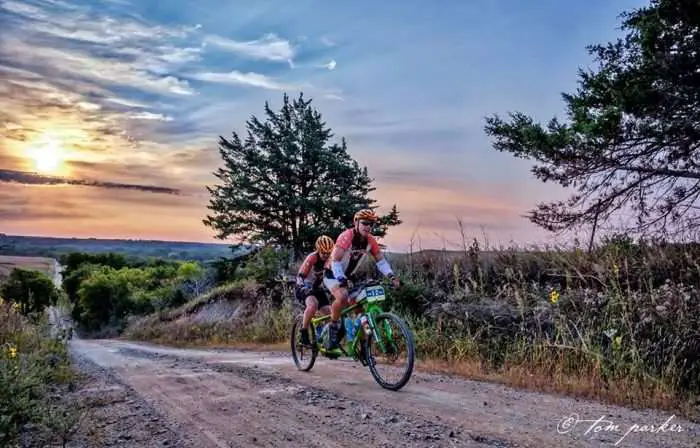 I arrived at rest stop / checkpoint #1 at about 34 miles into the race. I took the opportunity to down a cherry Pepsi, turkey wrap, Pringles and a banana. It's all calories, right? One thing that takes getting used in this part of the world is seeing straight down a road with a clear view for miles. Also, the course was well marked which meant I didn't have to totally rely on cue sheets. The organizer staked unmarked the corners of unmarked roads with two markers. The first would indicate the turn and a follow-up marker confirmed you were still on course.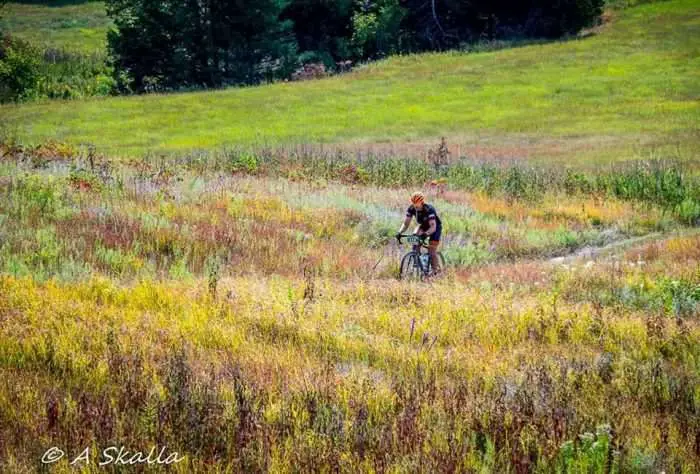 Checkpoint #2 came around at about 57 miles. Temperatures had risen to 90 degrees Fahrenheit and despite a few twinges in my quadriceps, I avoided any cramps with a little soft-pedaling on some of the downhills. Because I hadn't been eating between checkpoints, I was calorie deficient but made up for it here. I consumed more turkey, Pringles, bananas and an Amish macaroni salad – something I was surprised to see in this area – washed down by various sugary drinks. Every rider must determine which food and drinks work for them at an endurance event like this. In dire times, I always go for Iced Tea. And that is exactly what I filled one of my on-bike bottles with.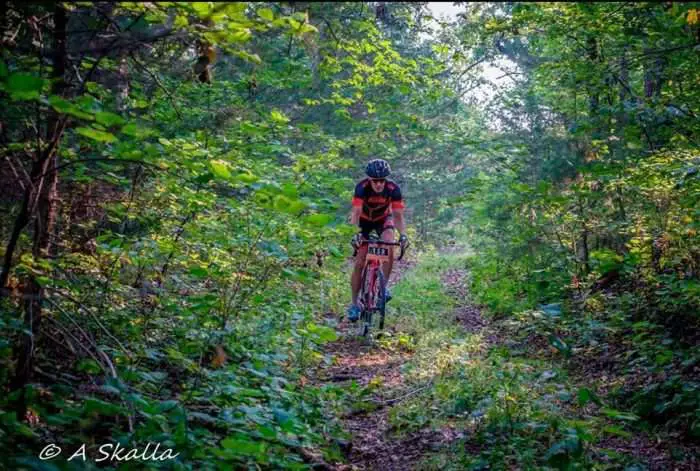 The Pony Express Gravel Dash had a little bit of everything – a few steep climbs – grass – single track – B-Roads (aka unmaintained roads) – lots of very rough, flint covered roads. Local riders advised I run a 40mm wide tire at a minimum. Glad I followed their advice! 64 miles into the race came a somewhat "techy" part of the course when riders entered Alcove Springs Historical Trails Park. The grass single track wasn't too difficult but some of the steeper spots combined with resistance from the grass made it difficult to attain any decent speed. It is here the organizers had the "brewski challenge" – if anybody that could climb the hill without putting your foot down, you won a free beer. They really wanted you to win the beer!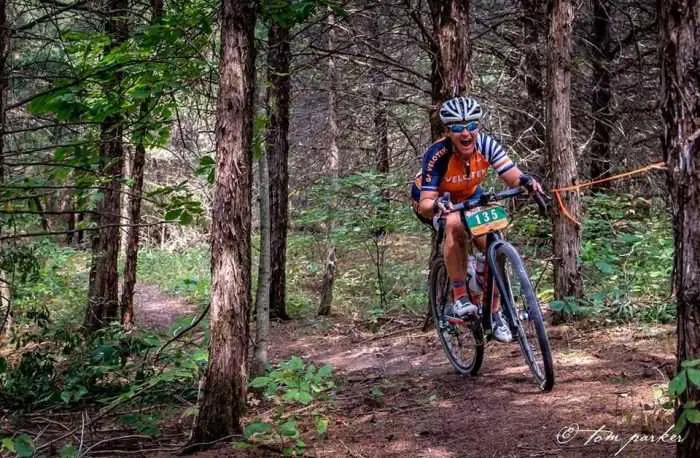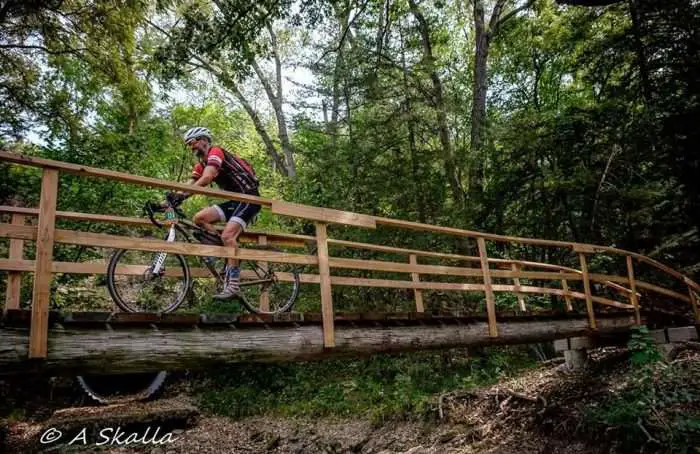 Not long after came a short but steep downhill approximately 50 – 75 feet in length. This is the part I missed hearing about during the rider's meeting. Newbie style, I locked up both brakes and slid down the steep slope to the bottom, but without crashing. No blood was drawn! Or, perhaps not if you count the disposable razor I acquired from my hotel front desk to shave – and cut myself with.
Towards the start of the ride, I was enjoying the scenery and not wanting the ride to end. Later, you have it in your head/mind that you have the ride made but you're not quite at the finish yet. With two or three miles remaining, both of my quadriceps cramped. I soft-pedaled on the downhills to work out the cramps, and downed any remaining iced tea, figuring there was no point in saving anything now. With the town's water tower now in sight, I rode as quickly as possible and sprinted the last 100 yards or so to the finish line.
For me, it was a nice accomplishment crossing that finish line. Afterwards, I enjoyed talking to some of the gravel veterans in attendance about the different rides they had done, or which ones they would do again. Kudos to the organizers and the town of Marysville, Kansas, whose residents go all out to make riders feel welcome. This was my first ever gravel race and one I recommend everyone thinks about attending!
Larry's Stats:
Miles: 75.34
Moving Time: 6:37:03
Total Time: 7:10
Average Speed: 11.38 mph
Elevation Gain: 4,333 feet – Kansas is not flat!