After braving a traffic congested12-hour drive, we checked into our deluxe accommodations and hit town for registration and a great dinner at the local Italian restaurant. I can eat a lot but was totally shocked with how much food my companions could put down. Wow.
Six a.m. saw us up and readying ourselves for the race. The temperature was 42 degrees F with predicted temps to rise into the mid 60's. For me, dressing on a day like this is always a challenge, but after considering a few options, I kitted up.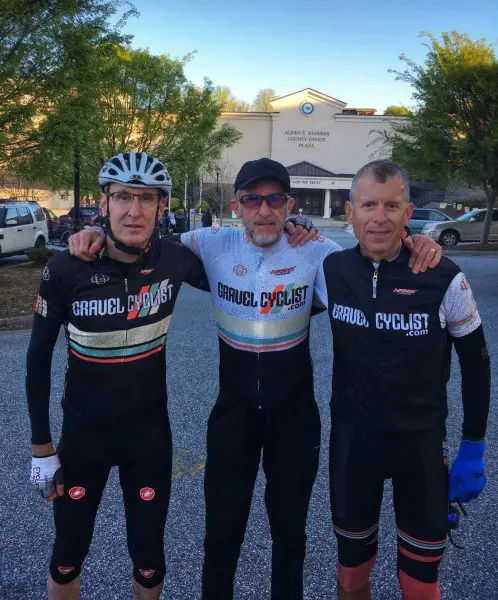 We arrived at the race venue in plenty of time and before long were ready to head to the starting line. I made the mistake of snapping a few pictures and just like that, found myself toward the rear of the 160 rider field. Though the initial 10 miles were on pavement and neutral, the large field took up the entire width of our lane, making it tough to move up. I sat in and took what few opportunities there were to move up, making it up about halfway along the field before things really got going. Once we reached the first gravel section, I made my way to my new teammates, Rusty and K-Dogg. By then the field had separated some and the lead pack was off the front.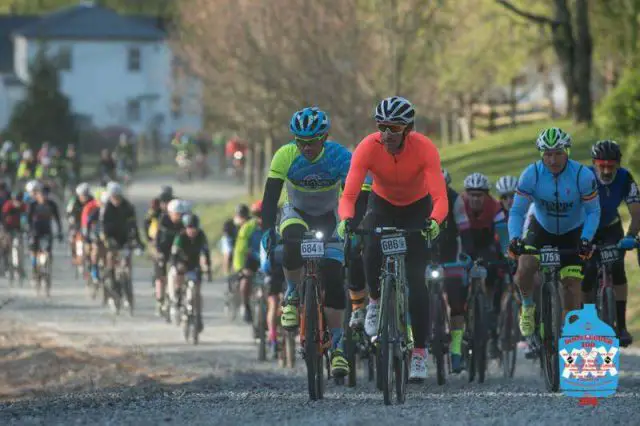 We rode together on the flats and separated some on the descents. As our group dwindled, I continued to trade pulls with my teammates for a while but soon realized that their 100-mile pace was not doing me much good. I attempted to bridge across to a group of about 10 riders, but could not get to them before the next big gravel climb began. Around this time, I became uncomfortably warm in my arm warmers, vest and windbreaker. I really didn't want to stop, but towards the top of a big climb (there are many of these), I pulled over and shed the windbreaker and vest. I hate feeling overheated and once out of those clothes, I felt rejuvenated. I was able to climb up to a few riders, and ultimately separated myself from them on the subsequent downhills. I felt great climbing and just a bit cold on the descents, so things were just right. It wasn't long before I came upon the junction split for the 60 and 100-mile routes. I took the turn to the 60 and for much of the ride, was alone.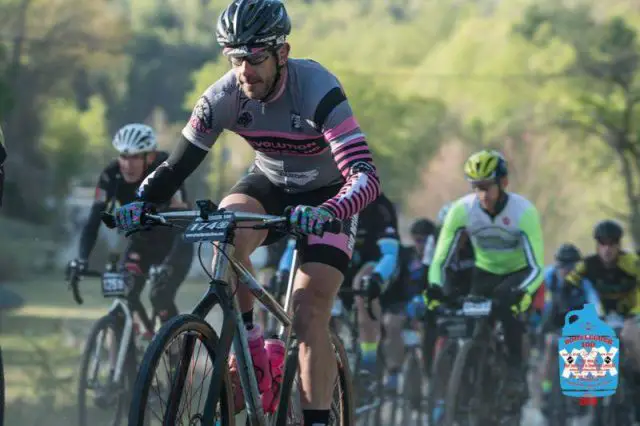 The course was well marked, although a couple of personal navigation errors had me just a little off course. I thank my Garmin companion for alerting me in a prompt manner, to avoid maximum energy wastage and keeping me headed in the right direction! K-Dogg is navigationally challenged* but he did remark, "the course is a wonderful mix of rolling country roads and rough and tough gravel climbs and descents." Riding towards the finish mostly by myself, I had plenty of opportunities to marvel at the gorgeous scenery, and was a little jealous – and envious – of the fly fisherman wading the cool waters of the adjoining creek. What to do? Not think about fishing, settle into a tempo pace and soldier on.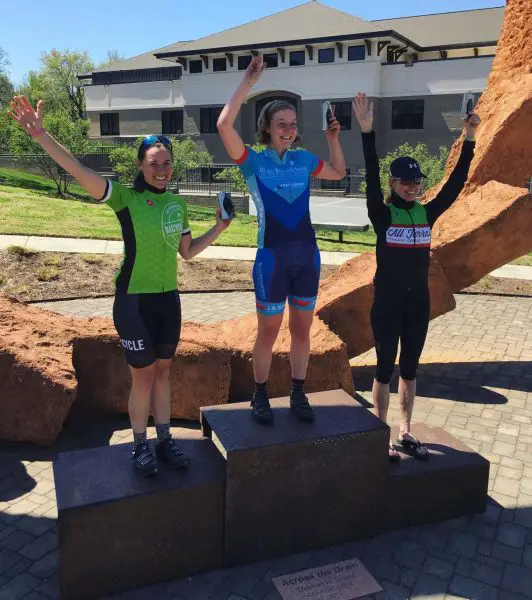 After passing by the last sag stop, I began the 15-mile return route to Lenoir. I felt good, but I will say it was difficult to keep pushing hard without the added motivation of pressure from behind or seeing a rider ahead. After missing a turn on a fast road section and retracing my steps, I was soon caught by the first place Women's finisher in the 60-mile race, Annie Pharr. It was nice to be in the company of another rider, especially someone as strong as Annie. She and I rode the last few miles together and chatted a bit, and once into town, followed the signs and my GPS to a 19th place overall in the 60-mile category. All in all it was a great ride! **
Back in Lenoir and checked in, I sought out a cold brew and the delicious post-race burritos, provided by the promoter and caterers. It would be a while before Rusty and K-Dogg were due to reappear, still out there somewhere along the 100-mile course.
Two hours later, I received an unexpected phone call from K-Dogg. Bad news. Rusty had crashed and may have suffered a broken leg. Keeping K-Dogg on the line, I made plans with Eric Wever, the Bootlegger's Race Director, to enact a rescue. I joined Jaret Peek, a local, to make the hour-long drive on some very rough dirt and gravel roads, to reach Rusty and K-Dogg.
Jaret's local knowledge was spot on, and we located them quickly. Gingerly, we loaded Rusty into Jaret's Honda Element rescue vehicle and made our way to the local hospital. Rusty was in good spirits and put on a brave face, despite being in a lot of pain. That evening, Rusty underwent surgery to plate his broken femur – he is one tough customer. I've only known him a short time, but enough to know he'll bounce back from this latest adversity, in a quick and positive manner!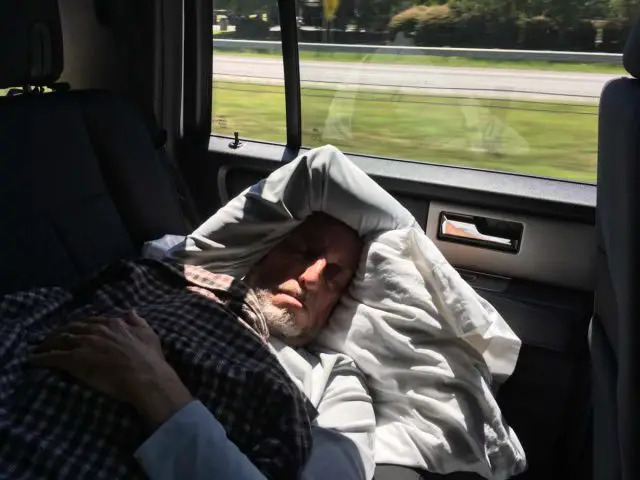 If you are a gravel racer and want a challenge, the Pisgah Productions Bootlegger 100 should be on your bucket list!
* This comment added by JOM 🙂
** Ted is a humble lad. He won the Men's 60+ category for the 60-mile category. Impressive for his first race in a very long time!