I could probably just save myself several years of trouble and preemptively send JOM race reports from Elrod's Cirque 2020, 2021, and 2022. They will all just say "Bobby Smith planned a race in Winfield, Kansas, and then it [insert extreme weather condition here.]
Elrod's Cirque, however, was one of my favorite adventures last year (see ridiculous write up here), so despite meteorological gloom and doom again being forecast, I drove myself up to the nice little town of Winfield on Friday night. There's the option of staying at the local college dorms for a whopping 20 bucks, which I availed myself of. Weather-induced attrition was already apparent based on the number of dorm no-shows, although several very nice gentlemen recognized me from the previous year's antics. Apparently, when almost nobody finishes, it's easy to remember these things?
The course started in a park this year. While I missed the coffee shop start, I don't blame said coffee shop for perhaps not wanting 100 spandex-clad people in clompy shoes simultaneously clamoring for caffeine and bathrooms at an ungodly early weekend hour. Plus, the park provided ample opportunity to entertain yourself by chasing the geese around in circles instead of getting your bike ready like you should be doing. I did eventually manage to grab my number plate and t-shirt. While affixing my number and trying to decide what else I needed on my bike, I took a look around.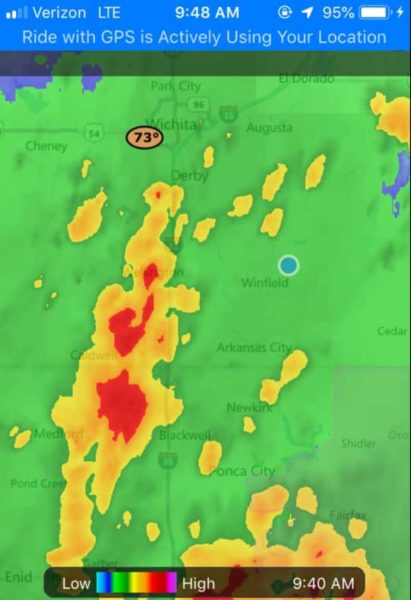 I saw a lot of bikes. A lot of bikes with not a lot on them. Like, a tool roll, and *maybe* a small top tube bag. I looked back at the pile of stuff I was still waffling on in the back of my car. Goretex. Spare brake pads. Mylar blanket. Emergency bivy. All The Tools. Whole pizza (ok, not that.) Was I doing it wrong? Or did these people not realize that the annual Elrod's Cirque Apocalypse was a'coming?
Whatevs. I put on the large-ish Cedaero seat pack with All The Things in it, and slapped my Safety Pizza on that for good measure (Safety Pizza is, in fact, a real thing. You can't eat it though.) If there is one thing I've learned, it's that nothing matters if you don't make it to the end. Want to win? Requires making it to the end. Want to get whatever the finisher do-hicky is? Requires making it to the end. Want to lie around and get your family/significant other/dog to do everything for you while you "recover" from your herculean effort the next day? Must make it to the end. Podium don't give a f*ck how light and aero you were if you DNF. Neither does your dog.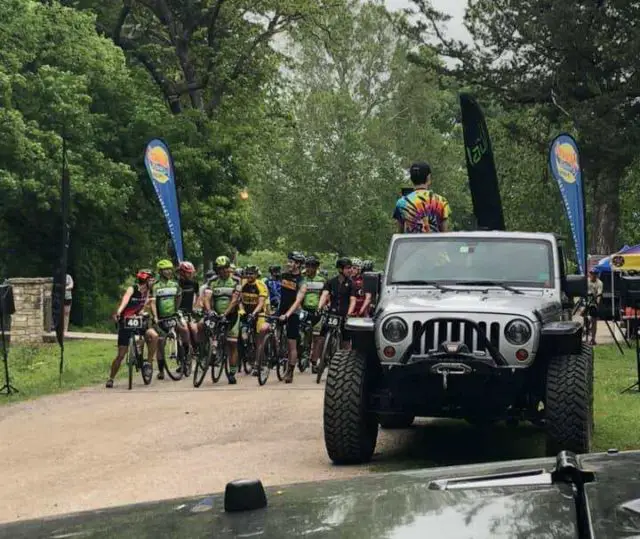 I suppose somebody said "go!" because then we were riding bikes. A lap around the park and a short pavement jaunt out to the gravel, which was very nice as far as gravel goes. There were lots of little early rollers ("little" by midwest standards), and a checkpoint about 30 miles in where I topped off water, lent out my chain tool for the first time, and double checked to make sure my legs were still working. Which they were. Sometimes you have to check.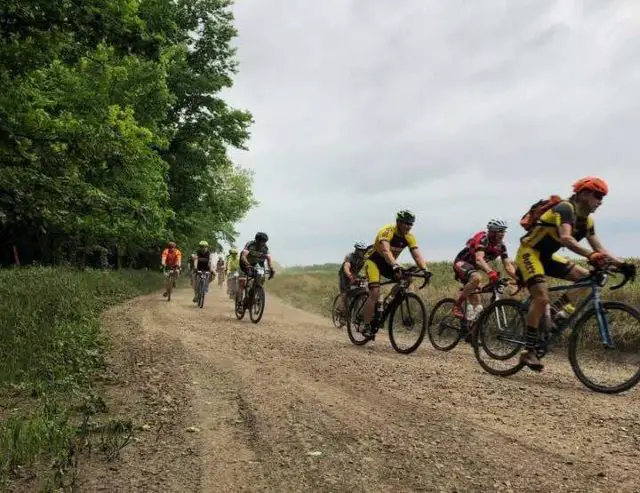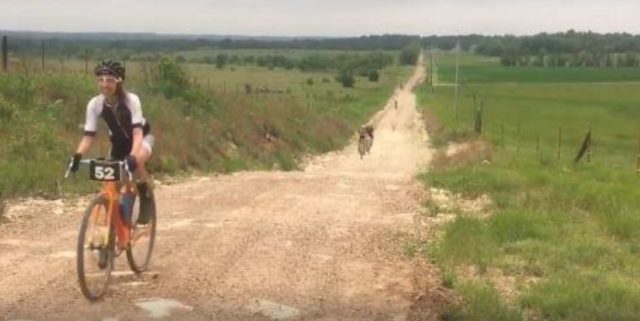 So I was around mile 38 when it started to rain. Rain is fine. Rain is quite pleasant sometimes. Then it started to thunder a couple minutes later which was less pleasant, and then thunder a little harder about 30 seconds later, and then rain sideways with very large gusts of wind about 30 seconds after that, which was really not pleasant. I had caught up to another guy on a single speed, who was then riding about 20 yards ahead of me, when I started to get blown over to the left side of the road from the hail-wind. While this was happening literally in slow motion, a post blew off of the FENCE on the right side of the road and sailed in front of me in much-less-slow motion, at which point I put a foot down, because this is some Wizard of Oz-type shit.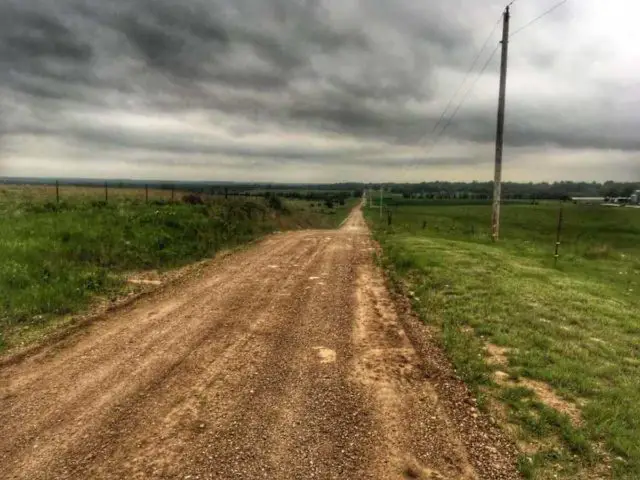 I tried to walk my bike forward which wasn't happening, and ended up edging backwards with my face pointed away from the hail until I hit the right side of the road. There wasn't even really a ditch to hide in, so I just crouched behind my seatpost, which isn't very tall because I'm a small person. Then a tall creature comes staggering towards me out of the near-zero-visibility conditions, and luckily it's not a Yeti, but the dude from who was riding in front of me just a minute ago. There was sort of a lull where the wind and hail quieted just a little bit and I pulled my Goretex jacket out of my seat bag, but it was still too windy to actually maneuver it onto my body, and it ended up halfheartedly plastered to my head and draped over the back of my bike for makeshift shelter. I offered my new friend my emergency blanket since he was decidedly unprepared for the apocalypse, but he was cool for now.
Another handful of minutes later, it was lightning/thunder/hail city again, and we were both shaking like leaves. Fun fact, you can get super duper cold in 60-70 degrees when it's wet, it's windy, and you're not moving. So out came that emergency blanket, which we huddled under while sitting in ditch water getting pelted by hail for god knows how long in actuality. I had visions of Bobby Smith driving along and coming across a large shiny Mylar lump on the side of the road with two bikes next to it. That would be us.
Instead, the thunder eventually moved off into the distance and we poked our heads out to see if a large house and perhaps some ruby slippers had fallen from the sky. No dice, but there was another guy on a bike making his way toward us. We supposed it was time to start riding again. Mylar blanket was stowed away and we all carried on riding through the now-sludgy roads like this was a perfectly normal way to spend a Saturday afternoon.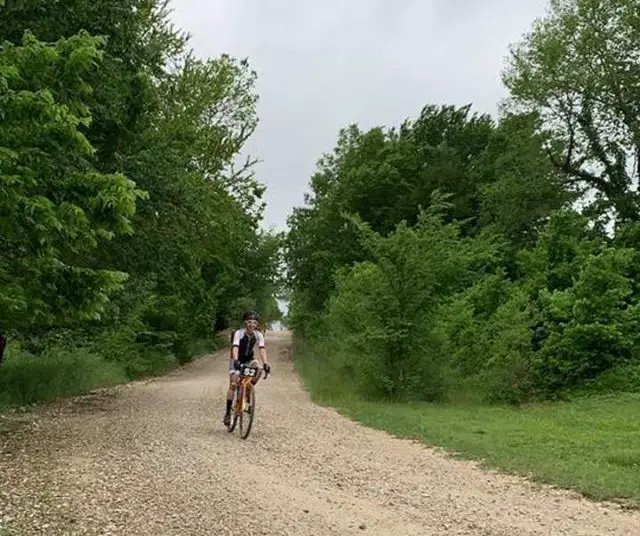 The rest of the ride was an adventure, although I never did come across that yellow brick road. The storm, unsurprisingly, took a lot of people out. Probably all the more-sane ones. (note: anyone that even STARTED the day is a winner though, given the weather predictions.) The rest of us who had emergency blankets/found a friend with an emergency blanket/were lucky enough to be near a barn when all that craziness blew through trudged through a bunch of slop and hills that were still beautiful, albeit very wet.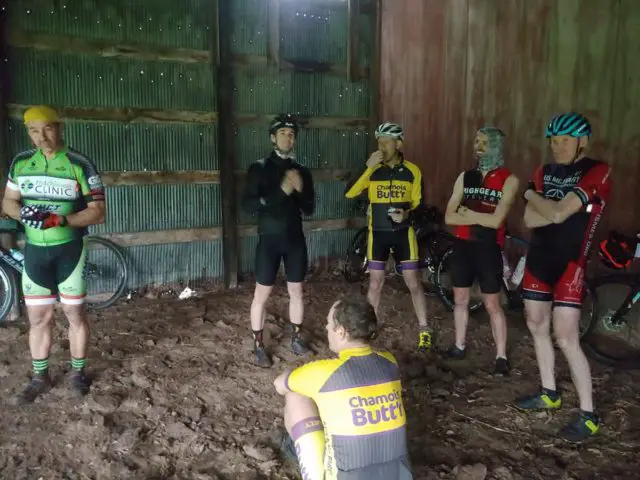 I love riding in South Kansas, even when the roads turn to velcro after rain. I learned that my gear ratio is doable on non-velcro roads, but a little less so when my bike is sinking into the road. Add in wind and it made for a long day of pushing a gear that felt even bigger than it was. #Type2FunForever My friend from earlier sadly broke his chain, I gave him my Wolftooth Pack Pliers and he cobbled it together enough to keep riding to Checkpoint 2. It was a valiant effort to be a party to. There was some legit mud late in the course, and while I was thankful to not have a rear derailleur to shear off, I was kicking myself for not owning a skinnier back tire. You can get away with squeezing a 40c onto a Specialized Crux…until there's mud. The mud stick and I spent a lot of quality time together for five miles or so. Eventually, I gave up and climbed down to dunk it in a stream. Sorry not sorry, brake pads.
I almost blew by the second checkpoint. There was a table in front of a house, and a couple of volunteers hanging out on the porch awaiting the handful of soggy and muddy riders trickling through. I swapped out the bottles on my bike which were basically just lumps of mud with a bottle somewhere underneath, did a dramatic retelling of the events of the day thus far for their amusement, and thanked them for hanging out on this random porch all day so that a handful of crazy people could continue to play in the dirt.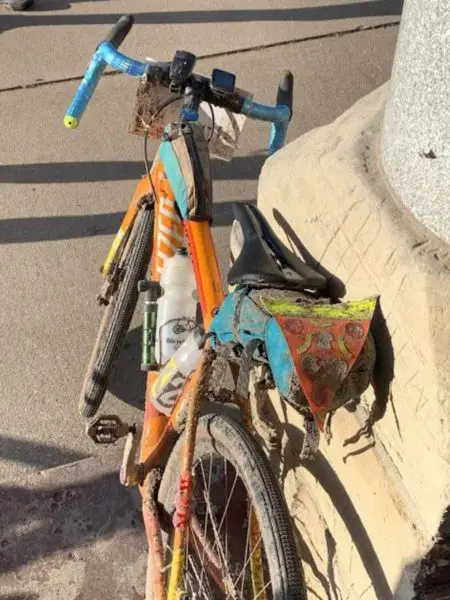 And just when I thought I was home free… low-water crossing turned high-water not-crossing. I really do like to swim. In a past life, I even competed in open water swimming. But I really wanted to end up back at the finish line where there were tacos, and not floating down to wherever this river led, where there were probably not tacos. So I called Bobby Smith and was given re-route instructions. I encountered another rider down near this water crossing who was having tire trouble and lent her my mini-pump and waited until she got rolling. The ride into the finish was peaceful and pretty; the sun was shining as I came back into Winfield and through the finish line in Island Park. I wasted no time asking for directions to tacos, which were a quick roll down to the street to the Walnut River Outpost building.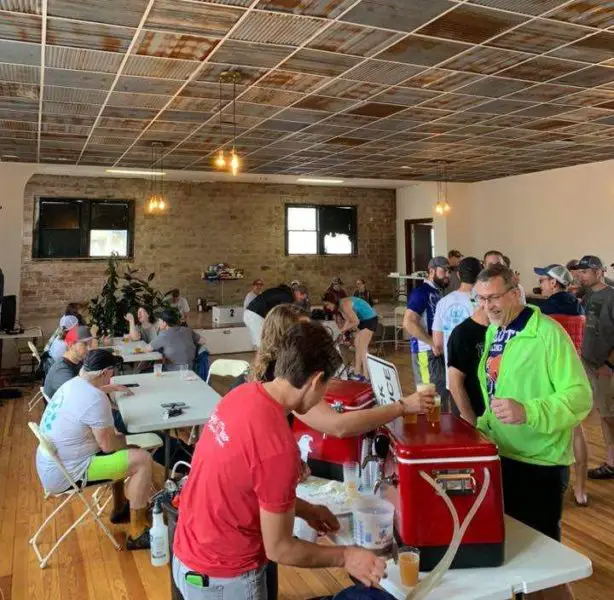 There were awards and raffle prizes generously donated by Chamois Butter, Lauf, and this thing I had never heard of but am super excited about called a Coffee Brake Mug, which holds enough coffee to keep a medical resident awake through an entire night shift and, you know, has a bicycle brake for a handle.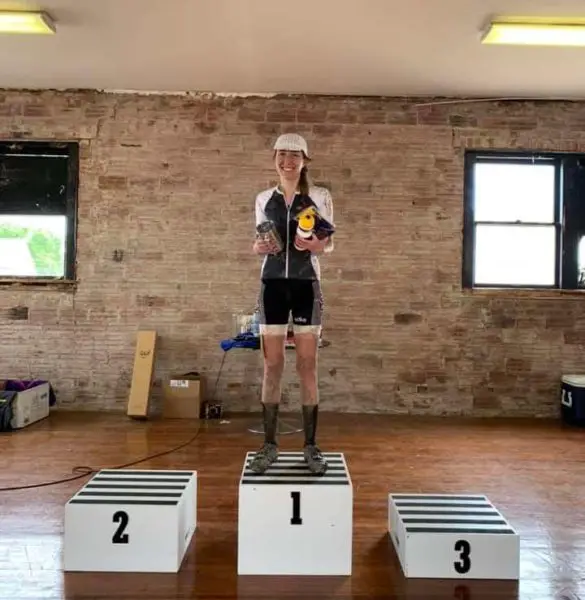 And, like all good gravel races, it ended with a bunch of people who ride bikes sitting around swapping stories from the day.