Saluda Roubaix – April 29, 2018 – Batesburg-Leesville, South Carolina
Tales from the peloton…
I vowed to attend Saluda Roubaix this year after I missed last year's event due to work constraints. My other target race, Rouge-Roubaix, scheduled earlier for this year, was canceled due to flooding, so skipping this year's Saluda Roubaix was not an option.
From the race description: Saluda Roubaix 68 is a remote all road race on dirt, gravel, bedrock, farmland, timberland, countrified bridges, levees, rustic pavement, no towns and one specifically remote ball field — 100 percent American flag.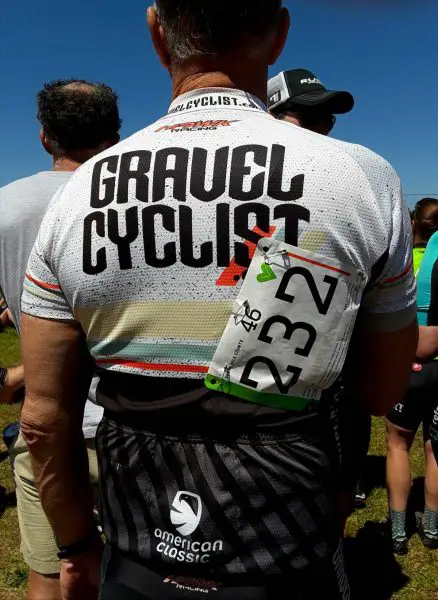 The 'déterminée sur le gravier' course was 68 miles of beautiful, sparsely traveled roads with plenty of rolling hills but nothing that would put this Florida boy into difficulty. The road surface changed delightfully every few miles, ranging from glass-smooth asphalt to rocky, double rut gravel roads and everything in between.
A more leisurely course and distance of 46 miles was also offered.
The event was held under race-perfect weather, not a cloud in the sky, mid-50's Fahrenheit warming up to upper 60's by race finish. It was a day for arm warmers in the early miles then peeling them down to wrist level for the second half of the event.
The event started at a casual 10:00 a.m. which was perfect for me (I was on vacation), and per race organizer, Vince McCall, 'the officials will play Tom Petty "American Girl" prior to the riders meeting and race start.' Damn! Perfect beginning for this Gainesville, Fla. boy!*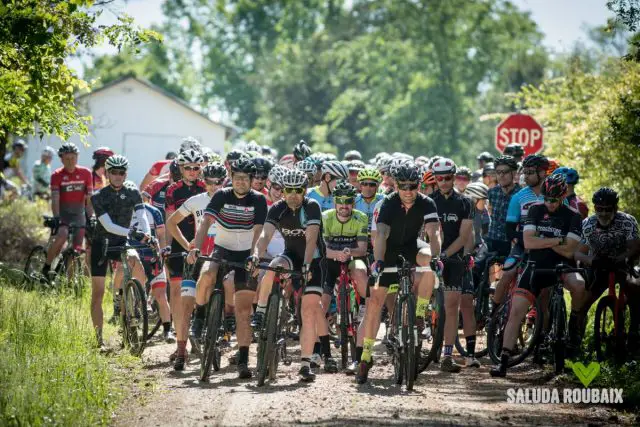 Instructions were for staggered starts with two minutes between each age group, after the neutral section rollover to the official starting point. I casually rolled to the neutral section knowing we would start the 50+ group last – "Did I mention I'm now 60?" – a famous K-Dogg quote, and was towards the tail end of the pack. It was then announced that the organizers decided to start everybody at once. I decided against being an arse and pushing myself forward, and succumbed to the idea of working my way through the pack. BIG MISTAKE!
The race began on a single lane gravel road that was recently coated with a new thick layer of ballast. With rocks pinging off frames, disc rotors, cycling shoes and bikes skating on this surface, I weaved past over 50 riders and emerged onto the first sector of tarmac alone and about 30 seconds behind a group of 20 riders. Initial efforts to close the gap got me about halfway but not quite there. A glance behind I spotted a chasing train coming up from behind which I gladly joined. Working together with these lads, we joined the lead chase group to later become the peloton.
At this point, we were only 8-10 miles into the race and I had no idea who or how many riders were up the road.
"The out of sight, out of mind" mindset set in and our pace was brisk but the leaders were gone. I sparingly contributed to the pace-making of this large group as there were plenty of younger legs in this crowd. I found another tall cyclist that was hanging out in the sweet spot of the peloton, and took refuge in his draft for the first half of the race.
The only glimpse of the leaders from our group was during one of the lollipop loops when we caught a glimpse of overall winner, Eric Palacio, with another powerhouse rider in tow. At that point, I estimated they were 5-7 minutes ahead of us and showed no signs of cracking, despair or concern about our happy and sanely paced group.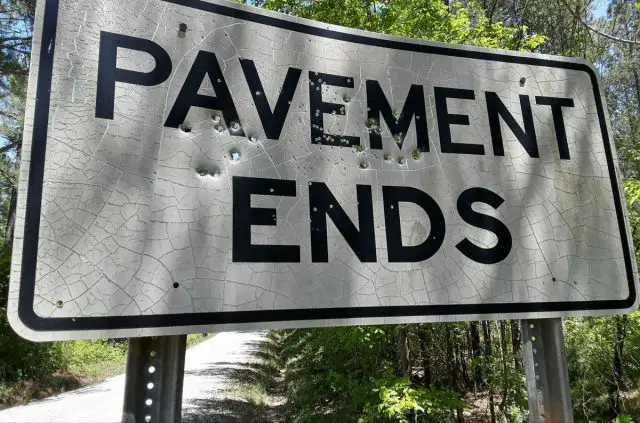 Vince McCall drove ahead of the lead group and acted as the course marshal for lead and chase groups. At Posey Road / the 30.75-mile marker, he determined the two-man leading break had a two-minute advantage on the leading chasers. Another time check at Poplar Springs Road intersection at 37.5 miles in, had the leading duo now ahead by five minutes. Vince enjoyed hearing the amped chatter trailing off each time as the Boyd Johnson-led chase group went through. The front two riders were together with about 10 miles remaining, but the last two remaining sectors of gravel road, Eric Palacio dropped his compatriot to take a solo victory.
Eric averaged close to 22mph over this course, which is truly outstanding!
Meanwhile, further behind at the halfway point, the peloton was starting to lose passengers from the group of 25 initial chasers. It became apparent on some of the hills that a little extra pressure put in at the upper portions of the climbs and sections of crosswind, was creating casualties and whittling the chase group down to a smaller pack.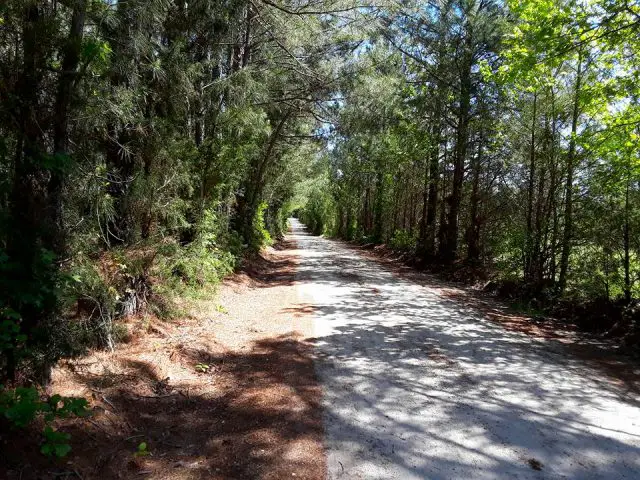 During the last 15 miles, a few solo efforts were made by various riders to escape the stranglehold of our group, along with a couple of coordinated efforts from two or three riders to exit the solace of our peloton. Every time, solo or otherwise, we reeled them back in. But with around seven miles remaining, two riders managed to escape and were dangling ahead of our group by about 100 meters. I attacked to bridge up and join, and worked together for a couple miles until I blew up, just past the right turn at Dusty Road. By the time I had recovered, I was now 35 seconds my original, albeit shattered group, with just a few miles left to ride.
It was now or never. I put in a strong effort that brought me up to the five survivors of our original group. We turned onto the finishing road of Derrick Park road together and finally, I knew where I was… I'm not too handy with GPS, only K-Dogg is worse 🙂 An attack by the USMES rider in our group stretched things out, and at the top of the next hill he yelled: "that's it, the finish!" However, I remembered a painted line by the starting area and decided to attack and finish there regardless of my riding buddy's comment. Thinking, "man, I'm flying", I eased off a bit and sure enough, Hank McCullough and Brian Bonsignore, who also didn't believe that was the finish at the top of the final rise, pipped me at the line. This effort put me 19th overall and on the extended podium for Men's 50+.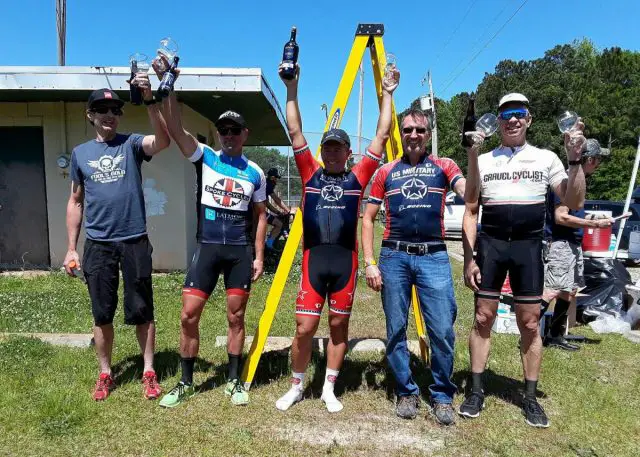 Post-race refreshments were delicious pulled pork sandwiches and a large cooler full of quality craft beers!
There were plenty of 'old south' buildings, barns, gas stations and signs in various states of decay that would be a photographer's delight along the course. Luckily my friend, Cathy Bester, was riding the shorter route and not concerned about holding the wheel in front of her, and managed to capture some great photos.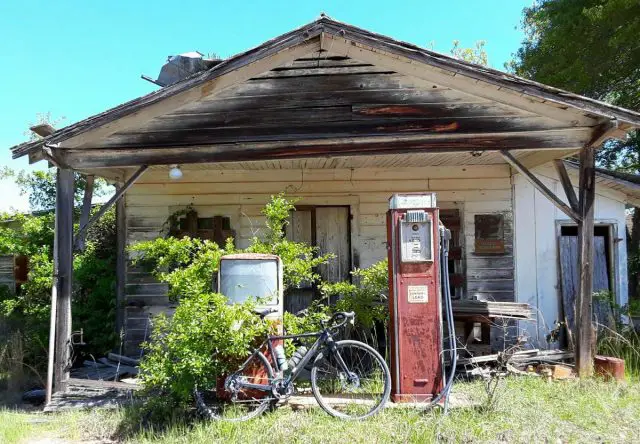 The Saluda Roubaix event benefited US Military Endurance Sports, and donated the $4,250.00 raised to US Military Endurance Sports Elite Team, USMES Cycling Club and US Military.
Congrats to the organizers for putting together a fantastic race! Looking forward to bringing a few Gravel Cyclist teammates for 2019.
Pedalando verso una strada gloriosa,
Jimbo
* For those who don't know, Tom Petty was born in Gainesville, Florida, also home to most of the Gravel Cyclist crew.