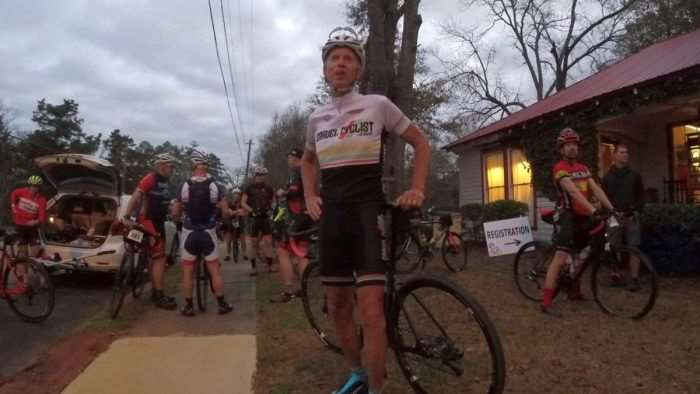 After last year's freezing slime fest at the first Middle Georgia Epic Gravel race I wasn't very enthusiastic about returning… but that didn't last long because the course is fun enough to challenge daredevils but non-technical enough for the rest of us if the rain holds off.
We watched the weather for days and the news kept getting better and better. The rain held off and the roads dried out nicely! A cheery sun and beautiful blue skies lasted all day long. There were still shockingly deep red ruts and sketchy mud berms that required careful tiptoeing. I did notice a few involuntary dismounts but no serious injuries beyond bruised egos (I have video proof of this).
Donna and staff were truly wonderful and welcoming hoteliers who kept the conversation friendly and the coffee hot. The start line was just off the front porch! You can literally roll out of bed and hop on your bike. Being in the middle of beautiful national forests, it's also a great place to begin any outdoor adventure you can think of.
The race began with a long 2-mile paved coast. The pack stayed mostly together. Then suddenly it didn't. The first "weed out" hill arrived. It was groomed dirt and less than 1/2 mile long but only 10 crested together. I was number 10 but my eyes were crossed and my ears were booming as we surfed down the other side of Mount Hypoxic.
There was a new kid from Atlanta everybody was afraid of, said last year's 2nd placegetter, Jeff Clayton. He had a gap already when dirt turned to tar. I had run out of gears but managed to caboose the next few miles panting like a Dogg. My teammate Rusty aka "Headmaster", who is ever so much stronger, was nowhere in sight. "This ain't right!" I thought.
Two miles later we turned onto a long zone of hilly, rutted, bright red hills. People started coming off – leaving about 8 ahead. I soon joined the people coming off.
A few miles later, Headmaster and two others came alongside. "You OK?", he asked, concerned. "Oh yeah! Just peachy" I said, trying to be funny.
Peaches? Georgia? Ha ha? He kinda grinned. Headmaster raced in Belgium for a few years back in the day. I don't think Belgians smile much while racing. That's a gravel thing.
Pretty soon others trickled into our little grupetto from ahead and behind. We now had eight or so taking roughly equal turns on the front. Although podium spots were mostly gone, many were still pushing the pace. To me, the terrain was the competition. The terrain was kicking my arse.
The miles rolled on. One or two more latched on to the rear. The hills began to level out a bit but the sand was still heavy beneath our tires. At some point, I remember a young guy asked me if we could organize a group pee stop. I didn't have to go (unusual for me) but being a gentleman I always defer to ladies. Jen, a young lady, who impressively rode her share on the front, said no. "But there is a convenience store soon," she said.
An hour later – no store – no pee stop. The young guy looked tense. "What's the story?" he said. "Jen says there is a store soon," I said. "A store? The line will take forever!" He said more tensely.
An hour later – no store – no pee stop.  I rolled to the front. "Group pee stop?" I suggested. "What about the store"? said the tense guy.
I looked back… Jen had vanished. "Jen is gone… pee where you like!" I announced gleefully. It appears everybody had to go badly. The sound of relief was exactly like a herd of happy cows mooing at the sky. The sight of relief? The GoPro was turned off.
Eventually, we pulled into the rest stop. We all checked in to prove we weren't dead yet, grabbed cookies and water then hit the road again. We had picked up Jeff Clayton, who somehow lost the lead group while searching for the rest stop. Race pace cranked up and a few punchy hills began to thin the herd again. After an hour or so Jeff Clayton upped the pace and soloed away. The chase was painful for me. No matter how hard I sat on we couldn't close the gap.
Two hours later, the chase pace was painful. I became a human Yo-Yo in the hills trying to hang on to the back. A few other Yo-Yo's vanished OTB (Off the back).
"Rusty", I whined, "my Garmin stopped working and I am cracking. How are you feeling?"
"I'm not feeling it either K-Dogg", said Rusty.
"If we get dropped, want to ride in together?" I asked.
"Sure", he said.
Thirty minutes later… "OK, Rusty… I'm pulling the plug."  We both eased up a little. The remaining pack rolled out of sight. I began sitting on his wheel. With twenty miles remaining, the big hills began again and I couldn't hold his draft. He was feeling better.
His idea of a draft became him riding 100 feet up the road then coasting until I caught up again. Not a good situation.
My Garmin started to behave again and Rusty said he was feeling better. I cut him loose with just a few miles left.
In hindsight, I felt bad because he would probably have caught the 2nd place rider who was a little further ahead. But Rusty did snag 3rd place behind the winner, Jeff Clayton in the 50+ category. That is an impressive feat considering he is still recovering from being hit by cars, three different times in the last two years.
The day ended nicely with some really great after race food (cooked by a real chef). High fives and great stories circulated as more finishers rolled across the line mostly solo.
All in all, it was one of the most fun and enjoyable race / rides in years.
I'm unsure how the race went down at the front. Perhaps one of the stud riders reading this repot could illuminate the drama for the rest of us.
Special thanks to Dustin Gaddis of Southern Wheelworks of Macon Georgia and all the friendly folks at the Blue Goose Inn.
I'm sure the Gravel Cyclist crew will return next year!
K-Dogg
P.S. JOM says the video will be coming soon… remember, the lad has a real job in addition to GC!
Photos by K-Dogg, Rusty and Dustin of Southern Wheelworks (podium photo).