"Be off the mountain by 12:00" they say. "That's when the bad weather comes in" says just about anybody who lives near mountains. Mrs. K-Dogg and I are from Florida but have raced the Mt. Evans Hill Climb (14,265 feet) three times. All three times the rain came right at 12:00 and officials stopped the race and turned many upset people around. Mountain weather is just too unpredictable as well as dangerous for an exposed bicycle race.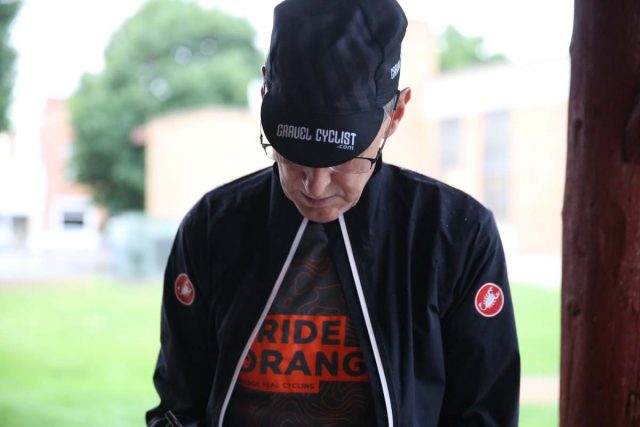 I'm sure the Tusher In the Crusher promoters mentioned this at their start speech here in Beaver, Utah. I'm sure many, in their excitement, only heard "blah, blah, blah, safety, blah, blah, blah… the weather comes in at 12:00, blah, blah, blah pack something warm." I was amazed at how many smart looking people rode their coolest summer kit to be as light as possible. True, the weather report looked promising that morning but only if you were an elite racer who could finish by noon. These angels of the mountains managed to fly to the finish line bathed in warmth and light but the rest of us sinners flailed about writhing in a cold purgatory of ice and wind for hours and hours.
Last year at Tushar, Mrs. K-Dogg's Garmin registered 48 degrees in a cold rain with about two hours to go. That year all we only had packed a light nylon vest each. The vest assured survival but just barely. Our frozen paws made braking unreliable at best.
This year, we decided to pack full-on rain jackets, arm warmers and long gloves. It probably saved our lives. When the bad weather hit us I was toasty warm and dry from the waist up and could actually work the brakes. I finished ahead of the worst weather but Mrs. K-Dogg was much less comfortable. She and about 200 others, were two hours back and reeling from a full on hail storm. She said the hail piled up an inch deep like a lemon/lime slushee fountain drink which turned the meadows white as far as she could see. All of this happened just barely past the summit of the Col 'd Crush. Within half an hour, her Garmin thermometer plummeted from 104 degrees to 37 degrees. Then the rain and wind came at her at a 45-degree, angle making it hard to keep rolling forward.
Did I mention we are from Florida?
For the next hour or two, she slogged along so cold and miserable she was ready to climb into the next car or truck she saw. Luckily she was eventually joined by a nice big wind blocking guy (we owe this guy big time). They rode together and chatted amiably to take their minds off the brutal conditions around them. Mrs. K-Dogg said she also went to her happy place with the Von Trapp family from the Sound of Music movie. She knows all their songs by heart. She sang all of them to herself at least once… (Doe a deer, a female deer!) Eventually this nice guy mentioned his wife was about a mile back by herself in the storm. Hmmm. There is a tale here I'm sure but don't ask me. I ain't the one to say.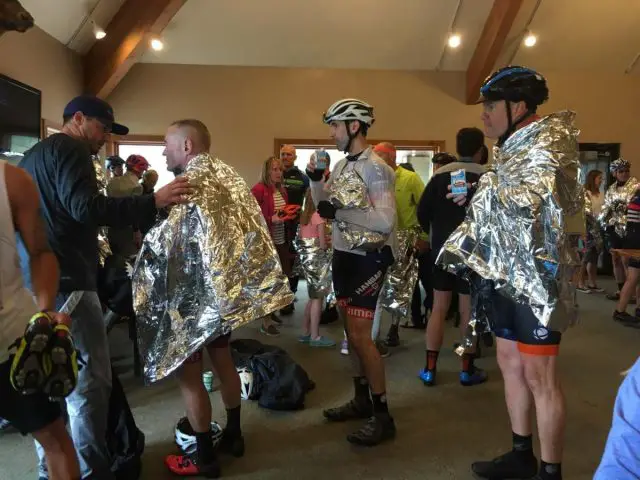 I'd love to hear the tales of woe of the roughly 200 other people suffering behind Mrs. K-Dogg. I hope they all got some help from the atrocious weather. I don't imagine the school shuttle buses could rescue anybody on that jeep trail in those conditions.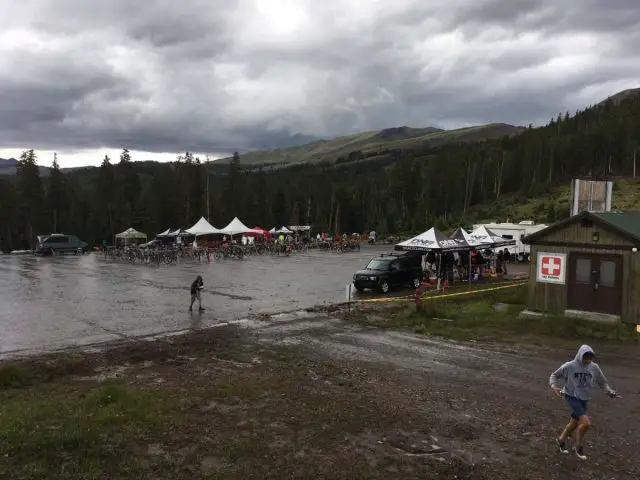 At any rate, after two hours of waiting in the parking lot in the pouring rain, I spotted Mrs. K-Dogg as she appeared in the warm ski shack. She is as tough as they come but was shivering and shaking harder than I have ever seen. She managed to get into some dry-ish clothes for the long 25-mile coast back down the mountain to our hotel. I argued we should wait for an hour or two for the shuttle bus, but at 10,000 feet she was beginning to feel the effects of the altitude and would prefer to head to a lower altitude.
Did I mention we are from Florida?
The highest elevation in Florida is about 350 above sea level… at the top of a Live Oak… on your tippy toes.
So, we eased back on our bikes and descended for an hour. The weather channel showed a hopeful window from the rain but it poured rain the whole effin way down anyway.
Now, previous to all this bad weather and misery, I was actually having a pleasant race. I knew what to expect from racing here last year and managed to ride within myself most of the time. My granny gear of 34 X 36 was perfect for dancing up the hills and my front Fox shock waltzed nicely over all the treacherous baby heads and washboard going downhill. I may not have been fast but I felt confident of survival. The temperature was cool but not cold. In the Surlac Pit, conditions were nice and barely hit 100 degrees because of the cloud cover. It felt like home.
Did I mention we are from Florida?
My biggest mistake was tempting the gods as I stupidly do with regularity. With an hour to go, I passed two shivering riders who admired my nice dry raincoat. The rain had stopped and the next field appeared to be bathed in gorgeous, warm sunshine. "Well, I said, it looks like the worst is over!"
Not 30 seconds later, the sun vanished and buckets of rain vomited down on us yet again. My companions picked up the speed to stay warm but they soon traded it for renewed leg cramps. "I cramp here every year," said one of the guys. "How about you?", he asked me. "I did last year, but I'm well prepared this year and am doing much better", I moronically boasted. Not 10 seconds later my right leg seized up. Luckily I did manage to remember my Hot Shot anti-cramp killer this year. A quick chug of that goodness and a brief spazzy skeleton dance, I shook off the cramp and was able to motor on. Hot Shot is amazing stuff.
As with last year, I was flabbergasted at how friendly and positive was every single rider I met. They laughed at themselves and encouraged the rest. The Pro 1-2 racers were amazing as usual but you gotta give a lot of respect to those less than elite riders who do this "just because it's so awesome." These are the true heroes. I refuse to mention the Fat Bikes and Single Speeders (especially if they passed me). They are just coo coo in the coconut as far as I'm concerned. Yes… single speeder Lee Henson from Dahlonega, Georgia, I'm talking to you! You're a nutter!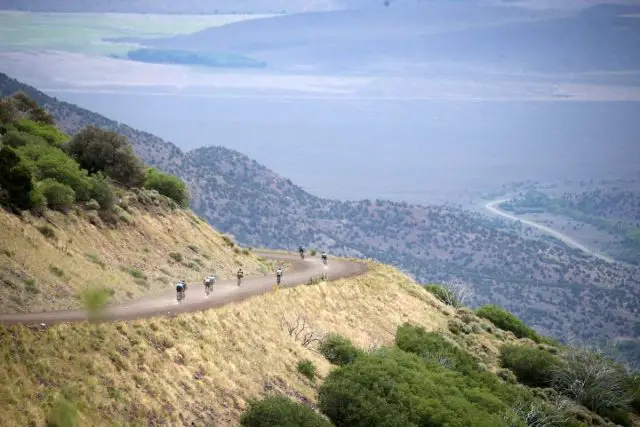 The scenery is breathtaking especially the Mojave desert when plunging down the Col 'd Crush… assuming you are brave or stupid enough to take your attention off the next steep slippery corner.
In the end, I knocked four minutes off last year's time for 7th in the Men's 60+ category. I can't complain too much since the roster indicates everybody anywhere near the podium was from a mountainous state.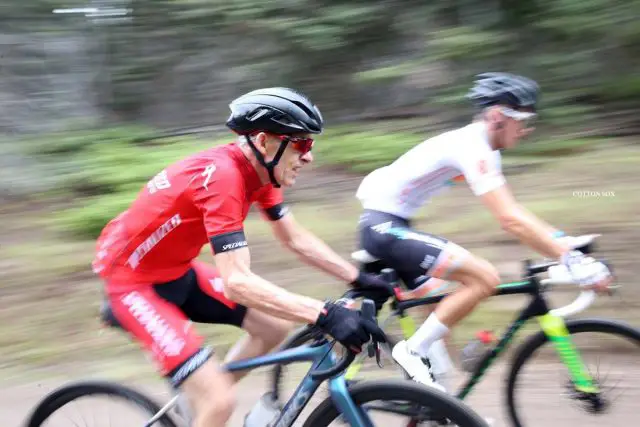 I heard 62-year-old Ned Overend was there and got 7th fastest time overall! He is just amazing and is my top role model, with the exception of that 105-year-old Frenchman, Robert Marchand, who holds the hour world record for his age. I'd love to beat that time. I'd love to get the chance. I just need to stay alive another 43 years!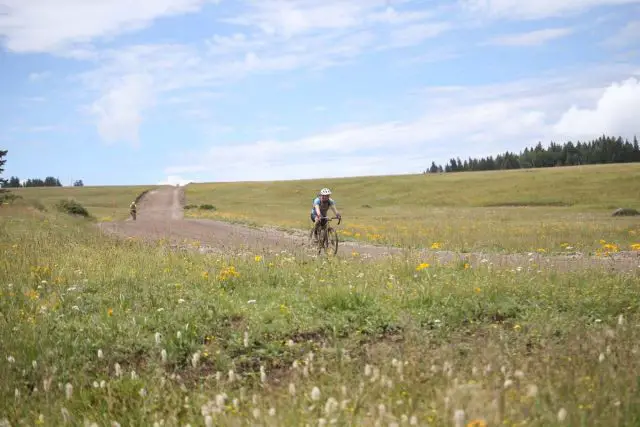 Chapeau to the promoters and all the selfless volunteers who kept us alive between rest stops with food, drink and encouragement.
I would definitely return to this wonderfully scenic and well-run event and I hope all y'all will too… but please make grandpa happy and bring a jacket next time.
K-Dogg