Francis Marion National Forest, South Carolina
September 15-17, 2017
Ginny Norton and I punctuated our 2017 Gravel Year with a big fat exclamation point (!#*%!) racing in the three-day Hellhole Gravel Grind stage races in the swampy, gnarly Francis Marion National Forest outside of Charleston, South Carolina. Ginny Norton was there to win. I was there to put another crazy, intense notch on my gravel belt because I am "living large" and keeping my cycling real and fresh after 30 plus years as a roadie.
PROLOGUE
The weekend began with a six-mile time trial on Friday night. A six-mile taste of the challenges ahead. Starting at dusk, around forty riders hung out at the starting line getting to know each other while swatting at the mosquitoes that were out in full force.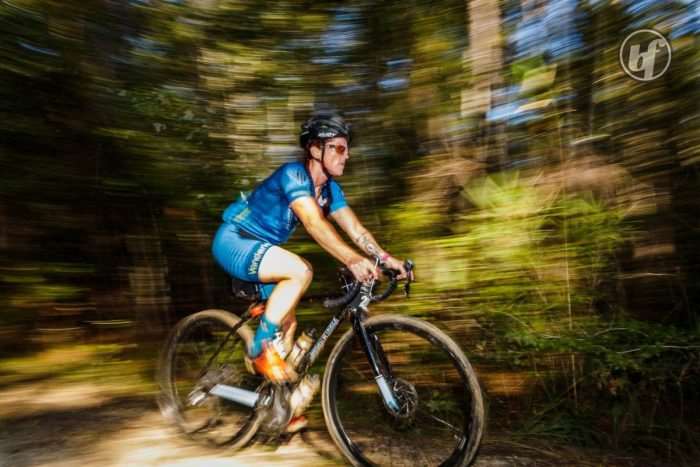 Advised to dismount in one muddy spot, I was glad we got in a practice lap before the time trial. At 6:30pm riders headed out in 30-second intervals for the quick time trial loop.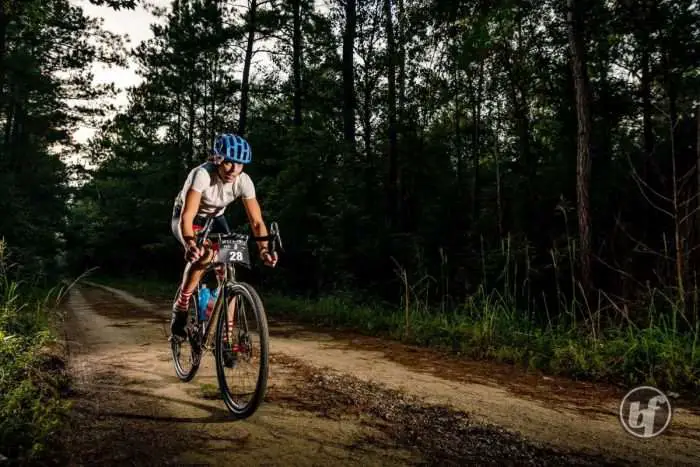 Local photographer Brian Fancher was strategically placed to take some amazing photos. And he continued to produce dazzling images throughout the weekend making us all look like pros.
Off to an intense start, Ginny won the women's time trial. Anne Ahern Moore who placed second, sported a purple toile tutu to make sure we didn't take ourselves too seriously.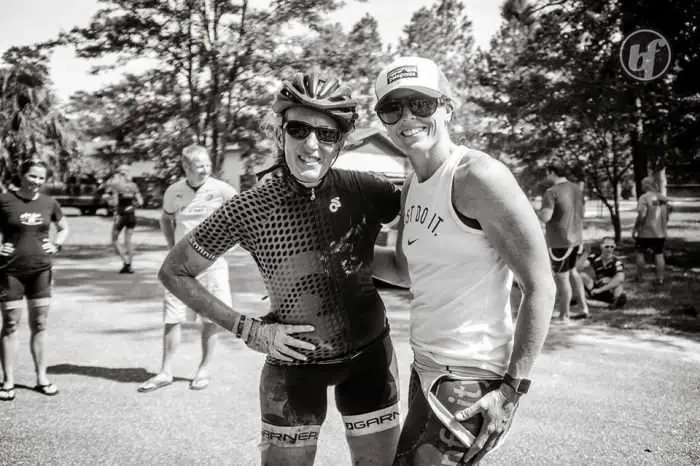 STAGE ONE-75 miles
Ride organizers Geoff Duncan and Chris Moore planned something for everyone on Saturday. While riders in the series rode two 75 mile routes, gravel grinders could also choose 45 or 75 single ride options. Around 100 riders arrived ready to venture into the Hellhole swamp, each with their own personal goals for the day.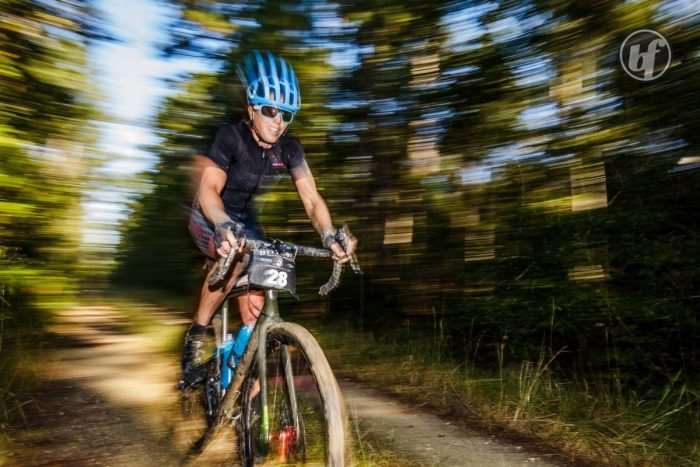 Every gravel race seems to have a different kind of gnarly. This race–navigating random pothole craters filled with two feet of muddy water. Saturday got us right into the swamp within the first ten miles. Ginny had raced here the year before, so she knew what we were in for, but I was a first-timer in this terrain. With a gravel year that included the Middle Georgia Epic, the Bootlegger 100 and the Dirty Kanza, I thought that I could handle just about anything on gravel.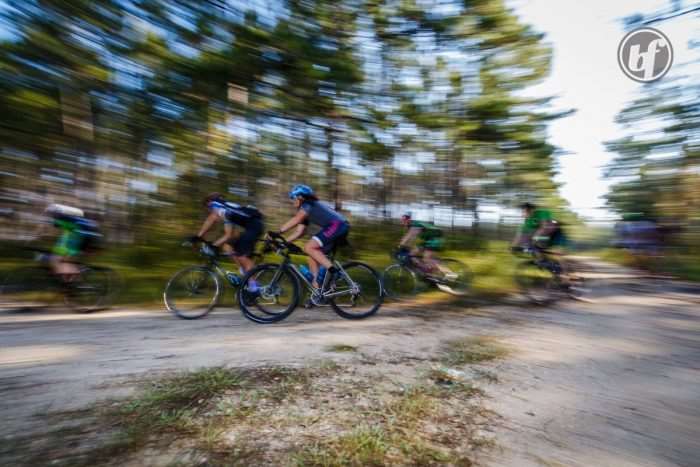 Well, hell hath no fury like the Francis Marion National Forest. I got lucky navigating some complicated muddy sections. But I landed in the mud twice. Ginny five times.  What unnerved me more than the muddy parts, was the blind, empty potholes that came up very suddenly and the dappled light from the forest making it very difficult to see.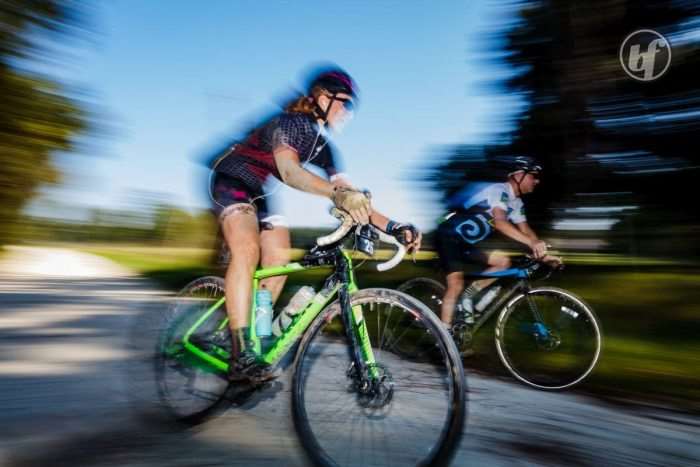 Ironically, my third and biggest tumble was on a fast section of hard-packed gravel. We were coming up on an injured rider and damn if I didn't hit the same root that took this guy down. Bam! Out of nowhere. The guy had a suspected concussion and help was on the way. I trashed my elbow, hip and shoulder but after checking the damage, I was eager to get back on my bike and get going. I had 45 miles to go.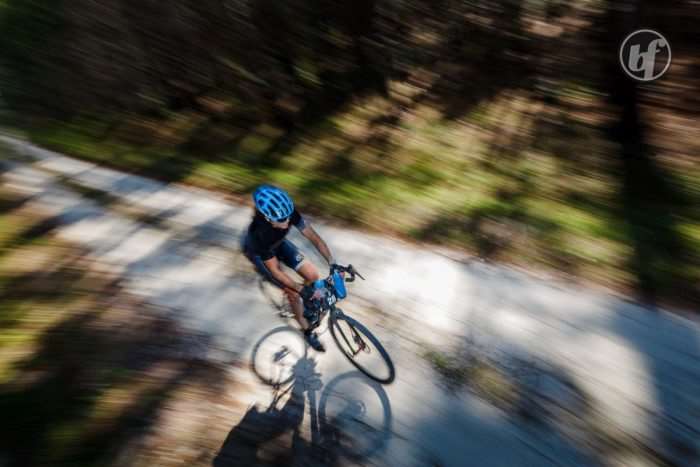 Meanwhile, Ginny was near the front, riding lightning fast. She had an amazing day and won the women's race with an hour lead. The top three women, Anne Ahern Moore (2nd) and Mary Rosser (3rd) both rode well. Only six women signed up for the full stage race. I thought we were all very game to take on Hellhole.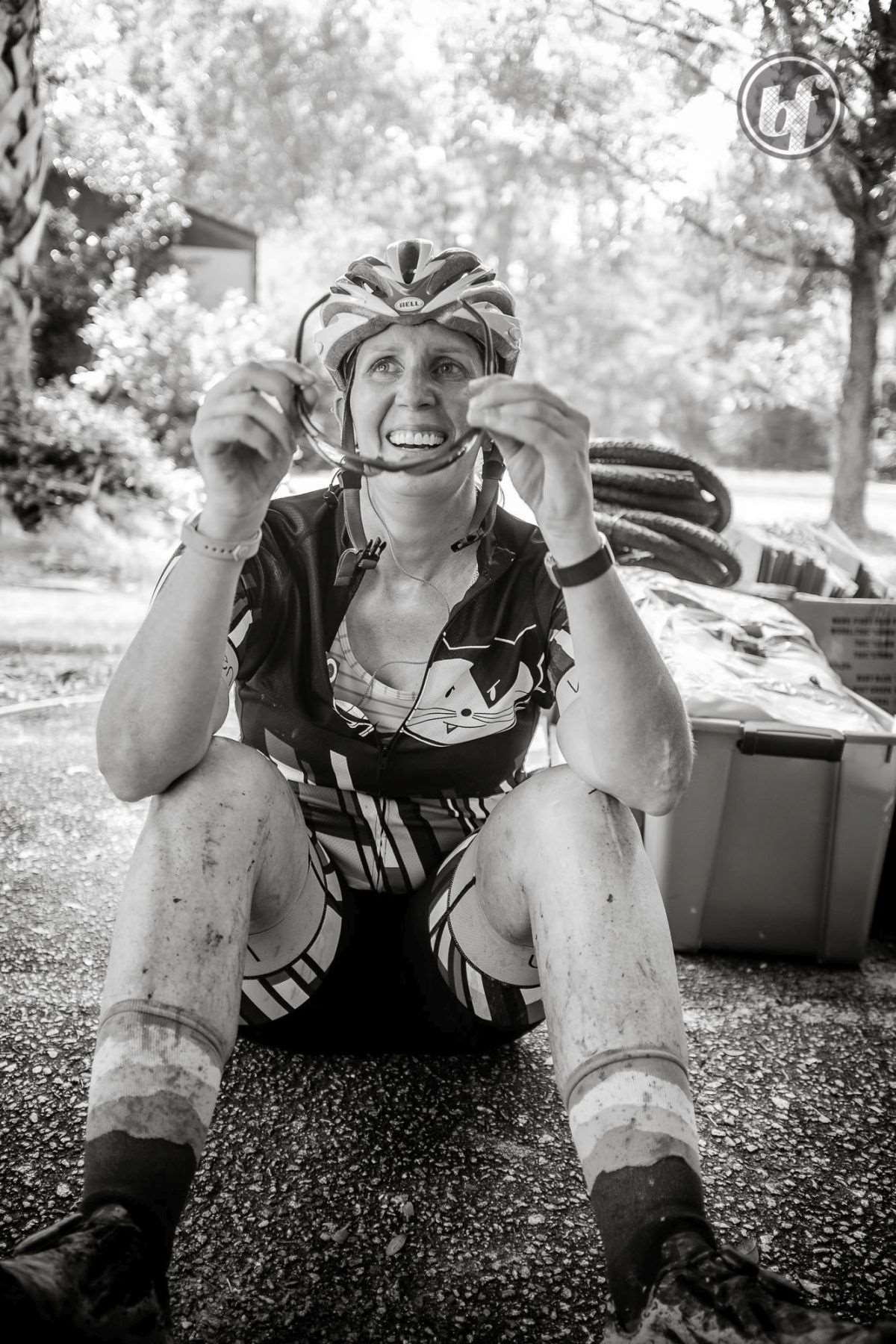 STAGE TWO-75 miles
As if a time trial and a 75-mile ride were not enough, we woke up on Sunday morning ready to do it all again–in reverse. Everyone at the starting line trying to make light of soreness, stiffness and what was ahead. There was a general consensus among the women that the difficult potholes would be run, not ridden through. As we rolled out from Witherbee Station I realized the swamp and the hard fall from Saturday had truly messed with my head. My daring and verve were gone and I knew the worst of the swamp was in the second half of the ride.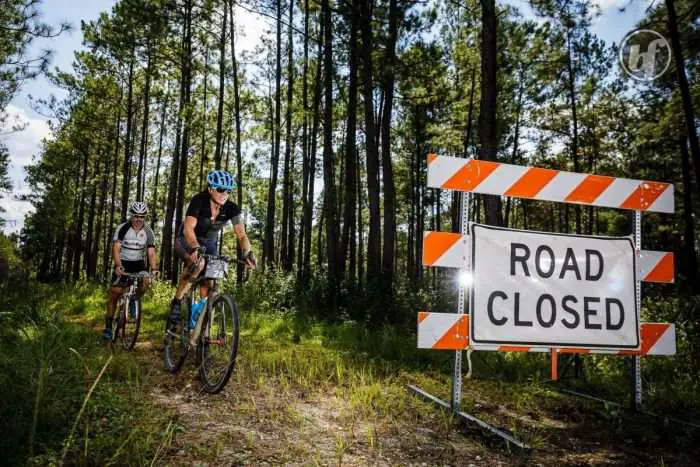 Photographer Brian Fancher was strategically placed that morning by a giant "road closed" sign to capture us emerging from a barely navigable section of forest road which gave me the heebie geebies–both sides of the forest brushing cyclists as they rode down a nearly overgrown two-track gravel road.Friends asked me about snakes. Yes, they were out there along with wild boar, every imaginable swamp insect, possum, skunk, deer and bear. This is the real South, y'all.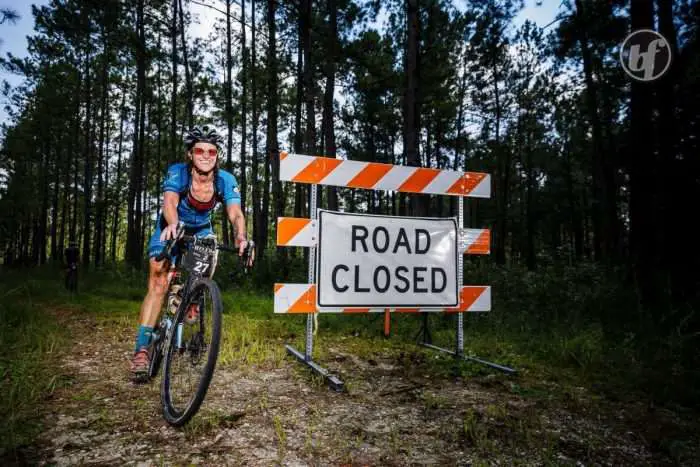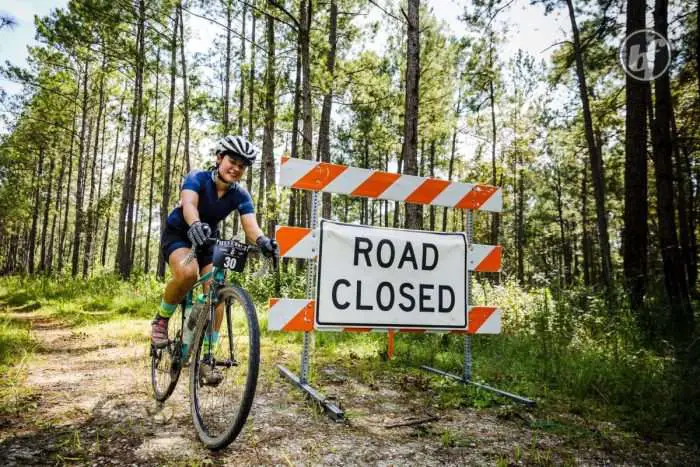 In the end, I cut my Sunday ride short, chilled with Ginny's mom, Farrell and waited for our champion to bring it home. Ginny won the series and every individual race in the open women's category. I am proud to be her cycling sidekick. Was the weekend a success? Hell yes, it was. Not that many cyclists, male or female, have the guts and skill to venture into the Hellhole Swamp – and live to tell the tale.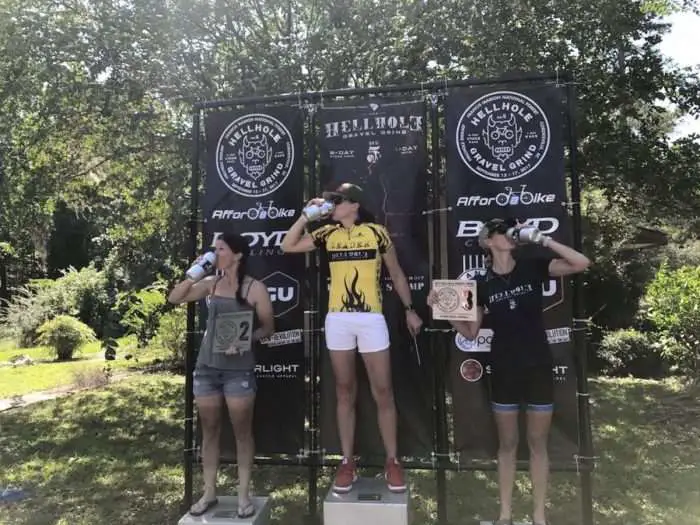 Kudos to Geoff Duncan and Chris Moore for a well-run race. Every detail was attended to with aid stations in the swamp being the most difficult to manage. I joked that I was doing the event for Michael Sabatini's "devil riding a bike through the swamp" poster which I plan to frame. The podium, awards, leaders' yellow jersey and Hellhole cycling kits (available for order) were all first-rate. I highly recommend you add Hellhole to your gravel cycling bucket list.