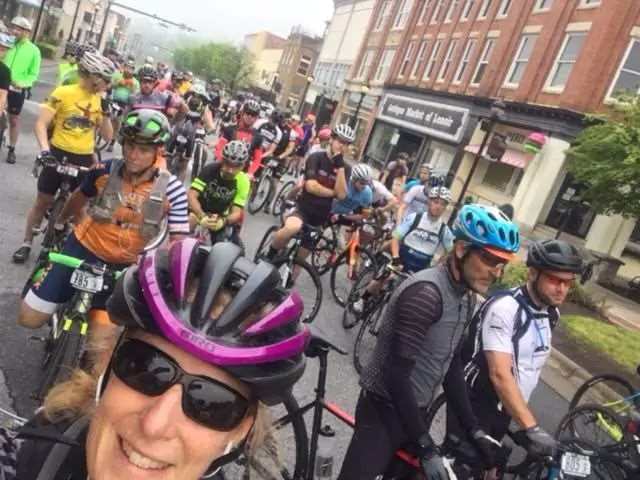 The Bootlegger 100 Race Report, or How the Only Woman Over Fifty Survived this Race.
Lenoir, North Carolina
April 22, 2017
The
Bootlegger 100
was the toughest 108 miles I have ever done in my 30-plus years of cycling. Amazingly beautiful and Zen-like in Pisgah National Forest, but extremely difficult both climbing and descending.
Only five women finished the 100 mile route. Five women in a sea of badass men–and I was one of them. I did not make the overall winners podium for women, and there was a significant time-gap between me and the top finishers, but I was the only woman over 50 and therefore the winner over 50–a bottle of Apple Moonshine, a set of gravel tires and a Bootlegger handlebar stem end cap for the victors! Ultra cool in the gravel world.
With a mostly male and under 50 crowd, the ride started out fast. I decided to let them go because I felt like I needed to conserve energy. Boy, did I. We were on pavement for about four miles when the gravel began on Globe Mountain Road. Not too tough, but one good climb. I had read the Bootlegger Bible once through and was sufficiently intimidated and bracing myself for a tough day. A text to a friend before the race simply read, "I'm scared." The big climbs were yet to come.
My Ride With GPS navigation through my iPhone and earbuds worked great and I had power backup. The course marking was impressive with large, orange metal road signs mounted at the majority of the turns. A few intersections had cardboard signs.
The weather started out a little misty, but the sun came out and it was warm. Later in the afternoon we had a few light thunderstorms, but no need for anything more than a cycling jersey and shorts (see
JOM's 2016 Bootlegger race video
for a comparison of the conditions). My Camelbak worked great and did not seem cumbersome; the water I was sipping provided a nice contrast to the sweetness of my Inifinit sports drink and GU energy gels. With that said, the support on the course was very good. I didn't take advantage of every stop, but the most welcome of the stops were after Roseboro Road at the Parkway and in the middle of the 17-mile Maple Sally climb.
The ride alongside Wilson Creek in Pisgah National Forest was stunning and lush. We passed waterfalls that made the long, switchback climbs somewhat bearable. It was a nice distraction to see fly-fishermen in Wilson's Creek along the way. The route cut through big boulders and hugged the side of the mountain as we made our gradual ascent to the Blue Ridge Parkway. The forest was a lush symphony of spring greens, rocks and ferns.
The climbing was relentless all day long. With 10,000 feet of climbing on gravel, I knew this would be true, but I have never used such sustained, total body, brute strength climbing on the bike. I never really lost traction, but it was close. I know I was only going three to four miles per hour on the big climbs; and they just kept coming, switchback after switchback. Nevertheless, I rode on, digging for strength. I cat and moused it with several guys–a few on mountain bikes. I would pass them on the climbs, but they would speed past me on the descents. I like to think I have good bike-handling skills after thirty years of cycling, but I would prove to be timid on the big descents. I was grateful that training partner Ginny Norton's bike mechanic suggested switching my gear ratio for this ride. I switched my cassette to an 11-34 where previously my lowest gear was a 28 tooth cog. I shudder to think about scaling those climbs on that 28, steep is an understatement.
The Bootlegger Bible warned about what a mind game the climbing would be. The 17-mile section on Maple Sally Road truly messed with your head if you let it. Maple Sally is reminiscent of the paved Blue Ridge Parkway in that you climbed, got a brief, slight descent, and then climbed some more–for 17 miles towards the end of the 108. I am used to this type of cycling, so I crawled into my Zen place and persevered.
It took me 11 hours to complete the ride. Afterwards, I went back and examined my heart rate data. Ginny suggested I needed to spend more time in Zone 3. Perhaps. However, I know my leg strength pretty well after completing 7 Assault on Mt. Mitchell's, 5 Assault on the Carolinas, long touring days on the Blue Ridge Parkway and 2 Ironman races. I think I parceled out my energy stores just about right because I was spent at the end. I am Fifty-effing-Five after all! I did barely make it in before the SAG wagon swept the course. This was not a ride for a novice, or even an intermediate cyclist. The 100 mile route was extremely difficult.
Now, a word about about the descents. Wowza. This is where I was out-of-my-element and experience. I absolutely LOVE descending on a road bike. I think I find a good line on the pavement very well. Descending on gravel mountain roads was an entirely different experience. I was scared. I'm certain I braked too much because my hydraulic brakes nearly burned out and failed. I had some serious issues on the second half of the ride. I braked a lot because on some of the hairpin turns, it just seemed like I needed to. The rocks and ruts and washboard feel of the descents was bone-jarring. My hands, forearms and triceps were wrung out mid-way through the descents. At a certain point, I noticed that my brakes were barely working, I felt like a runaway train. In one section, I panicked and unclipped my left foot and tried to drag it to slow myself down. This was a dumbass idea and did not work as I started to fishtail. Somehow I regained control of the bike, clipped back in and finished the descent of the moment.
I began feeling grateful for every rise in the road on a descent, because I knew that would slow me down. There was one route turn that I did not make due to speed. I blew past it and circled back to make the turn. Yikes! This was one of many rapid fire decisions I made all day long. I think that is one thing that makes gravel so appealing. Finding the best line on the road and navigating all of the challenges on the course forces you to be fully engaged all day long. It is intense. And, this fifty-five year old kind of likes learning new tricks.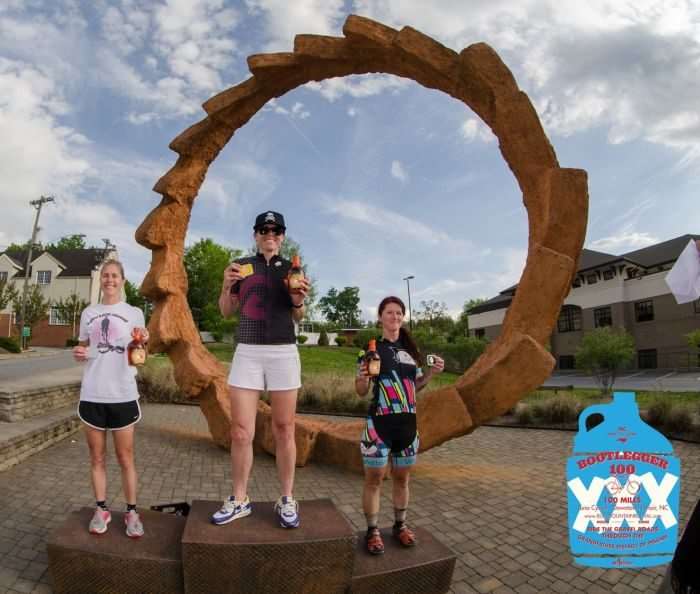 Yes, I was much slower than my friends. The beastly Ginny Norton, my training partner and wingman, was the first woman in. I am so proud of her and knew she could win. Even though we set out on training rides together, I cannot possibly keep up with her. That said, I feel a huge sense of accomplishment in achieving and surviving a grueling, 108-mile, mountainous gravel race.
Ginny and I have had a long discussion about Grit. What is it? Who has it? How do you get it? My sister Carole first brought this to my attention in the book,
Grit: The Power of Passion and Perseverance
by Angela Duckworth.  My triathlete friend Jay Tolin once paid me a huge compliment by simply saying, "Libby knows how to endure." I suppose that is my biggest asset in all of these athletic pursuits. I have tremendous reserves of strength and grit. I am confident in this knowledge and for some innate reason, find deep satisfaction in taking on big events that test my limits. I will never be the fastest. I don't need to be. I just want to have these experiences to be fully alive in nature and the elements  Engaged. Alive. Strong. Happy to be there.
Ginny and I agreed, the Bootlegger 100 was a gut check for the
Dirty Kanza
which we plan to do in June. As my gravel cycling friend Will Shore commented, Dirty Kanza is longer but a different kind of tough. 10,000 feet of climbing over 200 miles is an entirely different matter.  Dirty Kanza 200 will be a vast mental game.
Middle George Epic
, Bootlegger 100… looking like Ginny and I are going for badass in 2017.
–Libby Skinner