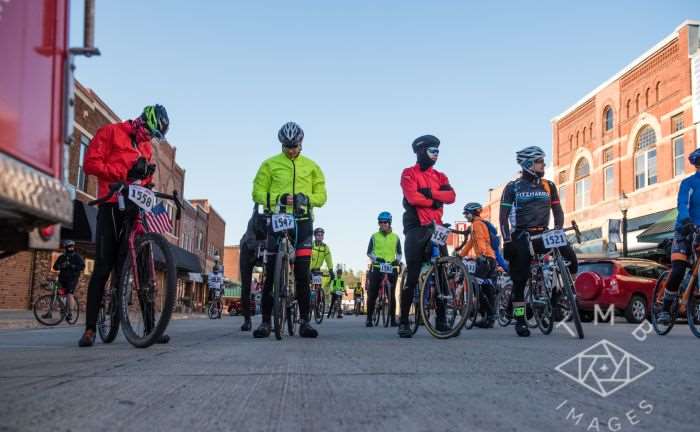 The Almanzo 100 was founded in 2007 and was the brainchild of Chris Skogen, regarded by many as one of the "founding fathers" of the Midwestern gravel racing scene. As the interest in gravel racing has increased, the Almanzo has turned into a bit of a juggernaut, with around 1,000 people registered for the 2016 event. Adding to the 100 mile distance is the Royal 162 (162 miles) and the Alexander 380 (380 miles).
Almanzo happens in south eastern Minnesota, a beautiful part of the state that is full of farms, river valleys and bluffs all linked together with miles of pristine crushed limestone gravel roads. Saturday, May 14, 2016, I took to the start line for the 2016 edition.
Last year, Chris Skogen decided to retire from putting on the race. The town of Spring Valley, the start location for the race, stepped in and took over management of the event. The entirety of Main Street is shut down for the roll out and the race draws many of the locals into town to cheer on the riders. To see how the town has embraced the event is awesome.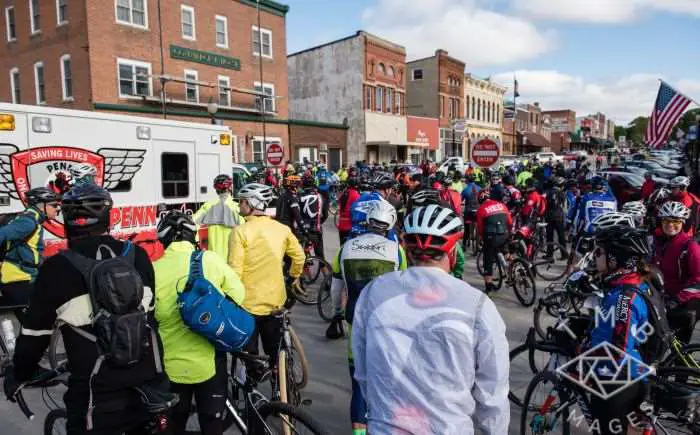 The 2016 edition was my fourth year of participating in the Almanzo 100 event and I was pretty excited about going. Unfortunately I had to miss last year's race, but was hoping to make amends with a good result; a decent block of training was bound to help. I examined the rider list and a few doubts began to creep in, namely due to the strong list of folks scheduled to take the line. Secretly I was hoping for a top 10 result, but thought it best to keep my expectations realistic and shoot for a top 20 – at least that's what I was telling everyone!
One of the things I love about gravel racing is how different the same course can be depending on the weather. I have raced the Almanzo 100 in the rain, stifling heat and near perfect conditions. The theme of the 2016 edition would be wind. With the wind steady at 20mph and gusting up to 30mph, it was going to be an interesting day.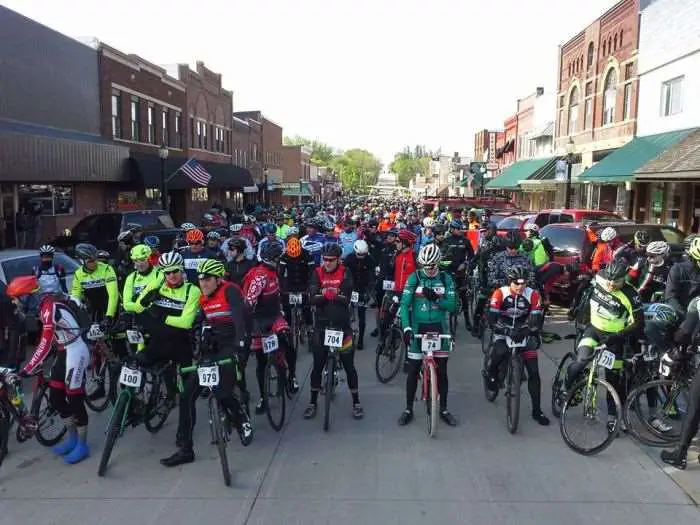 The starting gun went off and we enjoyed a few miles of neutral rollout from downtown Spring Valley.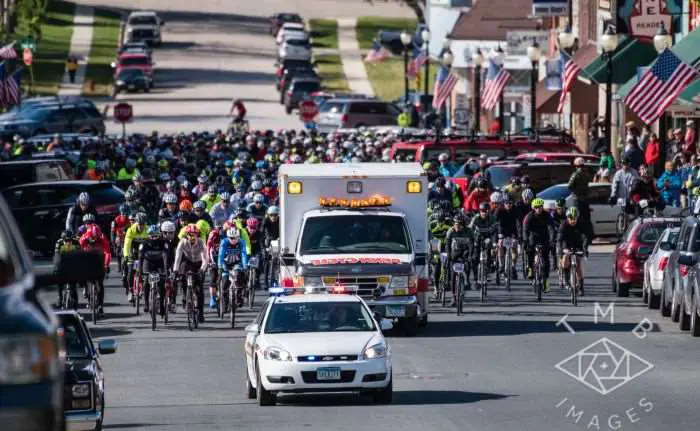 The group swung a right turn onto the first gravel road into a pretty good crosswind – and it was on! I spent the first 10 miles or so trying to stay in good position, out of the wind, while keeping an eye on the heavy hitters. Thankfully, this section of road was in perfect condition – or "hero gravel" as some call it, meaning there was plenty of room to maneuver.
At about mile 10 there is a fairly significant climb, at least by Minnesota standards. I was positioned well at the front – the pace was brisk but not out of control. By the time we crested the top the lead group was down to about 30 or 40 riders.
A Minnesota rider, Andrew Bergman, had taken this opportunity to strike off on his own. I knew this guy was strong, but considered his move to be crazy considering the windy conditions. Would he prove us all wrong by going so early?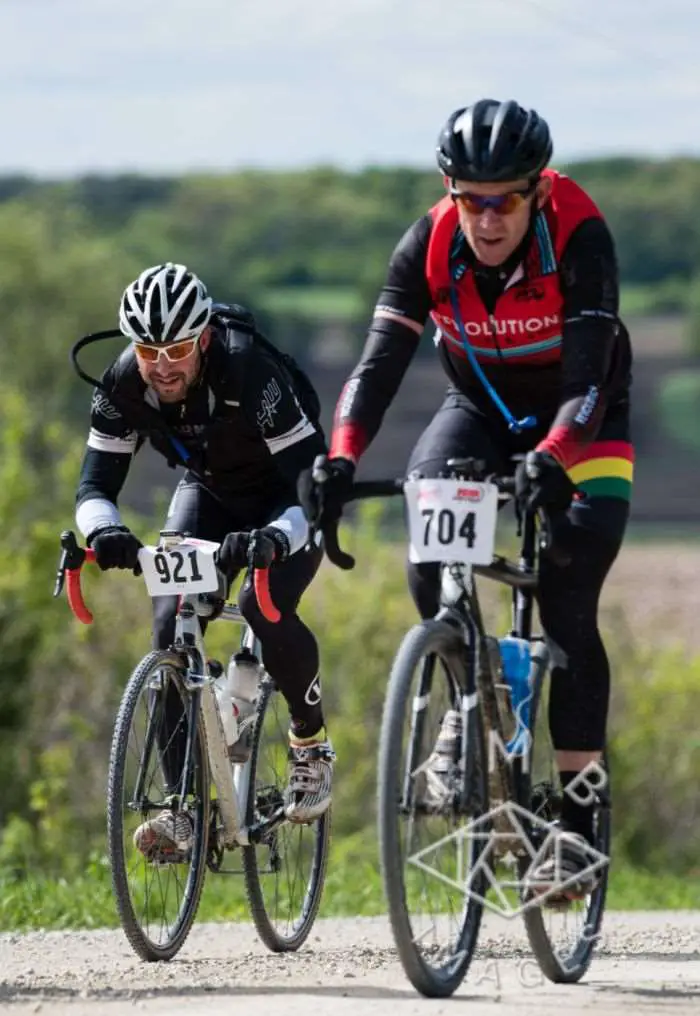 The group continued on at a fairly good pace, slowly whittling down in number as the crosswinds took riders off the back, one by one. The endless hills don't make things any easier; the Almanzo course consists of a lot of roller hills that just keep coming. Somewhere around mile 25 – 30 I could sense some riders in the group were getting antsy. I moved to the front and parked myself at first wheel. Sure enough, on the next rise, all hell broke loose when four of the strongest riders in the field punched it hard. Between the gradient of the hill and the relentless crosswinds, the group was blown apart. I was at my limit but managed to ride myself into the leading pack of six or seven riders.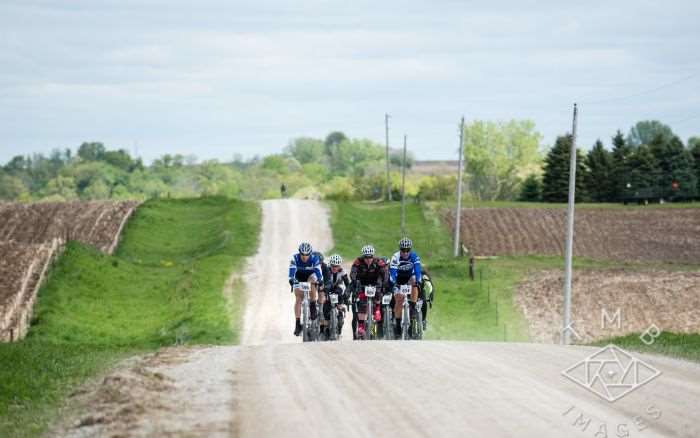 They continued hammering the pace while I did my best just to hang on. One of the riders in the group turned and looked at me to pull through. All I could verbalize was, "I will when I'm able to", but I'm sure my speech resembled only bizarre guttural noises. A few minutes passed which allowed me to recover and help with the workload. I was certain this group was going to stay away, but for whatever reason, the speed in our group eased enough to allow a chase group of nine or or so riders to catch back on.
Everyone in this group of 15 – 20 riders stuck together for a few miles until another hard attack went in the crosswinds. Three riders were up the road approximately 50 yards ahead with a chaser 20 yards back, which believe it or not was a couple on a tandem – they were very strong – with me 20 yards behind them.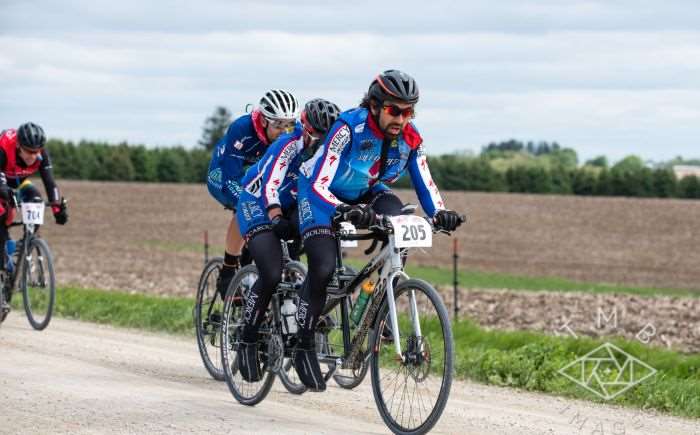 Know that feeling when you're so close to bridging but you cannot close that last little bit? Well that was me. I was killing myself and we were only 35 miles into the race. I gave up my delusions of grandeur and fell back to the next chase group. It was the best decision I made all day.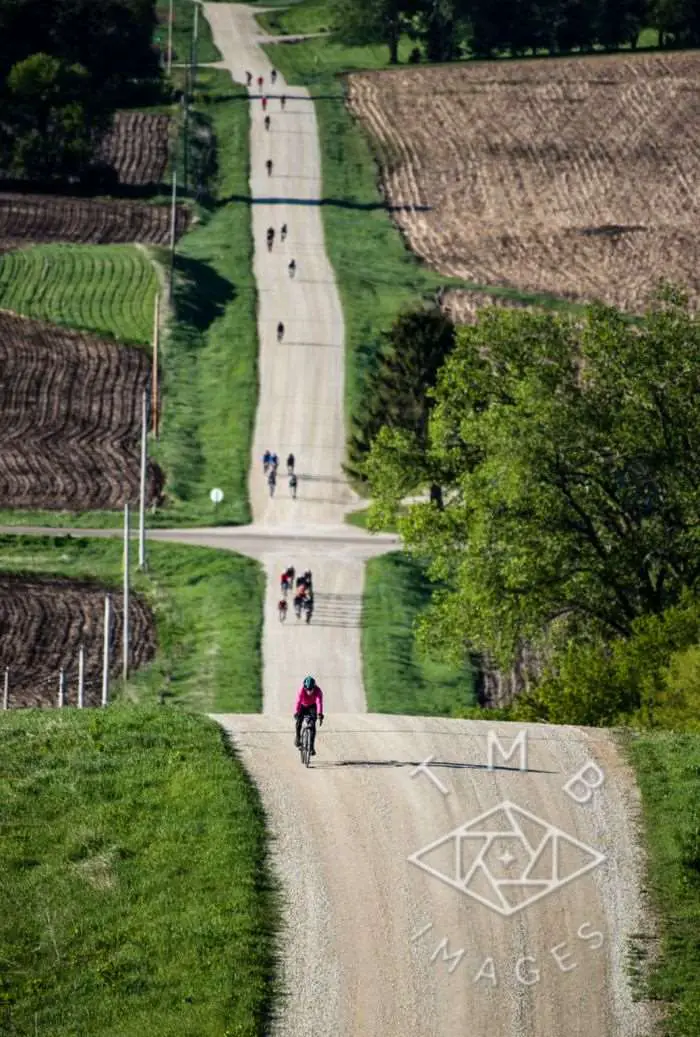 Our chase group consisted of seven riders, one of whom is a teammate and friend, Jim. Everyone began working well together, echeloning through the crosswinds, steady up the climbs, and enjoying sweeping descents into the valleys.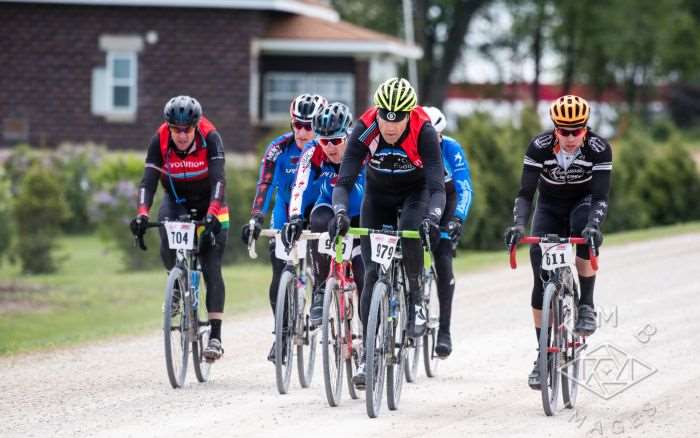 Between mile 45 – 60 of the Almanzo 100 are a lot of wide open roads with long straightaways. These roads were peppered with areas of fresh gravel – these areas were deep and there was no good line through any of them. While our group was working harmoniously, it was truly every man for himself as we struggled through the fresh gravel. I sometimes refer to "dark moments" I have during races. There were five miles or so in this section that were truly dark and I wasn't sure if I could hang on. But, I managed to make it out with the group and pressed on.
At 75 miles into the race, we continued working well together despite losing a couple of riders from the effort. Around this time, the course features a lengthy descent leading to a creek bed. Water levels at this creek can range from ankle deep to thigh high, as it was a couple years ago, literally trying to wash you and your bike downstream.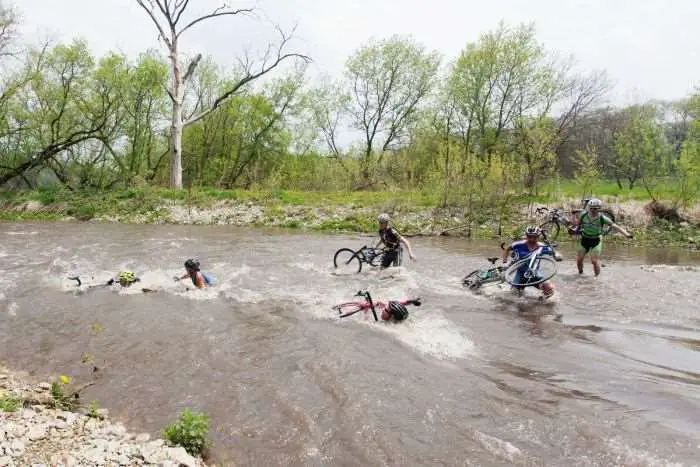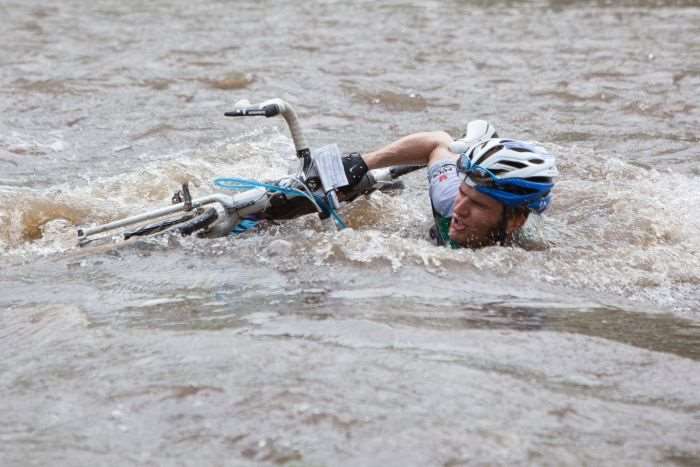 This year it was bone dry, and we rode straight across.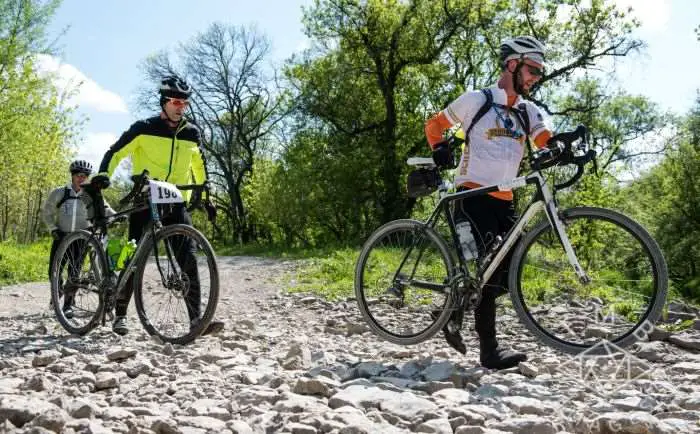 On the other side is another significant climb, and the guy I marked as probably the strongest of our group made his move.
We were down to four at this point and the three of us kept it steady, while the attacking rider increased his gap. Over the top, we were a bit undecided about what to do. Finally, we got our $hit together and worked together to reel him back in. I won't lie – we could have brought him back a bit sooner, but thought it best to leave him dangling ahead for a while, just to punish him for having the gall to attack us! After making the catch, we rolled through some picturesque wooded valley sections of the course.
At mile 90 comes the notorious right turn onto Oriole road. This climb peaks at over 20% in gradient and this far into the race it's a true slog.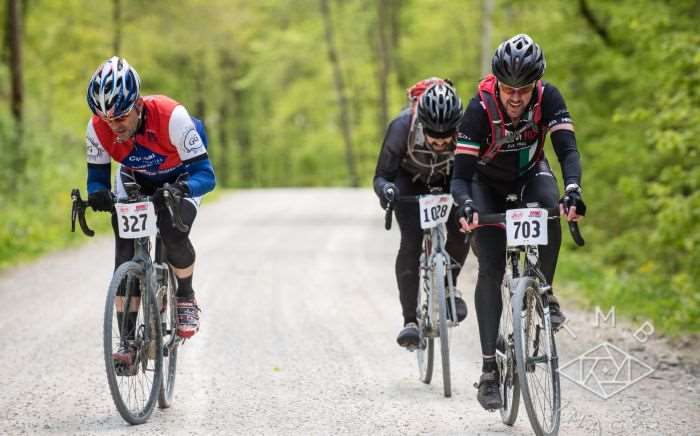 Our group stuck together on the climb, and rode through some more wooded sections. At mile 95 or so miles into the course, there is another decent climb. I attacked it as hard as I could, dropping the group. One of the riders from Iowa bridged across after the climb; teammate Jim was working his way back, so I sat up.
The three of us rode together until the last section where we dove down onto a walking path that leads through a park to the finish. I entered the path first and rode hard, noticing very little resistance from my companions. I crossed the line relieved to be done, very happy with a 7th place finish overall!
Incidentally, Andrew Bergman did prove us all wrong, going on to win the 2016 Almanzo 100, solo. Impressive!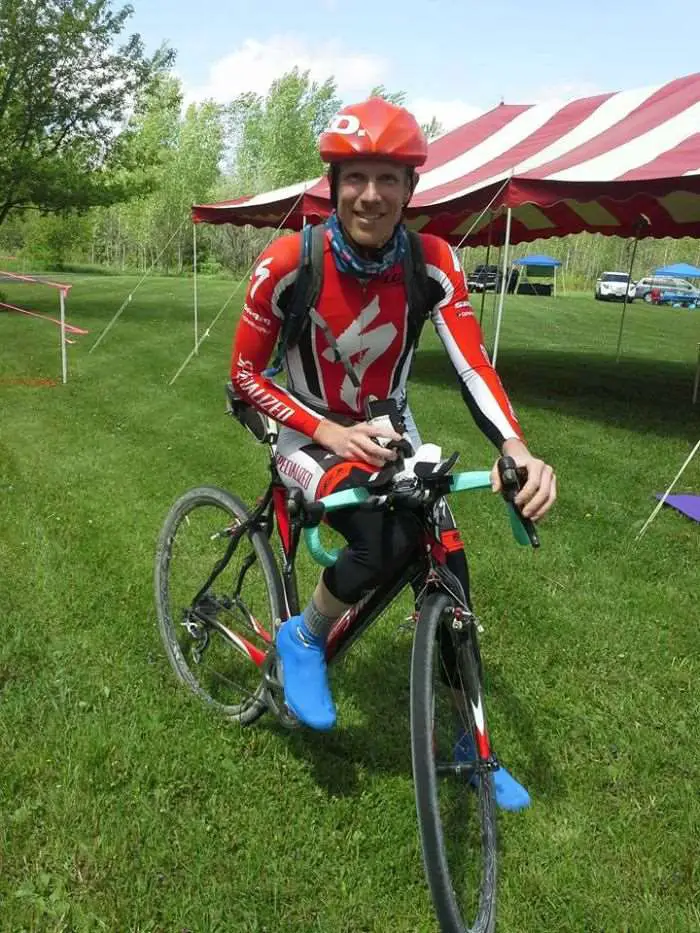 Interested in being a contributor?
If you have a cool gravel cycling story to tell – ride, race or just a cool experience – and would like to share it with the Gravel Cyclist audience, please send us a message at this link.