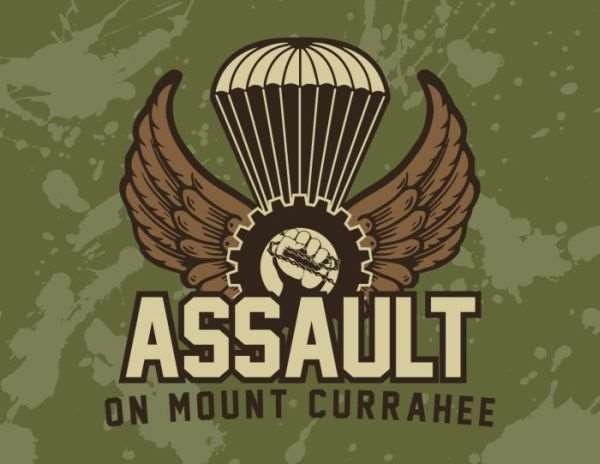 Just because Southern Cross has been temporarily postponed, it doesn't mean you need to be all sad, and remiss about a lack of racing.  February 28, 2015, The Assault on Mt. Currahee Ultra X Gravel Grinder is happening, which kicks off in Cornelia, Georgia.  Cornelia is roughly 50 miles by car east of Dahlonega, so check it out!
JOM and K-Dogg of Gravel Cyclist will be there, so:
Say hi to us 🙂  If the weather isn't insanely cold, we'll be wearing Gravel Cyclist Kit.
Be kind to us, because we're coming from Florida, and there's no mountains there (Excuse #1).
Excuse #2, we're racing the next day at the Heartbreaker Cycling Invitational in Gaineville, Florida.
Look good for the camera, because we'll be filming the event too!
REGISTRATION FOR THE ASSAULT ON MOUNT CURRAHEE IS HERE
Here's the latest from the promoter, Kenny:
What's the one thing that every racer needs after racing a 40 mile Gravel Grinder? FOOD! Thanks to our generous sponsors Hayes Automotive and the City of Cornelia, Georgia, there will be a delicious warm meal waiting for each of you after you cross the finish line at the Assault on Mt. Currahee next Saturday. This meal for every registered racer is FREE and included with your entry fee. Once you finish the race, walk on over to Natalie Jane's Tavern, and enjoy your meal and indulge in some beverages as we get the awards ceremony kicked off at 2 pm inside the Tavern.
PLEASE READ the important details below along with the adjusted timeline of race day:
*Your race entry will include a warm meal following the race at Natalie Jane's Tavern. Each racer must specify the selection of food choice upon registering on Friday or Saturday morning. Additional meals and beverages may be purchased for family or friends.
Meal Options:
Fish n' Chips (Cod deep fried to perfection in our soon to be famous breading).
Shrimp n' Grits (Creamy Jalapeno Cheese Grits with Cajun garlic sautéed shrimp topped with crumbled bacon).
Pot Roast (Puff pasty filled with garlic mashed potatoes, topped with shredded pot roast gravy).
Mom's Spaghetti (This is a dish that my friends looked forward to having when they came over. It's a savory tomato meat sauce filled with Italian sausage, meat, veggies, and lots of secrets that slowly cook for three days to bring out the Italian flavors).
Hot Brown (It's an open face sandwich. Texas Toast topped with Herb Roasted Turkey, Smothered in Mornay Sauce, then baked with Romano Cheese, Apple Wood Smoked Bacon, and Roasted Tomatoes).

Spinach, Tomato, and Mushroom Tortellini ( Tri colored Tortellini tossed in a creamy Spinach and tomato cream sauce with slices of Portobello Mushrooms).
Saturday February 28th:
7:00-9:00am – Packet Pick up /Race day registration open located at the Train Depot in Cornelia, GA.
9:30am – Racers Meeting all racers must attend located at the train depot.
9:30am – Drop bag cutoff for Aid Station – Drop bags will leave the venue at 9:30 am. If you cannot meet the cut off deadline, you will be responsible for transporting your own bag; or rely on the Aid Station for Hydration and Nutrition. Please pack your drop bags using your own bags.
9:45am – Bikes positioned on start line.
10:00am – Race start.
1:00pm – Natalie Jane's Tavern Opens for the after party 137 Hodges Street, Cornelia, GA.
2:00pm – Approx. time Race awards (when the top 3-5 finishers in each category are finished). Awards ceremony will be inside Natalie Jane's Tavern.
3:00pm – Time cut off to guarantee an official race time.
4:30pm – Natalie Jane's after party Closes.