About the Pony XPress Gravel 160 Ride
Held in the beautiful rolling hills of Trinidad, Colorado, the Pony Xpress is a 160 mile, 90 mile or 50 mile gravel grinder, held on May 16, 2015. The PX 160 is made up of 96% gravel county roads and 4% blacktop county roads that wind throughout northwest Las Animas and southern Huerfano County. Each distance has only 6 miles of blacktop.
Tony Huston's 90 Miler Ride Report
Minus 34.
No, that wasn't the temperature at the start of the second annual Pony Xpress 160. And no, it's not the answer to a math problem involving the number of beers remaining after X number of cyclists finish a gravel race. In this context, minus 34 is much more profound. It is a number that will shock and awe. A number that should never be found in the report of a mountain gravel ride.
"Okay, my interest is mildly piqued," you say. "But be quick about it, because you said 'beer,' and now I must obtain one."
Very well. Minus 34 was—drum roll please—the elevation reading on my GPS the day before I rode the PX 160. That's right, in the space of 24 hours, me and my buddy, Pat Smith, crawled out of a 34-foot-below-sea-level hole in Houston, yawned our up way to Trinidad, Colorado, and toed the starting line of a mountainous gravel race, facing a daunting apex of nearly 9000 feet. No acclimatization. No real idea of what to expect. Just two blissfully ignorant cyclists with a spontaneous "you-should-be-dead-by-now" thirst for adventure.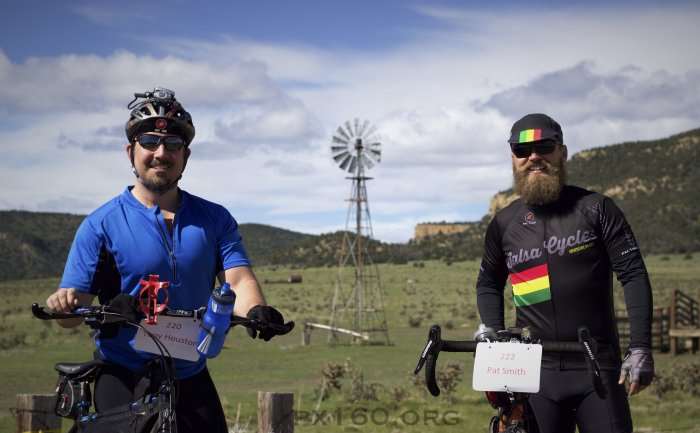 The staging area was in Cokedale, CO, an old mining town at 6300 feet just west of Trinidad. We arrived at about 6:30 AM and were greeted by a single white tent, a Port-a-Potty on a mini trailer, and about 15 cyclists, give or take. This immediately answered a question we'd had since registering for the event four days prior—how big is this thing? In just its second year, the PX 160 is still in its infancy, so we'd been curious about how many riders would show. But participant info was marked as "private" on the registration web site, so we really had no idea what to expect. That being said, I'm betting this thing gets bigger over the next several years.
The temperature was a crisp 45 degrees—quite a smack in the face since we'd just slugged out of the soul-wilting 85 degree sauna of Houston. The 160-mile riders had rolled out at 6:00 AM, and the 50-mile riders were due to depart at 10:00. Pat and I were in the 90-mile group, which started at 7:00. After a quick rundown from Phil, the race organizer, we were off! And by "we were off," I mean that we watched as the other 90-milers soared out of our lives, banging up the initial 13-mile climb with their homegrown, bellows-like Colorado lungs.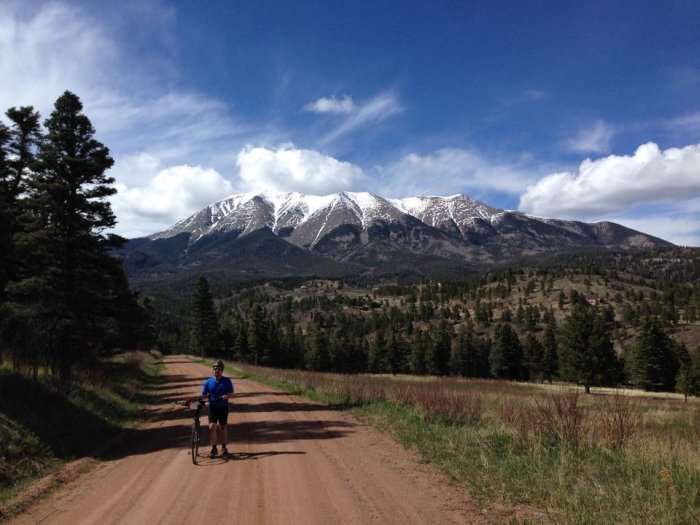 We fully expected this, of course. We're 40-somethings who've lived our entire adult lives in the horizontal un-wilds of southeast Texas. We didn't come to Colorado to compete. We came to ride and to gawk at gorgeous mountain scenery. And secretly, I hoped that a bear would dart across Pat's path and cause him to brown his chamois for my amusement.
After six miles of pavement, the course turned to gravelly goodness, winding into the piñon-speckled Sangre de Cristo foothills. Though we huffed and huffed, acclimating on the fly, we were thoroughly enjoying the fresh air and the soothing scenery. But ten miles in, a rider approached from the opposite direction. He was one of the 160-mile racers who'd started at 6:00, and he'd turned the wrong way! He was crestfallen when we showed him that he was off-course and suffering a huge penalty. After setting him straight, he hammered off, hoping to make up time. I shudder to report that we would not see the last of him.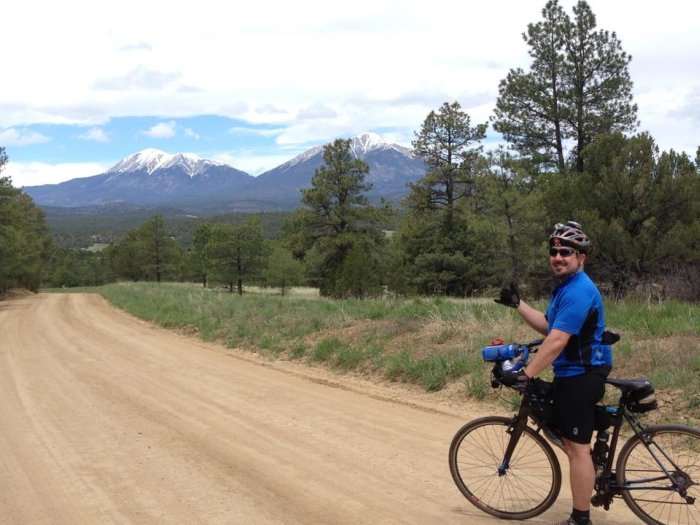 Thirteen miles and 1200 feet of elevation later, Pat and I were rewarded with our first downhill, a 12-mile grin-maker chocked full of Colorado coolness. As the wind rushed in our ears, we stole glances at weathered, crumbling homesteads, mining ruins, charming windmills, and sweeping vistas dominated by the snow-dusted Spanish Peaks. More than once, we were compelled to stop and take pictures. Did I mention we weren't racing?
The first aid station at 25 miles in had everything you'd expect: water, bananas, cookies, gels, etc. Jesse, son of the race organizer, was manning the station, and he dutifully confirmed that we were waaay in last place. However, the 50-milers would be starting at 10:00 AM and they'd be following the same course. So if we used our imaginations and a bit of cognitive dissonance, we could conceive of a reality in which we were actually kind of in first place.
We set off again, slowly climbing back up to 7500 feet. There were more collapsed homesteads and mining ruins, and I was particularly pleased to encounter a small, mostly-intact jailhouse right off to the side of the road near some disintegrated coke ovens. It was big enough for two or three scallywags, and it still had the rusted, iron bars in the windows. I speculated that it had mainly been used for miners who'd had a wee bit too much whiskey.
(Mmm . . . whiskey)
This part of the course looped around on itself, and to our surprise, the 160-mile rider came chugging up behind us—he was off-course again! His Garmin GPS was apparently steering him wrong, and he'd not been paying attention to the course markers. With his debilitating blunders mucking up his race, Magellan (as he will henceforth be known) was struggling with whether to continue his race. Pat helped to set him straight, and he blasted off, still hoping to make a 160 mile day out of it.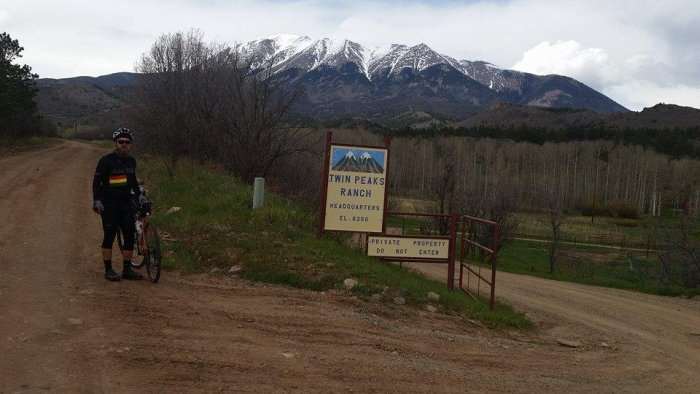 We pedaled on our merry way, sucking in smog-free mountain air and forgetting about jobs and bills and clocks. I'd taken off my undershirt and leg warmers, pleased with the wide open blue sky and the chilly nip in the wind.  After topping out at 7500 feet, we came upon the HIGHWAY OF LEGENDS! Yep, a sweet name like that deserves caps and an exclamation point.  At the time, we didn't know why the highway was legendary, but I've since done a little Googling. Here's a descriptive excerpt from what I found:
The lore of this area is vivid, swirling in the spiritual myths of the American Indians and the history of their clashes with Spanish explorers. Like much of Colorado, where the promises of fortune led, trouble followed and tales of outlaws "settling their differences" are common.
Along this stretch of two-lane highway, you can view unusual volcanic formations radiating outward from the Spanish Peaks. The highway rises to Cuchara Pass on the shoulder of the Spanish Peaks. The Tarahumare Indians held these summits as sacred and believed that all life on earth originated from the area. Below the pass is the glorious Cuchara Valley, a hidden wonderland even most Coloradoans have failed to notice.
And here's my own (slightly exaggerated) addendum:
This portion of the PX 160 is a smooth, screaming orgasm of downhill deliciousness. High gear is rendered useless as you attain Marty McFly time travel speeds on your descent into the second aid station. You're riding the HIGHWAY OF LEGENDS, son.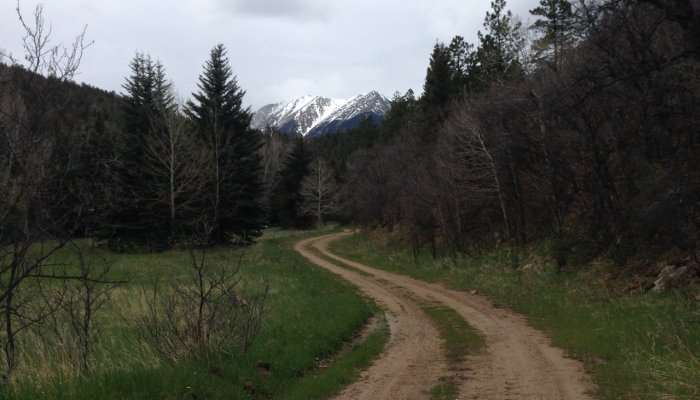 In high spirits, Pat and I chatted with the two lads manning the 45-mile aid station while we shoved food down our holes. And loe and behold, Magellan puttered in from around the bend! The poor, 160-mile stalwart had once again missed the course markers, trusting in the same GPS that had tricked him into cycling a squiggly, spaghetti-like course. Now here he was, his belly bulging from the 81-mile penalty he'd been eating. After offering our words of sympathy, we watched him swallow his dessert, an ugly plate of DNF, and he pedaled off toward the staging area. Or so we hope. Dude could be in Alaska by now as far as we know.
Fully charged, Pat and I wound our way into the remotest part of the course. Paralleling a beautiful, babbling brook and more mining ruins, we happily doo-doo-doo-doo'd down the primitive road like sightseers on a camping trip. I remarked that the area looked like true bearritory, and a few seconds later, Pat spotted some bear tracks.
And then began the most formidable portion of the PX 160—the long, 20-mile climb up to 8,800 feet. We'd mentally circled this portion of the elevation profile earlier in the week, nervously assuring each other that we could do it. We knew we'd be slow—no point in denying that. The question was how slow? Would we have to stop every five minutes to allow our tiny, flatlander lungs to recover? Would we labor so long that we'd be swallowed up by the darkness before we finished the race? Would Magellan suddenly come around the corner with the crazed eyes of a man who'd lost his soul in a flurry of twirling course markers?
As we suspected, the climb was brutal and never-ending. Laboring on and on, we took turns telling each other that we weren't crying, there was just . . . uh . . . mountain dust in our eyes. But when we crested the nearly 9,000 foot summit, we smiled. It was all downhill from here.
A glorious, 30-mile descent to the finish line ensued. Well, mostly descent—there were a few annoying gotcha!-climbs waiting for us, but we knew were going to finish, and that was an awesome feeling.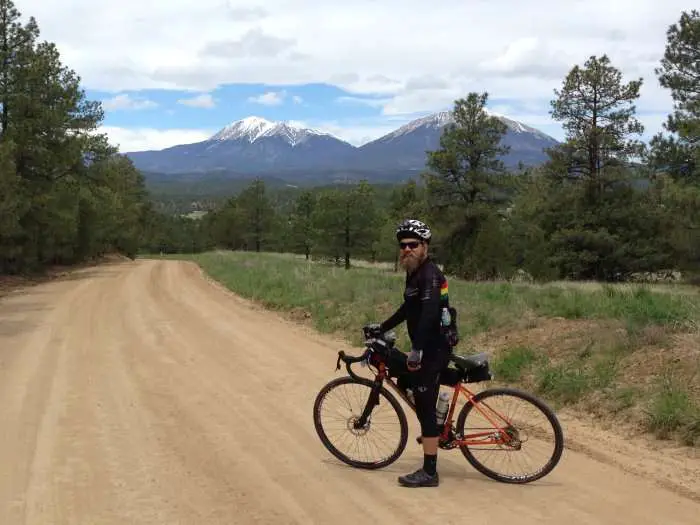 Coming down from on high, the course turned south-southeasterly. Thus, the epic views of the Spanish Peaks were behind us the rest of the way. At 75 miles, we came to the last aid station. Phil (the race organizer) and his son, Jesse, were there waiting for us, and let me say that I have never seen a man happier than Phil was at that moment. He was laughing and giving us bro-hugs, relieved beyond belief to lay eyes on us. Apparently only me, Pat, and two other riders were unaccounted for. Everyone else had finished or dropped.  Phil and Jesse had been waiting at the aid station "forever" and were just about to drive the course and start looking for us.
Did I mention we're slow?
Onward we cruised. About 15 miles from the finish, I had my first flat ever on this bike. It happened when my back tire hit a fist-sized rock in a very chunky portion of gravel. I changed the tube, hung the old one on a fence post, and we were off—until I flatted again! A damnable cattle guard was to blame this time. There are a billion of them on this course. Luckily, I always carry two tubes.
Finally, just as the sky was changing from dusky-orange to grey, we rolled into the finish. I laughed out loud—not only from the joy of finishing this epic ride, but also because my truck was the only vehicle left in the staging area. It don't get any more last place than that. Pat and I bumped fists and looked back at the glorious course we'd just completed. And there, along a dusky ridge far in the distance, we saw Magellan riding into the ethereal unknown.
(kidding)
That about wraps it up. Of all the gravel rides we've done (The Land Run, Red River Riot, Texas Chainring Massacre, El Camino 205) the PX 160 is by far the most beautiful, and also the most challenging. For our money, Pat and I had a fantastic ride, and we can't wait to come back.
Click HERE for Tony Huston's free horror story involving cycling and bad coffee.