GravelCyclist.com raced Pisgah Monster Cross in 2015 and 2016 and loved every inch of it. There was something in it for everyone…mountains, mountain streams, thousands of feet of climbing on gravel and twenty miles of climbing on the smoothly paved Blue
Ridge Parkway. There were gorgeous mountain top views and blue sky for miles in all directions. There were also plenty miles of gravel descending that were not too uncivilized even for this old Florida flatlander.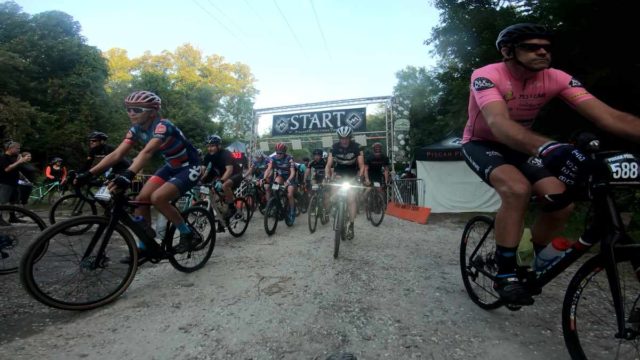 Then, in 2018, things changed… and not for the best for The Dogg. The silky Blue Ridge Parkway was replaced with what I call The Lollypop Loop of Terror. If you have read my little stories you know I descend steep or rocky sections like a plucked chicken. Every off-camber corner produces terrifying head movies and irrational hard braking regardless of professional advice.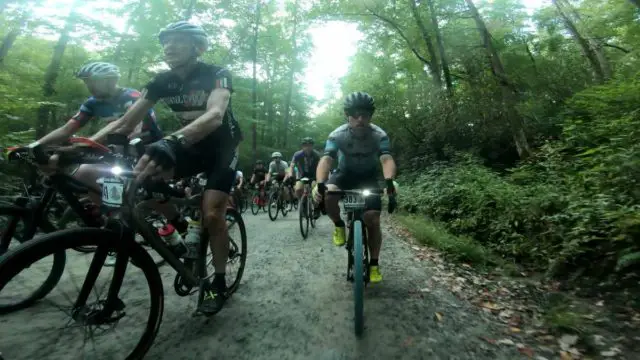 JOM tells me to never stop pedaling even if you are careening towards a cliff or colossal tree. Bob Cummings of the Panaracer Gravel Team tells me to clench my knees to the top tube to clean sketchy or tight corners. I told Bob I DO experience clenching but not near my knees… somewhere else not mentionable.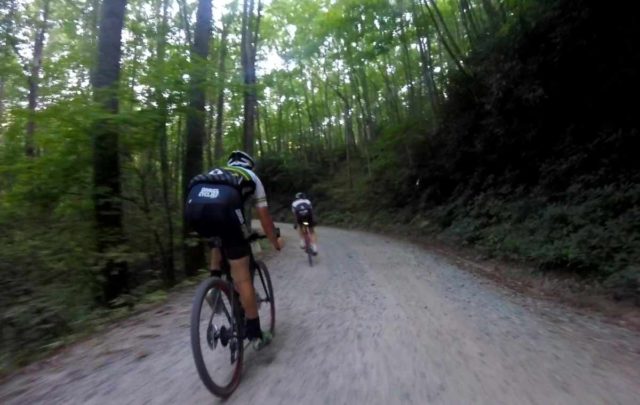 During much of the race, my teammates Jimbo and JOM went flying (gleefully) past me on most long descents. "Get on the drops K-Dogg!" Jimbo yelled helpfully. "Go eff yourself!" I rudely reply then clutch brakes even more pathetically. "I'll catch you on climb *itch!"  I actually did catch them on most long climbs so this less than inspiring banter went on all day. I realized an actual race is not the time to practice. We don't have switchbacks in Florida unless they mysteriously appear on beer rides.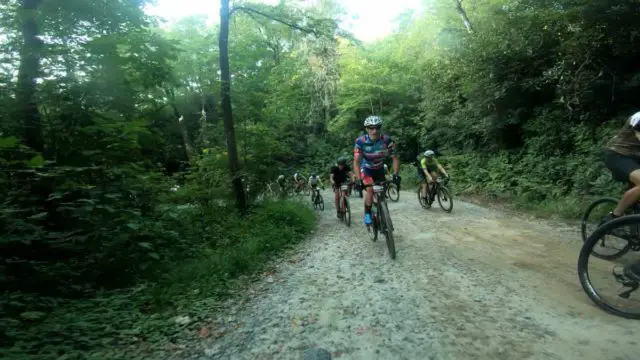 Mostly I just ignore the boys and clench my awesome hydraulic brakes harder and more frequently until the terror subsides.  There is a world war two movie called "Kelly's Heros" where Boomer (played by Donald Southerland) drives a modified tank that is faster in reverse. "I like to be able to get out of trouble twice as fast as I get into it." he said. I am sure Boomer would love my hydraulic brakes.
Now please don't be turned off of this race on my account. The vast majority of racers rode perfectly safe and confident. I did see two crash victims but they ended up finishing just fine.
One was teammate Jimbo (JOM got it on camera – see JOM's race report and coming video) and a young lady halfway down the worst section of the "Lollypop Loop of Dread". Jimbo slid out on wide loose gravel soon after lecturing me on the fly around. The young lady did an endo on a section she had just warned us about. Jimbo played the good Samaritan and made sure she was ok.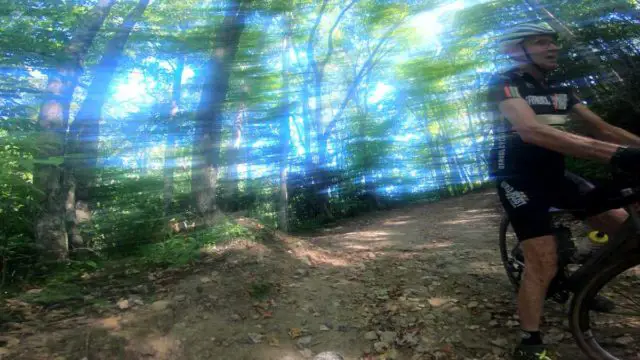 JOM yelled at me for flailing around in his way like a dog with three legs. The worst section of the LLOD was a minefield of baby heads, adult heads and even a sea of Sasquatch skulls. It was also peppered with sudden drop-offs… lame for real mountain bikers… but uncomfortable to many I'm sure. Next year I will practice that section. I will probably still just walk it.
But the bad section ended pretty quickly and we were back on smooth pavement with enough time to check my shorts and tear open a much needed but delayed Gu. Unfortunately, right at this point, my frame slapping chain threw itself into a double helix Dr Crick and Watson would have been proud of and refused to budge. Luckily Jimbo was right behind me. "I've never seen a chain do that K-Dogg" he said scratching his head. Thankfully Jimbo used to be a bike mechanic some 30 years ago and simply punched the right crank arm backwards without breaking the chain nor his fist. Amazingly it worked except that it rotated the Di2 front derailleur so every climb now
required a quick dismount and manual change into the small ring. Looks like I'm shopping for a new clutch rear derailleur now. No stopping now!
The return was an out and back of the course's lollypop stick section so there were no surprises except for the last food stop where I came upon JOM and Jimbo. Jimbo was upending a large bowl of M and M's into his mouth, he looked like a human funnel. I kept rolling.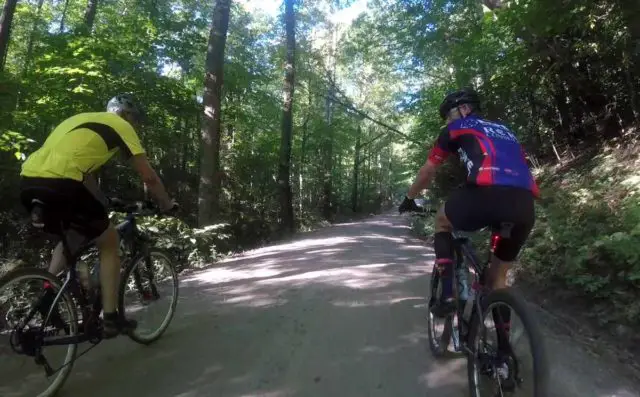 Throughout the ride, I was always happy to chat with and be motivated by friendly strangers who yo-yoed back and forth with me depending on terrain features that favored different skills. Chatting always takes your mind off any discomfort or fatigue you may experience. A special shout out to Team Yo-yo (Eric Hammond and Bryan McArthur) that kept me rolling for many miles off and on.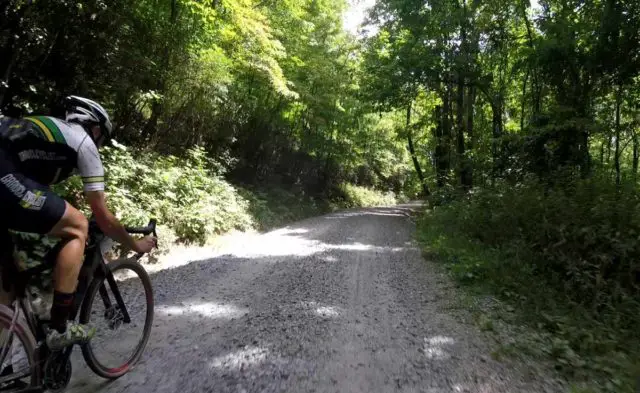 Eventually, JOM caught up then left me on the last five-mile descent. We both remembered, not fondly, the shaken baby syndrome and harsh washboard bottom bruising we had to endure careening down that final but endless gravel section. It seemed as if some fiendish road grader purposely saved the worst washouts for the inside corners… which is usually the best track.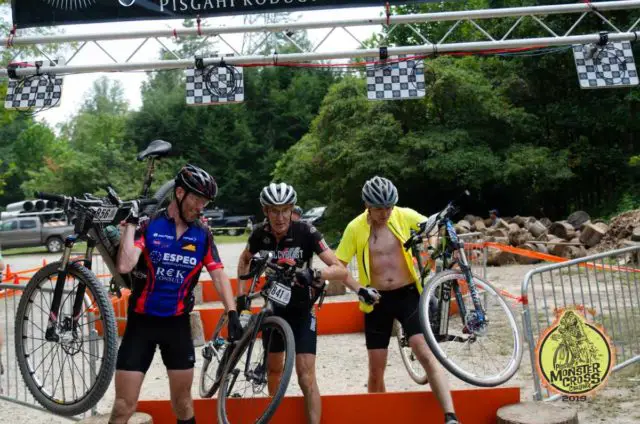 Soon enough we hit the last mile of super-smooth pavement and I rolled up to Team Yo- yo one last time. I couldn't help hooting and fist punching the air as I stood up and sprinted ahead. Not to be upstaged, Eric and Bryan chased me down then we all leaped (staggered) three abreast over the final totally inappropriate cyclocross barriers. "Woohoo!" we shouted, then rushed the keg of beer.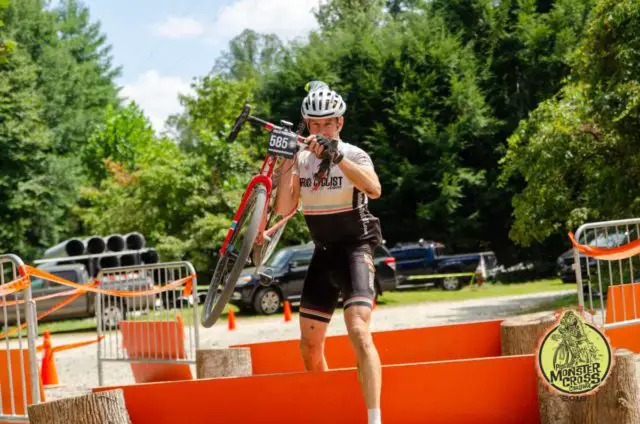 See y'all next year but next time with comfy shocks and tires wide enough to make a mountain biker blush.
K-Dogg