About the Race
Pisgah Monster Cross 2015 (09/12/2015) – a tough event hosted by Pisgah Productions that begins and ends close to Brevard, North Carolina, in the depths of the Pisgah National Forest.
Depending on the year – odd vs even years – clockwise or anti-clockwise – the course features 8,000 feet or 11,000 feet of climbing – across 70 miles of paved and gravel road surfaces. Forty of those miles feature of some of the toughest gravel roads in the Pisgah National Forest, along with the highest paved road elevations of the Blue Ridge Parkway. For 2015, we were racing in the clockwise direction with 8,000 feet of climbing on tap.
The Gravel Cyclist Crew visits Pisgah Monster Cross
Rusty (our newest member – read more about the team HERE), JOM and K-Dogg, made the trek from Gainesville / Ocala, Florida to attend the 2015 edition of Pisgah Monster Cross. We have some lovely roller hills in Gainesville and Ocala, but those are less than ideal preparation for ascending the mountains of Western North Carolina. But, we've never allowed good judgment or logic to deter us from giving it a go and having a lot of fun in the process! Some people think we're idiots and we're OK with that 🙂
Race morning, the crew awoke at 5:30am and sauntered about the hotel room while downing breakfast. Sometimes we'd peek out the window at the damp parking lot, hoping the early morning rainfall was truly done. We have much experience with sludge races in 2015, but for once, we were really hoping we wouldn't spend a day covered in crap, or dealing with knackered drive trains post-race.
After a casually late arrival at the race venue, the crew rolled to the start in their spanky new Gravel Cyclist kits. We made an equally casual arrival to the start line, when promoter Eric Wever called the masses to line up. I (JOM) milked camera-person status (highly overrated), and was among the last to line up – conveniently in the front row – not really a place I belong… but I digress.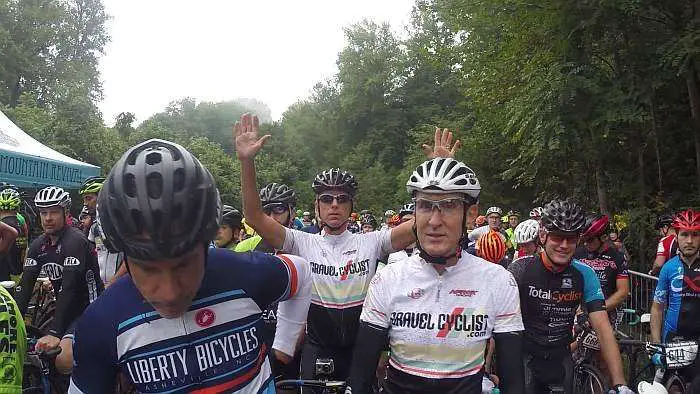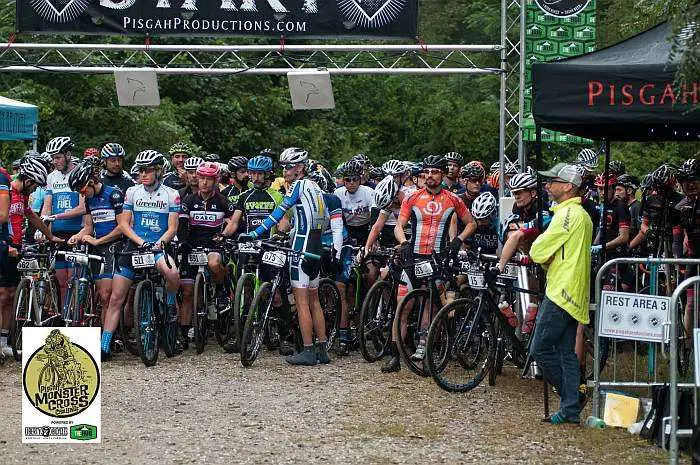 Race Start
No rain! The race began in a most gentlemanly manner – there was no mad scrambling for a hole shot, rather a controlled start as everyone settled in for the serene pace behind the leading police vehicle.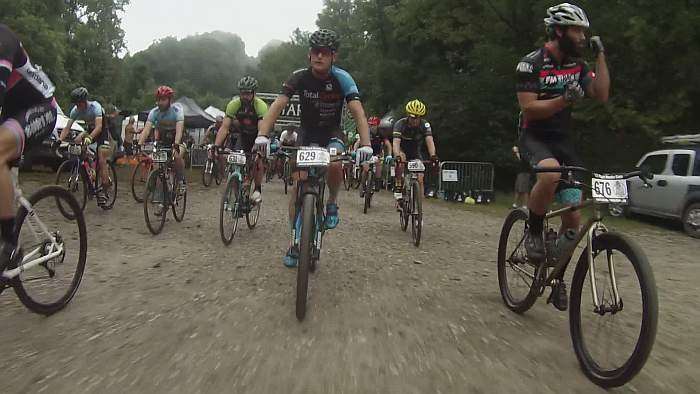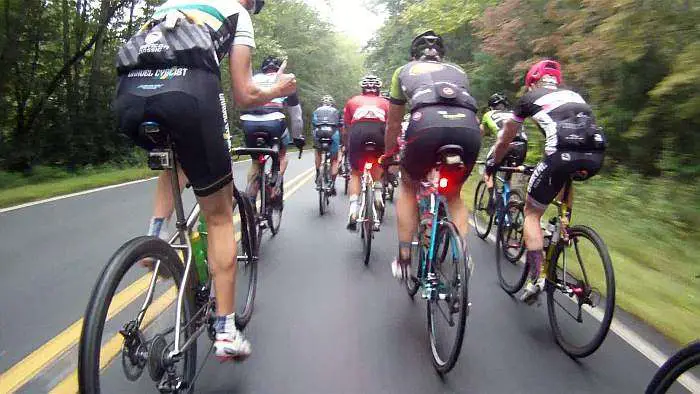 But serenity would soon leave us, as the road steepened markedly on US 276 approximately five miles along the course, close to the first gravel road – Forest Road 475. The group split, and your writer (JOM) was already on the tail end of the lead group and in a bit of doo doo.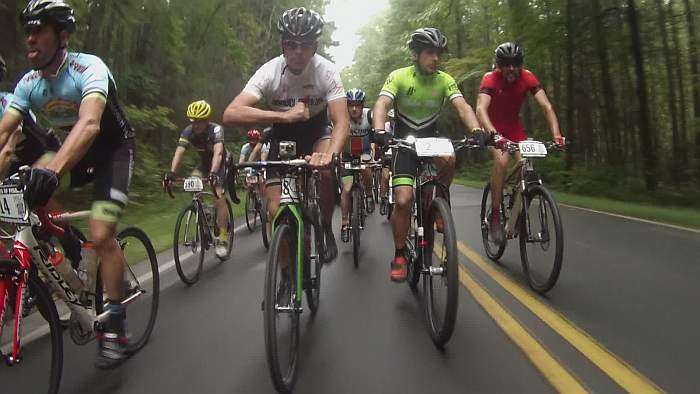 My teammate K-Dogg commented post race – "I heard you groan on that first paved climb before Gravel Sector #1". I don't recall making that groan, but it was a sign of the things to come. Ordinarily I don't pay attention to heart rate data in races, but when I took a gander, it was already well into the red zone and the legs were feeling a bit empty.
What to do?
Go home? Nope. Call my mum for a ride? She lives 11,000 miles away, so that wasn't happening.
Answer: Suck it up, keep riding and hope that things turn around later on. There are those descents to think about… which I (JOM) do rather enjoy.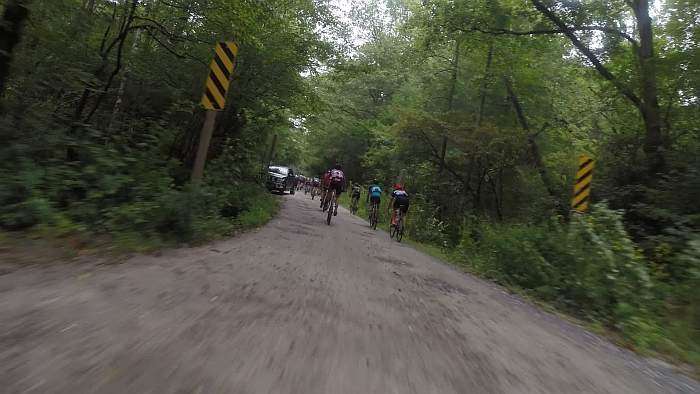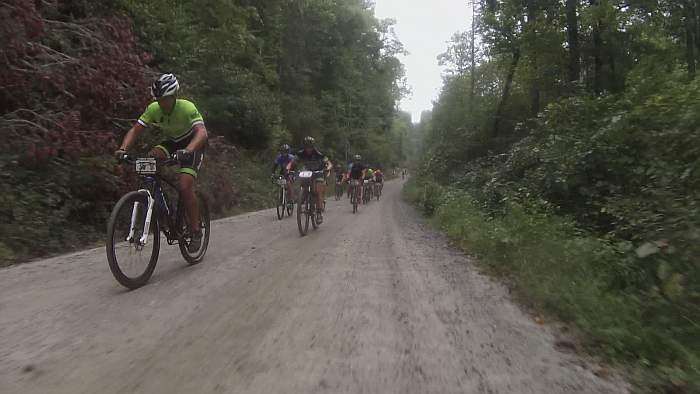 After cresting the first of two gravel peaks on Gravel Sector #1, I safely negotiated the sometimes gnarly gravel descent, trying to make up time along the way. There were the usual sights of an ejected bottle or a fellow racer by the side of the road fixing a punctured tire (tyre) – and some pretty nice scenery.
Additionally, the weather was near perfect. Mid 60's Fahrenheit and overcast.
The ascent of NC-215
Because of reasons alluded to earlier, I wasn't in a primo state to be setting records along the paved climb of NC-215 – the longest climb of the day, and the climb that connects the course to the Blue Ridge Parkway. But I chugged along, setting my own damage control tempo.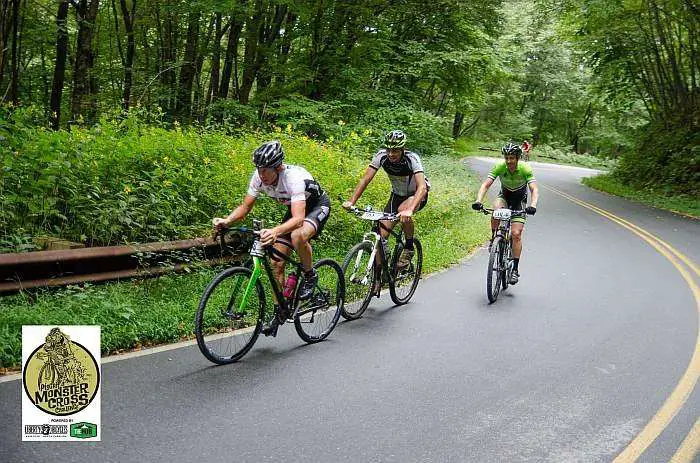 A lot of people rode past me – everyone offered a friendly hello, including many people I've met in the past – in-between heavy breathing everyone exchanged pleasantries about how tough the climb of NC-215 was. Thirteen percent grades at some sections, it is definitely a climb to settle into a nice rhythm.
NC-215 tops out at around 5,400 feet before the course heads onto the Blue Ridge Parkway and heads in an easterly direction. The climbing continues for another two to three miles, before the first true descent of the day.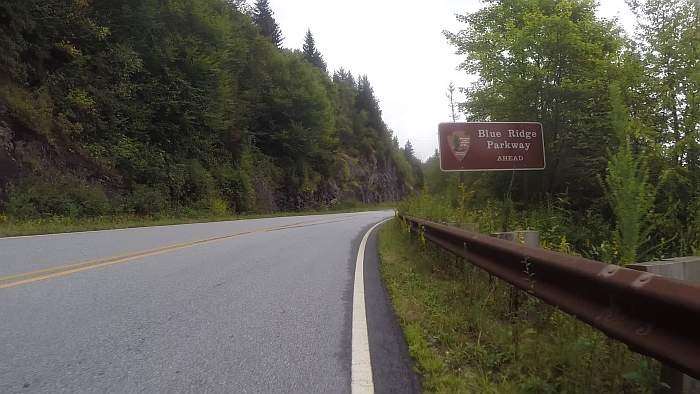 The Blue Ridge Parkway
For those who haven't ridden their bicycles along the Blue Ridge Parkway, they are in for a treat. Amazing views of the surrounding mountains are on tap – they were even better on race day, with tree tops on the mountains below punctuated by fog and cloud cover.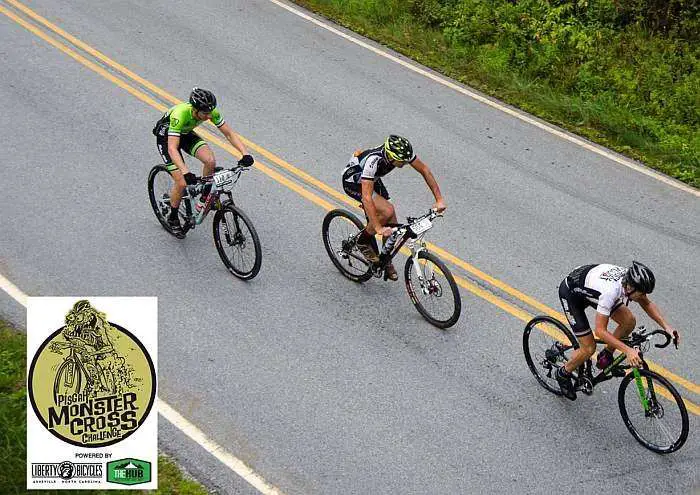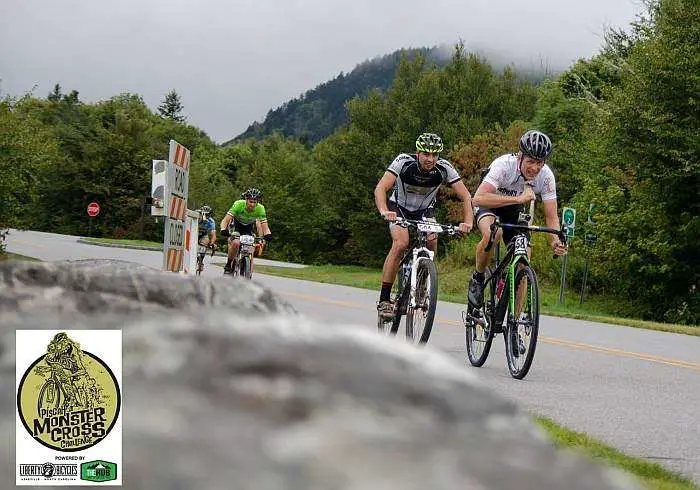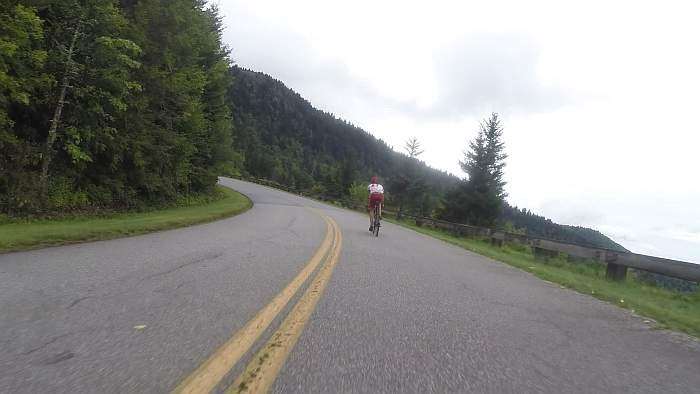 Even along the descents the Blue Ridge Parkway is a tough ride. Thankfully the wind was pretty favorable race day, but riding in no man's land between groups with nobody to work with is a chore. But for a guy like me, these are parts of the course to make up time – a Monster CX bike tops out gear wise at around 40ish MPH (assuming a 42 x 11 gear). Imagine pedaling flat out, adopting an aero tuck, then repeat pedaling anytime the speed dropped off.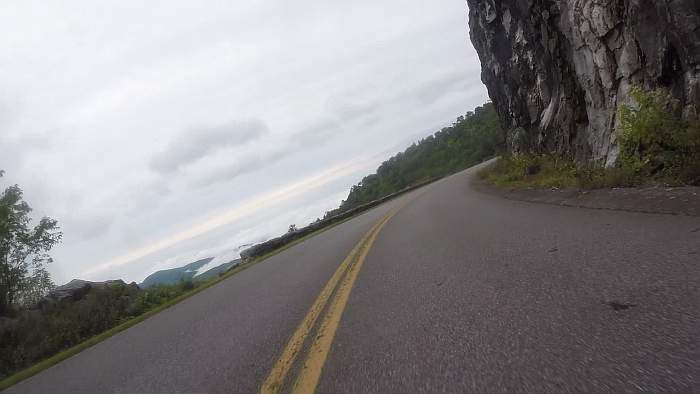 There are also the tunnels of the Blue Ridge Parkway – front and rear lights are recommended. Most of the tunnels, one can see the other side and its guiding light. Tunnel No.1 through Ferrin Knob, not so. In this scenario, its advisable to keep a reasonable distance between any cyclist ahead before entering the tunnel – and hope you can see their rear light – or their silhouette, and no in-tunnel obstacles!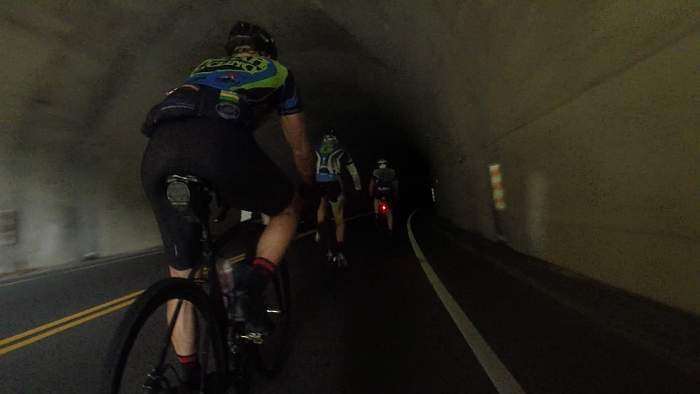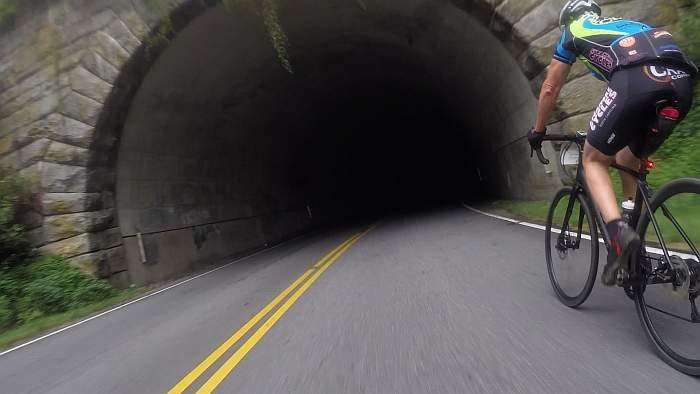 Close to the peak of Mount Pisgah, I connected with a group of Pisgah locals, who really helped make the remainder of the trip down the Parkway a rapid one.
The second rest stop resides at around 70 kilometres / 44 miles into the course, just after the right turn off the Parkway – perfect timing for hydration and chow in my case – and the start of the descent of Forest Road X that runs parallel to Wash Creek.
The Long Gravel Descent (FSR 5000)

The descent of Forest Service Road 5000 is not one to be taken lightly. It is technical in nature, heavily rutted and covered in loose gravel at many points. It is a descent that favors the bold and those on mountain bikes – or Monster CX bikes. Front suspension or bigger tyres are your friend.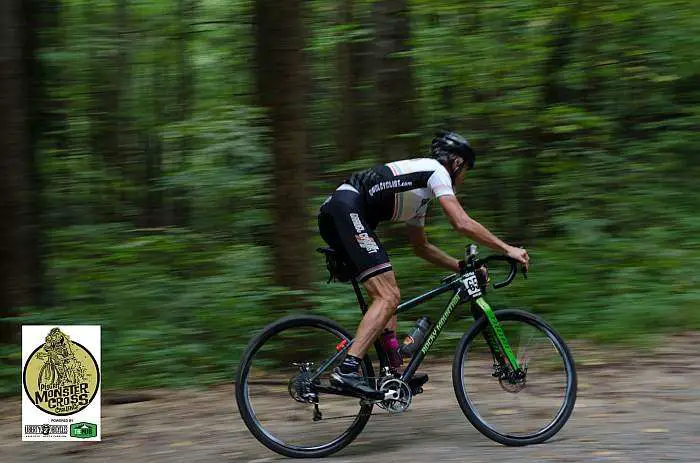 It was at the top of this descent that I connected with another friend, Clive de Sousa, proprietor of the Greenville-based bicycle shop, Glory Cycles. Clive and I go back a long way. He's originally from South Africa and I'm originally from Australia. There was no way I was going to allow my South African mate to show me up on a descent. So we bombed it, fast.
Clive was aboard a cyclocross rig of some kind with 40mm tyres and led part of the way down. But owning a rig I purposely designed for these kinds of races and equipped with Specialized Renegade 1.8″ tyres, I had the descending edge.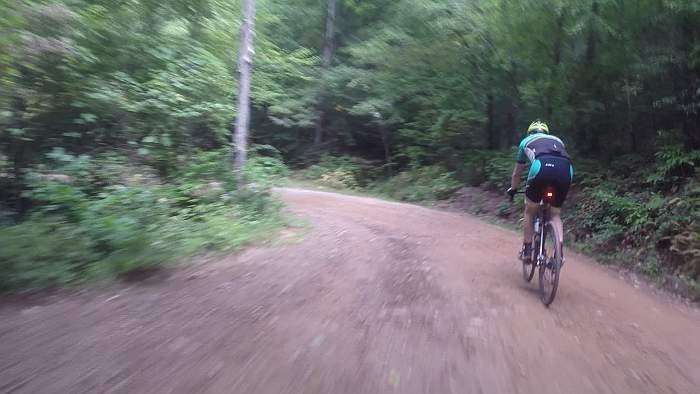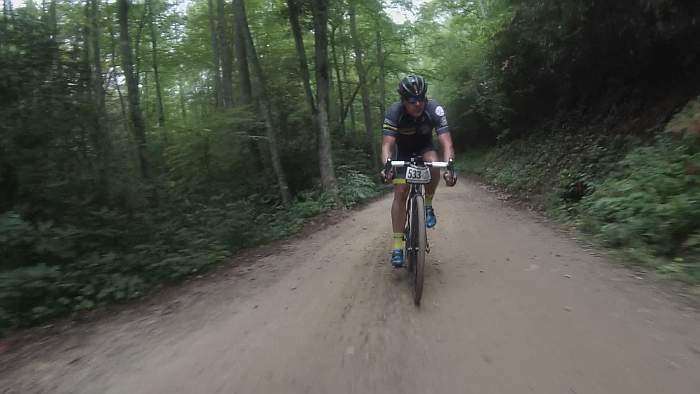 We stuck together until the bottom of the climb, at which point Clive cramped. I too was hurting, but had enough in reserve to keep my somewhat slow climbing tempo rolling and leave Clive behind. Clive's fitness may not be stellar, but I (JOM) would never hear the end of it to finish behind him. Friendly rivalries are a good thing 🙂
Gravel Ascending
FSR 1206 began ascending from a low point of approximately 2,200 feet to somewhere around 1,000 feet higher. This was no easy climb and while broken up mid-way by a short descent, it climbed again. On the positive, yours truly was feeling much better, helped by the 2 x Cokes I consumed at the 3rd rest stop. Thinking back, I had consumed zero caffeine at all prior to this point – that may have helped me earlier – or a holiday in the Bahamas.
Around this time, I connected with another friendly cyclist, Kathleen Mitchell, who happens to be the 2015 USA Marathon MTB Nationals champion in her age group – not that she mentioned that to me during the race. We chugged along, extolling the virtues of any day being a good day on the bike, and agreeing that the gravel riding and racing scene was the best thing to happen in years.
Return to Pavement and that Final Climb / Descent – FSR 477

After making the return to the smooth pavement of 276 at about mile 63 / kilometre 100, everyone in my company breathed a sigh of relief. Until I told them there was more gravel, another climb, and one final tricky gravel descent remaining. Said collective sigh turned to a collective groan.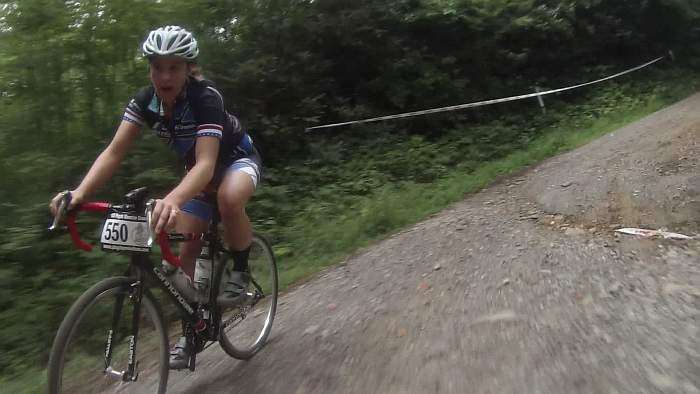 I (JOM) kept the company of Kathleen, who was setting a nice tempo on an overly large gear (on a borrowed CX bike she acquired the day before) up the final ascent of Bennett Gap / FSR 477
Race promoter Eric Wever warned us about the nastier than usual descent off FSR 477, in particular the "rut marked by the Kenda tape". Not wanting to crash and spend time in an Asheville area hospital, we sort of tip-toed down this descent, before the final left turn to pavement, and the finish line.
Finish Line
Pisgah Monster Cross differs from all other insane events I (JOM) have attended. Rather than a casual roll across the finish line, contestants are required to dismount and hop, jump or limp across three cyclocross barriers. Ordinarily this isn't a big deal, providing you're not trying to break dismounting records, and you have an uncontested run at the finish line. But with 70 miles and a lot of climbing in one's legs, people have been known to cramp between barriers and collapse in a heap. Kind of funny.
Now, being a gentleman (my teammate Dr. Pain would disagree), I thought it fitting for the lady in my company (AND a National Champion) to finish ahead of me. Chivalry ain't dead!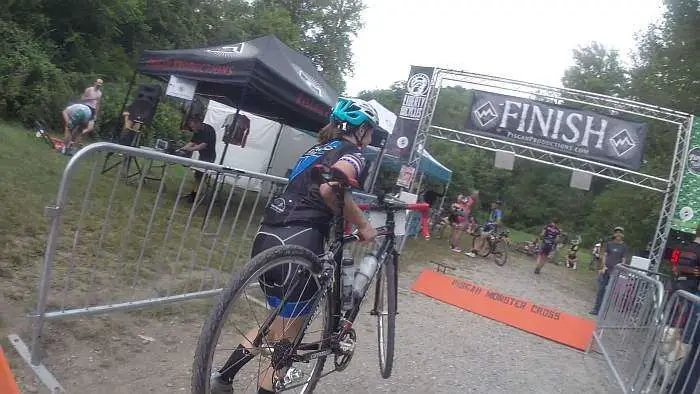 Yours truly finished 34 minutes off my 2013 Pisgah Monster Cross Challenge time – bit of a rough day, but considering where I was – in riding paradise – all was well. And my teammates, K-Dogg and Rusty, both had excellent rides.
K-Dogg took the win for Gravel Cyclist in 60+!, while Rusty took 8th in 50+, hampered by two mechanical issues, including a broken chain!
Ride Data and Bikes
For those inclined, you can check out my Strava ride of the race HERE.
The bike I rode, equipped with Specialized Renegade 1.8″ tyres, 42 / 28 chainrings and SRAM PG 1170 11 speed 11-36 cassette.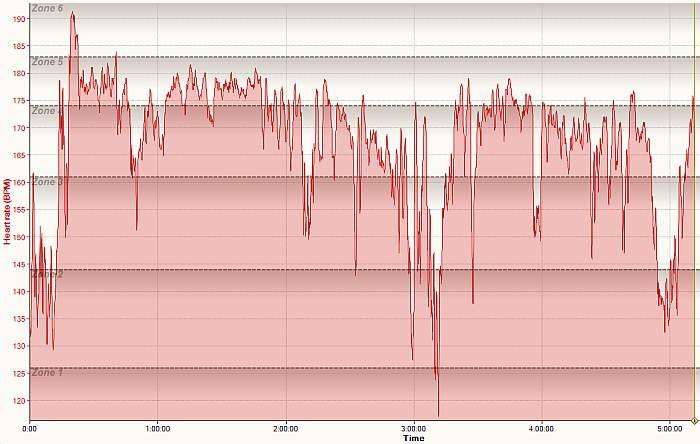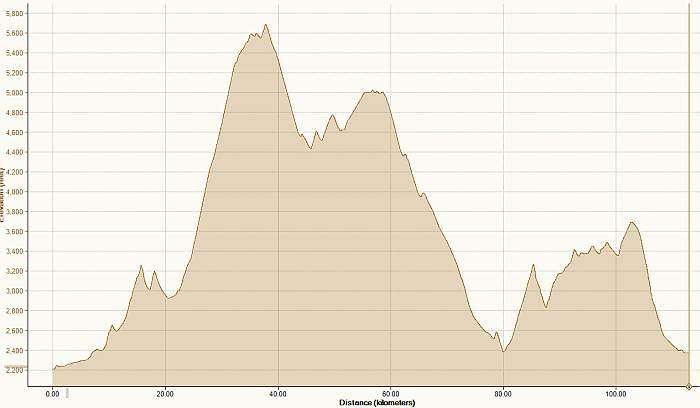 Don't forget to visit the Gravel Cyclist:
Thanks for reading!