Piggy's Revenge 2015 – Race Report – Courtesy of Dr Pain
January 11, 2015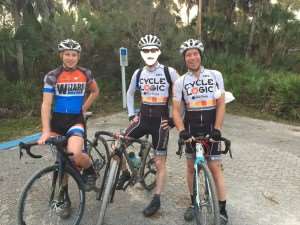 Three Gainesville Lads traveled to Venice (not Italy), Florida for this year's World's Tallest Piggy race.  Dr. Pain, Pfaff Daddy, and Pfaff Junior attended.
The CycleLogic p/b BikeWorks kit was a wee bit too conspicuous for Dr. Pain, who considered comments like "Are you guys going to crush it again… and such" to be a bit like a target on their backs. This year the route was 55 miles, down from 60 or so last year.  This was apparently because of excessive high water… excessive because there is always water on this course.
The long route (as opposed to 20 miles, and 40 miles) was touted as more cross bike friendly.  One wonders if the promoter, a very nice chap, has actually ever ridden a cross bike?
Anyway, after a gentle bike-pace leadout for a half-mile, the race commenced.  Pfaff Junior, Pfaff Daddy, and Dr. Pain immediately moved to the front at a sporting tempo.  Three minutes later Dr. Pain fell down.  There was no good reason for him falling down, but really, is there ever a good reason?  After a 30 second systems check, he remounted and did his first TT of the day.  Seven minutes later, he rejoined the front group, thanks to fantastic team work by the Pfaffs, who soft-pedaled to allow him to catch up.
The First Gravel Road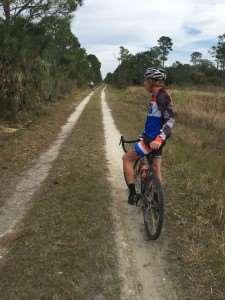 As soon as the group hit the first gravel road, the group blew up completely leaving five of us at the front.  This was probably five or six miles into the race.
The Gainesville Crew had surveyed the crowd at the start and identified one particularly fit looking orange-kitted gent , who as expected was with us.  He had tribal knowledge and used it to his advantage on several occasions.  He also used each dismount and remount at the gates to put the Good Dr. Pain into difficulty.  Dr. Pain had a bad experience with a cross dismount and now gets on and off his bike slower than your grandmother.  A good tactic, given he was outnumbered three to one.
Quagmire
At about mile 16, we entered the Quagmire.  A black mud rutted stretch of a hundred meters or so.  The Pfaffs seemed to have no difficulty negotiating this stretch, but Dr. Pain was forced to execute a trademark dismount.  After regaining solid ground, and 12 minutes of all out chasing, he made contact.  Once again, his team mates did their best to control the guy in orange kit.  He was observed to drill it at the front as Dr. Pain was about to make contact.  Pfaff Junior was kind enough to drop off the back and assist for the last 50 meters or so.  Good lad.  Note from JOM… those years of being nice to him when he was a weenie, sometimes pay off.
Hog Wallow of Doom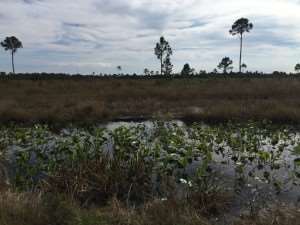 Sometime later, we entered the Hog Wallow of Doom, an interminably long, squishy, slippery, rutted track.  Mr. Orange Kit drilled it again, putting Dr. Pain off the back.  A 25-minute TT followed before he made contact again.  Shortly after regaining the remaining three riders, Mr. Orange kit "sat up", apparently suffering bonk or something, leaving just the Gainesvillians to carry on.
All would have been well except for some challenged navigation.  Despite two Garmins, with purple lines showing the way, the trio managed to make at least two wrong turns, doubled back at least once, and managed to traverse the slowest, thickest grass field for what seemed like 100 miles.  At some point we noticed there were other riders (dropped much earlier) riding to our right on an actual trail.  We decided that might be a better idea and went that way.  The Pfaffs were forced to abandon Dr. Pain since we were no longer alone at the front.  Note from JOM… the boys were clearly missing my purple line navigational skills 🙂
Lost and Abandoned
Dr. Pain lost sight of his companions, then the trail, then the purple line on his Garmin, then nearly lost his mind.  After several wrong turns, some turnarounds, consultation with a couple locals, and consultation with Google maps on his phone, he concluded he was lost.  Race over.  Finally, he reprogrammed his Garmin to route to the start.
Several miles later, he found another fine gentleman, on the course, and racing.  They rode together for a bit, until the final bit of bumpy doubletrack, when Dr. Pain finally decided it was time to go home.
At the Front and Victory!

Meanwhile, the Pfaffs were doling out some punishment on the two riders who had rejoined the front after we had made our wrong turns.  Working as a great father-son team, they dispatched them and rolled to victory.
Pfaff Junior the overall winner, with Pfaff Daddy in 2nd overall, and winner of the old guy division.  Dr. Pain rolled in before all the food was gone.
Dr Pain was kind enough to shoot some video, which Gravel Cyclist will make available shortly.