ORAMM – The Off Road Assault on Mount Mitchell as it is known, is a 60 mile, mostly off road bicycle race featuring 10,500 feet of climbing. This race is akin to some of the toughest Ultra CX and gravel races – Iron Cross springs to mind – and one of the reasons why we're sharing this MTB race report. In fact, many of the nutters who have attended Ultra CX races in the past astride MTB's, have raced ORAMM.
This race report comes to you from a friend of the Gravel Cyclist crew and resident of Gainesville, Florida – Shawn Smith. Shawn is quite well known in endurance MTB circles in the South East, with many big results – his most recent was 3rd at the 2015 Marathon Mountain Bike Nationals, 40 – 44 age group. We're hoping Shawn will try his hand at some gravel races sometime in the near future!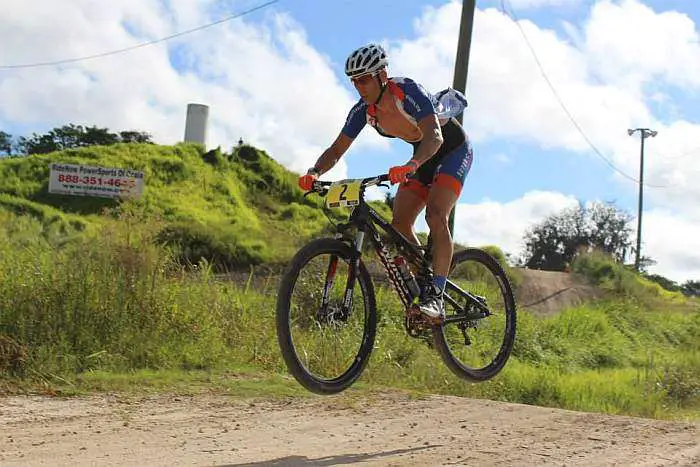 Shawn's Race Report
This was my first appearance at ORAMM, and as warned by the promoter, this is not an event to take lightly.
Once the race got underway from the town of Old Fort, North Carolina, I worked my way towards the front during the four to five mile climb that leads to the Kitsuma Trail. The beginning of Kitsuma is steep with many tight switchbacks that lead to its summit. Over the top, I was in the lead group behind Bob McCarty. We were in good position, even though the leaders had opened a gap.
Bob and I thought we were good at descending – until a couple of riders asked to pass us during the descent of Kitsuma. So much for that!
On the road to Star Gap, I realized the cleat on my right shoe had come loose – the misplacement was really causing my right patella (aka the kneecap) to hurt. After catching and passing the guys who dropped us during the descent of Kitsuma, doubts crept into mind whether I should stop and adjust the cleat, or keep riding. I chose to keep riding, and wait until Rest Stop #2 to address the issue.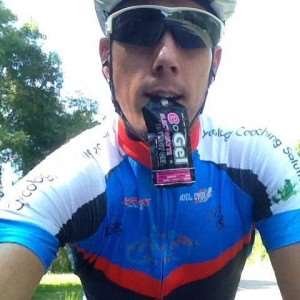 During a steep hike-a-bike section on the climb of Star Gap, Bob pulled away; I was now suffering with intense knee pain. There were sections of this climb that were extremely difficult for me, and I had thoughts about abandoning at Rest Stop #2, 20 miles into the race.
The stop couldn't have come soon enough, but its placement is less than desirable – right before Curtis creek climb, a nine to ten mile climb up to the Blue Ridge Parkway.
As I stopped to attend to my bottles, I give serious thought to my knee pain. A rest stop volunteer asked if I needed a medic. Unfortunately, there was nobody available at the rest stop, so I decided to press onward. As I rode along, I had the left shoe on and the right shoe off, adjusting my cleat to regain correct position. After much fiddling, I found a decent position and began to focus on the climb ahead.
The climb of Curtis Creek seemed to take fooooorever. My neck hurt from the effort; I got tired of looking up and being visually tortured with a never-ending climb that on a normal day would be beautiful. My bike was misbehaving too, a serious creaking noise had developed and seemed to be synchronized with every pedal stroke – nobody likes a noisy bike!
At Rest Stop #3, I overload with bottles and head onto the Blue Ridge Parkway. Not long after, I am caught by another rider – someone to share the suffering with! At the summit of the Parkway climb, I catch sight of some amazing scenery – a nice distraction from the pain I was experiencing at the time.
My new riding buddy and I descend a while, reaching speeds of 38mph. My rear tire felt soft, making me think I had a flat. We reach Heartbreak Ridge and have to carry our bikes up the side of the mountain for approximately 100 yards. As I tote my bike, something doesn't feel right. The drivetrain side of the rear wheel had broken free of the frame, while the non-drive side was still clamped in place. My "flat tire" was in fact my rear wheel moving around in the frame at 38mph as we came down the mountain! Luck was definitely on my side on that descent!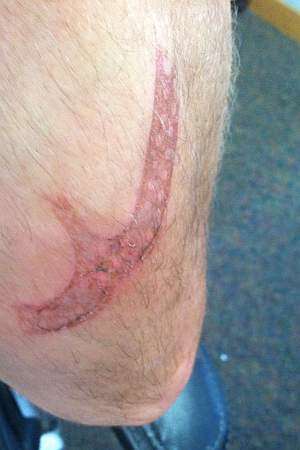 I tightened the rear skewer and began descending the enduro section of Licklog Knob. This section is very technical and loaded with opportunities for flats, crashes and anything else the mountain decides to throw at you. Descending in these parts is hard work – my bar grips had twisted on my bars, possibly from the death grip I had at times.
Towards the bottom of Licklob Knob, I spot a camera guy. When you see camera guys at these events, they often situate themselves for optimal capture of crash photos – something to think about. As I'm descending a very technical section, I need to abort – mostly for safety reasons – and I'm 50 miles into the course.
As I attempt to dismount from the bike, the front wheel catches a slick root, causing me to crash badly. Picture a man laying on the ground, holding his manhood, screaming in pain. My saddle essentially slammed into my private parts mid-crash. Volunteers were quickly on the scene to check on me, but thankfully I was OK – some strategically placed ice in my bib shorts helped ease the pain some.
With the private parts pain under control, I rode towards the climb of Kitsuma for the last time. At the summit, I think about making a safe descent; the finish isn't far away. I've come too far to crash again or have any further issues!
The descent went well, leaving only the short climb along the road back into the town of Old Fort. I blasted up this final climb, hoping to make the finish line in sub five hours.
I crossed the line in 4:58:45, good enough for 12th overall from 500 entrants, and 9th in the Pro / Open class. I was very happy with my performance, considering everything that transpired!
Heed the promoter's warnings about this race – do not underestimate the extreme difficulty and danger of this event.
Thanks for reading.