The Mudcrutch Team Time Trial is a 61 mile ride that traverses roads in Suwanee and Columbia County, starting and ending close to the unincorporated community of Ellisville, Florida – or Exit 414 on Interstate 75.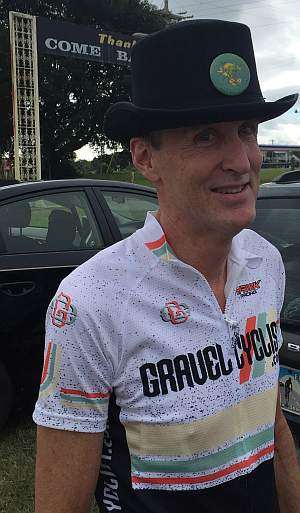 For those who are familiar with the area, the event kicks off virtually next door to the Ellisville Speedway…
For the 2015 edition (technically the second Mudcrutch, although it ran under a different name in 2014), seven five-person teams made the trip to Ellisville, Florida.
With zero entry free, awesome weather, heaps of fun and a crappy hat that nobody wanted, awarded as a prize to the fastest team, everyone was in good spirits.
Of note, two of the Bodacious Cowboys from the southwest side of Gainesville, didn't read the simple directions on the website, and relied on Google to send them waaaayyyyy north.
One of the cowboys is a psychologist and the other a psychiatrist… just sayin'.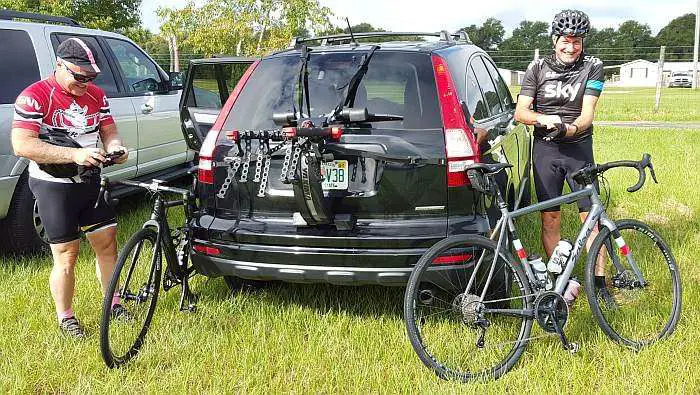 Despite making fun of these two characters, the event began on-time.
The Teams (in no particular order):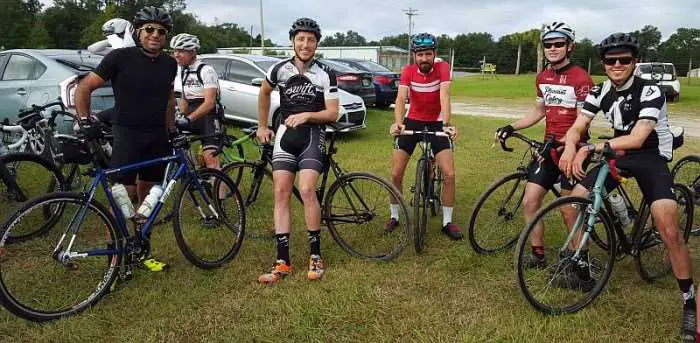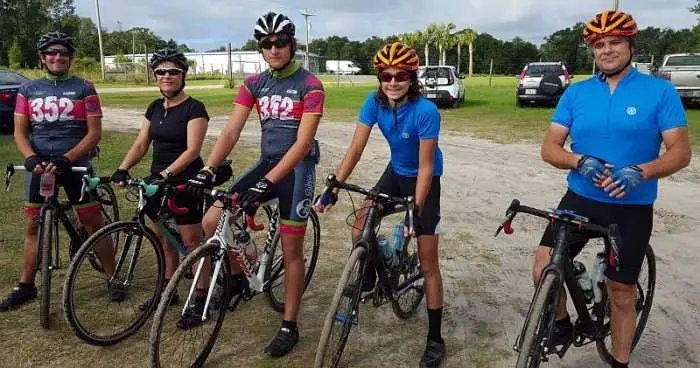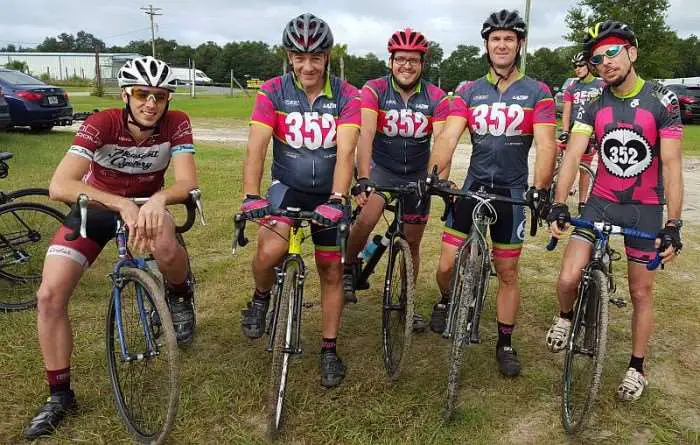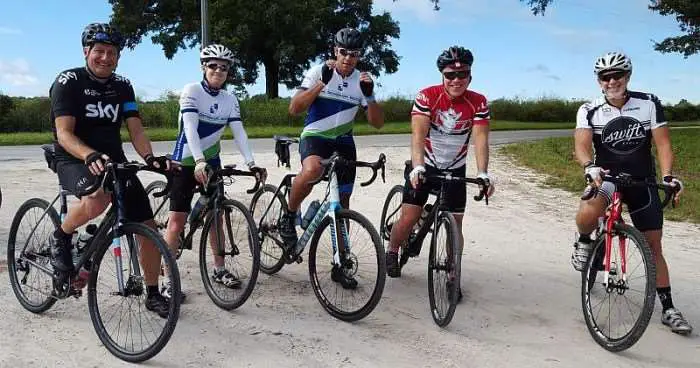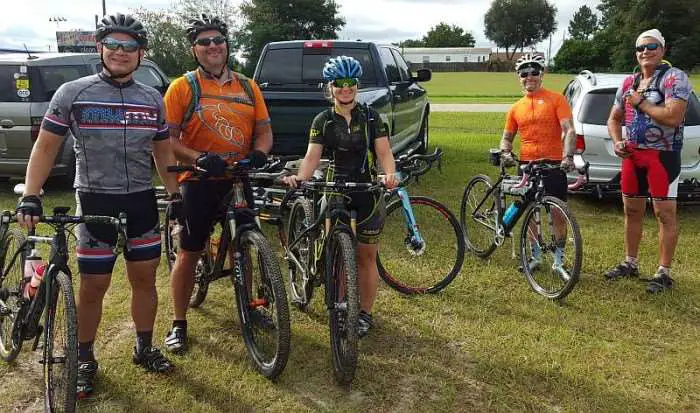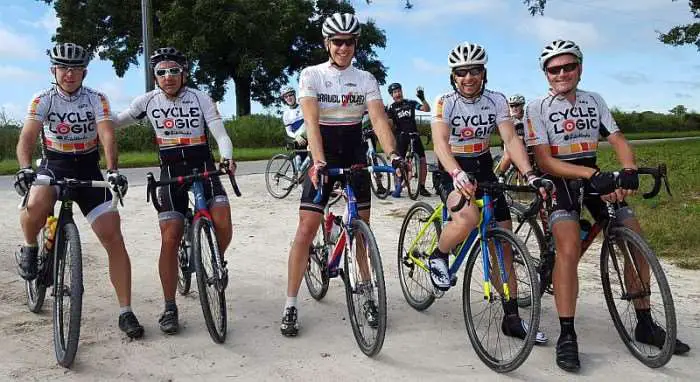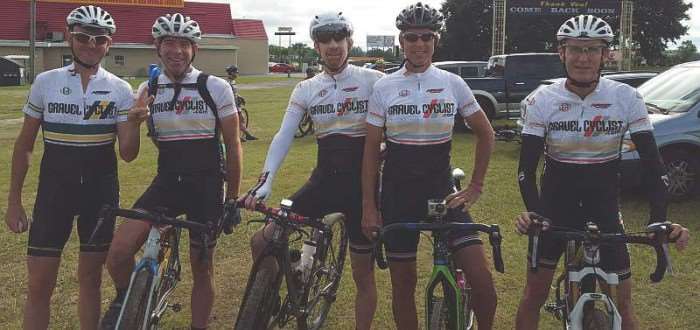 The Start
Typically, team time trials are handicapped in such a way that teams out for a day of bird watching, start earlier. Because of time constraints relating to one bloke needing to be at work (working on a Sunday blows), and another needing to take over from kiddie-watching duties, two of the faster teams rolled out much earlier than usual.
All teams were separated by a five minute gap barring one, who declared they were definitely out for a day of fun, and there to take in the scenery. Good times.
JOM of Gravel Cyclist was handling the start order and timing, although teams were responsible for recording their finish time – and for those Strava-inclined, we did configure a temporary segment to see a better picture of the overall leaderboard.
The Ride – from the point of view of Ja(y)son and the Argonutz
Our humble team has a *bit* of experience with this type of cycling, and to make things easier for all concerned, we divided tasks among us.
Dr. Pain was assigned pace timing – he had a fancy little chart adorning his top tube to keep us all motivated and rolling fast. For example, at mile marker X with time xx:xx elapsed, we were holding average speed of X.
JOM was navigator, reading the Garmin screen and calling out directions to the crew.
The three other blokes were there to pedal the desired tempo… and to provide draft… and some camera footage.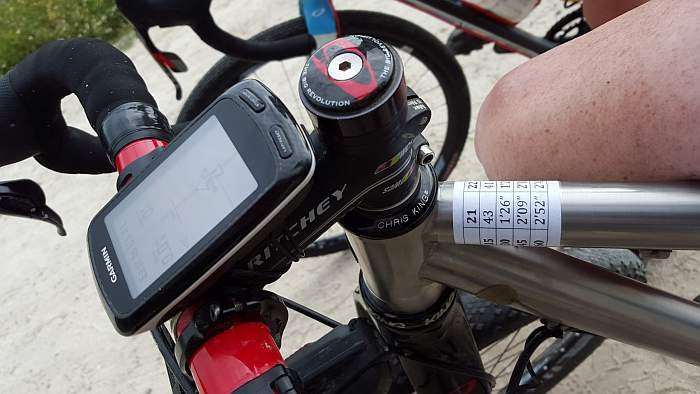 You could say we were *sorta* taking this ride seriously.
Our target average speed for the event was 21mph / 33.6 km/hr which doesn't sound like much – until you ride on these sometimes sandy roads at speed – and feel how much power they sap from one's legs.
The team rolled out in a pre-determined order. Dr. Pain started the train with locomotives Pfaff Daddy and Rusty aka The Headmaster at #2 and #3, while those with avian arms, JOM and K-Dogg, were at #4 and #5 respectively. This order was optimal for drafting and recovery. Did we mention we were *sorta* taking this ride seriously?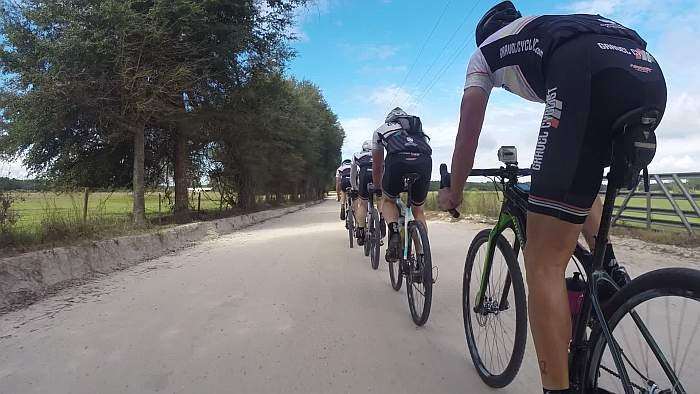 The team was working harmoniously as a collective, each rider taking turns on the front into the block head wind out of the west during the early miles. It didn't take long before we caught and passed Team Thunderdome; they were more interested in catching the scenery and almost zero-traffic roads, than worrying about maintaining a hard tempo.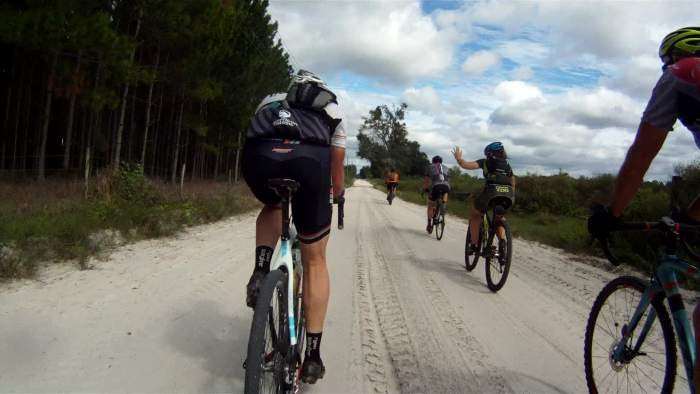 Team Norfolk and Chance was the next team to be caught, just after a sharp left hand turn that led to a steep hill. From an observer's prospective, it looked as if they'd dropped one of their riders and was leaving him for dead. As the finish time is taken on the 5th rider to cross the line, it is important to keep one's riders closely huddled together to shield each other from the wind. Maybe they had an alternative strategy?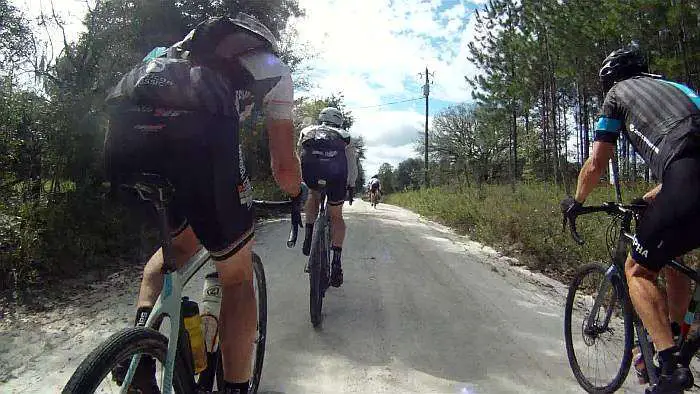 As Ja(y)son and the Argonutz trundled along, Team Roadkill came into sight… who like some of the other teams, weren't taking life too seriously.
But not far ahead, we caught sight of Team "Suck my Cog", aka the single speed cyclocross lads – who were *maybe* taking this event seriously? Whatever their motivation, they were rolling well, sans derailleurs. One of their riders, Mr Tic Bowen, made the strategic decision to use a 50 x 16 gear, which isn't exactly light on these sorts of road surfaces.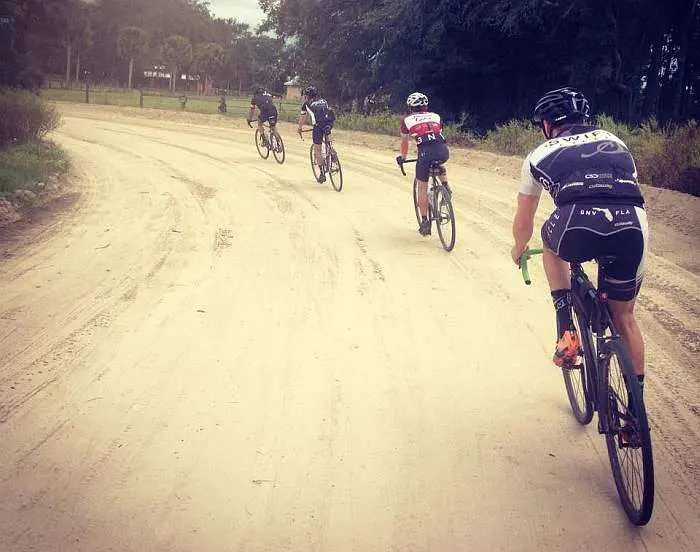 We are certain Tic's teammates felt every part of that 50 x 16 gear, once he got it rolling. We also know there was a vast difference in gearing choices among this team. There was at least one bloke astride a 39 x 16 and two more rolling 42 x 16. Compared to the bigger gear of Mr Bowen, all of that spinning at 100+ rpm must have hurt.
The catch and pass of S my C took longer than expected. We were making inroads towards them on the long, straight and sometimes hilly 57th Road that ran directly north – including a tough headwind. We later learned that after catching sight of us, Mr Bowen himself was responsible for much of their team's tempo as began to get close. Ouch.
Eventually, we caught and passed Team S my C on what is known as Central Road, southwest of Lake City. This road is paved, but resembles a bomb cratered airfield after a visit from the WW II B-17 Flying Fortresses of the 8th Air Force.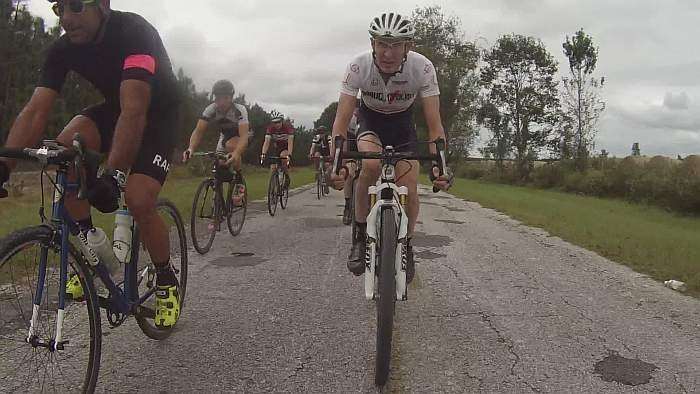 However, Team J and the A's rapid speed over the first 34 miles / 54 kilometres of the course came to an abrupt halt, when our team member, Dr. Pain, fell heavily on a paved left hand turn. He took the corner in usual his safe and predictable manner, but lost his front wheel on some loose dirt or well-concealed gravel.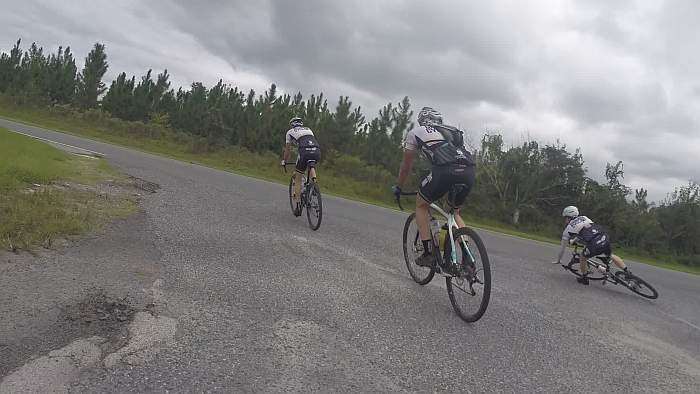 Consequently, the good Doctor spent the better part of two minutes on the deck, while all of us checked on his well-being and the functionality of his bike. The lads from team Suck my Cog showed great sportsmanship by stopping their ride to make sure he was fine.
If you've experienced road racing, especially in Florida, you'll know these actions are out-of-the-norm – expect an attack if you've crashed and lay on the deck. Thanks again lads!
On the positive, we are happy to report that Dr. Pain is doing well, despite some heavy bruising and a sprained thumb – a thumb that didn't hit the deck – weird eh. Almost no road rash! And the bike works!
Correction – Dr. Pain has a huge amount of road rash on his hip and arse, along with a large strawberry on his shoulder. Perplexed as to why his bib shorts weren't destroyed. Much of the road rash is too large to be covered by even the largest of bandages. 🙁 Both hands with knackered knuckles.
After this temporary setback, we slowly got rolling again. It took a while for Dr. Pain to shake the cobwebs out, but after a few miles, he was back into his tempo, although understandably a little reserved on future corners.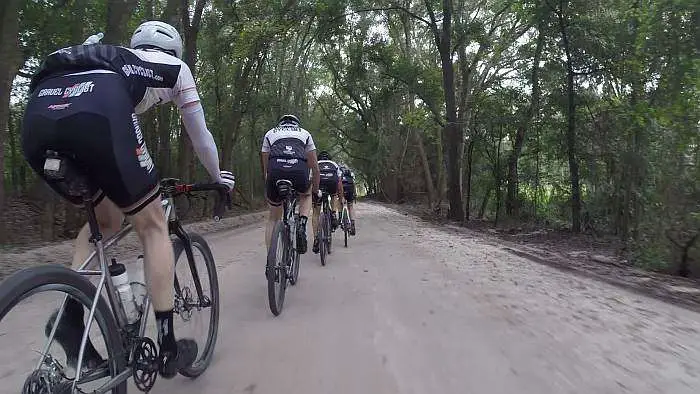 Despite all of this, Team Ja(y)son and the Artonutz aka GravelCyclist.com rolled the remaining 27 miles / 43 kilometres in excellent time, completing the 61 mile course in a total time of 2:53:39, at an average speed of 21.06 mph / 33.7 km/hr. That time includes the time spent on the deck.
But kudos must go to the winning team, Les Incompétents, who rolled the course 23 seconds faster in 2:53:18.
23 seconds faster! After 61 miles!
Their winning time was not without issue. The bike of Lambert aka the Belgian Diesel malfunctioned the entire time, preventing him from using anything but one gear, but only if he was gentle on it. Apparently the drivetrain was skipping all over the place. Additionally, they went off course at least once, losing more precious time.
However, because the Les Incompétents team had so much fun (first time dirt and gravel experience for two of their members), one of them purchased a new cyclocross / gravel bike today, with another of their riders due to purchase a bike soon. More cyclists on the dirt and gravel = winning!!!
The final podium spot was taken by the lads from 352 Racing / Bikes and More with ringer Joe Ergle (aka Jerbil) of Pleasant Cyclery. They crossed the line in 3:14:47, which we understand includes a bathroom break. Nice 🙂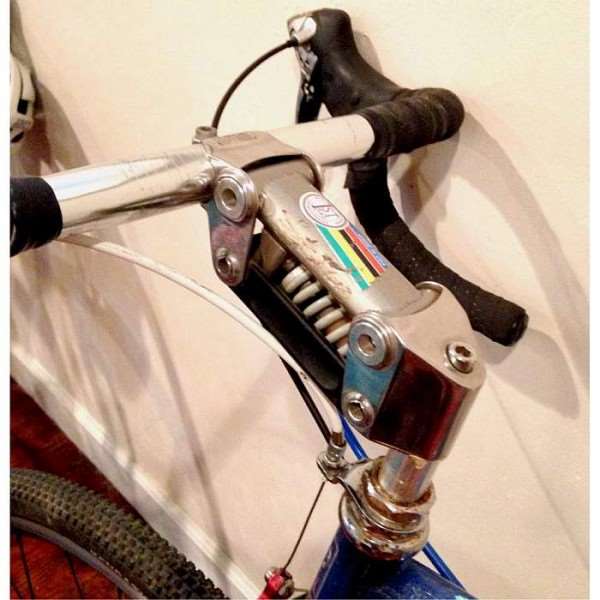 Results
1st – Les Incompétents – 2:53:18 – including bike issues and going off course.
2nd – Ja(y)son & the Argonutz – 2:53:41 – including crash.
3rd – 352 Racing / Bikes & More – 3:14:47 – including bathroom break and whatever else they did.

4th – Suck my Cog – 3:23:42 – including store stop and cruise pace over the last 20 miles.

5th – Norfolk and Chance – 3:36:09 – including a store stop.

6th – Team Roadkill – 3:49 – They had a blast! Probably a store stop in there.

7th – Team Thunderdome – ??? – They enjoyed the scenery! Definitely a store stop according to Strava 🙂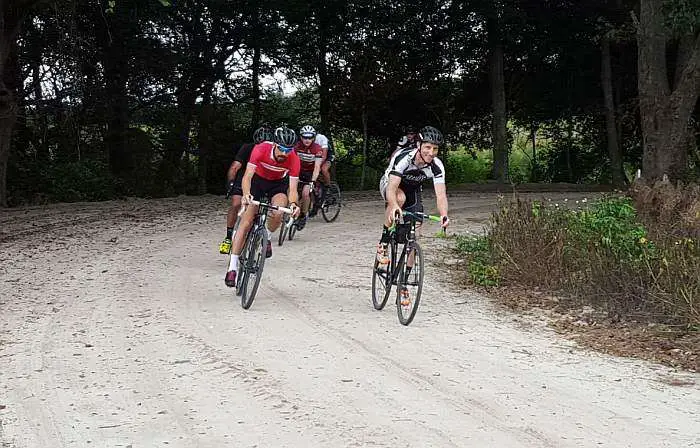 Data and Stuff
JOM of Gravel Cyclist's Mudcrutch TTT data, courtesy of Strava.
The temporary Strava segment for the 2015 Mudcrutch.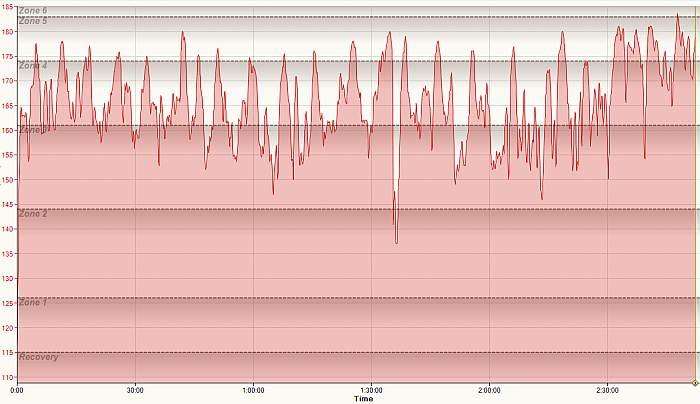 Thank You
The crew at Gravel Cyclist would like to thank everyone near and far, who made the effort to attend the Mudcrutch event. With riders from Ocala, Orlando, Gainesville and Tampa, it was fantastic to see so many people supporting the event. We hope everyone enjoyed themselves.
The Mudcrutch will return for 2016, and to keep it fresh, the course will probably be changed up a little. We may involve the Ellisville Speedway by including a loop of the track to finish it off… Paris Roubaix style. Would love to see some more teams make the event next year.
Thanks for reading!