I love climbing. You suffer a lot but it's peaceful. You can hear birds chirping and the deep, labored breathing of fellow sufferers around you.  Everything is in slow motion and downright peaceful. You have plenty of time to pick your line. Nobody flats or crashes going uphill. I would much rather be in agony climbing for hours than experience 5 minutes of  terror descending skittery gravel switchbacks.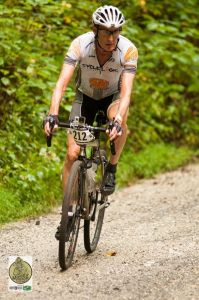 For the last 3 years at extreme cx races I've tried hard to man up and go faster down the cliffs….but every time I get the courage to "let it go"… I crash spectacularly. At 59 (and living in Florida) drastic improvement is just not in the cards. So this year's counter clockwise route of Pisgah Monster Cross should have been perfect with much more uphill, than down.
This year I didn't crash but there were two close calls…. at the two exact spots they had warned us about. " Two point three miles before forest service road bla, bla,bla and halfway between Bubba's Still Road and Cherokee Revenge Holler." "These washouts are real wheel grabbers so look for the multiple orange markers on your way down" said Cam.
Right.
As you careen down towards the massive ruts , the markers stand out like a handful of orange tinsel thrown on a bush. You don't see a thing until it's too late. Both times my front wheel was indeed grabbed by a washout with a subsequent reverse wheelie. Both times somebody much better was tying to pass me. Luckily we survived my spastic recovery. "Sorry! I really suck at this! Stay away form me if you are smart!"
But the vast majority of the race was actually epic and occasionally enjoyable. The scenery was sublime with more shades of green than Ireland in spring. The mountain mists could have hidden Dian Fossey and her peaceful gorillas.
At the beginning, 200 of us had a nicely paved one mile warm up behind the Park Police then two more miles on level dirt before the first climbs began. If you had the legs there was plenty of space to move to the front as the road tilted upwards.  Then it tilted some more. Two hundred turned into thirty riders.. One mile later 15 or so separated and were never seen again. The rest of us began hearing birds and breathing.
For the next hour I joined up with 6 other peaceful sufferers. We ground along in our granny gears (34 X 36 for me) rocking a plethora of rides.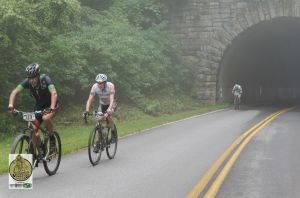 Most were CX bikes but joined by full shocked mountain bikes, single speeds and one gravel grinder with skinny road tires and TT bars. We had two motorcycle escorts. One was taking photos while the other had a long braided pony tail and tight full leather kit… and wearing a sparkly silver mini-skirt. I sprinted my Go Pro after her but she scooted away thinking I was drafting.  Yeah, that's the reason.
Up, up, up we went. Occasionally we got a short descent or a few random blocks of  pavement. I occasionally put daylight on my companions going up but they made the sun set going down. Slow symphony ballet going up… Megadeath mosh pit on the way down. Re mixing and rebooting. Crimson and clover… over and over. (The Bee Gees-sorry)
At one point a torturous rocky descent briefly eased up onto some gloriously smooth brand new pavement. Our bodies didn't want it to end so 4 of us shot straight past a giant red arrow pointing left.  A hasty u-turn later we started another dirty climb. A few hundred yards up I ran into my old partner in crime Kevin Hassler.  For the last two years he and I have been led horribly off course at Savage Cross by confusing signs and pranksters. This year it was totally my own fault.  But I only lost 30 seconds so the curse is broken.
Finally we regrouped on the Blue Ridge. "Ahh!"  I thought. "Now the good stuff." The smooth pavement was wonderful and predictable after an hour of  snaking through rocks and gravel. I had heard the Parkway runs along the tops of the highest mountains thus
there shouldn't be a lot of steep climbing to worry about.  Yeah sure.
So after an hour of steady grinding with my yo-yo companions…. surely, we are almost to the top?  An hour later we were still climbing and still torquing granny gears. (not the Miley Cyrus thing).
I did discover if you want to catch somebody just ahead, make your effort in the tunnels. The tunnels have less pitch but most don't realize it or are afraid to speed up in the darkness.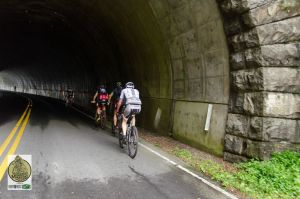 Throw it up a tooth and you will catch those bastards unaware.
Finally we peaked out and had a nice long effortless descent on sweetly cambered top shelf tar. For several miles you Nantucket Sleigh ride your way home.
Still, I eventually ended up solo. Rider after rider blew past me in full tuck. I was even passed by a single speed mountain biker who's 12″ beard alone should have acted like a dragster parachute. I just lose my nerve.  Eventually my mind imagines a front blow out at 50 mph then having the EMTs scrape me up with  flat shovels. So don't ever think about this…
Eventually the pavement bottoms out.  Miles still to go… up and down up and down. Nasty little climbs.
At one corner I was offered a giant M & M cookie by a Mariachi band of indeterminate gender. "Andalei! Andale!" yelled the giant sombrero people. "Gracias! Gracias!" I yelled back stupefied. I wanted to stop and join the fun with my own borrowed tacky mustache but pressed on.
The inspiration and gobbled cookie lasted 60 seconds then onto another painful ascent. I stood up to stretch and cramped horribly. "Sit the fuck down!" said my legs. I am not Jens. I sat down obediently, flailed my legs spastically then rolled on.
"You are very near!" said a numbered rider going the other way."Wha..?" said my suddenly paranoid brain. I kept going. The road was steep and painful. This had to be right.
Further on, during survival brain shut down mode, I apparently rode and chatted for some time with Brian Rogers who had had 3 flats. I have ridden with him in past races but now he was just another nameless draft opportunity.  He said I passed him twice earlier fixing a flat and he passed me on two down hills.  I took his word for it… I didn't remember any of it. His tats were all covered up by bike kit. That must be it.
Total shut down was now imminent.
Finally the final 5 mile paved run-in to the finish began.  Along side me ran a beautiful clear mountain stream. So tempting to just stop, wade out and soak my cramping legs. Two young guys towed me to the finish. They were concerned I was going to sit on then jack them point-wise in the series. "Dude, I'm 59. I could be your grandfather. The only point race for me is climbing the hell off this fucking bike before my balls snap off. Please sit up a little now so I can draft better." It's fun to shock young people.
The barriers.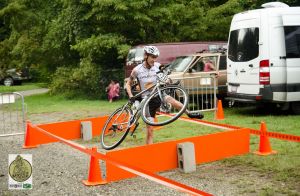 OK, this is just plain cruel but I guess it's the safest way to tame a bunch sprint… like more than 3 people ever end up together at the finish of this race. But it was funny in a sick way drinking beer and cheering when yet another dead-legged idiot biffs after tangling with the shin high barriers.
And then it rained and we all went home.
K-Dogg
Yes, of course I'll be back next year!