About The Gravel Ride for Maisie's Pride
Gravel Ride for Maisie's Pride is a fund raiser for the community pool in Eskridge, Kansas (Maisie's Pool). Maisie Devore saved aluminum cans for 30 years to get the pool built, so this event means a lot to the community. The main course is just over 100 miles in length of tough Flint Hills gravel – the same gravel that features in Dirty Kanza.
Bob's Race Report
The 2015 race marks the fifth installment of Maisie's Pride. I entered the race last year for the first time as preparation for the Dirty Kanza 200. The course is on the North end of the Flint Hills, which are some of the most challenging and beautiful roads you will ever encounter. This race is not for the faint of heart. On a difficulty scale between 1 – 10, I rate it an eight. With approximately 8,000 feet of climbing over 103 miles, the hills are on very rough rocky terrain, made no easier by their steep grades. Negotiating each one on your bicycle is difficult to say the least.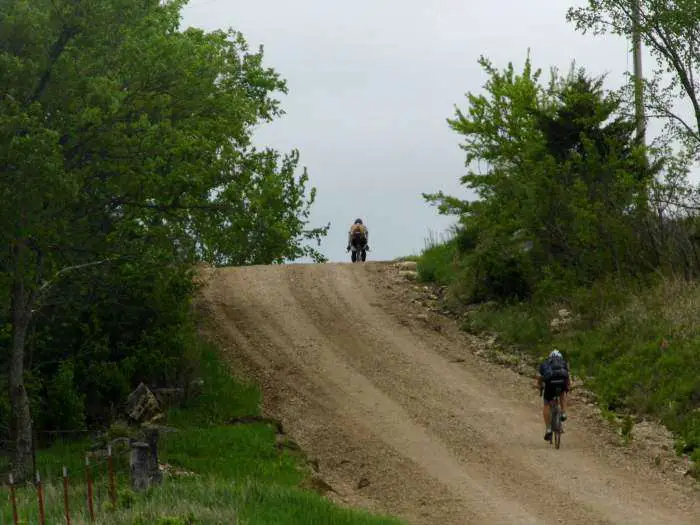 Lessons Learned
Maisie's has "gotten me" both years. When things go wrong, they invariably come in threes. Last year I flatted the rear tire three times in the first 10 miles. One of those flats was so bad, it required a tire change. I struck a rock that knocked a small hole in my tubeless rim tape. I stopped to add air but it deflated quickly. Confusion reigned because I didn't see any sealant leaking, so adding more seemed the thing to do. Consequently, this didn't help matters.
Next, I installed a tube. However, I didn't inflate to an appropriate pressure, and pinch flatted shortly after on a fast and rocky downhill. By the time I rolled to a halt, the rim was bent and out of true. My 40mm tire was rubbing against the frame, but the spare 35mm tire I had strapped beneath my saddle saved the day. After mounting, there was enough clearance to clear the frame and resume racing. After a long and hard chase of over 40 miles, I made the podium for second place.
This year, I took the lessons learned from 2015, and took it easy during the first 10 miles, which features some of the most treacherous miles in the whole race. Rain had fallen before proceedings got underway, which led to a few stints of walking across some very primitive roads. Roads in this neck of the woods are rated by their maintenance levels. The smoothest are high maintenance, to "B" level minimum maintenance roads, which are difficult to traverse, especially if wet. Alternatively, there are roads in the first 10 miles that I call NO maintenance, only suitable for an off-road 4×4 vehicle.
My conservation paid off through this tricky part of the course, but my average speed of 13ish mph meant I was far behind the leaders. Back onto the regular gravel roads, I settled into a good tempo and began working my way through the field. At the first checkpoint at Mile 40, I was in 4th place. I caught 3rd place not long after, but was told by volunteers on the course that first place was approximately 15 minutes ahead. Not exactly what I wanted to hear.
Smooth sailing is not Guaranteed
At mile 50, I struck a large rock with my rear wheel, causing a "snake bite" to the tire in two places. 30psi of pressure was holding, enough to give the sealant a chance to plug the leak. I added a little more air and set off again, riding conservatively. One mile later, my front tire was sliced by a rock hidden in a pool of water. The slice was nasty and the tire completely flat. I now found myself in a predicament; in my possession was one tube but two tires that potentially needed that one tube.
I repaired my front wheel in the same manner as the rear. Add air until it a little sealant leaks out, ride soft, stop, and add a little more air after the sealant had taken effect. Unfortunately, this meant I was rolling with two compromised tires at a less than desirable pressure.
Thirty miles from the finish line, I caught sight of second place on the road, but had to stop and add air. This was VERY discouraging! After stopping and inflating, I quickly caught and passed second place, and worked to build a decent gap to factor in further tire issues.
The tires were doing better, but with pressure less than optimal, I had to continue riding conservatively. Time splits from the aid stations told me I was about five minutes behind the leader. With ten miles remaining, I finally caught a glimpse of him. All that remained was to dose out my effort and reel him in.
My rear went soft again!
I quickly re-inflated, but had to gamble and ride hard and fast or I was not going to catch him. Four miles from the finish, I caught and passed him in a manner I hoped would discourage him from following. Fortunately he didn't chase, and I held enough gap that I could back off and limp to the finish line to take the win!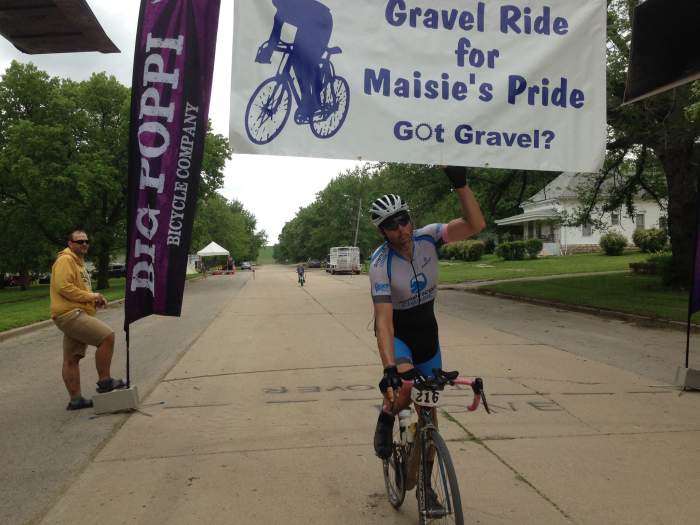 With all things considered, this was one of my hardest races. Only the prior Maisie's edition was harder, with all of it's bad luck.
Huge thank you to team sponsor, Orange Seal Cycling Products, whose sealant product saved me from losing more time, and the race!
Never Give Up
I was completely wrecked post race and glad to be finished. There were times that my mind wanted to settle for second place, but I refused to quit pushing. When things go wrong, its easy to make excuses and settle for a lesser result and ease the pain. That is what happened at Maisie's 2014 and I had no intention of repeating.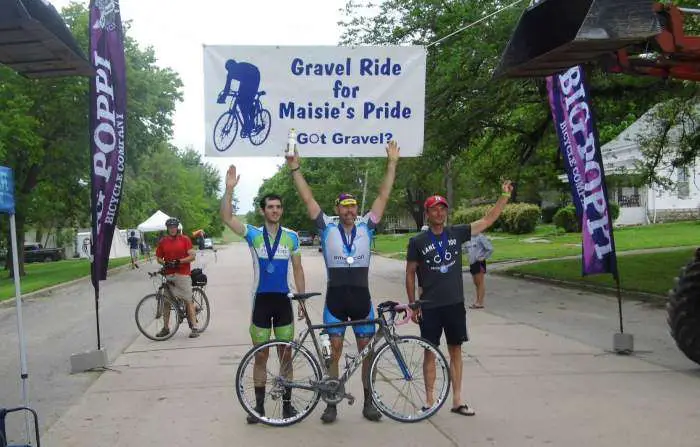 In gravel racing, expect the unexpected and learn to be self sufficient. Suffering and dealing with one's own adversities, from flat tires, cramps, and other issues, all of it builds character!
Thank You
The Gravel Ride for Maisie's Pride is perfect preparation for the Dirty Kanza 200.
Be sure to visit the ride's Facebook page, and read about the background and purpose of the race. I love races that support a cause. We are fortunate to have great promoters and volunteers that go through an enormous amount of work to organize these events.
To all of the promoters out there, I salute and thank you!
---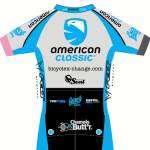 Bob Cummings is a member of the American Classic Elite Gravel Team p/b Bicycle Exchange.