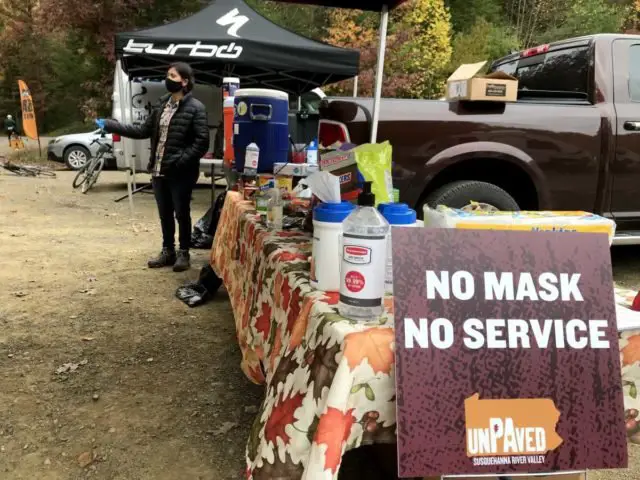 What does a bike race look like in the time of COVID-19?
This is a question that, like many, I thought could only be rhetorical. Nearly everything got canceled. The 2020 race season calendar stood empty. After a scary and uncertain spring, the rest of the year spooled out in an unstructured haze of solo rides and maybe a short bikepacking trip or two. 
But then, a ray of sunshine: the unPAved in the Susquehanna River Valley gravel race organizers planned to make a go of it on the original date in October. State restrictions had been lifted enough to make it possible to host a scaled-down, heavily modified event. This race had been a highlight for me when I got to do it a couple of years previous, and when I heard that it was on again, I jumped at the chance…
Or maybe not. The registration page hung out in my open tabs for a while, un-filled-out. It still felt weird and uncertain, after months of staying away from big groups of people, to commit to going to a big-ish race, even within state lines.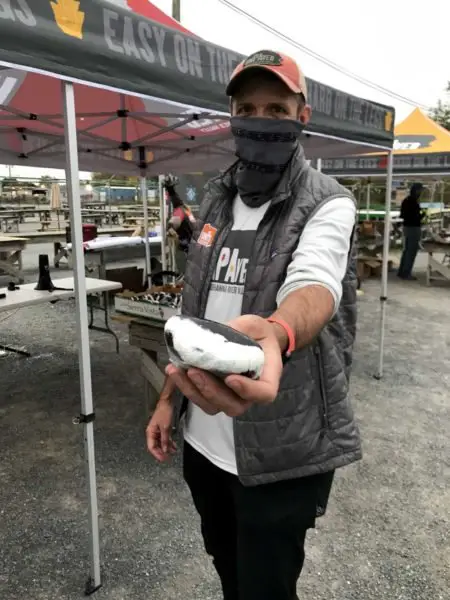 But organizer Dave Pryor put at least some of my fears to rest. The event team was obviously working hard to make things as safe as possible, including being willing to call it off if conditions changed for the worse. "unPAved kept going this year because nothing officially stopped it," Pryor said, post-event. Leading up to race day, "Pennsylvania [had] done an admirable job keeping the COVID-curve fairly flat, so we worked within the restrictions put in place by the state while trying to keep the energy level of a 'big-time' gravel event as high as possible." These restrictions included not only those of the Pennsylvania Department of Health, but additional requirements from the state Department of Conservation and Natural Resources, who wanted to make sure that volunteers and local park users were also protected.
A flurry of emails went out in the months and weeks leading up to race day, dense with instructions and lightened with friendly humor. "We changed the format for unPAved many times, right up until four days before, and the riders' resilience and understanding were tremendous," said Pryor. The biggest change was a drastic reduction in the start field, from last year's 1,200 down to 200. To keep things simple, only one course length would be offered, the full 123-mile experience, instead of the usual three choices. And in an innovation that may stick around, pandemic or not, the race would be scored like an enduro event, with timing kept to just four sections totaling 30 miles; this way, aid stations would be relaxed and safe instead of a mad scramble. Above all, personal safety protocols we've all become familiar with were emphasized over and over. "Can't wait to see the top half of your faces this weekend!" read the final email briefing.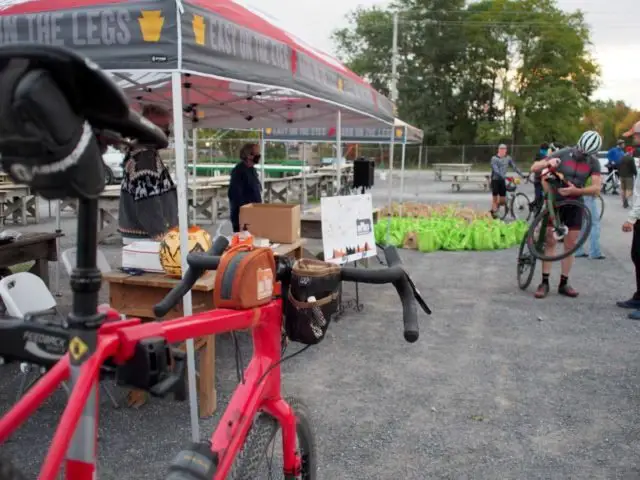 This all felt reassuringly familiar. Dave Pryor had been a part of the team that put on the Trans-Sylvania Epic mountain bike stage race and helped to herd that particular group of cats with the same unflappable good nature and clever delivery. One year, a stomach bug chewed its way through the roster during the week-long race; the next year, there were funny signs everywhere reminding people to wash their hands and take other safety measures. "You nasty, baby," read one sign posted in a shared bathroom.
Still, as many of us have seen in this trying year, leaving safety up to individuals can have widely varying results. I worried — would I get to the race venue and find masks dangling around chins? Malcontents grumbling about their rights? Would racers eager to battle for 137th place crowd in at the start, pass too closely, spit into the wind?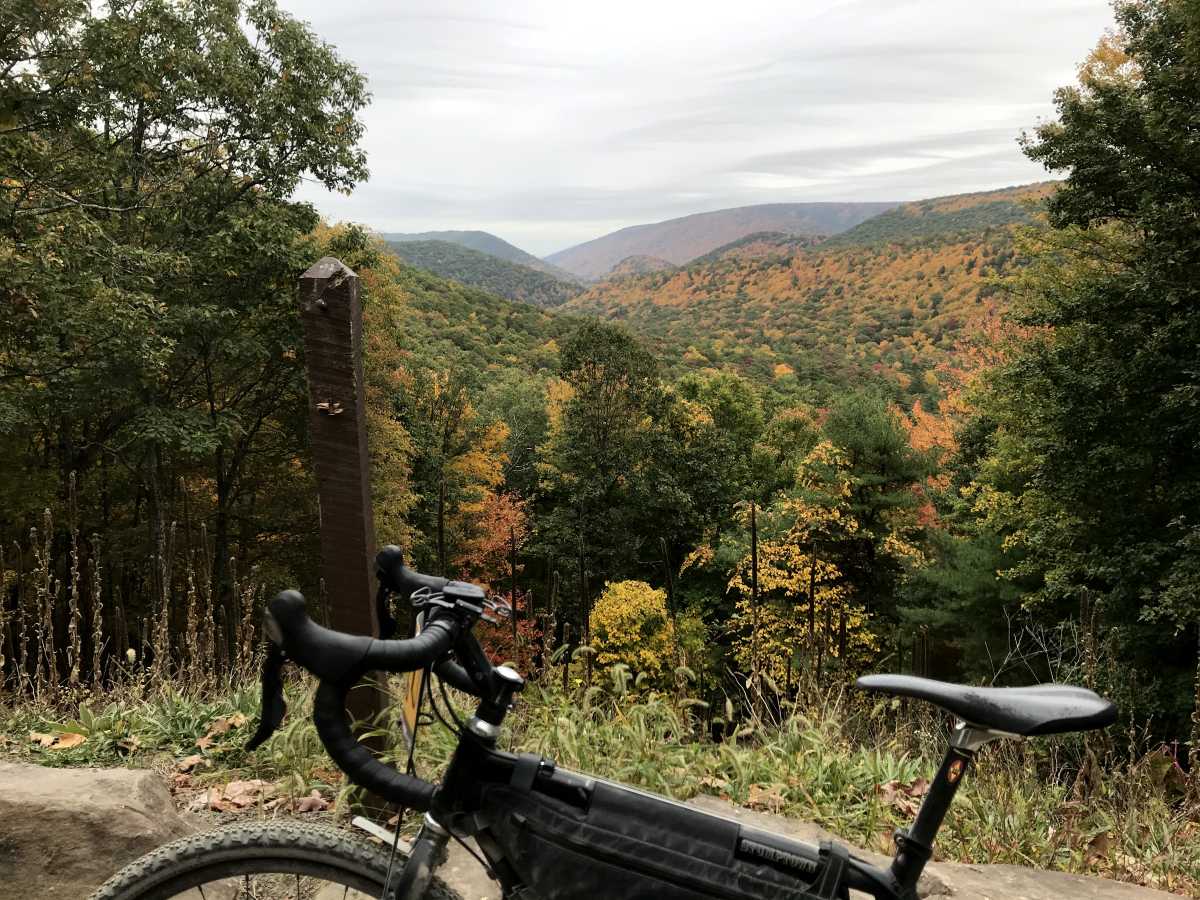 On race day, I found out that the people in the gravel racing community — and, I feel pretty certain, the larger bike community — are more than willing to take care of each other. The whole experience was polite and felt safe, and I could relax and have fun.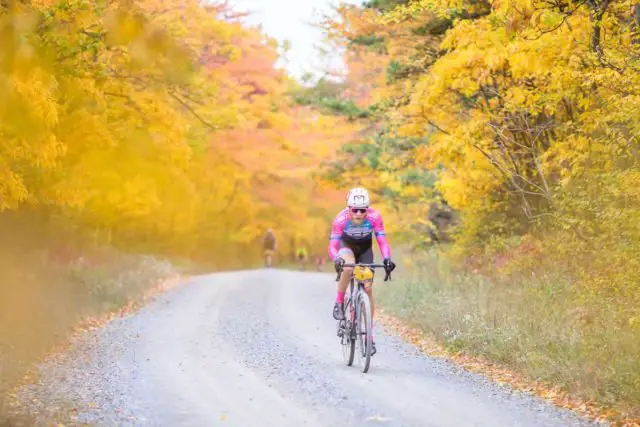 Because of approaching hurricane remnants that seemed likely to dampen the end of the day, the final change to the race format was to allow racers to choose their own start time, anytime between 7:30 and 9 am. This casual approach suited me well and was probably my favorite change. When I rolled up around 7:45, the start area looked like the gathering of a small local club, with handfuls of people milling around the parking lot (but keeping distanced), making final adjustments to bikes and drop bags, setting off at a relaxed pace in twos and threes.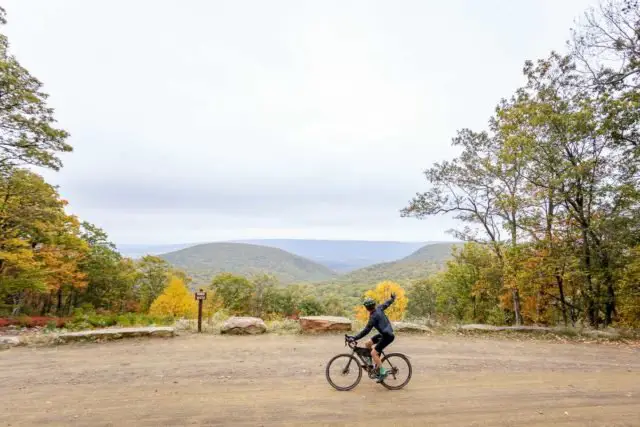 The course starts on a rail-trail, and Pryor's pre-race communications emphasized that we needed to be respectful of non-race folks using it. Like most other public spaces this year, there would be more people out than usual, even this early in the morning. Having this first part of the course be neutral led to a pressure-free situation in which it was an easy choice to back off the pace to make room for families walking or biking along the trail.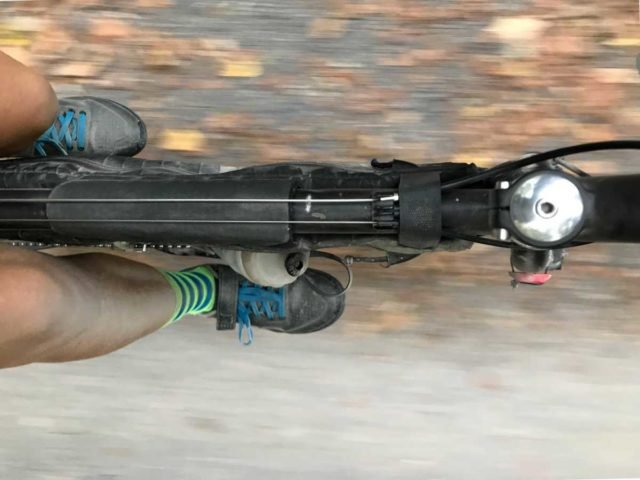 The rest of the course fully embodies the event motto of "Easy on the eyes, hard on the legs." This year, in particular, the fall colors were spectacular, and every summit invited a stop to take in the vista and try to catch one's breath. I appreciated these breaks more than ever this year, suffering from a definite lack of fitness. Grinding along in my lowest gear, watching all the fast people zip by with a cheerful "Hey there!", was a lot easier given the beautiful scenery. But even the "hard on the legs" parts were not that bad; the course is made up of really choice gravel roads, remarkably well-maintained and with no stupid-steep pitches. To keep the racer's attention, there's one gnarly 30-mile section called "The Difference" featuring some large, loose rocks and bomber downhills, which this year was the second of the four timed segments. But altogether, the course is a gravel cyclist's dream.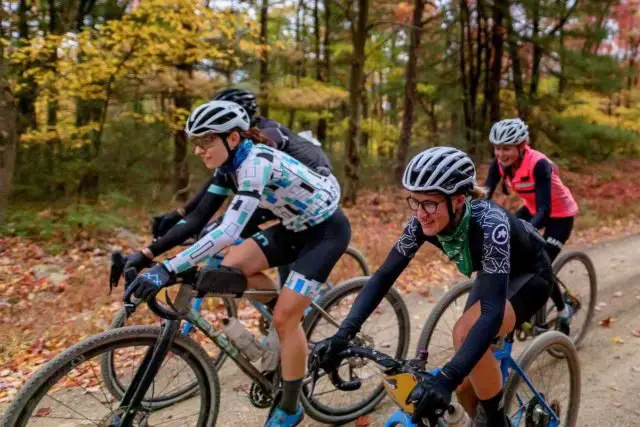 Even the top pros enjoyed the change of pace allowed by segmented timing. The 2020 women's winner and defending champion, Kelly Catale, took advantage of the format to invite her closest competitors, Vicki Barclay and Hayley Wickstrom, to ride along with her, forming a "Roving Girl Gang" to keep each other company in between serious race efforts. "I secretly hope that unPAved keeps that format," said Catale. "I was able to enjoy the in-between segments and take a moment to breathe and appreciate where I am, the beauty of it, which is not something I often do. Riding on my own for 123 miles isn't as much fun as riding in a group. The other piece was, I knew if I was with them, I would push myself harder. I wanted this to feel like a race where I knew that at the end of the day I put in all that I have, because this is the one race of 2020."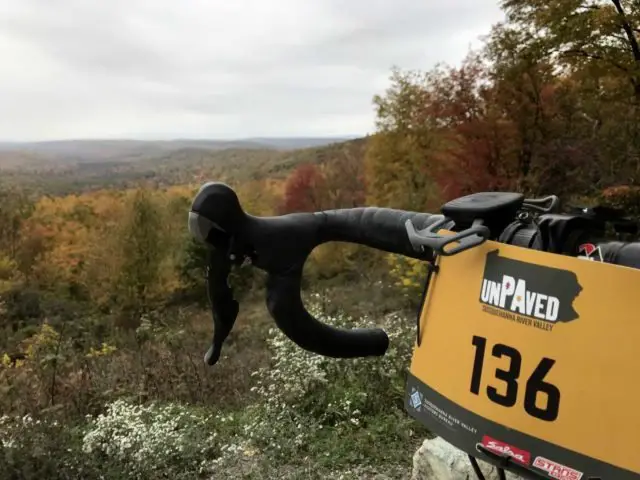 Who knows — perhaps pandemic times will lead to further innovations in race format. "I'm guessing there will be significant changes to 'gravel events' once we're done living in a pandemic," said Pryor. "Riders have learned how to become more self-sufficient and resilient this year, and that can open up a lot of opportunities to change formats completely."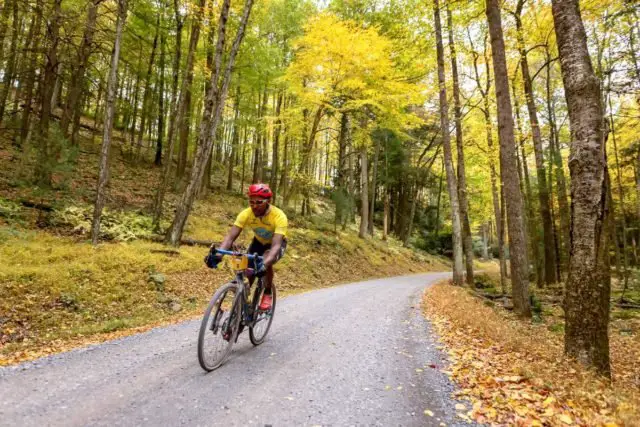 Given all the positives, what's stopping anyone from attending an event like unPAved? It's still a choice that everyone will have to make for themselves, weighing all the factors. Being safe in a pandemic is all about control, and it's impossible to remove every risk of being around people. For myself, the part that still felt kinda risky was staying in a hotel the night before. I brought my own food and cleaning wipes to help mitigate that feeling, but a friend I'd done the 2018 race with declined to attend this year for that very reason. (Camping would be an option, but would add a level of complexity.)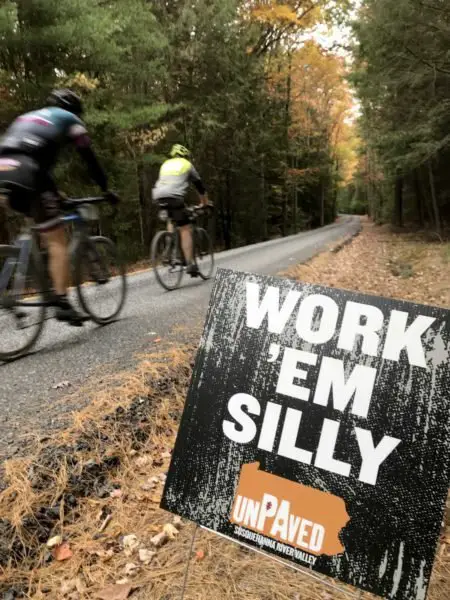 But I'm glad I got to ride unPAved, and I'd do it again. Being able to experience this little slice of semi-normal bike life felt precious. It's an experience I'll hang onto going into a winter in which it seems likely we'll be back to tighter restrictions and more isolation.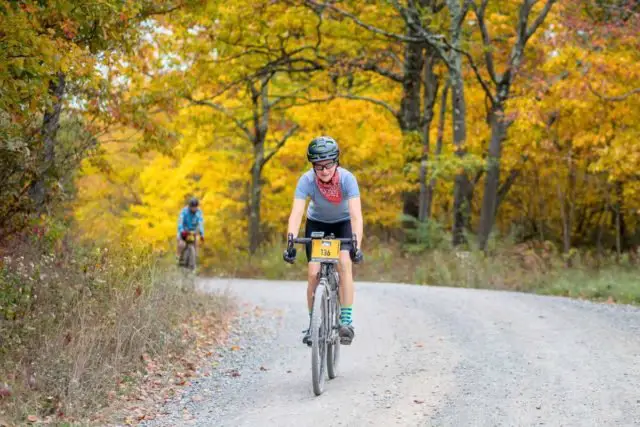 It only takes a few idiots to ruin a good time, but organizers do more than set up the details of an event, they set the tone — that goes a long way to making things work. These folks did a fantastic job.