Politically correct or not, I love the Uncle Remus stories. As a kid I wanted to be Br'er Rabbit, who constantly eluded or outwitted Br'er Fox. The stories were written by Joel Chandler Harris who lived in Eatonton, Georgia almost next door to Juliette, host town of the
Fried Green 50
.
So I (K-Dogg) thought of Br'er Rabbit and Br'er Fox in the last mile of the fifty-mile Fried Green 50 race on November 1, 2015. Three weary, mud spattered gravel racers happened to converge at the same time at the base of "The Briar Patch Run up."
This was an uphill tunnel briar patch of death that required us to slam on the brakes, dismount, force our cramping legs to run straight up a river bank, hop back on, sprint up a punchy little hill, then scream across a 200 yard bridge to the finish.
[dropshadowbox align="center" effect="lifted-both" width="470px" height="" background_color="#FFD6CC" border_width="1″ border_color="#dddddd" rounded_corners="false" inside_shadow="false" outside_shadow="false" ]ALL FOR A STYROFOAM CUP TROPHY FOR SECOND OR THIRD PLACE.[/dropshadowbox]
What would Br'er Rabbit do? How would he escape Br'er Fox?
Now Br'er Fox was represented by young former winner of the Fried Green 50, Br'er Jeff Clayton. The two Br'er Rabbits were aging Gravel Cyclist teammates, Br'er Dogg (aka K-Dogg) and Br'er Daddy (aka Pfaff Daddy).
But I'm getting ahead of the story…
Once upon a time…
In the deep south hamlet of Juliette, Georgia on the banks of the lovely Ocmulgee river, about three dozen gravel racers were released by race promoter Monte, to ride their bikes as hard as they could through a 50 mile gravel road course in Piedmont National Wildlife Refuge.
Zippity do da, zippity day went the racers up and down steep muddy hills and through waist deep creeks. The first casualty was Gravel Cyclist team member Dr. Pain, who raced to 11th place the day before at the Sac-O-Suds 50, with a seriously broken thumb that forced him to bail about two miles in. He now sports a full arm cast. His own doctor called him a "dumb ass" for ignoring the pain for three weeks.
Zippity do dumb Dr. Pain! (We wish you well).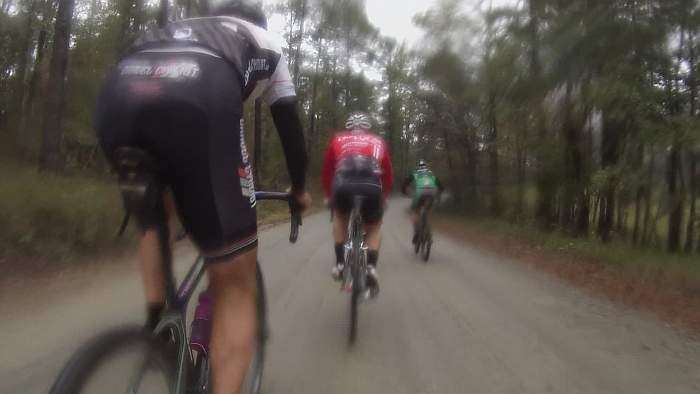 The race pace started mellow, but within 15 minutes only a dozen remained after multiple leg testing surges by last year's winner Jeff Clayton, Jake Andrews, and a newbie in a bright pink kit named Jeremy Spafard. Jeremy admitted this was his first gravel race ever, and was riding narrow 700c x 35mm tires inflated "to at least 50 psi", which cost him later. But onward in blissful ignorance he kept trying to shake things up.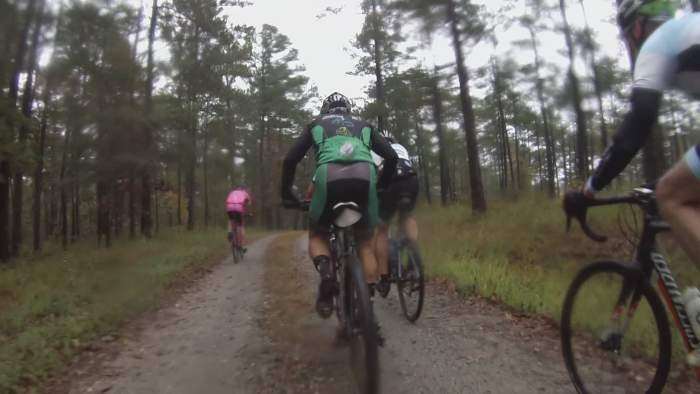 After we slammed though an ass deep creek, Jeremy came to a sudden halt like he threw out an anchor midstream. I almost knocked him over trying to get around him. He didn't appear to flat but vanished off the back for a long time. At this point teammate Br'er Headmaster (aka Rusty – who took first at the prior day's Sac-O-Suds) and I were gapped up a long steep hill… but managed to claw back on.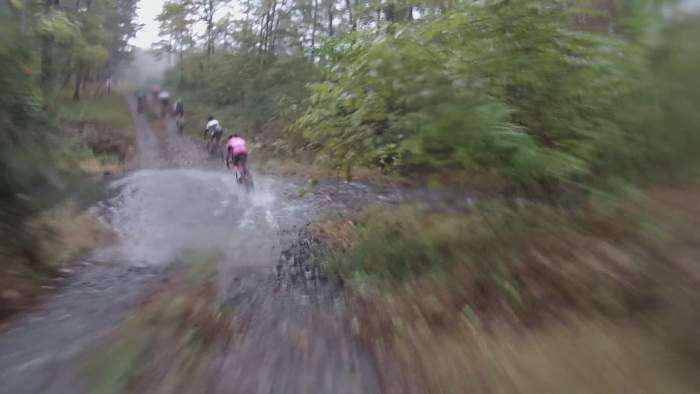 This was largely due to Br'er Jake's fresh legs (he didn't race Sac-O-Suds the day before). Jake kept pushing the pace for the next several hilly miles and eventually gapped off Br'er Dogg on one of the longest, steepest hills thus far. It was pure torture dangling for an eternity a mere five bike lengths behind Br'er Daddy, Br'er Headmaster, Br'er Jeff and Br'er Jake. Jake kept looking under his armpit to make sure I couldn't latch back on. I guess he didn't like the odds of three GravelCyclist.com riders in a pack of five.
Have I mentioned that Br'er Headmaster & Br'er Pfaff Daddy are 51 & Br'er Dogg is over 60?
I (K-Dogg) guess I should be flattered he was afraid of one old buck rabbit.
A few corners later, Br'er Daddy also detached from the glory train. He soft pedaled until I caught up and off we set off in pursuit. Two corners later, we came upon Br'er Headmaster desperately fixing a flat tire.
Doing the math, we realized we were now chasing 1st and 2nd, and strategically left Br'er Headmaster to chase solo (he is very good at this). Unfortunately, he double-flatted and had to ride back with the sag wagon.
Another Time Trial
Taking one minute pulls, we hunkered down into a grim, two hour, two man time trial to get at least one of us on the podium.
Zippity do da, zippity long ass day.
Soon however, as we rode across a lovely open meadow, we spied Br'er Jeff straddling his bike with a flat and looking at the sky in exasperation. We cheered him on but he just kept looking at the sky and said nothing.
I guess he wasn't having a Zippity do da day.
We upped our pace.
Now we were chasing first!
Grind, grind, grind on.
With an hour remaining, I looked back to see Bright Pink Jeremy rapidly closing. Now we were three chasing one. Good stuff, except like Br'er Jake the leader, he hadn't raced yesterday.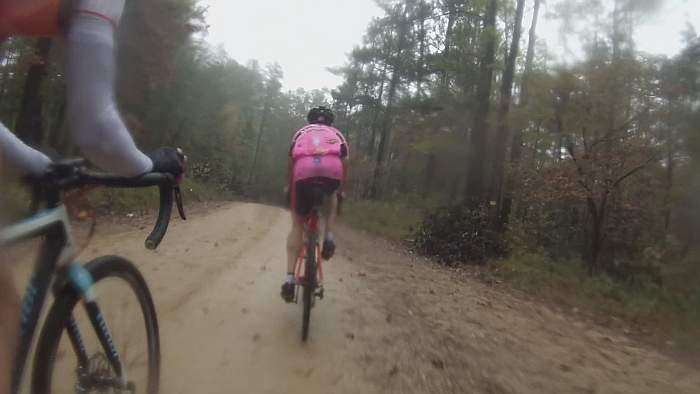 It was hard to stay on his wheel. Luckily, his skinny tires kept him from descending super fast and I was able to hang even with my notoriously poor skills. All on his own he decided to be a nice young man and tow us on the paved sections since "my bike is more efficient." We most cheerfully agreed!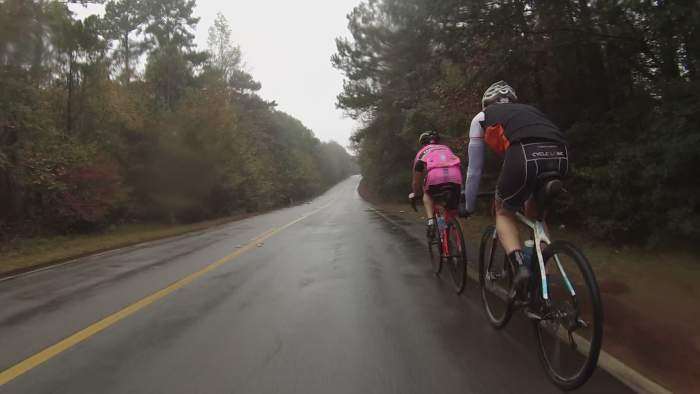 But for all Jeremy's niceness, he couldn't avoid a vicious pothole that bit his tire and ended his bid for glory. We waved and commiserated but kept going.
[dropshadowbox align="center" effect="lifted-both" width="560px" height="" background_color="#FFD6CC" border_width="1″ border_color="#dddddd" rounded_corners="false" inside_shadow="false" outside_shadow="false" ]IT WAS NOW TWO OLD FARTS CHASING BR'ER JAKE FOR 1ST PLACE. HEADY STUFF![/dropshadowbox]
We put our heads down and squeezed out another mph. Actually, it was Br'er Daddy who picked up the pace. Br'er Dogg was starting to shatter. I (K-Dogg) volunteered to sit on to "monitor" anybody closing but Br'er Daddy kept flicking his rabbit wing – and I kept pulling.
"Shut up legs!" I said. "Go eff yourself!" they answered. My legs are not polite when tired.
Br'er Daddy said he killed time watching the single set of tire tracks ahead of us. He hoped they would wander a bit to indicate Br'er Jake's fatigue. No such luck… straight as ruler.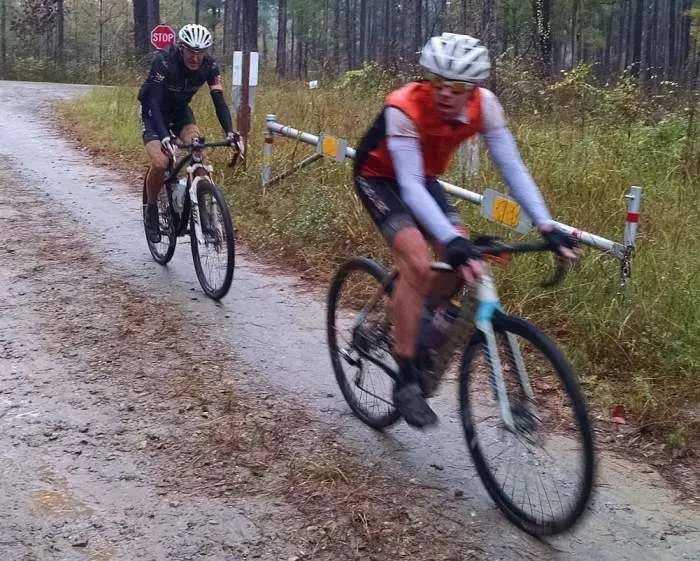 Our main fear was being caught by Br'er Jeff. Even though he raced the Sac-O-Suds race the day before, he was plenty strong enough to change a flat and catch two old farts in a couple of hours. We also knew he was mad that Br'er Headmaster caught him yesterday with a mile to go and won.
[dropshadowbox align="center" effect="lifted-both" width="325px" height="" background_color="#FFD6CC" border_width="1″ border_color="#dddddd" rounded_corners="false" inside_shadow="false" outside_shadow="false" ]HE REALLY DIDN'T WANT 2ND OR 3RD AGAIN.[/dropshadowbox]
Naturally, Jeff  caught us with less than a mile to go. We knew he would blow our doors off in a sprint but we weren't going to make it easy on him. Old guys are like that. When Br'er Jeff refused to pull, I stopped pedaling until he did. When he tried to jump away on a hill, we chased him down immediately.
We were all waiting for The Briar Patch Run Up.
When it came, Br'er Jeff insisted he lead us into the Briar Patch Run Up. Br'er Dogg briefly considered rudely and aggressively cutting Br'er Jeff off to force him to run up at a 60 year-old pace. Back home in Gainesville, Florida, I (K-Dogg) regularly employ this strategy on Dr. Pain to keep him from rolling away in deep Florida sand… but the anger it would surely evoke is not worth a whole stack of Styrofoam cups… so I let it go.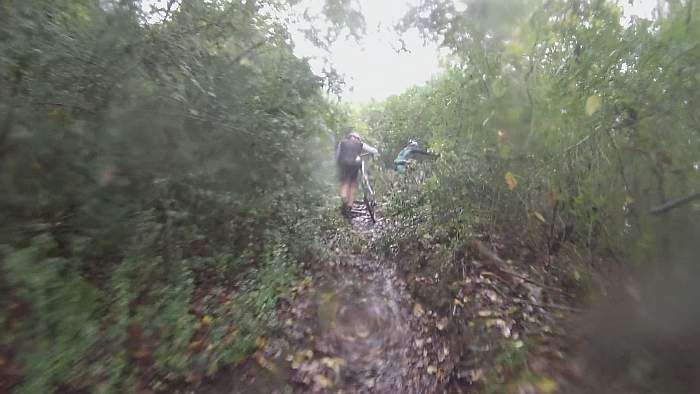 Br'er Jeff ran up the tricky trail, made a perfect cyclocross mount and vanished while Br'er Daddy then Br'er Dogg flailed their cramping carcass's after him. Crossing the final 200 yard bridge, Br'er Daddy managed to close within a few bike lengths and finished in third place. Br'er Jake took the lead with an approximate three minute margin – an impressive and lengthy solo victory!
And then it started raining. No worries. We had a marvelous time playing all day long in the mud on bikes!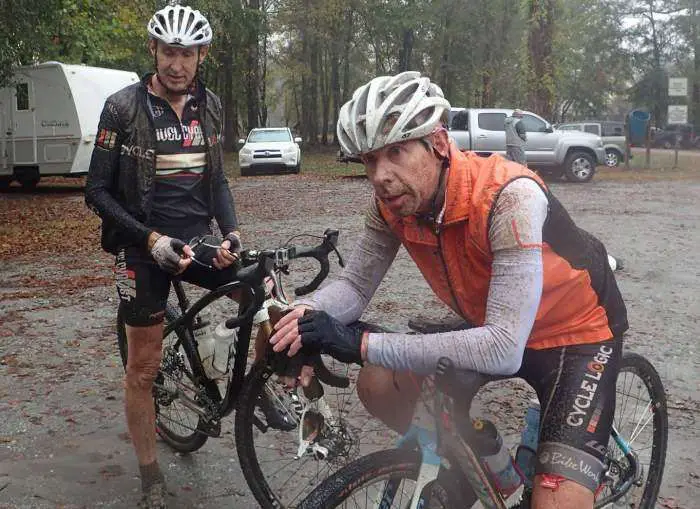 My O my what a wonderful day!
K-Dogg
Fried Green 50 Race Video Coming Soon!