Spin the District – A Cycling Revolution
Featuring food, racing, music in the shadow of the world's busiest airport, Atlanta International Airport.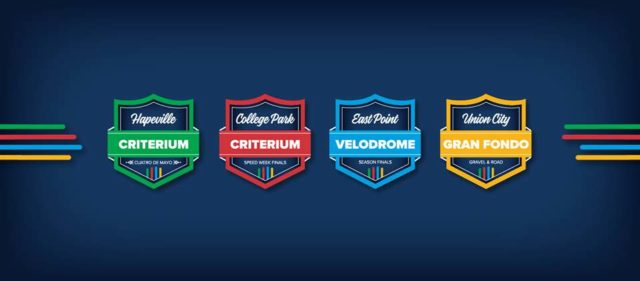 "Just 10 minutes away from the bustle and bright lights of Atlanta, you'll find the ATL Airport District. We're one of the South's premiere destinations for business meetings large and small, providing business and leisure travelers valuable advantages in efficiency and convenience, and just generally being legit and uber professional—until the weekend hits. That's when things get fun." – SpintheDistrict.com
"ATL Airport District encompasses four Southside cities: College Park, East Point, Hapeville, and Union City. With their powers combined, they create a super-destination with a unique blend of assets."
Four of those assets include the Hapeville Criterium (May 4, 2019), the College Park Criterium (May 5, 2019), the East Point Velodrome Season Finals (September 20, 2019) and the Union City Gran Fondo (September 22, 2019) for Gravel and Pavement.
Gravel Bikes at the Dick Lane Velodrome
Whilst it isn't a gravel event, I hadn't witnessed velodrome / track racing in many years, and thought it a good idea to rekindle memories of track racing. I'd last watched track racing on the velodrome at the Superdrome many years ago, in my home town of Adelaide, South Australia, a massive hotbed of just about every cycling discipline you can think of.
"The Dick Lane Velodrome, an enclosed concrete track with notoriously steep banked turns. It's fast. It's wild. It's a little dystopian – but in a fun way. Whether you come to compete or to party like it's the last night on Earth, there's one important rule: No brakes allowed!"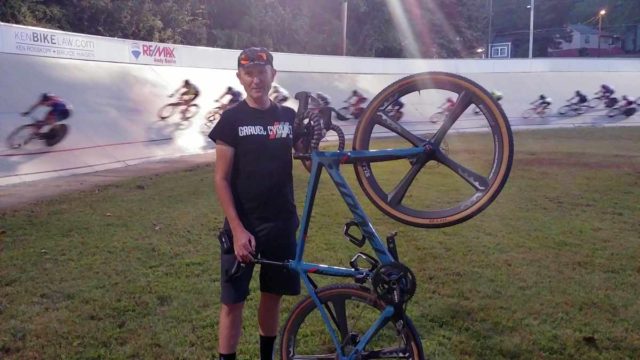 It was a fun evening, and I met several people who knew me from the Gravel Cyclist website, or whose interest was piqued by a bloke dragging about a gravel bike. I'm always looking for interesting places to film segments of my bike reviews, thus recording an intro for the Pivot Vault / Shimano GRX Di2 bike on the track's infield seemed like a good idea!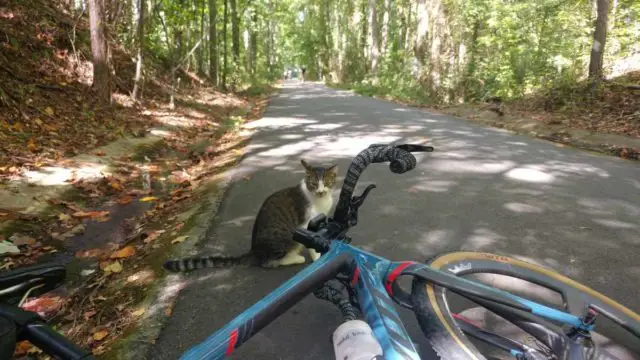 Saturday was spent doing an easy spin along the Silver Comet Rail Trail for some 25 miles / 40kms, in an effort to shake out the car-legs, and burn a few calories.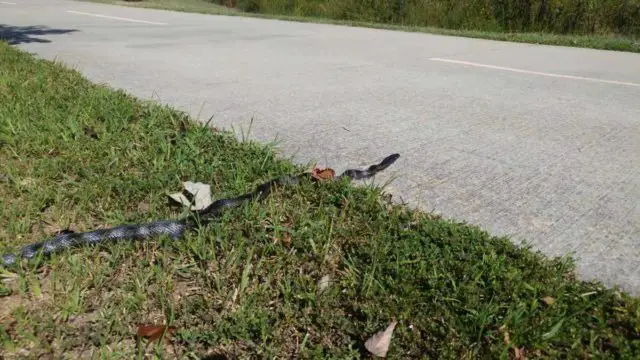 Union City Gran Fondo
This event offered patrons the choice of 10, 30, 60 or 100-mile options on pavement, or for the gravelly crowd, 30, 60, 100 and 150-mile options. With names such as Rayon60, Velour30, Husky100 (100 miles of mixed-surface goodness) or the ToughSkin150 (150 miles of mixed-surface) there was something for everyone, including a 10-mile family ride on pavement.
Interesting fact courtesy of Wikipedia: "The Georgia General Assembly incorporated Union City in 1908.[5] One source claims that the town was named for the union of rails at a railroad junction,[6] while another version states the name commemorates a "Farmer's Union" which once was headquartered here." Feel free to discuss how the town was named in the comments below… or not.
Naturally, attendees from the Gravel Cyclist crew were there for the gravel fun, and yours truly along with Rusty, signed up for the 100-mile and 150-miler respectively. Rusty had focused his training on the ToughSkin150 for several months, whilst I'd focused on sleep deprivation, hammering out articles and videos, and riding as many events as I could representing Gravel Cyclist. By the time October 5, 2019 rolls around, I should have close to five events / media obligations in six weeks under my belt… whee!
The key player to the success of the mixed-surface rides was Mr Wayne Whitesites, Vice President Tri-Cities of MTB Atlanta. Like so many of us, Wayne also holds down a regular j-o-b along with racing here and there on the velodrome for the East Point Track club, maintaining a home and the fun stuff that goes along with that. You could say he's a busy lad. Assisting in the timing for the event was Topview Sports, who operate the 3G Georgia Gravel Grinduro, another event worthy of your consideration.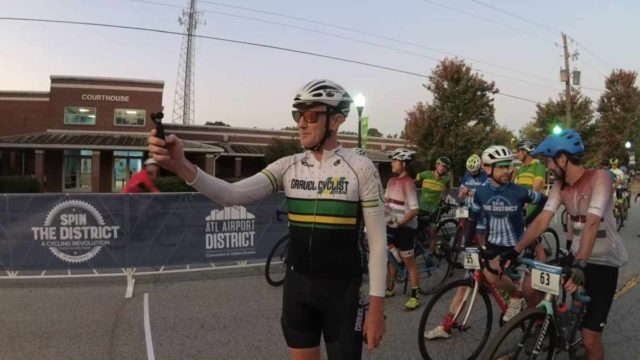 The Husky100 is described as follows – "Not quite ready for full-on big-kid britches? It's cool. The Husky100 is a hard-wearing sumbitch made up of a 60/40 blend that's sure to fit just right. The Husky100 follows much of the ToughSkin150 route, just a little less miles."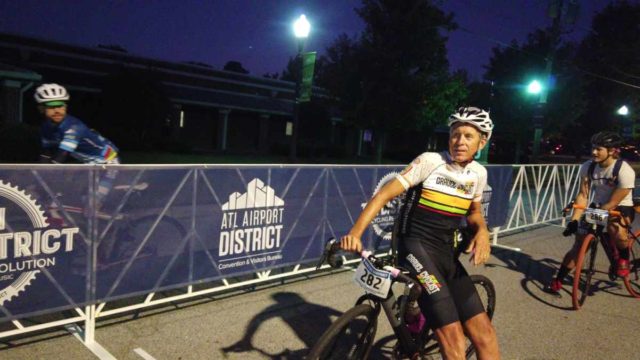 I was ready for the 150 miler, but the body was knackered, and I've ridden more than my fair share of 150-mile rides this year, racing or otherwise… time to wind it down a bit… so the big-kid britches were left with teammate Rusty. Making the 60, 100 and 150-miles gravelly races more interesting was the timed segment challenge. "To win the Time Segment Challenge, you must have the fastest overall accumulative time of the segments provided for each event", aka Grinduro format.
Because of the potential for mega-slacking happening between timed segments across all of the rides, the promoter thought it a good idea to send the 100-mile Husky100 competitors off at 7:15am. Only the 150-miler ToughSkin150 riders went earlier, rolling out at 7:00am. Despite the overall fastest time not counting for anything other than bragging rights, our combined group of Men's and Women's Open, and Men's and Women's 40+'ers rolled fast as fark on the pavement towards the first of many mixed-surface roads.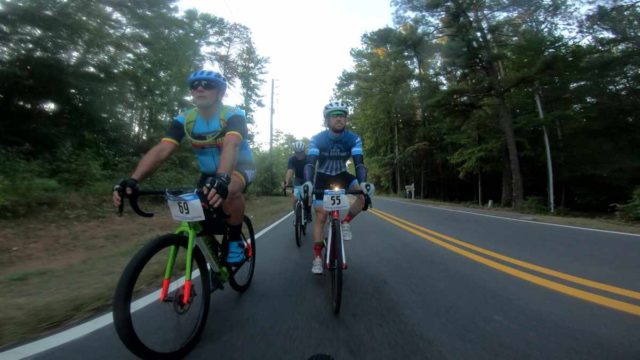 Approximately six miles into 100, four? riders rolled away from the peloton, thinking it was a better idea to ride faster everywhere versus cruising about saving one's gas to ride the timed segments at speed.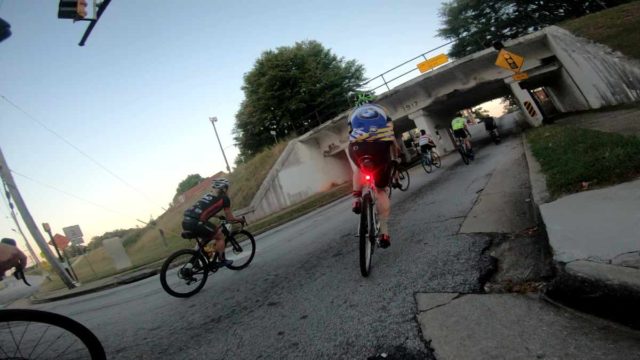 It goes without saying I was content to lurk around in the cruisier bunch but regardless, we held a very respectable speed of 20 – 25mph (32km/hr to 40km/hr) along much of the pavement before the first gravelly road.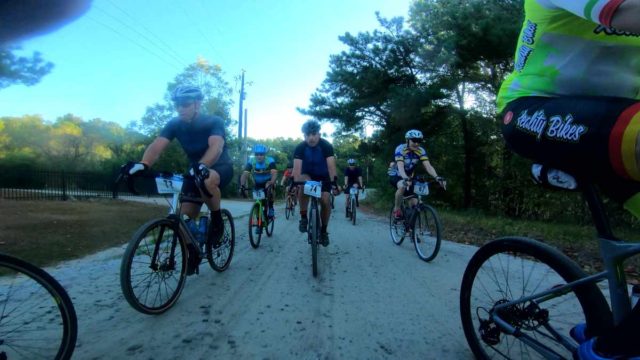 Notable riders on the first gravel and the early paved miles were the crew from Piedmont Collegiate Cycling (with coach and former pro Jame Carney among their ranks), Kathleen Mitchell (former USA National MTB Marathon Champion) and others who have kicked my arse at various gravel races in the South East.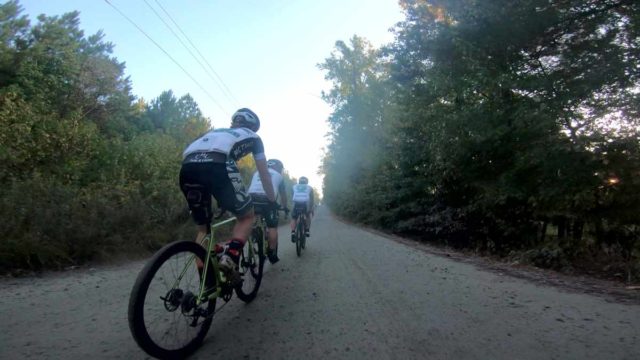 Things got interesting when the course took riders into Cochran Mill Park, location of the first timed sector. Possessing zero tribal knowledge of this challenging and undulating section of gravel, ruts, bumps and other fun stuff, I did my best to stick close to the wheel(s) of those who I identified as localish, who I hoped had insider knowledge of the course. In a convenient stroke of luck, but not for some, I entered the first timed segment well placed, that began somewhat inconveniently just a few metres beyond a barricade that blocked much of the road. Think of a funnel and you get my point.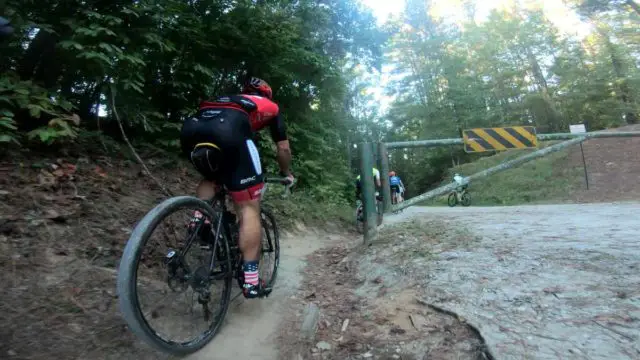 I sort of latched onto the draft of a local lad (David) aboard a road bike! who dodged the first obstacle, the dried-up creek crossing. A quick flit of his handlebars saw him turn towards singletrack and a wooden bridge over the now dried-up creek. It may have been a little further to ride but it was more efficient, and I came out decently placed.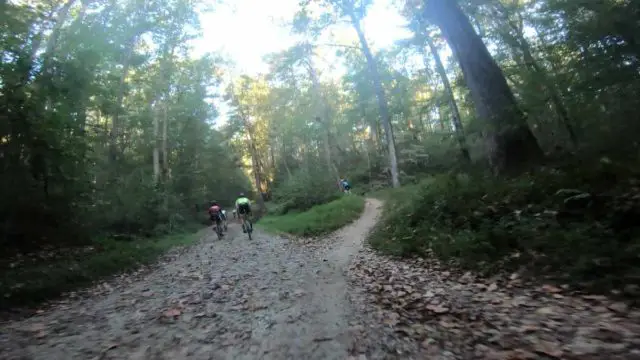 Remember, this was one of three timed segments, so it was a matter of riding as fast as possible but without crashing, blowing up one's legs and so on. The Piedmont crew knew all about this segment, because those wiley little buggers were at the front of the field, team-time-trial style, hammering the segment and taking turns keeping the pace very high.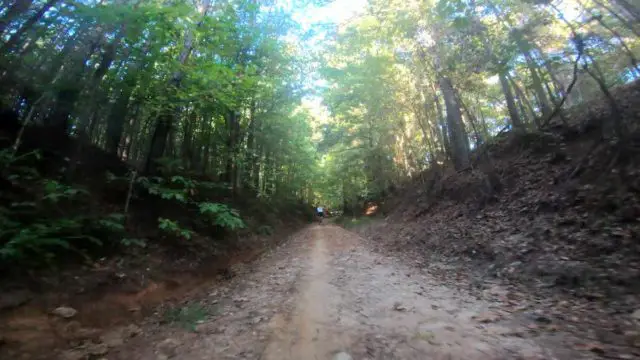 It didn't take long before my attempt to bridge across to the group of six or seven riders at the front failed, at which point I placed myself into the red heart rate zone 5.5 (I totally made that up), hovering somewhere around 180'ish beats per minute. Dafuq! A bloke my age isn't supposed to be hammering his ticker in this manner I thought to myself, but then I forgot all about that, and kept myself hanging around in the company of the other riders who made up the second group on the road.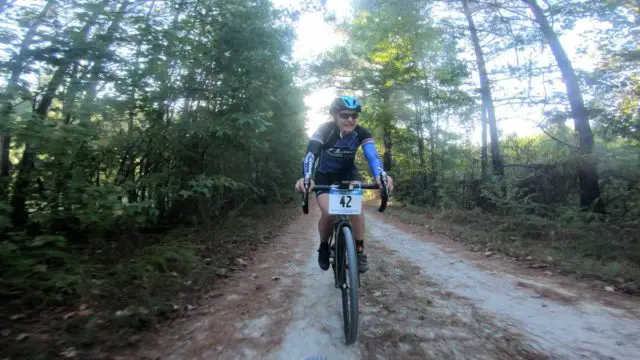 Kathleen made the split, and by the way she was riding, looked to be a primo candidate for winning the women's Open category. But it wasn't like she was sitting on the back shirking the work. She would pull through, mostly on the climbs, causing me much duress as I scrambled for her wheel, head down, close to the point of wearing teeth marks into the stem. 'Tis a good thing I can descend somewhat OK, as I used those times to drop my heart rate by about two beats, whilst keeping up a maniacal tempo hoping that the first effin timed segment would hurry up and end.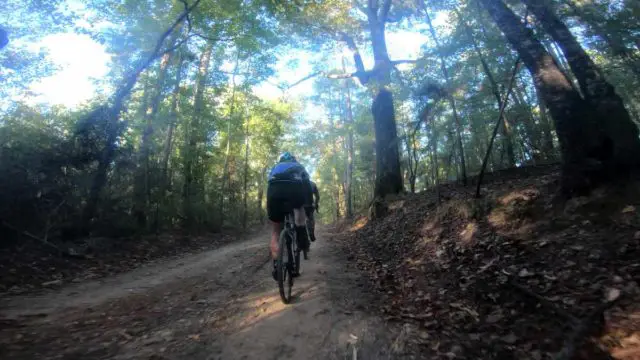 According to Strava, a website I seldom upload to, Segment #1 was 10km/6.25 miles in length. I knocked it out in a time of 21:44, which is about 17.5mph or 28km/hr… that doesn't sound like much, but apparently my heart rate averaged 167bpm for that effort. Not all out the entire way, that would be a full-on time trial effort, but enough to definitely open up the legs, but not so hard as to totally eff myself with just 27 miles / 44kms traversed. You can see my Strava workout from the Husky100 here.
The good thing about Grinduro format races is you can ride around slow as you like between segments, providing the promoter doesn't have a time cut in place. At the end of Segment #1 was Aid Station #1, which is where our gravel cycling gang was formed. Our gang consisted of Kathleen who I mentioned earlier, her brother Sean, himself a very handy cyclist, Chuck (67yo!), Laina, Nathan and yours truly. We gorged on the M&M riches of Aid Station #1 for at least 20 minutes, before we collectively decided it was a good idea to get rolling again.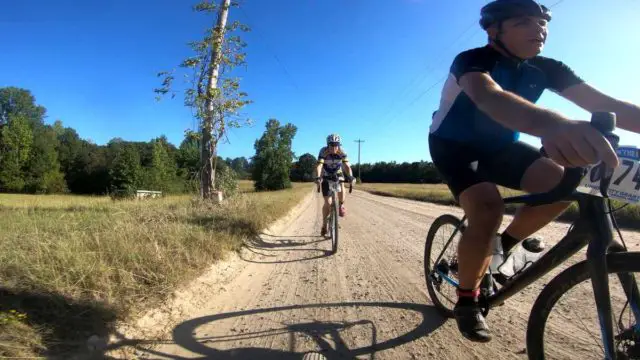 It is difficult to believe these marvelous roads exist within 20 miles drive of the Atlanta proper. A true paradise and one I hope is never developed or paved.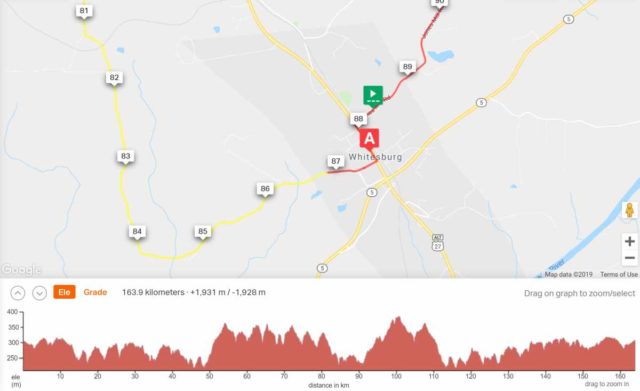 We chugged along as a collective group towards the small Georgia town of Whiteburg, which also hosted Aid Station #2. If you believe Georgia to be flat, please consult the elevation profile above from the official course map, courtesy of RidewithGPS.com. Just a few miles before we rolled into Whitesburg, Kathleen had the displeasure of burping her rear tyre in a massive way, thanks to a dodgy railway crossing. When this happens, one hopes the slow leak can be ridden to the aid station saving everyone the inconvenience of busting out repair kits and Co2 cartridges, but it wasn't to be.
Our flat repair experience went as follows:
Kathleen's tubeless tyre loses all air pressure and the bead breaks.
Loaner Co2 cartridge and inflator fail due to operator error courtesy of yours truly with mega flat-changing experience or some other force of nature.
My personal inflator did the trick with my one and only Co2 cartridge (I always carry two, but the other was already used… good planning there), but Kathleen's wheel was up to pressure, and seemingly holding air nicely.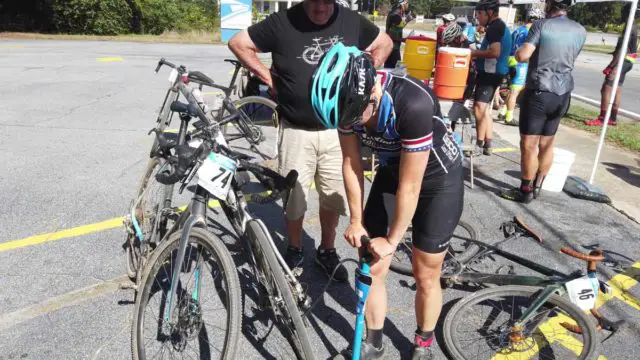 We spent an inordinate amount of time in Whitesburg, triple-checking Kathleen's tyre and fixing another puncture that had befallen Nathan just a mile or two later. It was a good thing the aid stations were well loaded up, because speaking for myself here, I loaded up with all sorts of sugary goodness and snacks in preparation for Segment #2.
Segment #2 was a real cheeky bugger. It was all paved and began less than .5 miles after the town of Whitesburg. The legs of our collective sextet had fallen asleep by this stage, so it was a rude awakening when we realized the timing mat was just around the corner. Bollocks! I figured Kathleen was leading the Women's Open category and stood a real chance of winning the timed segment overall. Chuck and I stood a chance of doing well in the Men's Master's category, so working together on this undulating, windy (and windy) segment was a good idea. We rode it team time trial style for its 12kms / 7.5 miles of length. That was until I blew up in spectacular fashion, some half-mile from the end of the segment. Chuck and Kathleen forged ahead, and put some 27 seconds into yours truly, such was the magnitude of my leg detonation. After the segment, we laid around in the shade of a nearby tree, collecting our breath and sweating profusely.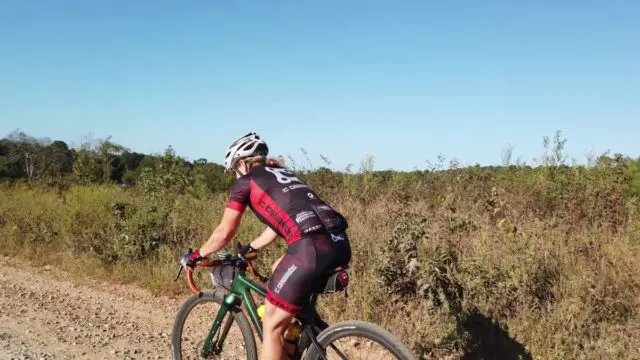 The course went back on itself approximately two-thirds of the way along, and later dropped us at Aid Station #3 near the corner of S Fulton Parkway/Capps Ferry Road and Whiteside Road some 117kms/73 miles in… and lurking just a few metres away was the third, final and longest segment for the Husky100 course. But before our gang could contemplate that task, we first had to stuff our faces appropriately and dull our legs into a momentary sense of zen.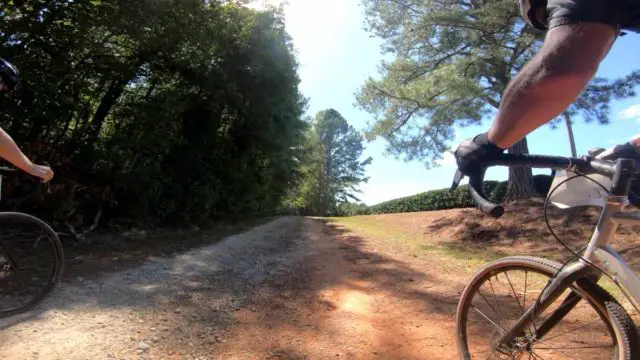 The gang got rolling again and assembled ourselves into a team time trial like formation, hoping to profit from the draft afforded by riding at around 18mph / 28km/hr. Everyone's legs were pretty knackered by this point, so it wasn't going to be pretty for the duration of this 17'ishkm / 10ish mile long segment. If memory serves me well, the segment was full-on gravelly and undulating the entire way. Somehow, my legs felt a bit spicy / amazing and I planted myself onto the front rolling a sweet but hard / somewhat sustainable tempo. It was going oh so well until I buggered up the line going into the uphill hairpin corner of Jones Ferry Road.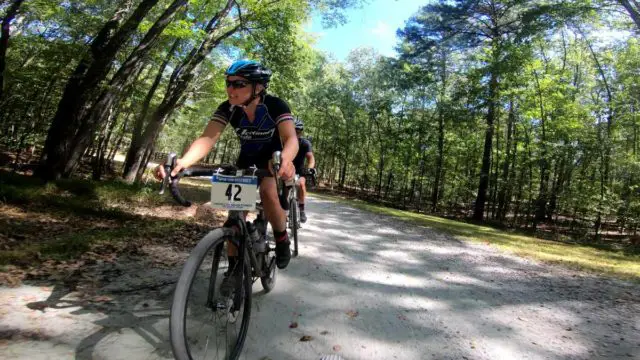 What the eff?… why am I now lying on the ground on my right side, dazed and confused, with Kathleen virtually riding over the top of me? (sorry Kathleen). In true amateur style, I turned the front end too sharply, lost traction and interfaced myself and the 3T Exploro review bike into some nice Georgia gravel. I remember telling everyone I was fine and to get cracking on… I was rather PO'd at myself for buggering the gang's time trial tempo and for almost crashing out Kathleen (another 1,000 humble apologies for any bruising you suffered). I dusted myself off, checked the bike over, and examined my wounds. The good news, broken skin cells on the knee, arm and hip only, no damage to the kit and barely anything to the bike, win! Blood and gravel dust coagulate nicely. Remember, I'm not about online affirmation / pity parties, so no need to offer consolatory comments below unless they are sarcastic 🙂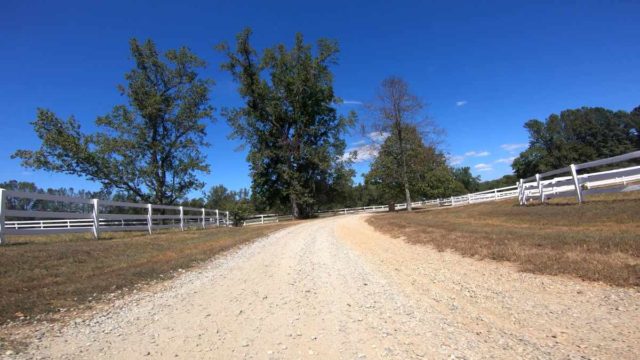 Fueled by post-crash rage, I got rolling again and set about finishing off the segment. I'll admit to being a bit cautious in those moments not long after hitting the deck, and there was no hammering descents or taking risks. It didn't take long before I caught Sean, and we worked together briefly until my legs came completely unglued and I gloriously sat up…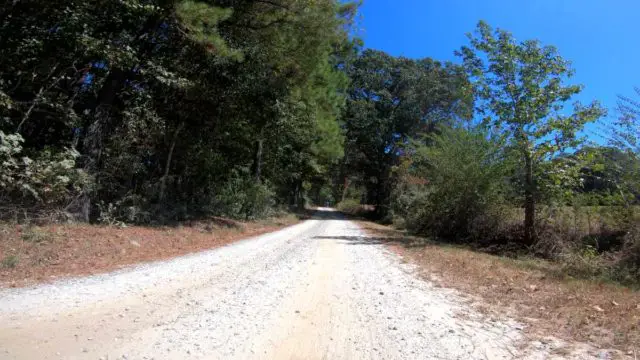 Adrenaline rush over, I chugged along feeling a bit sore, and finished the segment some 47 minutes after it began… not exactly expedient.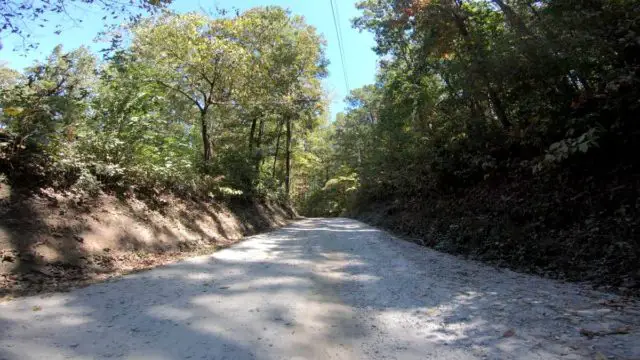 My crash and subsequent faltering had unknowingly toppled myself from a potential top three in the overall segment standings to sixth, d'oh!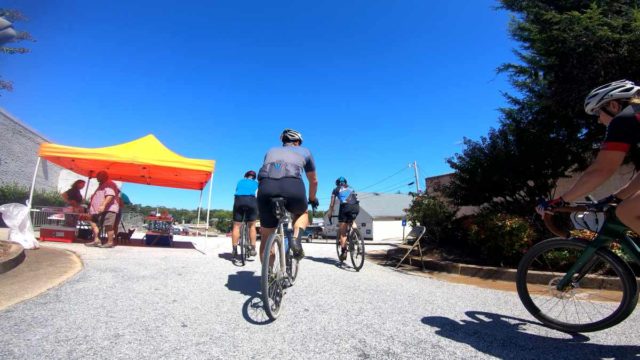 With just 28kms / 17ish miles left to ride, our sextet stuck together through the final aid station in the town of Palmetto, and the final paved miles all the way into the finish at Union City, Georgia.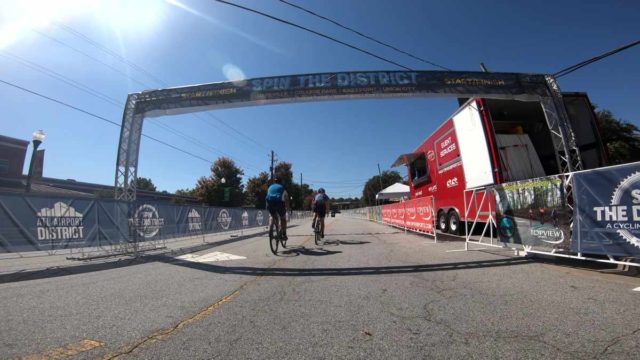 It turns out that our little group did quite well in the segment standings.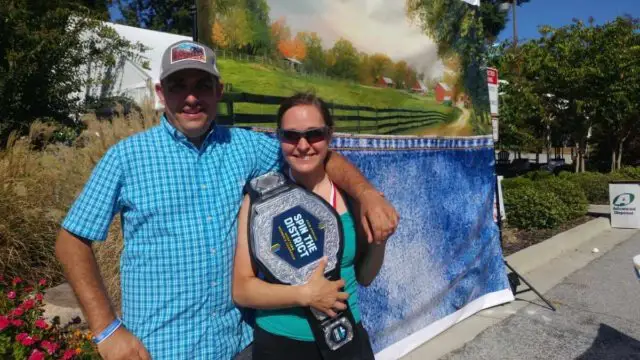 Kathleen collected the win in Women's Open and scored an impressive wrestling-like title belt for her effort! Laina followed suit with the fastest time in the Women's 40+, sweet! Chuck at just 67 years young took third in Men's 40+! Teammate Rusty took 2nd in the Men's 40+ category for Toughskin150, congrats!
Overall, a great day complimented by hanging out at the start / finish line with new friends, enjoying food and beverages provided by the promoter to every entrant. Mark Spin the District on your calendar for 2020.
There will be ride video coming soon which explains the story of the Husky100 than my words ever can… but thanks for reading anyway!
JOM aka Jayson
Additional Photos from the Husky100