"Perhaps one of the most memorable facets of the inaugural SBT GRVL race, which launched with three course distances that wove through the beautiful rural gravel roads in and around Steamboat Springs, Colorado, is the fact that the event drew 400 female riders. That's just under 30-percent of the 1,500 riders who signed up to ride." – VerdePR.com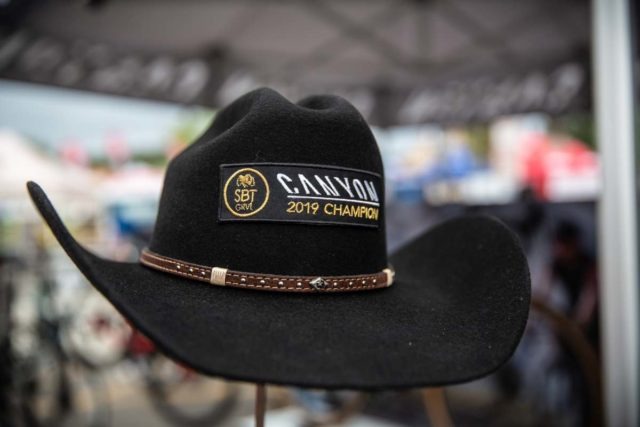 Women's SBT GRVL
That's a strong showing of female gravel riders for a first-year event. And all 400 of them showed up ready to ride at 6:30 a.m., sharp, 1,500 riders left Steamboat's Yampa Street ready to take on the Black Course (141-miles, 100 of which were gravel, with 9,000-feet of climbing), Blue Course (100- miles, over 70 miles of gravel, with 6,000-feet of climbing) and Green Course (37-miles, with 20 miles of gravel, and 2,000-feet of climbing).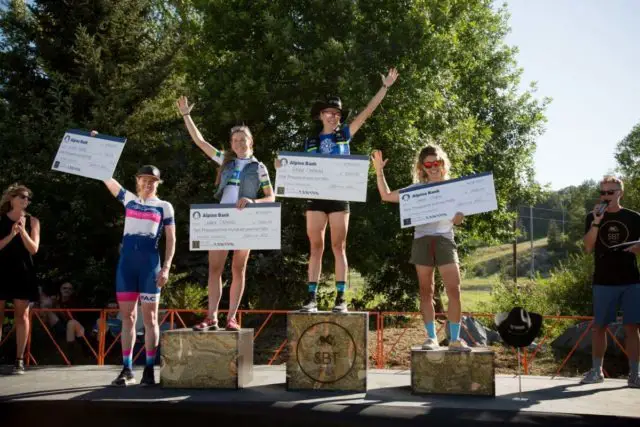 Among those 400 female riders, an incredible pro women's cycling field went to battle for an equally split prize purse of $11,000, the majority of which was awarded to the top five female finishers of the Black Course. Another $3,000 was earmarked for the female winners of the Blue and Green Courses, respectively, as well as age-group top finishers.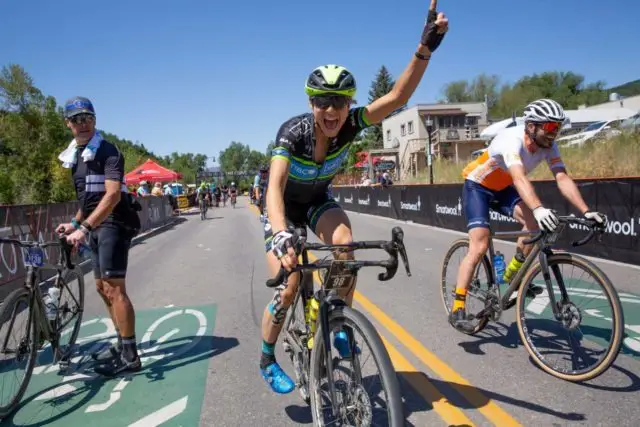 At the end of the day, it was Brodie Chapman of Tibco-Silicon Valley Bank Pro Women's road-racing team who took the top step of the podium with a winning time of 6:56:40.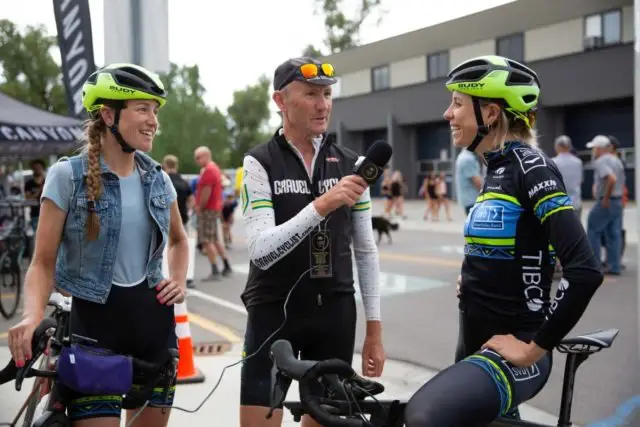 Second place went to Chapman's teammate Lauren Stephens, while Sarah Sturm took third. Sturm placed second in the Leadville 100 Mountain Bike Race last weekend, and also won the Belgium Waffle Ride in the spring of this year. The top five women's winners also include multi-discipline cycling pro Alison Powers and Nina Laughlin, a pro cyclist and coach for Carmichael Training Systems.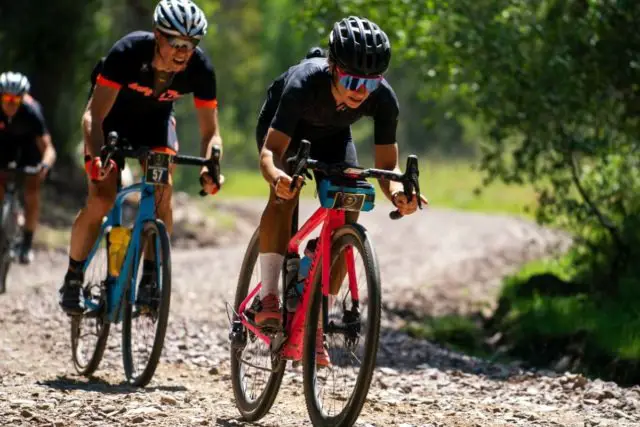 Brodie held a consistent pace and position at the start of the ride, racing head-to-head with second-place finisher, Lauren Stephens. By the time Chapman topped the first climb, she put in a seven-minute gap on Stephens after she suffered a flat tire. Chapman, named 'Gravel and Tar Champion' as well as the first-overall winner in the Tour of the Gila in 2019, held on to the lead for the rest of the race.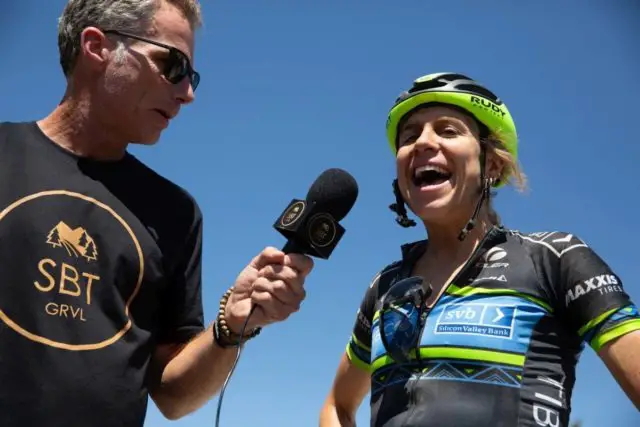 "I came here to win," said Chapman. "Unfortunately my teammate Lauren got a flat and I knew I had to keep going so I just pushed on and tried to hold the wheel and stay out of the wind; and it got really fast."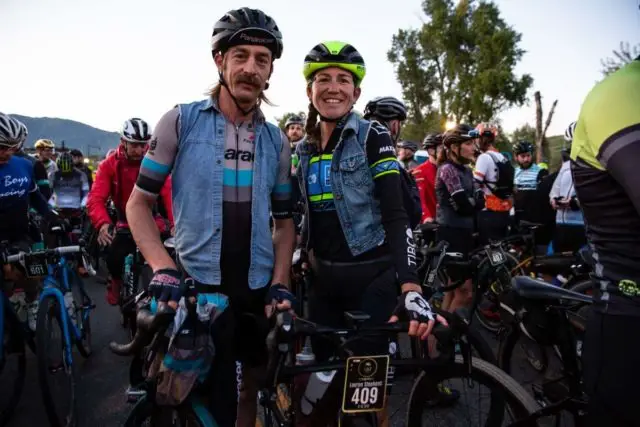 The inaugural Queen of the Mountain title for the climb-heavy Black Course goes to Stephens, who had a cumulative climbing time of 53:40:00 over the three major Black Course climbs.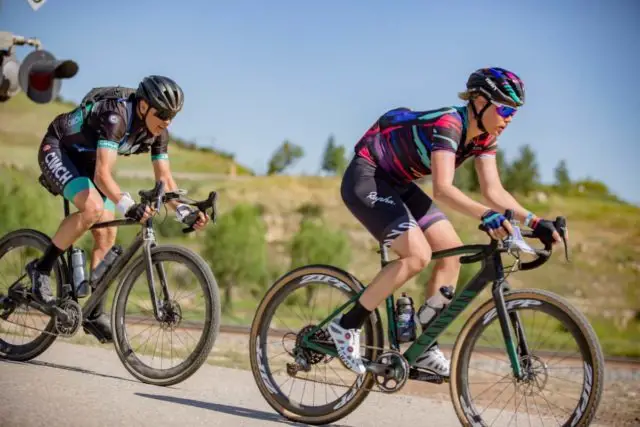 UCI Women's Canyon–SRAM cyclist, Ella Harris of New Zealand, secured the overall win on the Blue Course, finishing with an overall time of 4:59:40. Harris is also the only female to break five hours on the Blue Course. Canyon-SRAM teammate, Tiffany Cromwell, secures the second-place finish with a time of five hours, six minutes. Four of the top five female finishers (with the exception of Sturm) will be lining up to race the Colorado Classic Women's Road Race starting today (at the time of this article).
Takeshita Kae Takeshita is named Female Champion of the thirty-eight-mile green course. Takeshita finishes third overall in the Green group finishing with a time of 1:50:19.
Crystal Wintle from Stillwater, Oklahoma, who was the only female single-speed racer of the Black Course and was named the winner of that category. To find individual age group results and all full race results here.
Men's SBT GRVL
The inaugural SBT GRVL race, presented by Canyon Bikes, launched to a field of 1,500 riders. Over 500 of them tackled the Black Course, a 141-mile, 9,000-foot elevation gain course that offered 100 miles of gravel roads winding through Steamboat Springs and surrounding Routt County.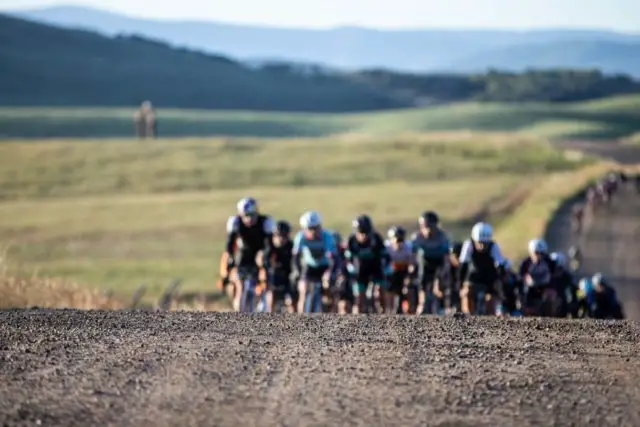 The inaugural race attracted a high caliber men's and women's pro field, comprised of World Tour road racers, including some retirees like six-time Tour de France Green Jersey winner Erik Zabel and Ted King, who last rode professionally for Cannondale-Garmin's UCI Pro Team. It also counted active pros among its ranks, hailing from cycling disciplines including marathon-distance, mountain bike and gravel racing.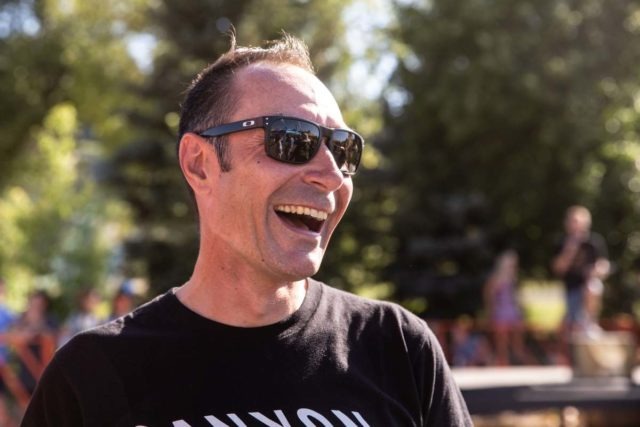 Course conditions were improved from rains on Saturday, and the race unfolded under a blue sky with temperatures that reached 85-degrees. It turned out to be a perfect day for King, and marathon mountain bike and gravel road racer Payson McElveen, to duke it out for most of the 141 miles of the course.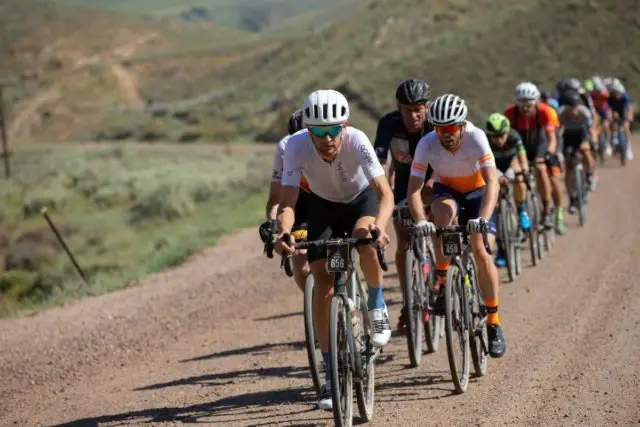 King broke away to take the lead during the rolling gravel flats between climbs two and three. He had to fight hard and consistently through the last 20 miles at Cow Creek to best McElveen, who continued to attack King on the toughest climbs of the day.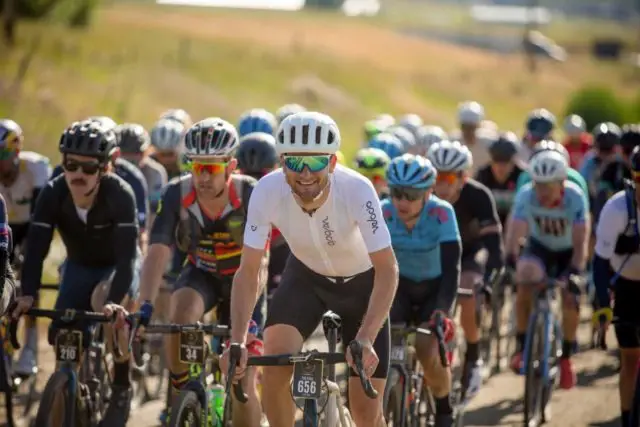 King ultimately prevailed with a 00:01:54 gap on McElveen, adding the win to his gravel palmares, which includes the 2018 win of the Dirty Kanza 200 gravel race.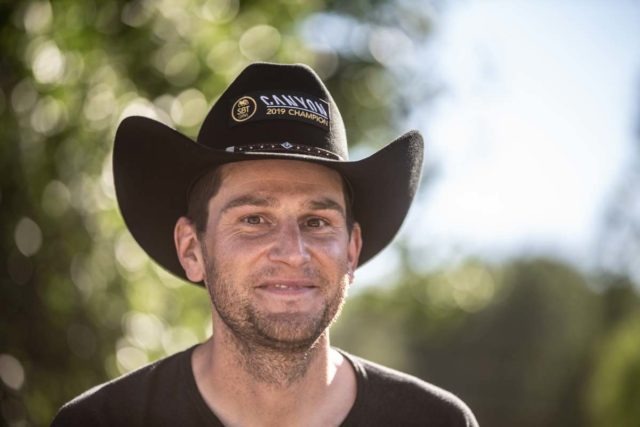 "This event – and the best gravel events – happen with an amazing amount of camaraderie," said King, the men's Black Course winner. "It's been a year of 'almosts' (for me) and (it was) really fun to duke it out with these guys."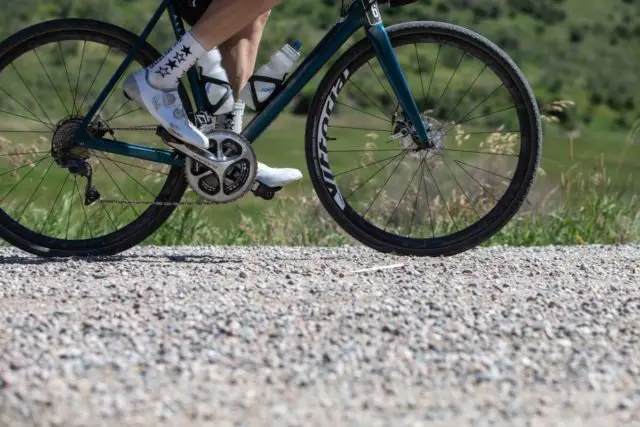 King said that he and second-place winner McElveen were talking with each other at the end of the race, between attacking each other.
"We were just saying how stunning the landscape of this race is, it's outstanding. Steamboat has been such an amazing (host) community; we've really loved this whole weekend."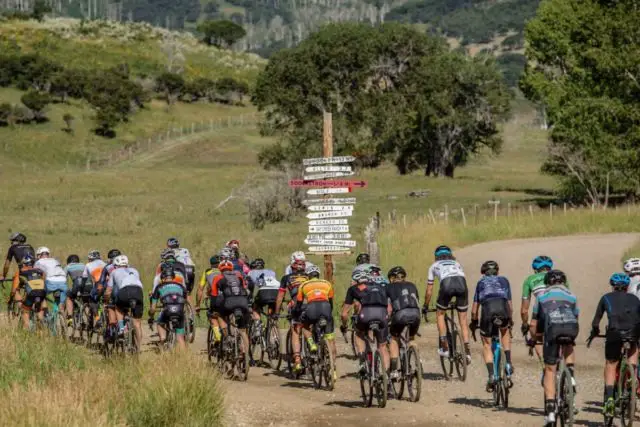 In addition to the second-step on the podium, McElveen was awarded a hard-fought King of the Mountain title in the inaugural SBT GRVL. He rode the three main climbs on the Black Course, which total almost 9,000-vertical feet, with the fastest cumulative time of the day (48:32:00), and brings home a valuable prize package from race sponsors Panaracer, Roka, OtterBox, Feedback Sports, GU Energy, Primal and SmartWool.
Colin Strickland (overall men's winner of this year's Dirty Kanza), Jacob Ruthe and Jonathan Baker rounded out the top five men, who together will split $11,000 of the $28,000 total prize purse.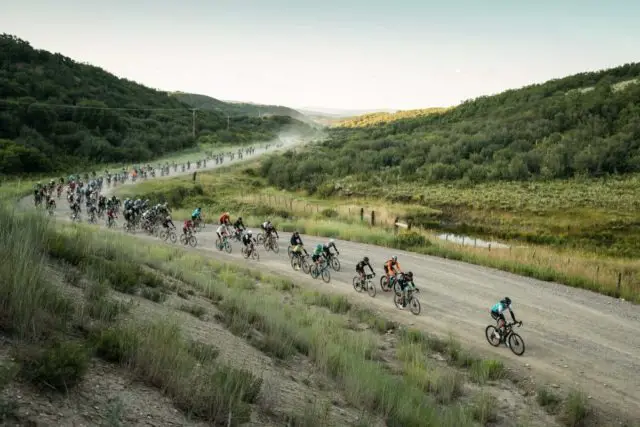 The remaining $3,000 is allocated to the male winners of the Blue Course, which was 100 miles with over 70 miles of gravel and 6,000-feet climbing, and the Green Course, a 38-mile race with 20-miles of gravel and 2,000-feet of climbing.
Gary Holt of Littleton, Colorado secured the overall win for the Blue Course amongst male riders, finishing with an overall time of 4:57:58. Jacob Peterson, also a Littleton, Colorado, local, is the overall men's Green Course winner with a finish time of 1:49:09.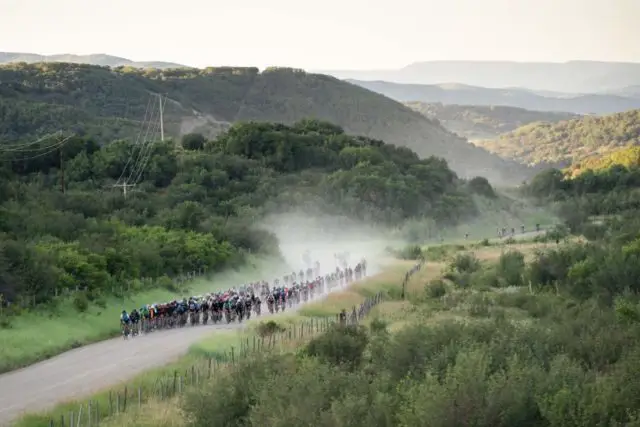 Other notable results for the men's field include Lucas Clarke of Denver, who was the fastest single-speed rider of the day, on the Black Course.
All writing in this article provided by verdepr.com
2019 SBT GRVL Highlights Video
Photo Gallery by Wil Matthews – Linda Guerrette – Dane Cronin – Ian Hylands