8th Annual Doc Hollywood Cycling Invitational
For a race that is not a race it sure felt like a race although it started slowly. No shoving, no cursing, no rude jockeying for position. There was no prize but there was no entry fee either.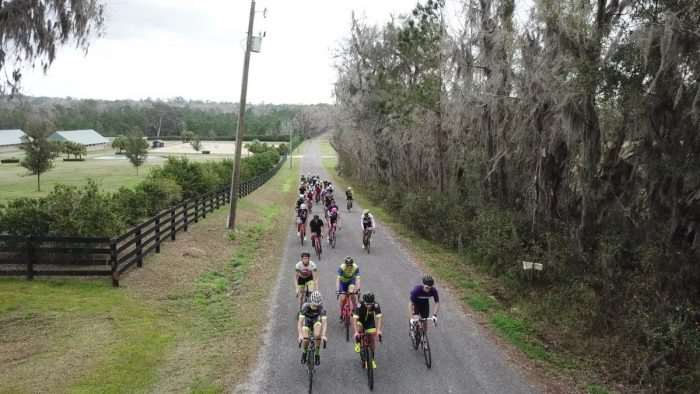 For most of the first 40 miles or so, the Doc Hollywood ride wove languidly through pastoral scenes and bucolic oak-lined roads. Longtime ride promoter Tim Hayes shepherded approximately 45 racer types ever southward. People chatted casually and pointed at frisky thoroughbred horses who considered joining us. Traffic was so non-existent the pack took the entire road from time to time.
The plan was to have everybody stick together until the one food stop outside Williston, Florida. At this point, we are cut loose to start a 30 mile more serious "Not Race."
Oh, and 10 or so of the last 30 miles are sketchy lime rock and sand. Road bikes and road tires were the most common but a few hearty or flat adverse chose gravel bikes and gravel tires measuring 35mm. But more about this later.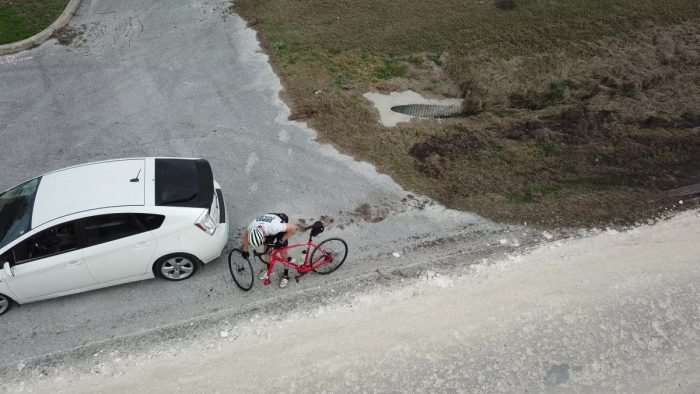 Twenty miles in, before we hit the rest stop, Gravel Cyclist teammate Jim ( "Jimbo") Philips succumbed to one of many noted punctures. GravelCyclist.com founder Jayson aka "JOM", stopped filming and motor paced him back to the rest stop. By motor pacing, we mean Jim sat in the car and was driven, luxury style to Williston. However, I do understand he assisted JOM with some filming here and there.
In case you haven't heard or read JOM's article, he was off the bike for this event, recovering from a double hernia surgery. No worries! It allows him to fill a Toyota Prius with cameras, drones, and accessories and to get some unique footage of the winners… not just the dropped… which is pretty much what happened to the entire Gravel Cyclist squad.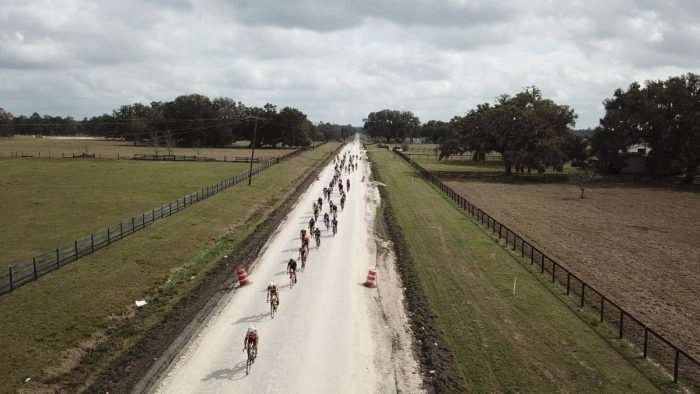 A few miles from the food stop we turned onto C.R. 464, a large wide open east-west road usually with a nice smooth shoulder. To our surprise, it was now a potholed, carpet bombed nightmare which lasted about five miles of headwind and tore the group apart. The scoop was that a few riders with ants in their pants decided to start the "Not Race" a wee bit early. Rumor was that one Irish lad was largely to blame. He does this a lot on local training rides. He also is often known to blow up and solo in minutes behind… which the author observed on Sunday… just sayin'.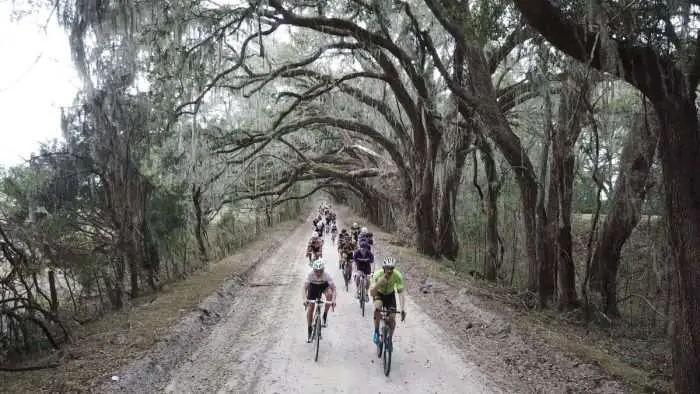 Finally, a few groups of stragglers grouped together for the chase led by my personal hero of the day, Justin, aka Pfaff Junior. He put his head down and pulled most of a large group single file back to the lead group. I say almost most because his Euro-pro pace eventually took Mrs. K-Dogg and others off the back. Sixty seconds later, he led me over a fist-sized rock and a puncture.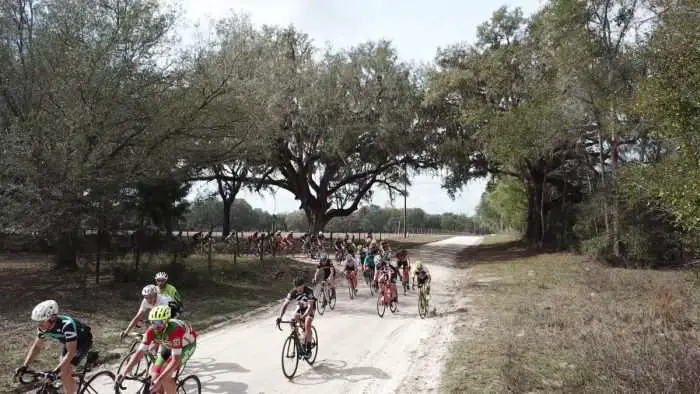 No worries… it was nice while it lasted.
Mrs. K-Dogg cheerfully rolled up to help and soon we were back on the road to the food stop with plenty of time to refuel with the groupo.
Important Note:
Apparently, It takes about half an hour for a convenience store to accommodate 45 hungry cyclists. Even more time when the one clerk has to process 45 debit card sales of 83 cents each. Bring cash! It's so much faster. Yes, I know I'm a cranky old technoclast but at 62 years of age, every sunny day is precious. Keep it moving! Just sayin'…
Eventually, 45 pairs of cycling shoes tapped danced their way outside while slamming down Twinkles, Ho Ho's, 32oz cokes and other quality nutrients. Soon Tim said "enough" and the whole gaggle paraded back onto the road with loudly sloshing tummies.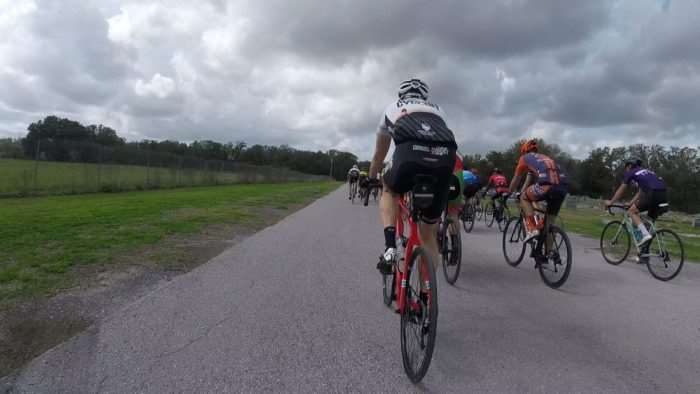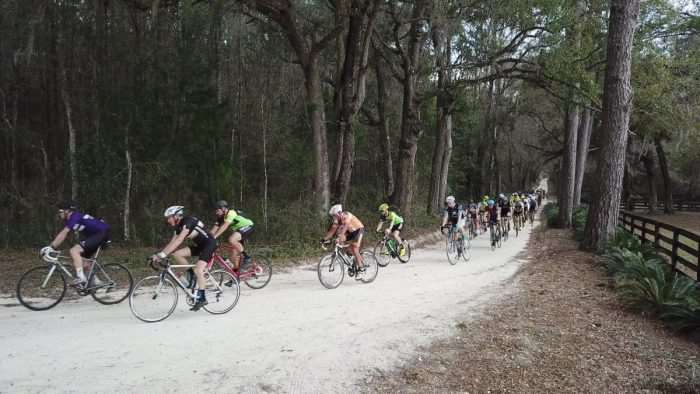 A few mellow miles later Tim and I carefully shepherded the fully fueled peloton across dangerous Highway 27. A hundred feet later, as we rode side by side towards the dirt, gravel and limerock sector that signified the "start line", Tim told me to "Go ahead and roll them up K-Dogg."
"Huh? Me?" I said, as he quit pedaling and eased to the right. WTF? I muttered but dutifully began to accelerate through the dirt and potholes. Twenty… twenty-five mph… a quick look over the shoulder revealed a huge caffeine-fueled dust cloud closing quickly… twenty-six… twenty-seven… and boom!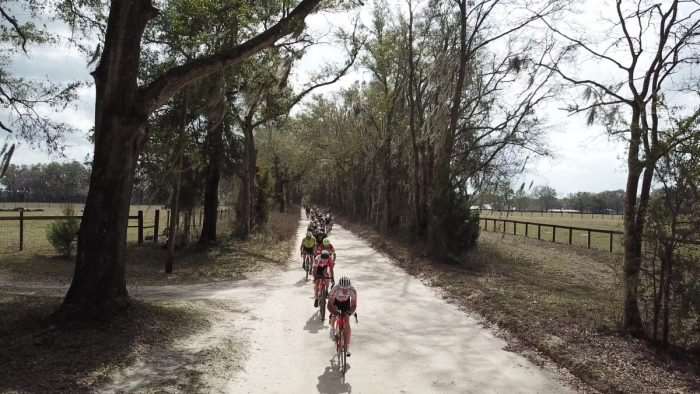 A lethal rumba line led by Clayton aka "Dr. MSG" Mathews blasted up the left side of the road while I faded back and right trying to be as small as possible.
The fat man fade began… and there wasn't even a hill!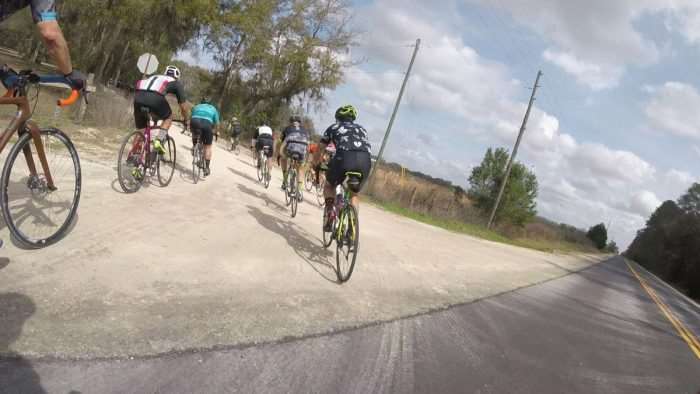 Near the back, teammates Jimbo and Rusty threw me a lifeline. The three of us limited the damage for a few miles then eventually succumbed to the inevitable at one point or another.
Bye bye race… hello laughing group!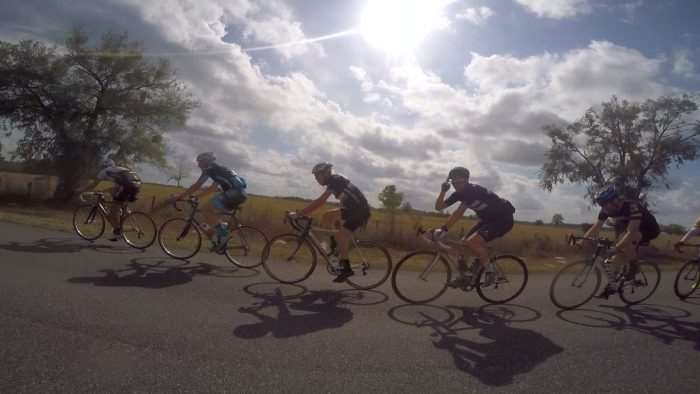 A few miles later, Rusty punctured… then again, then again, and then one more time. Mrs K-Dogg helped with spare tubes and air, but eventually, he had to call his mom to come pick him up. There is probably a story there but Moms rule! His mom sure does!
The last few miles formed into a mellow but workable group Including former Gainesvillian Ted, Shannon from Gainesville, Scotty from Tampa / Saint Pete and three to four other great guys whose names I forget. Three of us experienced leg cramps due to an unseasonably warm day and lack of proper nutrition I'm sure.
JOM put in an amazing effort and managed for once to finish with the elite lead group… true, he was driving his car, but still not bad with a double hernia. 🙂
While I heard Ryan Woodall (former National Cyclocross Champion) took the win after multiple solo attacks, the final drama must be told by others since I was elsewhere, trying to flail my cramping old self home. I was amazed that Pfaff Junior didn't crush everybody (note from JOM – he cramped 500 meters from the "line"), but his dad Pfaff Daddy said his new plan is not to train at all, but still settle for some podium spot. I've seen him do it. Fuh!
Se all y'all next year?
K-Dogg
P.S. JOM's race ride video from the Doc Hollywood Invitational is coming soon