This report comes to us from Rob Bell of the Panaracer Gravel Team – Tales at the pointy end of the race; 2016 Gravel Worlds in Lincoln, Nebraska. Over to Rob…
---
It's important to have a plan going into every race. Typically, planning starts days before the race, or even weeks / months if you consider a proper training plan (which I won't, in this race recap). The Panaracer NoTubes p/b Bicycle Exchange team had a proper plan in place going into Gravel Worlds. We were there early enough to perform reconnaissance of the course and get a good ride in to shake down our bikes and legs. We planned proper meal timing before the race. We planned what we would each carry during the race, how often we would stop, what we would eat / drink during the race, etc. We had a work assignment for each rider during the race. We had it all planned out, but unfortunately things don't always go according to plan, as was the case here. Planning is the easy part. Knowing when and when not to divert from the plan is the hard part.
Our team at Gravel Worlds included me (Rob Bell), Bob Cummings, Evan Fast, Nathan Wadsworth, Austin Morris, Mike Marchand and Karen Pritchard.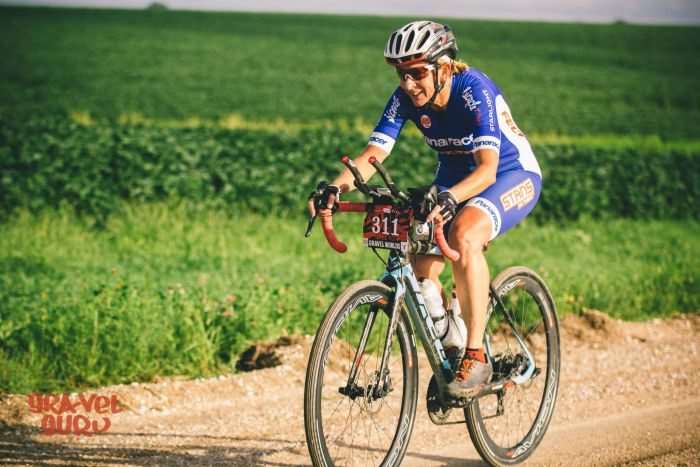 The race started out quickly, which was good for our team. The rollout was considered neutral, but the lead truck put down a pretty solid pace for the first three or so miles until we reached the gravel. Evan and I moved into our pre-planned position at the front, right behind the truck. By the time we hit the gravel, the lead pack was down to about 20 – 30 riders! That wasn't part of the plan, but it worked out well for most of us. Unfortunately, our Masters Men 50+ superstar Mike Marchand (a former winner of the Open Men's category) and Masters Women extraordinaire, Karen Pritchard, were caught in the second pack and wouldn't be able to benefit from our teamwork throughout the day.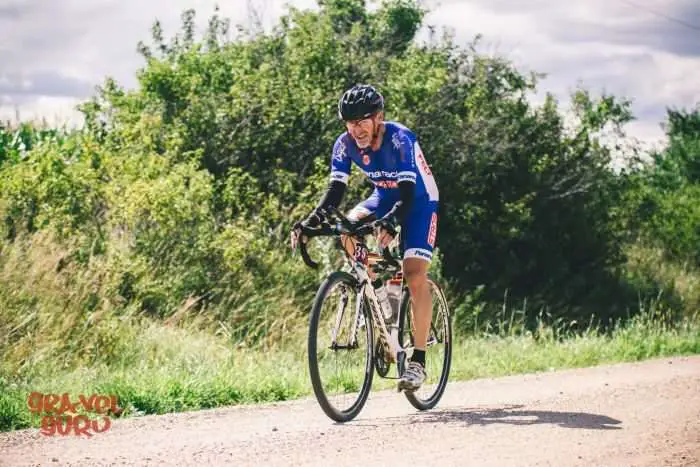 As the truck took off, our pace-setting into the headwind began. 145 miles makes for a long day, so we were content to ride at a medium pace. We kept it fast enough to keep the group semi-strung and the race safe (the majority of crashes happen while big groups are riding too slow), but slow enough that we weren't burning matches (energy) that we would need later in the day. Evan and I were assigned to early pace-setting, while Bob, Nathan, and Austin would to sit a few wheels behind and conserve energy, while still remaining safely near the front.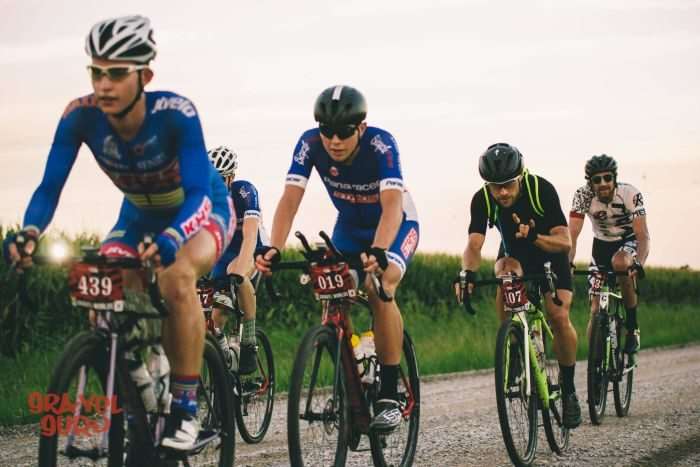 Inno from KHS-Maxxis and a few other guys shared in the early pace making, but that was interrupted when Ashton Lamby stamped his authority on the front. I've seen first hand how strong Ashton rides, and made a point to grab his wheel. The two of us got a solid gap on the rest of the field – we were riding into a headwind over rolling hills – I thought the benefit of drafting behind Ashton would allow me to stay on his wheel until we were both caught. Ashton ended up putting in a few digs up the rolling hills that required more energy than I was willing to exert that early in the race, and I decided it better to retreat back into the main group. Honestly, those were all just really nice words to say "I got dropped by Ashton." ????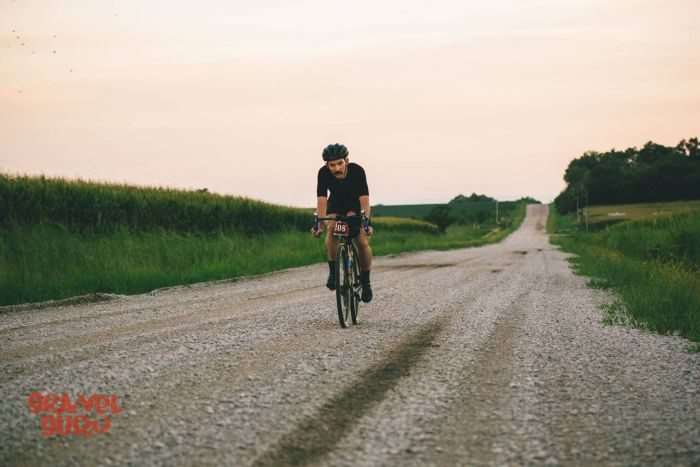 Ashton is off the front solo with about 20 riders in the main chase, and approximately 135 miles of racing remaining. At this point, our team really wasn't really in bad shape, but allowing Ashton to ride off the solo wasn't one of our planned scenarios.
Based on his recent results and times that we've raced with Ashton, the team knew he was a handful. He is the type of rider that can take advantage of any gap you give him. I didn't want him to ride away and win solo, but the other riders seemed content to let our team do the majority of the work, especially since we had five riders in the leading group of 20.
So as a team, what do you do at this moment? Do you stick to the original plan for a little while longer and hope it all works out, or do you call an audible and adjust on the fly? There are no "time outs" in cycling. You can only react and try to make the best out of the situation that you're dealt. It's debatable whether I or the rest of our team made the right reaction / decision.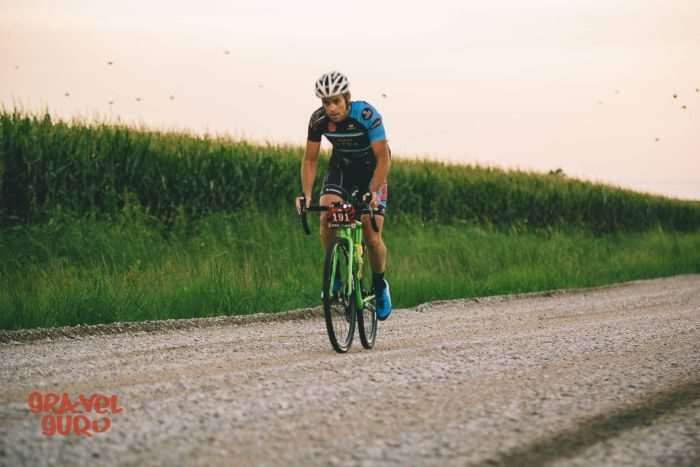 Whenever the pace of our group slowed down, I decided I would pick up the pace. In the tailwind sections, Josh Johnson of Big Shark took some long and fast pulls. In the crosswinds and headwind sections, the Panaracer team did a lot more work than we would have liked to, but at that time I thought it was what we had to do in order to keep Ashton's gap down. Teammate Nathan took many strong pulls at the front; strong enough that I was barely hanging on at times!
Even with all of the effort our team put in, Ashton was about two miles, or five to six minutes up the road going into Checkpoint #1. He had a definite advantage hitting the checkpoint solo. It's much faster for one rider to sign in and refill bottles than it is for a group of 20. But, checkpoints are not optional and neither is adequate fueling, so it's better to take your time, be calm, and be systematic about your stops.
A small group left the checkpoint before our team, but we were able to regroup a mile or two later and continue the chase to Ashton.
Mile 60 was where the fireworks started in the chase pack. We had already been riding relatively steady tempo for a few hours, when Inno from KHS-Maxxis and the eventual winner of the race, Rob Evans attacked. I was already on the front of the pack, but teammate Bob (Cummings) said it would be a good idea for me to bridge to the group. I bridged across solo, but was soon joined by two additional riders, Trey Harrison and Michael Smith. This made for a five man group – everyone in the group seemed happy. Inno remarked he was happy to have the "tired Panaracer guy" present, which was more or less true because I had done too much work, too early.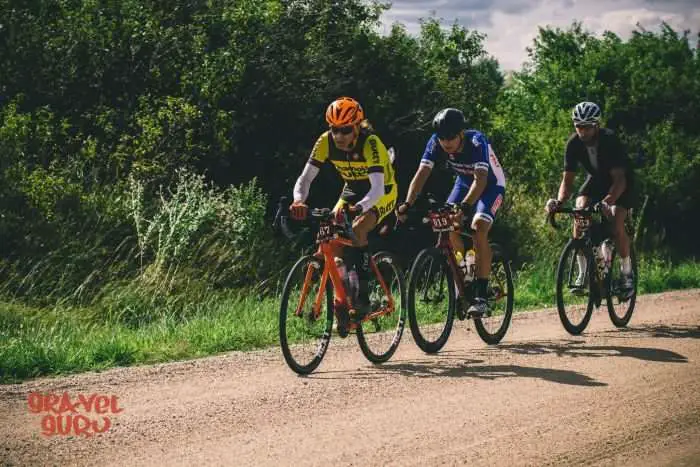 Knowing I was in the company of a very elite group of racers, I decided to sit on the back and let them work. There was no reason for me to pull those strong guys away from my teammates behind, so I was content in letting them toil away. Rob Evans took me off the back once but I sprinted around him and back into the group. He told me he could do it all day, and I told him that I could too. Luckily for both of us that didn't happen!
Rob Evans attacked the group once we had established a sizable gap on the rest of the field. Right about that time, Trey got caught at a major highway crossing. He probably had time to beat the semi-trailer truck coming towards us, but was smart enough to wait. I thought it sucked for Trey that he got caught out like that, and asked the other guys to wait. Rob was already off the front of our group by about 10 seconds or so, and he didn't know we were waiting, but everyone else did. As soon as Trey caught on, I expected to ease back into our chase. Man was I wrong. Inno attacked hard just as Trey caught back on, and promptly bridged across to Rob. I let my guard down and paid for it. Rob and Inno were stronger than the three of us combined, especially since I wasn't too keen on going "all in" for the chase with 70 or so miles still to race. Michael was of the same mindset and I knew I didn't have the fitness to maintain that sort of effort.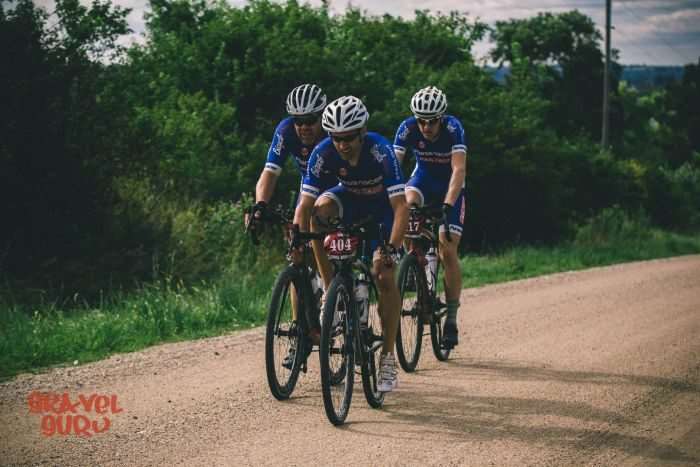 Trey did a lot of work, but he did a good job of coaxing Michael and I to do our fair share. Trey was riding in the Masters Men 50+ category, meaning Michael and I were guaranteed top five placings in the Men's Open category provided we worked together to stay away from the group behind us – and no mechanical issues.
At mandatory Checkpoint #2, I spotted two riders pretty close to our trio as we pulled back onto the course. One of the riders was a teammate, but I couldn't tell who from a distance. Behind them was a small chasing pack. I had to assume the rest of the Panaracer team was in that group.
I didn't stop working, but I eased back on my pace in order to see who was coming across the gap. Michael and Trey felt the catch was inevitable, so they too slowed for the chasing duo to join us. It was teammate Austin Morris and Trey's biggest competition for the 50+ win, Ethan Froese. For me, it worked out really well to wait. I got a teammate out of the deal and the only other racer that caught us wasn't in the Men's Open division.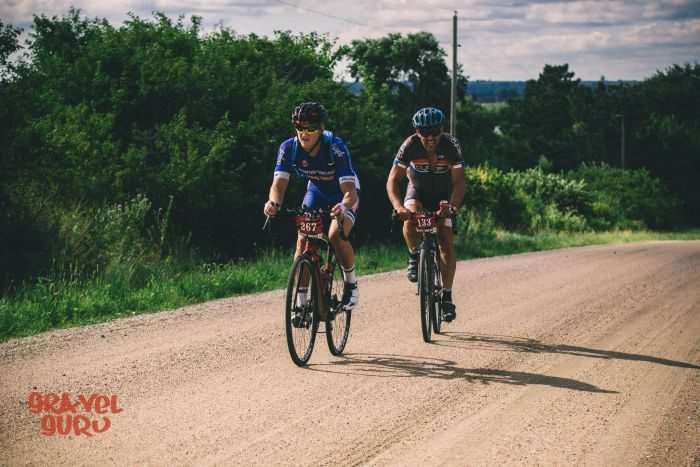 I would have been content slowing the pace in order for teammates Bob, Nathan and Evan to rejoin, but the rest of the group wanted to press on. Trey had been doing the majority of the work in the group for a while and eventually paid for it. He began bonking and dropped off the group. Consequently, Ethan, the other Master's racer in the group, increased the pace significantly for a minute or two.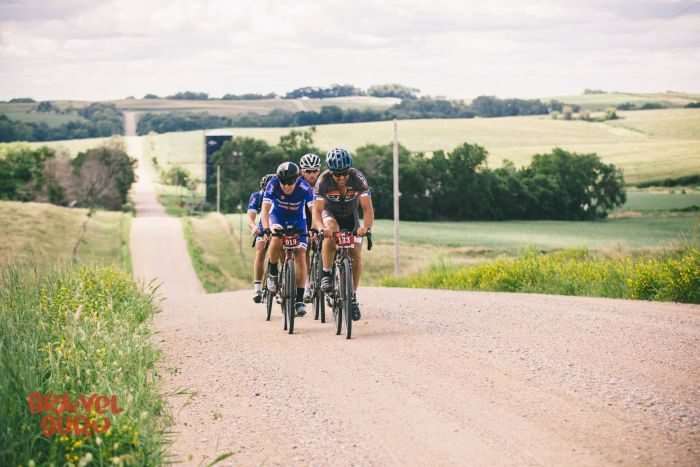 Ethan wasn't a threat to our overall, but I wanted to see him and Trey race it out for the Masters Men's 50+ win, mano a mano. However, I didn't want to help tow Ethan away from Trey, so I attacked him after his big pull. This didn't seem to phase him much. My gap was short-lived and I was quickly dragged back to the group.
Michael Smith is a crafty racer. Once he was outnumbered by the Panaracer team in the breakaway group, his workload lightened. I suggested to Austin he sit on Michael's wheel and skip pulls while Ethan and I traded off. He obliged, so Ethan and I took over as the main workers for a while. At this point I was ready to be done with the race; at the very least Austin or I had a spot guaranteed in the top five. The top three guys were long gone, so the only way we were catching them was if one of them bonked badly, or suffered a very serious mechanical. We rode just fast enough to catch the leaders should that scenario unfold, but not so fast that anyone from our group was going to pop. In some ways it made the ride a lot better because our pace was smoother, but on the other hand it got pretty boring and we still had a very long way to ride.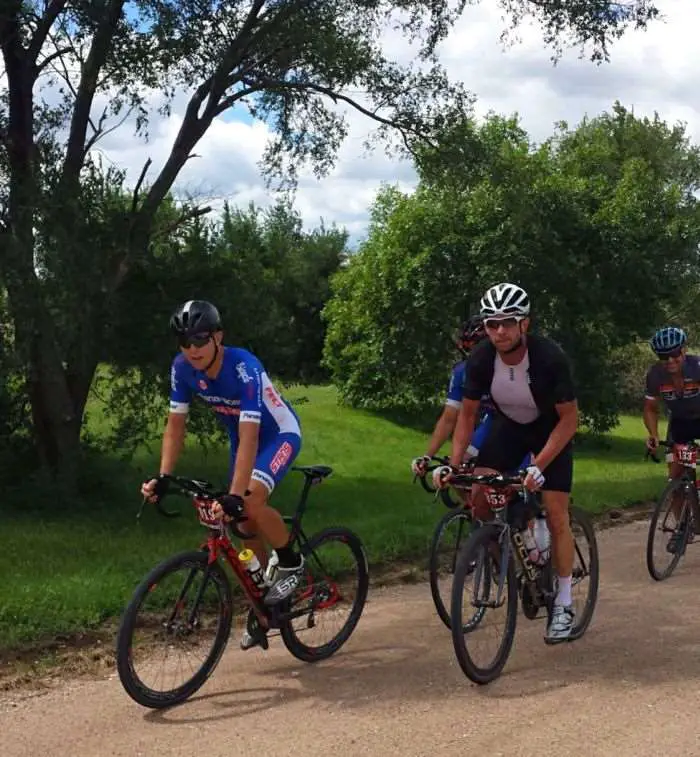 We briefly visited the Oasis at mile 93 (Branched Oak Farm) and downed some amazing homemade pickles. That made my day!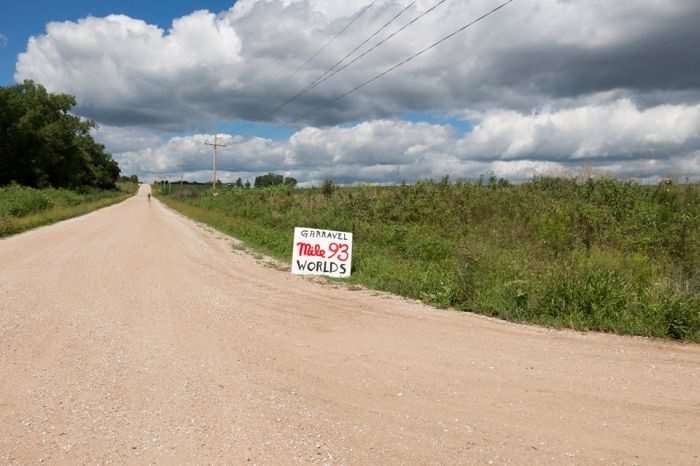 After Checkpoint #3 there was a little hike-a-bike mud section. Once we safely cleared the mud, we stopped to scrape the mud from our shoes. Then, Ethan noticed that Trey was about to catch us! Trey had clawed his way back to our group solo! Very impressive. The race I was waiting for between Trey and Ethan for the Masters Men 50+ win was back on. Ethan wasted no time, and took off before the rest of us were able to get our shoes clean enough to clip in. By the time we got rolling, Trey had passed us while Ethan maintained a solid gap.
The gap to Ethan remained steady for a while, but Trey couldn't close it down by himself. The rest of us were saving energy for the sprint for fourth place. In the closing miles of the race, the gap really began to come down. Austin started cramping and dropped off from group, meaning I was left to sprint for fourth place after doing quite a bit of work all day.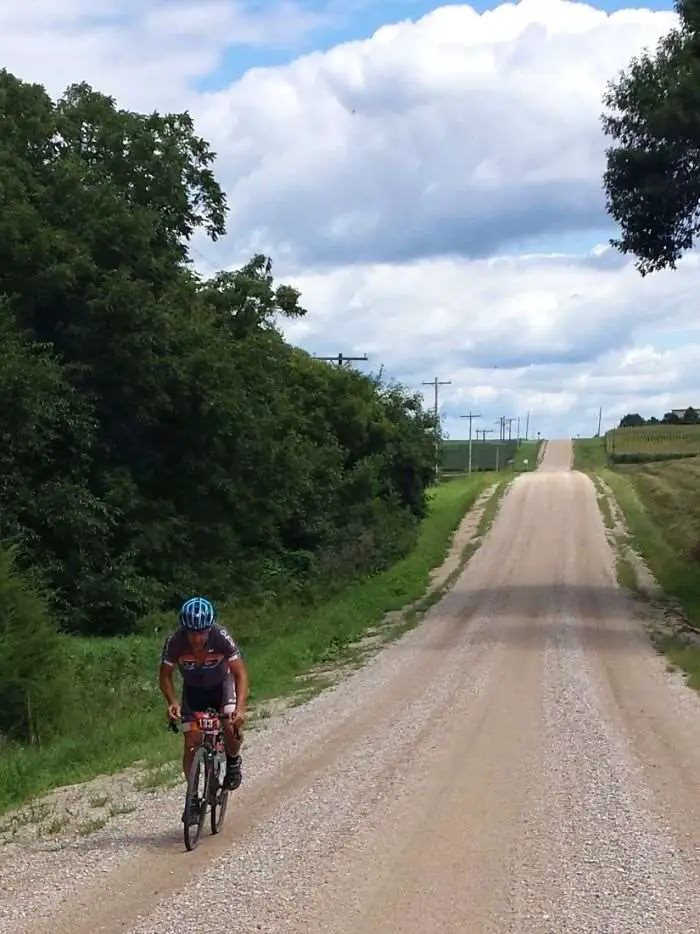 Trey and Michael felt the pain of some deep gravel with about three miles to go, which quickly slowed them down. I attacked on the faster side of the road, but Michael had enough in the tank to catch me in rapid fashion. Not long after, Trey caught us both. We passed a man on the side of the road; figuring he knew how far away the start / finish location of Fallbrook was, we inquired between our heavy breathing. His reply, "two miles". This didn't seem right – Michael's Garmin was dead – nobody seemed to know, but about seven miles to go was more accurate.
Earlier in this report I mentioned part of our "planning" time pre-race was spent doing some course reconnaissance. It paid off. Trey and Michael didn't know the finish very well. It's an awkward sprint, downhill with a roundabout approximately 50 meters from the line – a right turn off the roundabout, followed by a sharp left turn 15 meters from the finish line itself. About a mile from the line I briefly explained the finish to them, but after 144 miles of racing beneath our wheels, my intel didn't click for either of them.
Trey asked me to lead, since he didn't know where he was going. I wasn't keen on sprinting from the front, because that hardly ever works out. However, because this finish was technical, I was quite fine with his request. I set a false tempo along the downhill, knowing it was a matter of time before I was attacked. I heard the sound of accelerating gravel tires behind me (they're loud!) and jumped to sprint. I entered the roundabout first, but Michael didn't know the finish well enough to risk passing me at speed during the last few corners.
I finished fourth overall in the Men's Open category and fifth overall in the big race picture. Ethan stuck his breakaway, taking the Masters Men's win while Michael rolled in behind me with Trey on his wheel. Austin rolled in a few minutes later. Teammate Bob Cummings was the next finisher in the Open Men's category behind Austin, and teammate Nathan Wadsworth was a further three places behind.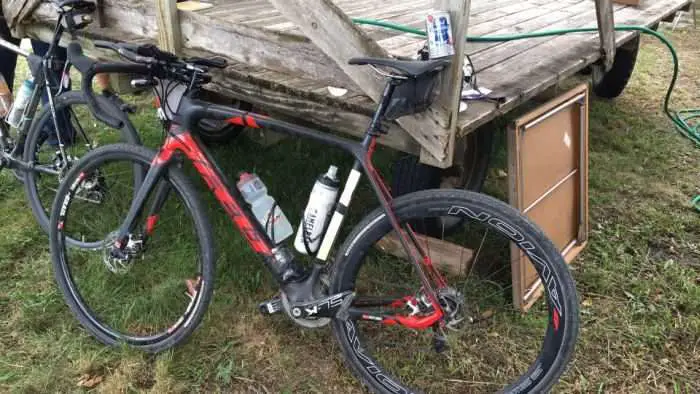 Evan Fast was unable to finish the race. Not because he doesn't have the legs, but because he is such a great teammate. When team captain Bob had a mechanical issue after Checkpoint #2, Evan sacrificed a wheel from his own bike. Nathan's selfless act not only got Bob to the finish line on a working bike, but four team members in the top 10 of the Open Men's category. As an added bonus, Karen Pritchard WON the Masters Women's category (hail the 2016 Masters Women champion!) , while Mike Marchand took a 3rd place podium finish in the Masters Men category!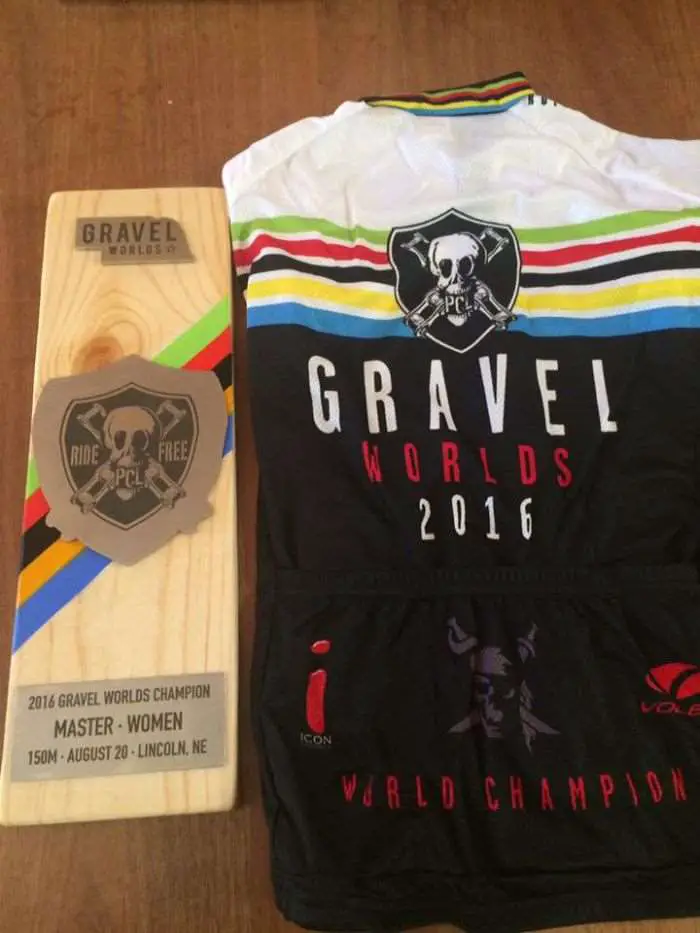 The team made it through with no flats, thanks to our Panaracer Gravelking 700c x 35mm tires mounted on Stan's Notube Avion wheels. We couldn't have asked for a better combo for this course.
To wrap it up, Gravel Worlds is a world class gravel race. Great competition, high quality swag, memorable rest stops, a variety of road conditions, and it's all located in a cool town like Lincoln. I'll be back next year!
---
Thank you to Rob Bell for his contribution! If you have a ride or race report you're interested in sharing, please contact us.